Michel Noellat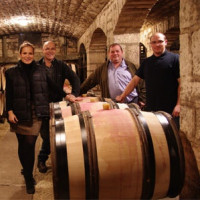 Domaine Michel Noëllat is a historic Burgundy producer, founded in the c19th century by Felix Noëllat. Today, it is run by 5th generation family members Alain and Jean-Marc Noëllat, and the 6th generation of Sebastien Noëllat and Sophie Noëllat-Sirugue.
The Noëllat family is the centre of an extraordinary network of connected families across the Côte de Nuits. Neal Martin has explained that Domaine Georges Noëllat originates from the cousin of the later Michel Noëllat, with Hudelot-Noëllat (in Clos Vougeot) related to ancestors further up the Noëllat family tree. There are Noëllat family ties to Cécile Tremblay, the Confurons and even to Ghislaine Barthod (whose name was "Barthod-Noëllat" in the 1980s). The estate is well connected geographically too; based in Vosne-Romanée, with the cellars directly opposite Clos de Réas, they are close to Domaine Leroy.
Domaine Michel Noëllat practices 'lutte raisonée' (sustainable practices) in their 27 hectares of vineyard in the Côte de Nuits, augmented by parcels in Savigny-lès-Beaune. The average age of the vines is between 60 and 70 years old. Everything here is de-stemmed and oak treatment is very restrained, with most wines matured in one-third each in new, one-year-old and two-year-old oak.
Prices:
Year
Wine
Region
Format
Qty
Score
Price
Wishlist

Michel Noellat Chambolle-Musigny 2020 (6x75cl)

Inc. VAT: £468.47

2020
Burgundy
6x75cl
1
88 (VN)

Read Review/Description

Inc. VAT: £468.47

Michel Noellat Clos-de-Vougeot Grand Cru 2017 (6x75cl)

Inc. VAT: £988.13

2017
Burgundy
6x75cl
1
-

Read Review/Description

Inc. VAT: £988.13

Michel Noellat Clos-de-Vougeot Grand Cru 2019 (6x75cl)

Inc. VAT: £989.27

2019
Burgundy
6x75cl
1
-
Inc. VAT: £989.27

Michel Noellat Clos-de-Vougeot Grand Cru 2020 (6x75cl)

Inc. VAT: £1,636.07

2020
Burgundy
6x75cl
1
-
Inc. VAT: £1,636.07

Michel Noellat Echezeaux Grand Cru 2018 (6x75cl)

Inc. VAT: £978.47

2018
Burgundy
6x75cl
1
86 (VN)

Read Review/Description

Inc. VAT: £978.47

Michel Noellat Echezeaux Grand Cru 2019 (6x75cl)

Inc. VAT: £1,342.07

2019
Burgundy
6x75cl
1
-
Inc. VAT: £1,342.07

Michel Noellat Echezeaux Grand Cru 2020 (6x75cl)

Inc. VAT: £1,636.07

2020
Burgundy
6x75cl
1
91 (VN)

Read Review/Description

Inc. VAT: £1,636.07

Michel Noellat Fixin 2018 (6x75cl)

Inc. VAT: £356.17

2018
Burgundy
6x75cl
4
-
Inc. VAT: £356.17

Michel Noellat Marsannay 2019 (6x75cl)

Inc. VAT: £309.13

2019
Burgundy
6x75cl
3
-
Inc. VAT: £309.13

Michel Noellat Nuits Saint Georges 2018 (6x75cl)

Inc. VAT: £421.30

2018
Burgundy
6x75cl
3
86 (VN)

Read Review/Description

Inc. VAT: £421.30

Michel Noellat Nuits Saint Georges 2019 (6x75cl)

Inc. VAT: £421.30

2019
Burgundy
6x75cl
1
-
Inc. VAT: £421.30

Michel Noellat Nuits-Saint-Georges 1er Cru Les Boudots 2017 (6x75cl)

Inc. VAT: £666.12

2017
Burgundy
6x75cl
1
-

Read Review/Description

Inc. VAT: £666.12

Michel Noellat Nuits-Saint-Georges 1er Cru Les Boudots 2018 (6x75cl)

Inc. VAT: £655.67

2018
Burgundy
6x75cl
1
-

Read Review/Description

Inc. VAT: £655.67

Michel Noellat Vosne Romanee 1er Cru Les Suchots 2019 (6x75cl)

Inc. VAT: £898.07

2019
Burgundy
6x75cl
1
-
Inc. VAT: £898.07

Michel Noellat Vosne Romanee 1er Cru Les Suchots 2020 (6x75cl)

Inc. VAT: £850.07

2020
Burgundy
6x75cl
1
90 (VN)

Read Review/Description

Inc. VAT: £850.07

Michel Noellat Vosne Romanee 2020 (6x75cl)

Inc. VAT: £530.87

2020
Burgundy
6x75cl
1
89 (VN)

Read Review/Description

Inc. VAT: £530.87
Year
Wine
Region
Format
Qty
Score
Price
Wishlist

Michel Noellat Chambolle-Musigny 2020 (6x75cl)

In Bond: £377.00

2020
Burgundy
6x75cl
1
88 (VN)

Read Review/Description

In Bond: £377.00

Michel Noellat Clos-de-Vougeot Grand Cru 2017 (6x75cl)

In Bond: £810.05

2017
Burgundy
6x75cl
1
-

Read Review/Description

In Bond: £810.05

Michel Noellat Clos-de-Vougeot Grand Cru 2019 (6x75cl)

In Bond: £811.00

2019
Burgundy
6x75cl
1
-
In Bond: £811.00

Michel Noellat Clos-de-Vougeot Grand Cru 2020 (6x75cl)

In Bond: £1,350.00

2020
Burgundy
6x75cl
1
-
In Bond: £1,350.00

Michel Noellat Echezeaux Grand Cru 2018 (6x75cl)

In Bond: £802.00

2018
Burgundy
6x75cl
1
86 (VN)

Read Review/Description

In Bond: £802.00

Michel Noellat Echezeaux Grand Cru 2019 (6x75cl)

In Bond: £1,105.00

2019
Burgundy
6x75cl
1
-
In Bond: £1,105.00

Michel Noellat Echezeaux Grand Cru 2020 (6x75cl)

In Bond: £1,350.00

2020
Burgundy
6x75cl
1
91 (VN)

Read Review/Description

In Bond: £1,350.00

Michel Noellat Fixin 2018 (6x75cl)

In Bond: £283.42

2018
Burgundy
6x75cl
4
-
In Bond: £283.42

Michel Noellat Marsannay 2019 (6x75cl)

In Bond: £244.22

2019
Burgundy
6x75cl
3
-
In Bond: £244.22

Michel Noellat Nuits Saint Georges 2018 (6x75cl)

In Bond: £337.69

2018
Burgundy
6x75cl
3
86 (VN)

Read Review/Description

In Bond: £337.69

Michel Noellat Nuits Saint Georges 2019 (6x75cl)

In Bond: £337.69

2019
Burgundy
6x75cl
1
-
In Bond: £337.69

Michel Noellat Nuits-Saint-Georges 1er Cru Les Boudots 2017 (6x75cl)

In Bond: £541.71

2017
Burgundy
6x75cl
1
-

Read Review/Description

In Bond: £541.71

Michel Noellat Nuits-Saint-Georges 1er Cru Les Boudots 2018 (6x75cl)

In Bond: £533.00

2018
Burgundy
6x75cl
1
-

Read Review/Description

In Bond: £533.00

Michel Noellat Vosne Romanee 1er Cru Les Suchots 2019 (6x75cl)

In Bond: £735.00

2019
Burgundy
6x75cl
1
-
In Bond: £735.00

Michel Noellat Vosne Romanee 1er Cru Les Suchots 2020 (6x75cl)

In Bond: £695.00

2020
Burgundy
6x75cl
1
90 (VN)

Read Review/Description

In Bond: £695.00

Michel Noellat Vosne Romanee 2020 (6x75cl)

In Bond: £429.00

2020
Burgundy
6x75cl
1
89 (VN)

Read Review/Description

In Bond: £429.00