Mollydooker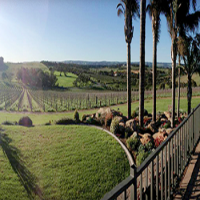 About Mollydooker
Having been proponents of Australia's most unusually unique cult winery for many years, we are always pleased to see offers of the fabulously fun Mollydooker range consistently sell out. A producer which combines its very serious winemaking with a marvellous sense of humour, Sarah and Sparky Marquis founded this disruptive force within the fine wine world as relatively recently as 2005 to effusive yet divisive praise.
As is often the case, the widespread success of a new, unconventional producer in an industry that prides itself on the prestigious histories and endless pedigrees of its most famous names was met with some consternation from traditionalists. Speaking of the inaugural vintage (2005) a number of years ago, Josh Raynolds (Vinous) wrote that the Mollydooker range was comprised of "the more bizarre wines I have ever tasted". Long before critical acclaim followed, and follow it did, curious oenophiles with a penchant for larger-than-life wines of raw power and exuberant fruit were joyfully delighting in the world of Mollydooker.
Mollydooker is famed the world over for their unrestrained ABVs, no added sulphites and incredibly rich ripe fruit.
Prices:
Year
Wine
Region
Format
Qty
Score
Price
Wishlist

Mollydooker Blue Eyed Boy Shiraz 2020 (6x75cl)

Inc. VAT: £542.87

2020
South Australia
6x75cl
3
-
Inc. VAT: £542.87

Mollydooker Cabernet Sauvignon Gigglepot 2020 (6x75cl)

Inc. VAT: £460.07

2020
South Australia
6x75cl
3
-
Inc. VAT: £460.07

Mollydooker Cabernet Sauvignon Maitre D 2019 (12x75cl)

Inc. VAT: £480.94

2019
South Australia
12x75cl
1
92 (WS)

Read Review/Description

Inc. VAT: £480.94

Mollydooker Carnival Of Love Shiraz 2018 (6x75cl)

Inc. VAT: £397.67

2018
South Australia
6x75cl
2
94 (WA)

Read Review/Description

Inc. VAT: £397.67

Mollydooker Enchanted Path Shiraz Cabernet Sauvignon 2018 (6x75cl)

Inc. VAT: £383.27

2018
South Australia
6x75cl
3
93 (WA)

Read Review/Description

Inc. VAT: £383.27

Mollydooker Scooter 2020 (12x75cl)

Inc. VAT: £513.34

2020
South Australia
12x75cl
2
-
Inc. VAT: £513.34

Mollydooker Shiraz Boxer 2019 (12x75cl)

Inc. VAT: £934.54

2019
South Australia
12x75cl
1
92 (WS)

Read Review/Description

Inc. VAT: £934.54

Mollydooker The Velvet Glove Shiraz 2018 (3x75cl)

Inc. VAT: £774.84

2018
South Australia
3x75cl
2
96 (WA)

Read Review/Description

Inc. VAT: £774.84

Mollydooker Two Left Feet 2019 (12x75cl)

Inc. VAT: £641.74

2019
South Australia
12x75cl
2
91 (WS)

Read Review/Description

Inc. VAT: £641.74
Year
Wine
Region
Format
Qty
Score
Price
Wishlist

Mollydooker Blue Eyed Boy Shiraz 2020 (6x75cl)

In Bond: £439.00

2020
South Australia
6x75cl
3
-
In Bond: £439.00

Mollydooker Cabernet Sauvignon Gigglepot 2020 (6x75cl)

In Bond: £370.00

2020
South Australia
6x75cl
3
-
In Bond: £370.00

Mollydooker Cabernet Sauvignon Maitre D 2019 (12x75cl)

In Bond: £374.00

2019
South Australia
12x75cl
1
92 (WS)

Read Review/Description

In Bond: £374.00

Mollydooker Carnival Of Love Shiraz 2018 (6x75cl)

In Bond: £318.00

2018
South Australia
6x75cl
2
94 (WA)

Read Review/Description

In Bond: £318.00

Mollydooker Enchanted Path Shiraz Cabernet Sauvignon 2018 (6x75cl)

In Bond: £306.00

2018
South Australia
6x75cl
3
93 (WA)

Read Review/Description

In Bond: £306.00

Mollydooker Scooter 2020 (12x75cl)

In Bond: £401.00

2020
South Australia
12x75cl
2
-
In Bond: £401.00

Mollydooker Shiraz Boxer 2019 (12x75cl)

In Bond: £752.00

2019
South Australia
12x75cl
1
92 (WS)

Read Review/Description

In Bond: £752.00

Mollydooker The Velvet Glove Shiraz 2018 (3x75cl)

In Bond: £639.00

2018
South Australia
3x75cl
2
96 (WA)

Read Review/Description

In Bond: £639.00

Mollydooker Two Left Feet 2019 (12x75cl)

In Bond: £508.00

2019
South Australia
12x75cl
2
91 (WS)

Read Review/Description

In Bond: £508.00