Mommessin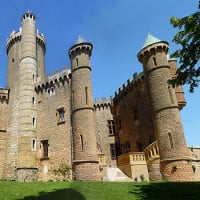 About Mommessin
The current Domaine Clos de Tart, sole owner and vigneron of this stunning vineyard, is family run by the Mommessins – the Burgundian natives have owned Clos de Tart since 1932 (7 years before it was granted Grand Cru status), and retained sole custody even after the selling of their négociant business to Jean-Claude Boisset.
Domaine Clos de Tart crafts a sublime Grand Cru from the best plots and oldest vines of their 7.5 hectares and a deliciously vibrant and elegant Premier Cru from younger vines.
Vinification
Sylvain Pitot and his team are singularly focused on producing otherworldly wine to rival the greatest names in Burgundy (of which Clos de Tart is rightly considered one). The magnificent surroundings of this ancient property are finally giving birth to equally magnificent wine vintage after vintage. Matured in 100% new oak – only possible thanks to the extraordinary quality of the fruit – the wines are bottled unfiltered in a low-intervention style of winemaking.
The hallowed vineyard is essentially managed organically without the official certification, giving Pitot more flexibility. A vast project was recently undertaken to carefully map out each zone of the 7.5 hectares, analysing their soil types and compositions – each individual plot is now harvested and vinified separately in stainless steel in the domaine's highly impressive cuvérie, designed by Pitiot himself – a man of many talents!
Yields are always kept exceedingly low – well below the permitted maximum through prudent usage of pruning, debudding and occasional green harvesting when necessary. Interestingly, Sylvain Pitiot is an ardent believer in achieving full phenolic ripeness, a tremendous testimony to the vineyard's ability to retain freshness alongside ripeness, and Clos de Tart is frequently one of the very latest in the region to be harvested.