Montes Alpha
About Montes Alpha
Conceived as an ambitious winemaking project in 1987 by the visionary Aurelio Montes and Douglas Murray, both of whom had decades of experience in the vinous world, Montes was born of a singular belief that Chile's terroir have been producing far better wines than it currently was. This stretched far beyond the ambition to craft passable wines to grace tables around the globe, but rather to give life to one of the world's truly great fine wines.
Joined in their noble quest one year later by Alfredo Vidaurre and Pedro Grand, the success of Montes has, in many ways, meant the success of Chile (as a serious winemaking country). One of the real vanguards of the wave of exceptional Chilean fine wines we are currently blessed with, Montes deserves to be considered one of the South American country's First Growth equivalents.
Viniculture
Purple Angel, is a special cuvée even by the standards of this very special estate. One of the most revered expressions of Carmenère in the country, the vineyard from which it is sourced is found deep in the heart of the Colchagua Valley, Chile's foremost winegrowing region. A tremendously balanced terroir thanks to the exposure to fearsome South American heat tempered by breezes from the Pacific, conditions for Carmenère could hardly be finer.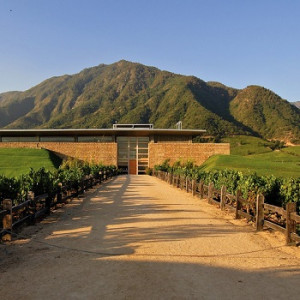 Name
Price Low
Price High
Year (Old)
Year (New)
Prices:
Product Name
Region
Qty
Score
Price

Central Valley
1
93 (VN)

Inc. VAT

£427.49

Vinous (93)

The 2018 Montes Alpha M, from Apalta, Colchagua, is 80% Cabernet Sauvignon, 10% Cabernet Franc, 5% Merlot and 5% Petit Verdot and aged in French barrels, four-fifths of them new. Garnet red in color. The time spent in the barrel has brought out cigar box aromas alongside black currant, cassis, mint and hints of camphor. This is a complex wine held together by firm, polished tannins that keep the powerful mouthfeel in check. Expressive and long-lasting.

More Info

Central Valley
2
-

Inc. VAT

£681.89

Aconcagua
1
94 (JS)

Inc. VAT

£199.24

James Suckling (94)

A smoky syrah with blackberry leaf, dark chocolate, earth, black olives, tobacco and blackberry compote. Full-bodied and intense with chewy tannins, but showing edgy acidity and a long finish.

More Info

Aconcagua
1
18 (JR)

Inc. VAT

£163.24

Jancis Robinson (18)

100% Sauvignon Blanc. The only vineyard that exists in DO Zapallar and located just 7 km from the coast. Clayey enriched soils and a dry steppe climate. Hand-harvested bunches are destemmed, cold-soaked for 12–24 hours, the must is settled for 24 h, then inoculated with Saccharomyces cerevisiae and Torulaspora yeasts. Fermentation at low temperature. Aged on its lees for 6–8 months. How much pleasure! A wine with a lot of aroma, with endless layers of aromatic complexity. It has a great mouth-coating texture triggering a herbal memory. The palate is full, rich, pleasant, although with sharp acidity above the rich texture. It is very well delineated, fresh, rich, deep and concentrated. A complete Sauvignon Blanc that will make you salivate. Delicious!

More Info

Central Valley
2
98 (JS)

Inc. VAT

£451.24

James Suckling (98)

Such an amazing, floral nose with blackberries, blueberries, violets and other flowers. Full-bodied, yet so balanced and refined with vibrancy and energy. It's really racy and exciting with a super long, beautiful finish. Tight and super polished. Needs two or three years to open more. Beauty. Drink after 2021.

More Info

Central Valley
2
98 (JS)

Inc. VAT

£471.64

James Suckling (98)

Blackberry, blueberry, sage and five spice on the nose. Medium-to full-bodied with fine tannins. Balanced and creamy with a fresh, juicy character palate. Silky texture with great structure. Savory finish with length. Peppery and spicy aftertaste. A blend of 92% carmenere and 8% petit verdot. Try in 2023.

More Info

Central Valley
15
98 (JS)

Inc. VAT

£394.84

James Suckling (98)

Consistently one of the best and most layered carmeneres from Chile and, indeed, the world. Intriguing Cuban cigar and roasted bay-leaf character to the blackcurrants, blackberries and exotic spices. Some sandalwood, black chocolate, cedar and baked red chili pepper, too. Full-bodied, creamy and voluptuous, but still fresh and juicy, with dried-leaf, dark-olive and finely ground cocoa-powder character. Dusty tannins and a long, refined finish. A blend of 92% carmenere from Apalta (46%) and Marchigue(46%) and 8% petit verdot from Apalta. Drink or hold.

More Info
Product Name
Region
Qty
Score
Price

Central Valley
1
93 (VN)

In Bond

£337.00

Vinous (93)

The 2018 Montes Alpha M, from Apalta, Colchagua, is 80% Cabernet Sauvignon, 10% Cabernet Franc, 5% Merlot and 5% Petit Verdot and aged in French barrels, four-fifths of them new. Garnet red in color. The time spent in the barrel has brought out cigar box aromas alongside black currant, cassis, mint and hints of camphor. This is a complex wine held together by firm, polished tannins that keep the powerful mouthfeel in check. Expressive and long-lasting.

More Info

Central Valley
2
-

In Bond

£549.00

Aconcagua
1
94 (JS)

In Bond

£150.00

James Suckling (94)

A smoky syrah with blackberry leaf, dark chocolate, earth, black olives, tobacco and blackberry compote. Full-bodied and intense with chewy tannins, but showing edgy acidity and a long finish.

More Info

Aconcagua
1
18 (JR)

In Bond

£120.00

Jancis Robinson (18)

100% Sauvignon Blanc. The only vineyard that exists in DO Zapallar and located just 7 km from the coast. Clayey enriched soils and a dry steppe climate. Hand-harvested bunches are destemmed, cold-soaked for 12–24 hours, the must is settled for 24 h, then inoculated with Saccharomyces cerevisiae and Torulaspora yeasts. Fermentation at low temperature. Aged on its lees for 6–8 months. How much pleasure! A wine with a lot of aroma, with endless layers of aromatic complexity. It has a great mouth-coating texture triggering a herbal memory. The palate is full, rich, pleasant, although with sharp acidity above the rich texture. It is very well delineated, fresh, rich, deep and concentrated. A complete Sauvignon Blanc that will make you salivate. Delicious!

More Info

Central Valley
2
98 (JS)

In Bond

£360.00

James Suckling (98)

Such an amazing, floral nose with blackberries, blueberries, violets and other flowers. Full-bodied, yet so balanced and refined with vibrancy and energy. It's really racy and exciting with a super long, beautiful finish. Tight and super polished. Needs two or three years to open more. Beauty. Drink after 2021.

More Info

Central Valley
2
98 (JS)

In Bond

£377.00

James Suckling (98)

Blackberry, blueberry, sage and five spice on the nose. Medium-to full-bodied with fine tannins. Balanced and creamy with a fresh, juicy character palate. Silky texture with great structure. Savory finish with length. Peppery and spicy aftertaste. A blend of 92% carmenere and 8% petit verdot. Try in 2023.

More Info

Central Valley
15
98 (JS)

In Bond

£313.00

James Suckling (98)

Consistently one of the best and most layered carmeneres from Chile and, indeed, the world. Intriguing Cuban cigar and roasted bay-leaf character to the blackcurrants, blackberries and exotic spices. Some sandalwood, black chocolate, cedar and baked red chili pepper, too. Full-bodied, creamy and voluptuous, but still fresh and juicy, with dried-leaf, dark-olive and finely ground cocoa-powder character. Dusty tannins and a long, refined finish. A blend of 92% carmenere from Apalta (46%) and Marchigue(46%) and 8% petit verdot from Apalta. Drink or hold.

More Info
Name
Price Low
Price High
Year (Old)
Year (New)