Opus One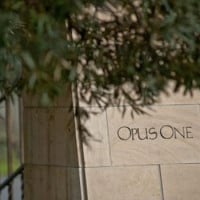 About Opus One
Opus One is arguably Napa's most famous winery. Established in 1979 as a joint venture between Baron Philippe de Rothschild and Robert Mondavi, the two met in typically glamourous fashion whilst holidaying in Hawaii a few years earlier.
Their goal was to craft a wine that combined the intensity and fruit purity of Napa, with the elegance of legendary Bordeaux. The first vintage, 1979, was released in 1984 and soon Opus One earned a reputation for just this harmonious union of Old World and New. Today, it is quite simply one of the most iconic and revered wines made in California, and the world.
Following the sale of Mondavi to Constellation Brands in 2004, Opus One took full control of the vineyards and winery, leading to a noticeable improvement in quality. The acquisition of additional vineyard plots, including 65 hectares of the mythical To Kalon vineyard, was key to this surge in concentration, structure and wondrous perfume.
Interestingly, and a very meaningful sign of respect towards the wine's quality, Opus One became the first US wine to be distributed via Bordeaux through La Place – the Bordeaux distribution network of négociants, increasing the winery's global reach. This joint venture, born out of the joie-de-vivre of two legends, is now one of the most sought after and in-demand wines on the market.