Château Palmer
About Château Palmer
Château Palmer is a Third Growth estate located in Margaux in the 1855 Bordeaux Classification. Although for many decades it has been viewed as one of the best wines in the region, standing toe-to-toe to Château Margaux. Château Palmer is named after a British Major-General from the Napoleonic Wars, who bought the land in 1814. He developed it considerably and gained a strong following for the wine in England. Since 1938, the Sichel and Mähler-Besse families have been major shareholders. Since the mid-1990s they have rediscovered their former class. The appointment of Thomas Duroux in 2004 has brought them into a new golden era.
Viniculture
Once part of the d'Issan estate, the Palmer vineyards cover 55 hectares in the Cantenac commune. Mostly found on a plateau of thin gravel on the edge of the estuary, the vines are densely planted, such that to ensure competition between vines and promote deep root systems. This Margaux tends to be high in Merlot, giving a ripe perfume and plum fruit flavours.
The estate makes a second wine called Alter Ego de Palmer. Annual production is around 12,000 cases of Chateau Palmer and 7500 cases of Alter Ego.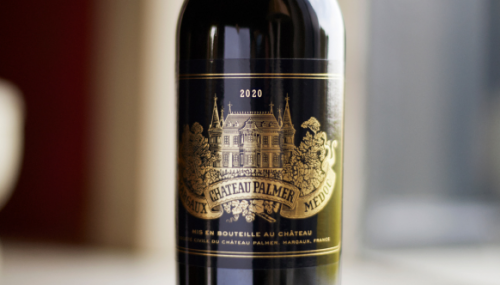 Name
Price Low
Price High
Year (Old)
Year (New)
Prices:
Product Name
Region
Qty
Score
Price

Bordeaux
2
92 (WS)

Inc. VAT

£1,730.47

Wine Spectator (92)

This is super for a second wine. Fantastic aromas of chocolate, berry and coffee. Yet very classy and subtle. Full-bodied, with a reserved rich and caressing texture. Loads of ripe and wonderful fruit in this. Second wine of Château Palmer. Best after 2006. -JS

More Info

Bordeaux
1
94 (JS)

Inc. VAT

£1,052.47

James Suckling (94)

This is amazing for the second wine with incredible white truffle, stone and currant character. Purity of fruit on the nose. Full-bodied, silky and refined. Fantastic length. Better in 2018 but almost impossible to resist now. Incredible.

More Info

Bordeaux
1
94 (JS)

Inc. VAT

£724.84

James Suckling (94)

This is amazing for the second wine with incredible white truffle, stone and currant character. Purity of fruit on the nose. Full-bodied, silky and refined. Fantastic length. Better in 2018 but almost impossible to resist now. Incredible.

More Info

Bordeaux
3
94-95 (JS)

Inc. VAT

£1,119.67

James Suckling (94-95)

Very solid and powerful with dried mushroom and wet earth aromas and flavors. Complex. Full and chewy yet so polished and long. Spicy, meat and gorgeous. Most serious Alter Ego ever. More inner Ego now!. 52% merlot, 41% cabernet sauvignon, and petit verdot 6%.

More Info

Bordeaux
1
94 (JS)

Inc. VAT

£572.44

James Suckling (94)

This is a delicious and savory wine with beautiful, ripe and creamy tannins, as well as chocolate and plum character. Full body. The flavors turn to wet earth and mushrooms with some leather. A blend of 53% merlot, 41% cabernet sauvignon and 6% petit verdot. Lovely finish. Try after 2021.

More Info

Bordeaux
1
94 (JS)

Inc. VAT

£469.24

James Suckling (94)

This is a delicious and savory wine with beautiful, ripe and creamy tannins, as well as chocolate and plum character. Full body. The flavors turn to wet earth and mushrooms with some leather. A blend of 53% merlot, 41% cabernet sauvignon and 6% petit verdot. Lovely finish. Try after 2021.

More Info

Bordeaux
1
95 (DC)

Inc. VAT

£496.84

Decanter (95)

Gorgeous rich dark purple in the glass. Quite jammy and concentrated on the nose, heady and perfumed with a lovely delicate florality to it too. Great freshness on the palate, juicy but a dark blackcurrant and cherry fruit juice. Beautifully balanced with integrated tannins and oak. Well defined fruit, generous and quite abundant against softly grippy, velvety tannins that just give support to the overall frame. It's serious but with a lightness of touch and playfulness - energetic and lively but still with depth. A great Alter Ego and confident winemaking on show.

More Info

Bordeaux
1
95 (DC)

Inc. VAT

£451.84

Decanter (95)

Gorgeous rich dark purple in the glass. Quite jammy and concentrated on the nose, heady and perfumed with a lovely delicate florality to it too. Great freshness on the palate, juicy but a dark blackcurrant and cherry fruit juice. Beautifully balanced with integrated tannins and oak. Well defined fruit, generous and quite abundant against softly grippy, velvety tannins that just give support to the overall frame. It's serious but with a lightness of touch and playfulness - energetic and lively but still with depth. A great Alter Ego and confident winemaking on show.

More Info

Bordeaux
2
17+ (JR)

Inc. VAT

£511.24

Jancis Robinson (17+)

50% Cabernet Sauvignon, 46% Merlot, 4% Petit Verdot. Cask sample. Very much in the Alter Ego mould – lively, fruit-driven with that vineyard-fresh feel but with a little more structure than previous years. Pure and appetising but will age. (JL) 13.7%

More Info

Bordeaux
10
17+ (JR)

Inc. VAT

£458.44

Jancis Robinson (17+)

50% Cabernet Sauvignon, 46% Merlot, 4% Petit Verdot. Cask sample. Very much in the Alter Ego mould – lively, fruit-driven with that vineyard-fresh feel but with a little more structure than previous years. Pure and appetising but will age. (JL) 13.7%

More Info

Bordeaux
1
94-95 (JS)

Inc. VAT

£424.49

James Suckling (94-95)

Savory black and salted-olive character with oyster shells and black licorice. Fine, almost powdery yet firm tannins. Medium body. Excellent density and structure for the vintage. Second wine of Palmer. 60% cabernet sauvignon, 32% merlot and 8% petit verdot. From biodynamically grown grapes.

More Info

Bordeaux
1
-

Inc. VAT

£573.85

Bordeaux
1
85 (WA)

Inc. VAT

£944.00

Wine Advocate (85)

Tasted at the Château Palmer vertical in London, this is my second bottle of 1960 Château Palmer and it confirms my first observation that this is one of the best examples from a forgotten and derided vintage. Fully mature with a light brick hue, it has an almost mature Pommard-like bouquet, faded and elegiac, yet not unattractive. The same goes for the palate that is clean and balanced, light and harmonious, showing no signs of oxidation. It's not going to win Wine of the Yea, but it might just be the best Claret you will drink from 1960. Tasted May 2015.

More Info

Bordeaux
1
100 (WA)

Inc. VAT

£8,828.00

Wine Advocate (100)

Tasted at the Château Palmer vertical in London, two bottles of 1961 Château Palmer were opened and compared. The first was a great bottle of wine, beautifully balanced and complex, and yet not quite living up to its status as one of the legendary bottles of the 20th century. That said, I still scored it around the 96 or 97 point mark. The second lived up to the billing. Coming from the late great John Avery's cellar, that is to say, purchased on release and never moved, the first difference is the slightly deeper color compared to the first bottle. The bouquet is difficult to capture in words. Heavenly, ethereal, moving and profound - they are all applicable here. It is still a wine in its prime, with dark berry fruit, hints of graphite and mineral, a touch of wilted violet petals. Its ineffable purity knocks you sideways. The palate is defined by its filigree framework of tannin - precise and lace-like, lending it the texture of a mature Richebourg. Yet it is unmistakably Margaux because there is stunning structure on the finish, astounding precision and a never-ending aftertaste that is borderline supernatural. This bottle reminds me of the first time I tasted the 1961 Palmer several years ago when I gave a perfect score without hesitation. This is exactly the same: a perfect wine and a bona fide legend. Tasted May 2015.

More Info

Bordeaux
5
96 (WA)

Inc. VAT

£787.20

Wine Advocate (96)

Tasted at the Château Palmer vertical in London, the 1966 Château Palmer has long been considered one of the finest wines of that vintage. Perhaps over-shadowed by the 1961, it remains a marvellous Margaux that continues to give pleasure. I tasted three different bottles of the 1966, two bottles side by side at the vertical tasting in London, though I have chosen a bottle subsequently tasted in Bordeaux the following March since this was served blind. The nose is wonderful: dusky black fruit, cedar, autumn woodland scents, perhaps more Saint Julien-like than the 1961, which is unequivocally "Margaux." The palate is medium-bodied with sufficient fruit, very fine tannins and perfectly judged acidity. It is a different character to the 1961. It does not have the same flair and profundity, but it is what you would describe as "proper Claret" - a little austere and conservative, but harmonious, fresh and amazingly long; and I noticed a nuanced ferrous element on the aftertaste. It has always been an outstanding Palmer that deserves respect and great bottles continue to shine. Tasted March 2016.

More Info

Bordeaux
3
-

Inc. VAT

£361.20

Bordeaux
5
-

Inc. VAT

£411.60

Bordeaux
9
93 (VN (ST))

Inc. VAT

£507.60

Vinous - Stephen Tanzer (93)

: Full, deep red. Spicy aromas of cassis and rose petal, with a whiff of meat. Then wonderfully penetrating and classy, with bright acidity giving the wine superb clarity and thrust. This has terrific structure. Finishes very long and fine, with excellent grip. By far the finest bottle I've tasted to date of this wine, and one of the real surprises of the tasting. (My second bottle showed roasted redcurrant, leather, meat and smoky oak on the nose; and a sweet, suave, broad palate without quite the structure and grip of the first sample. But this wine, too, offered compelling sweetness and rated 91 points.) Drink now through 2015.

More Info

Bordeaux
1
91 (WS)

Inc. VAT

£3,864.07

Wine Spectator (91)

Greatness in subtlety. Clearly focused black cherry and vanilla character. It's full-bodied with medium tannins and a juicy, fruity finish. Drink now.--The Bordeaux 50. -JS

More Info

Bordeaux
1
96 (WS)

Inc. VAT

£3,289.20

Wine Spectator (96)

A definition of finesse. So opulent and seductive that the smoothness and delicacy of the texture come almost as a surprise. Explosive blackberry, currant, plum and vanilla aromas are only the beginning, and the subtle echoes of fruit and spice carry over on the featherlight finish. Tannins are beautifully integrated. Should keep improving past 2000. 16,000 cases made.

More Info

Bordeaux
1
96 (WA)

Inc. VAT

£7,902.07

Wine Advocate (96)

Tasted at the Château Palmer vertical in London, the 1989 Château Palmer has always been my favourite vintage from that decade after the 1983. The first bottle was unfortunately corked. The second was as it should be: the nose tensile with red berries, sous-bois, potpourri and strawberry pastille - lively and energetic. The palate is medium-bodied and vibrant right from the start, silky in texture with plenty of citrus fruit, gently building to a harmonious and detailed finish that lingers in the mouth. This is a magnificent Château Palmer that continues to effortlessly dish out so much vinous pleasure. Tasted May 2015.

More Info

Bordeaux
1
96 (WA)

Inc. VAT

£5,179.66

Wine Advocate (96)

Tasted at the Château Palmer vertical in London, the 1989 Château Palmer has always been my favourite vintage from that decade after the 1983. The first bottle was unfortunately corked. The second was as it should be: the nose tensile with red berries, sous-bois, potpourri and strawberry pastille - lively and energetic. The palate is medium-bodied and vibrant right from the start, silky in texture with plenty of citrus fruit, gently building to a harmonious and detailed finish that lingers in the mouth. This is a magnificent Château Palmer that continues to effortlessly dish out so much vinous pleasure. Tasted May 2015.

More Info

Bordeaux
1
18 (JR)

Inc. VAT

£4,735.27

Jancis Robinson (18)

Magnum. Deep ruby. Completely rich, sweet and gorgeous with a hint of graphite on the nose. Beautiful lift and elegance but on the finish it was a real throat warmer. Just my sort of wine. But after 45 minutes or so, it lost a bit of fruit in the glass and the acidity became much more obvious, suggesting it may not have that much more to give, even from a magnum.

More Info

Bordeaux
1
18 (JR)

Inc. VAT

£1,352.42

Jancis Robinson (18)

Magnum. Deep ruby. Completely rich, sweet and gorgeous with a hint of graphite on the nose. Beautiful lift and elegance but on the finish it was a real throat warmer. Just my sort of wine. But after 45 minutes or so, it lost a bit of fruit in the glass and the acidity became much more obvious, suggesting it may not have that much more to give, even from a magnum.

More Info

Bordeaux
1
89 (WS)

Inc. VAT

£2,852.47

Wine Spectator (89)

Exuberant aromas of new wood, chocolate and tobacco. Medium- to full-bodied, yet wonderfully refined with cedar, tobacco, cherry and berry flavors. Really a joy to taste. Drink or hold. 14,000 cases made. -JS

More Info

Bordeaux
2
89 (WS)

Inc. VAT

£1,437.64

Wine Spectator (89)

Exuberant aromas of new wood, chocolate and tobacco. Medium- to full-bodied, yet wonderfully refined with cedar, tobacco, cherry and berry flavors. Really a joy to taste. Drink or hold. 14,000 cases made. -JS

More Info

Bordeaux
1
97 (WS)

Inc. VAT

£4,729.27

Wine Spectator (97)

This takes time to unwind, but then it explodes with fruit and powerful, yet silky tannins. Perfumed and rich, with berry, cherry and tobacco character. Full-bodied, with super-well-integrated tannins and a reduced, refined palate structure. It's compacted and powerful. Very racy wine. Best after 2010. -JS

More Info

Bordeaux
1
94 (WA)

Inc. VAT

£2,899.27

Wine Advocate (94)

A successful wine for the vintage, this blend of 52% Cabernet Sauvignon, 40% Merlot, and 8% Petit Verdot boasts complex notes of menthol, black currants, plums, licorice, and a hint of cappuccino in its stunning aromatics. Dense, medium to full-bodied, with high levels of tannin in a big, full-bodied style (much in the spirit of such classic Bordeaux vintages as 1966, 1986, and 1996), this wine possesses superb purity and serious length, but should be purchased only by those with considerable patience and a good, cold cellar, since it will need plenty of time. Anticipated maturity: 2012-2028.

More Info

Bordeaux
2
94 (WA)

Inc. VAT

£1,491.23

Wine Advocate (94)

A successful wine for the vintage, this blend of 52% Cabernet Sauvignon, 40% Merlot, and 8% Petit Verdot boasts complex notes of menthol, black currants, plums, licorice, and a hint of cappuccino in its stunning aromatics. Dense, medium to full-bodied, with high levels of tannin in a big, full-bodied style (much in the spirit of such classic Bordeaux vintages as 1966, 1986, and 1996), this wine possesses superb purity and serious length, but should be purchased only by those with considerable patience and a good, cold cellar, since it will need plenty of time. Anticipated maturity: 2012-2028.

More Info

Bordeaux
1
100 (WS)

Inc. VAT

£4,171.27

Wine Spectator (100)

Opulent and flamboyant are the two words that come to mind with this wine. Aromas of blackberries, dark chocolate and toasted oak follow through to a full-bodied palate, with big, chewy tannins (yet they are refined and silky) and a long, long finish. This is a full-throttle Palmer. Superripe and delicious. Score range: 95-100

More Info
Product Name
Region
Qty
Score
Price

Bordeaux
2
92 (WS)

In Bond

£1,410.00

Wine Spectator (92)

This is super for a second wine. Fantastic aromas of chocolate, berry and coffee. Yet very classy and subtle. Full-bodied, with a reserved rich and caressing texture. Loads of ripe and wonderful fruit in this. Second wine of Château Palmer. Best after 2006. -JS

More Info

Bordeaux
1
94 (JS)

In Bond

£845.00

James Suckling (94)

This is amazing for the second wine with incredible white truffle, stone and currant character. Purity of fruit on the nose. Full-bodied, silky and refined. Fantastic length. Better in 2018 but almost impossible to resist now. Incredible.

More Info

Bordeaux
1
94 (JS)

In Bond

£588.00

James Suckling (94)

This is amazing for the second wine with incredible white truffle, stone and currant character. Purity of fruit on the nose. Full-bodied, silky and refined. Fantastic length. Better in 2018 but almost impossible to resist now. Incredible.

More Info

Bordeaux
3
94-95 (JS)

In Bond

£901.00

James Suckling (94-95)

Very solid and powerful with dried mushroom and wet earth aromas and flavors. Complex. Full and chewy yet so polished and long. Spicy, meat and gorgeous. Most serious Alter Ego ever. More inner Ego now!. 52% merlot, 41% cabernet sauvignon, and petit verdot 6%.

More Info

Bordeaux
1
94 (JS)

In Bond

£461.00

James Suckling (94)

This is a delicious and savory wine with beautiful, ripe and creamy tannins, as well as chocolate and plum character. Full body. The flavors turn to wet earth and mushrooms with some leather. A blend of 53% merlot, 41% cabernet sauvignon and 6% petit verdot. Lovely finish. Try after 2021.

More Info

Bordeaux
1
94 (JS)

In Bond

£375.00

James Suckling (94)

This is a delicious and savory wine with beautiful, ripe and creamy tannins, as well as chocolate and plum character. Full body. The flavors turn to wet earth and mushrooms with some leather. A blend of 53% merlot, 41% cabernet sauvignon and 6% petit verdot. Lovely finish. Try after 2021.

More Info

Bordeaux
1
95 (DC)

In Bond

£398.00

Decanter (95)

Gorgeous rich dark purple in the glass. Quite jammy and concentrated on the nose, heady and perfumed with a lovely delicate florality to it too. Great freshness on the palate, juicy but a dark blackcurrant and cherry fruit juice. Beautifully balanced with integrated tannins and oak. Well defined fruit, generous and quite abundant against softly grippy, velvety tannins that just give support to the overall frame. It's serious but with a lightness of touch and playfulness - energetic and lively but still with depth. A great Alter Ego and confident winemaking on show.

More Info

Bordeaux
1
95 (DC)

In Bond

£360.50

Decanter (95)

Gorgeous rich dark purple in the glass. Quite jammy and concentrated on the nose, heady and perfumed with a lovely delicate florality to it too. Great freshness on the palate, juicy but a dark blackcurrant and cherry fruit juice. Beautifully balanced with integrated tannins and oak. Well defined fruit, generous and quite abundant against softly grippy, velvety tannins that just give support to the overall frame. It's serious but with a lightness of touch and playfulness - energetic and lively but still with depth. A great Alter Ego and confident winemaking on show.

More Info

Bordeaux
2
17+ (JR)

In Bond

£410.00

Jancis Robinson (17+)

50% Cabernet Sauvignon, 46% Merlot, 4% Petit Verdot. Cask sample. Very much in the Alter Ego mould – lively, fruit-driven with that vineyard-fresh feel but with a little more structure than previous years. Pure and appetising but will age. (JL) 13.7%

More Info

Bordeaux
10
17+ (JR)

In Bond

£366.00

Jancis Robinson (17+)

50% Cabernet Sauvignon, 46% Merlot, 4% Petit Verdot. Cask sample. Very much in the Alter Ego mould – lively, fruit-driven with that vineyard-fresh feel but with a little more structure than previous years. Pure and appetising but will age. (JL) 13.7%

More Info

Bordeaux
1
94-95 (JS)

In Bond

£334.50

James Suckling (94-95)

Savory black and salted-olive character with oyster shells and black licorice. Fine, almost powdery yet firm tannins. Medium body. Excellent density and structure for the vintage. Second wine of Palmer. 60% cabernet sauvignon, 32% merlot and 8% petit verdot. From biodynamically grown grapes.

More Info

Bordeaux
1
-

In Bond

£475.00

Bordeaux
1
85 (WA)

In Bond

£784.00

Wine Advocate (85)

Tasted at the Château Palmer vertical in London, this is my second bottle of 1960 Château Palmer and it confirms my first observation that this is one of the best examples from a forgotten and derided vintage. Fully mature with a light brick hue, it has an almost mature Pommard-like bouquet, faded and elegiac, yet not unattractive. The same goes for the palate that is clean and balanced, light and harmonious, showing no signs of oxidation. It's not going to win Wine of the Yea, but it might just be the best Claret you will drink from 1960. Tasted May 2015.

More Info

Bordeaux
1
100 (WA)

In Bond

£7,354.00

Wine Advocate (100)

Tasted at the Château Palmer vertical in London, two bottles of 1961 Château Palmer were opened and compared. The first was a great bottle of wine, beautifully balanced and complex, and yet not quite living up to its status as one of the legendary bottles of the 20th century. That said, I still scored it around the 96 or 97 point mark. The second lived up to the billing. Coming from the late great John Avery's cellar, that is to say, purchased on release and never moved, the first difference is the slightly deeper color compared to the first bottle. The bouquet is difficult to capture in words. Heavenly, ethereal, moving and profound - they are all applicable here. It is still a wine in its prime, with dark berry fruit, hints of graphite and mineral, a touch of wilted violet petals. Its ineffable purity knocks you sideways. The palate is defined by its filigree framework of tannin - precise and lace-like, lending it the texture of a mature Richebourg. Yet it is unmistakably Margaux because there is stunning structure on the finish, astounding precision and a never-ending aftertaste that is borderline supernatural. This bottle reminds me of the first time I tasted the 1961 Palmer several years ago when I gave a perfect score without hesitation. This is exactly the same: a perfect wine and a bona fide legend. Tasted May 2015.

More Info

Bordeaux
5
96 (WA)

Inc. VAT

£787.20

Wine Advocate (96)

Tasted at the Château Palmer vertical in London, the 1966 Château Palmer has long been considered one of the finest wines of that vintage. Perhaps over-shadowed by the 1961, it remains a marvellous Margaux that continues to give pleasure. I tasted three different bottles of the 1966, two bottles side by side at the vertical tasting in London, though I have chosen a bottle subsequently tasted in Bordeaux the following March since this was served blind. The nose is wonderful: dusky black fruit, cedar, autumn woodland scents, perhaps more Saint Julien-like than the 1961, which is unequivocally "Margaux." The palate is medium-bodied with sufficient fruit, very fine tannins and perfectly judged acidity. It is a different character to the 1961. It does not have the same flair and profundity, but it is what you would describe as "proper Claret" - a little austere and conservative, but harmonious, fresh and amazingly long; and I noticed a nuanced ferrous element on the aftertaste. It has always been an outstanding Palmer that deserves respect and great bottles continue to shine. Tasted March 2016.

More Info

Bordeaux
3
-

Inc. VAT

£361.20

Bordeaux
5
-

Inc. VAT

£411.60

Bordeaux
9
93 (VN (ST))

Inc. VAT

£507.60

Vinous - Stephen Tanzer (93)

: Full, deep red. Spicy aromas of cassis and rose petal, with a whiff of meat. Then wonderfully penetrating and classy, with bright acidity giving the wine superb clarity and thrust. This has terrific structure. Finishes very long and fine, with excellent grip. By far the finest bottle I've tasted to date of this wine, and one of the real surprises of the tasting. (My second bottle showed roasted redcurrant, leather, meat and smoky oak on the nose; and a sweet, suave, broad palate without quite the structure and grip of the first sample. But this wine, too, offered compelling sweetness and rated 91 points.) Drink now through 2015.

More Info

Bordeaux
1
91 (WS)

In Bond

£3,188.00

Wine Spectator (91)

Greatness in subtlety. Clearly focused black cherry and vanilla character. It's full-bodied with medium tannins and a juicy, fruity finish. Drink now.--The Bordeaux 50. -JS

More Info

Bordeaux
1
96 (WS)

Inc. VAT

£3,289.20

Wine Spectator (96)

A definition of finesse. So opulent and seductive that the smoothness and delicacy of the texture come almost as a surprise. Explosive blackberry, currant, plum and vanilla aromas are only the beginning, and the subtle echoes of fruit and spice carry over on the featherlight finish. Tannins are beautifully integrated. Should keep improving past 2000. 16,000 cases made.

More Info

Bordeaux
1
96 (WA)

In Bond

£6,553.00

Wine Advocate (96)

Tasted at the Château Palmer vertical in London, the 1989 Château Palmer has always been my favourite vintage from that decade after the 1983. The first bottle was unfortunately corked. The second was as it should be: the nose tensile with red berries, sous-bois, potpourri and strawberry pastille - lively and energetic. The palate is medium-bodied and vibrant right from the start, silky in texture with plenty of citrus fruit, gently building to a harmonious and detailed finish that lingers in the mouth. This is a magnificent Château Palmer that continues to effortlessly dish out so much vinous pleasure. Tasted May 2015.

More Info

Bordeaux
1
96 (WA)

In Bond

£4,295.00

Wine Advocate (96)

Tasted at the Château Palmer vertical in London, the 1989 Château Palmer has always been my favourite vintage from that decade after the 1983. The first bottle was unfortunately corked. The second was as it should be: the nose tensile with red berries, sous-bois, potpourri and strawberry pastille - lively and energetic. The palate is medium-bodied and vibrant right from the start, silky in texture with plenty of citrus fruit, gently building to a harmonious and detailed finish that lingers in the mouth. This is a magnificent Château Palmer that continues to effortlessly dish out so much vinous pleasure. Tasted May 2015.

More Info

Bordeaux
1
18 (JR)

In Bond

£3,914.00

Jancis Robinson (18)

Magnum. Deep ruby. Completely rich, sweet and gorgeous with a hint of graphite on the nose. Beautiful lift and elegance but on the finish it was a real throat warmer. Just my sort of wine. But after 45 minutes or so, it lost a bit of fruit in the glass and the acidity became much more obvious, suggesting it may not have that much more to give, even from a magnum.

More Info

Bordeaux
1
18 (JR)

In Bond

£1,119.00

Jancis Robinson (18)

Magnum. Deep ruby. Completely rich, sweet and gorgeous with a hint of graphite on the nose. Beautiful lift and elegance but on the finish it was a real throat warmer. Just my sort of wine. But after 45 minutes or so, it lost a bit of fruit in the glass and the acidity became much more obvious, suggesting it may not have that much more to give, even from a magnum.

More Info

Bordeaux
1
89 (WS)

In Bond

£2,345.00

Wine Spectator (89)

Exuberant aromas of new wood, chocolate and tobacco. Medium- to full-bodied, yet wonderfully refined with cedar, tobacco, cherry and berry flavors. Really a joy to taste. Drink or hold. 14,000 cases made. -JS

More Info

Bordeaux
2
89 (WS)

In Bond

£1,182.00

Wine Spectator (89)

Exuberant aromas of new wood, chocolate and tobacco. Medium- to full-bodied, yet wonderfully refined with cedar, tobacco, cherry and berry flavors. Really a joy to taste. Drink or hold. 14,000 cases made. -JS

More Info

Bordeaux
1
97 (WS)

In Bond

£3,909.00

Wine Spectator (97)

This takes time to unwind, but then it explodes with fruit and powerful, yet silky tannins. Perfumed and rich, with berry, cherry and tobacco character. Full-bodied, with super-well-integrated tannins and a reduced, refined palate structure. It's compacted and powerful. Very racy wine. Best after 2010. -JS

More Info

Bordeaux
1
94 (WA)

In Bond

£2,384.00

Wine Advocate (94)

A successful wine for the vintage, this blend of 52% Cabernet Sauvignon, 40% Merlot, and 8% Petit Verdot boasts complex notes of menthol, black currants, plums, licorice, and a hint of cappuccino in its stunning aromatics. Dense, medium to full-bodied, with high levels of tannin in a big, full-bodied style (much in the spirit of such classic Bordeaux vintages as 1966, 1986, and 1996), this wine possesses superb purity and serious length, but should be purchased only by those with considerable patience and a good, cold cellar, since it will need plenty of time. Anticipated maturity: 2012-2028.

More Info

Bordeaux
2
94 (WA)

In Bond

£1,232.00

Wine Advocate (94)

A successful wine for the vintage, this blend of 52% Cabernet Sauvignon, 40% Merlot, and 8% Petit Verdot boasts complex notes of menthol, black currants, plums, licorice, and a hint of cappuccino in its stunning aromatics. Dense, medium to full-bodied, with high levels of tannin in a big, full-bodied style (much in the spirit of such classic Bordeaux vintages as 1966, 1986, and 1996), this wine possesses superb purity and serious length, but should be purchased only by those with considerable patience and a good, cold cellar, since it will need plenty of time. Anticipated maturity: 2012-2028.

More Info

Bordeaux
1
100 (WS)

In Bond

£3,444.00

Wine Spectator (100)

Opulent and flamboyant are the two words that come to mind with this wine. Aromas of blackberries, dark chocolate and toasted oak follow through to a full-bodied palate, with big, chewy tannins (yet they are refined and silky) and a long, long finish. This is a full-throttle Palmer. Superripe and delicious. Score range: 95-100

More Info