Pichon Lalande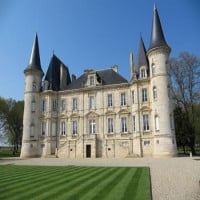 About Château Pichon Lalande
Château Pichon-Longueville Comtesse de Lalande (Pichon Lalande) is a 2éme Grand Cru Classé estate in Pauillac. The estate – and its 'brother' Pichon Longueville Baron – was effectively created in 1850 when Baron Joseph de Pichon Longueville divided a larger property (comprising both estates) between his five children. Until 2007 the property was owned by descendent May-Eliane de Lencquesaing (from 1978). She presided over a steep ascent in the estate's fortunes. As well as investing heavily in the property, she was a tireless ambassador and presided over a significant increase in Pichon Lalande's size, from 40ha when she took over to 89ha now. In 2007 the estate was acquired by the owners of Louis Roederer Champagne, who have continued its traditions and, if anything, taken the property on to even greater heights.
Pichon Lalande's Wine
This producer has a reputation for sheer, unrivalled elegance within the commune of Pauillac due to the slightly lower percentage of Cabernet Sauvignon in the blend than is typical, with other varietals softening and smoothing the beautifully textured and exquisitely perfumed wines.