Promontory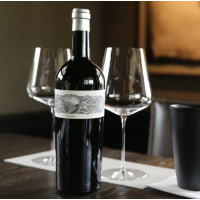 About Promontory
Promontory was founded by the Harlan family within the western hills of Napa Valley, on the border between Oakville and Yountville. The land is a hidden, untamed territory originally discovered by H. William Harlan in the early 1980s, and finally captured by the Harlan family in 2008.
The 30 hectares of vines are laid out in a patchwork and planted on steep and rugged slopes within 340 hectares of forest and wilderness. Promontory is aged in large Austrian oak casks, and released more than 5 years after harvest. The wine is characterized by the metamorphic geology: fresh forest and wet stone aromatics; on the palate a linear drive, mineral focus, and the feeling of an almost weightless structure.

Promontory has one of the best winemaking teams in California and takes a no expense spared approach to produce some of the best wines in the world. This wine is being elevated to the level of Screaming Eagle, Pétrus or Le Pin in terms of cult status, unbelievably quality and scarcity.