R. López de Heredia
About López de Heredia
An exemplary producer of traditional Rioja, López de Heredia was founded by Don Rafael López de Heredia in 1877, shortly after the phylloxera outbreak forced the French to explore neighbouring Spain for alternative sources of quality grapes. 4 generations and more than 140 years later, López de Heredia continues making wine in pretty much the same way as before, and "can make a very good claim to be the only producer whose philosophy focuses on a blend of tradition and tradition" (Simon Field MW, Decanter).
The only bodega to be awarded a "Diploma de Garantía" (Diploma of Guarantee, displayed on all back labels) from Rioja's regulating body for using only native grapes since its founding, López de Heredia is also the sole bodega in Spain to hand-craft all their barrels.
Viniculture
Today, the observation tower he designed to watch the vines is still a local landmark. Lopez de Heredia makes great traditional red and white Rioja. The white is particularly rare as most white Rioja is a young modern style. The wine is aged in large Bordeaux sized barrels from old mostly American oak, in their warren-like cellars.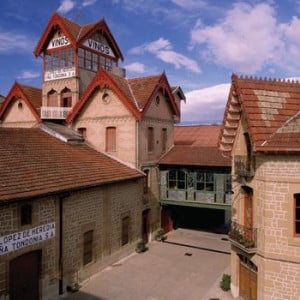 Name
Price Low
Price High
Year (Old)
Year (New)
Prices:
Product Name
Region
Qty
Score
Price

Rioja
1
-

Inc. VAT

£1,531.24

Rioja
1
96+ (WA)

Inc. VAT

£912.04

Wine Advocate (96+)

The 2010 Viña Tondonia Rosado Gran Reserva was hitting on all cylinders. It was produced with 60% Garnacho (they use the masculine of the name here), 30% Tempranillo and 10% white Viura from vines averaging 91 years of age. Like all the wines, it fermented with indigenous yeasts (they have never used selected yeasts) in the 142 oak vats they have used since the beginning and then matured in old American oak barrels for four years. There is tons of complexity and nuance here; it's super elegant and layered, and as the wine sat in the glass, it developed more and more complex aromas, a subtle combination of balsam, red acid berries, a hint of medicine, fennel and wet chalk, a diesel-like touch, old wood and mushroom (beetroot?), licorice and yellow flowers, sweet spices... There's a lot more of everything. It's clean and crystalline, fresh and long, with terrific balance and depth. This has to be the finest rosado of recent times... 25,000 bottles produced. It was bottled in April 2016. The Gran Reserva wines from López de Heredia come back to the market with the heralded 2001 vintage. Otherwise, when I asked them about news, the answer was "We continue making Viña Tondonia as we have always done." Basically, they are against change... From their 170 hectares of vineyards, 124 are currently in production, from which they produce around 400,000 bottles. They are the most traditional among Rioja traditionalists.

More Info

Rioja
3
-

Inc. VAT

£427.22

Rioja
1
-

Inc. VAT

£832.84

Rioja
6
-

Inc. VAT

£372.04

Rioja
1
94 (VN)

Inc. VAT

£2,883.89

Vinous (94)

(aged for nine-and-a-half years in American oak barrels and then held in bottle for at least nine years before release) Limpid, brass-tinged yellow-gold. Highly pungent, heady aromas of orange pith, dried peach, iodine, jasmine, honey and toasted brioche pick up a smoky mineral nuance as the wine opens up. Deeply concentrated and expansive in the mouth, offering palate-coating marmalade, pit fruit and sweet butter flavors that show a refreshingly bitter edge and an echo of minerality. Sappy and surprisingly vibrant for its heft, delivering powerful mineral thrust and persistent floral and smoky mineral notes that cling to the strikingly long finish.

More Info

Rioja
1
96 (WA)

Inc. VAT

£3,009.64

Wine Advocate (96)

Released even later than the red, the 1994 Viña Tondonia Blanco Gran Reserva, the most classical of all whites in existence in Spain, is a blend of 90% Viura and 10% Malvasía Riojana fermented in old (ancient!) oak vats with indigenous yeasts and matured in well-seasoned American oak barrels for ten years (yes, you read it correctly, ten years in barrique). It was bottled unfiltered in March 2005. This is by far the most complex white, with notes of curry and meat broth (think umami), that are complex, subtle and aromatic, plus show developing notes of mushrooms, autumn forest, aromatic herbs and hints of petrol and perhaps–and this might not be politically correct–traces of asparagus and mustard! The palate reveals a very compact wine, very intense, round but focused, with high-pitched flavors, great acidity and length. The wine is a chameleon, keeps changing in the glass, while the notes of green nuts, curry and morels made me think of a wine from the Jura. After drinking bottles from the 1940s, 50s and 60s, I can promise you this wine will outlive most of us, as the whites age even longer than the reds. 8,800 bottles exist.

More Info

Rioja
2
94 (VN)

Inc. VAT

£939.64

Vinous (94)

Shimmering yellow-gold. Expansive aromas of lemon marmalade, peach nectar, chamomile, toasted nuts and honey, plus a hint of spicy ginger in the background. Broad and fleshy in the mouth, offering intense citrus and pit fruit, buttered toast and honey flavors and a subtle mineral undertone. Finishes very long and smooth, with building florality and repeating toast and pit fruit notes.

More Info

Rioja
1
93 (WA)

Inc. VAT

£850.84

Wine Advocate (93)

The 2011 Viña Tondonia Blanco Reserva reflects a warm and ripe year, and the wine is more evolved and already hints at some caramel and honey. It has a mellow palate without the vibrancy of the 2010 I tasted next to it. This wine matured in used, ancient American oak barrels for six years. 19,000 bottles were filled in November 2019.

More Info

Rioja
2
96 (WA)

Inc. VAT

£1,327.24

Wine Advocate (96)

The 1994 Vina Tondonia Gran Reserva has an elegant bouquet with light red cherries, orange blossom, mahogany bureau and burnt buttered toast. The palate has a meaty, savory entry with crisp tannins and racy acidity. It displays superb structure towards the finish where one finds notes of bitter lemon, orange peel and sage. Delicious! Drink now-2030+

More Info

Rioja
1
98 (WA)

Inc. VAT

£1,159.24

Wine Advocate (98)

The 2001 Viña Tondonia Gran Reserva is the follow-up of the 1995. There is a sense of harmony and elegance, of nuance and subtleness that wasn't quite the same in the Bosconia, as comparing both wines is inevitable. They started picking the red grapes the 15th of October, and the last grapes were picked the 29th of October with good weather. The grapes ripened properly and thoroughly, and the wine has great balance for a long aging in bottle. This is 70% Tempranillo, 20% Garnacho and 5% each Graciano and Mazuelo that fermented in their 153-year-old oak vats with indigenous yeasts and matured in used barrels for 10 years. It has 13% alcohol, a pH of 3.4 and 6.4 grams of acidity (tartaric). The nose shows young (tasting it blind, you'd guess a 10-year old wine, not a 20-year-old wine!). It has a nose of sweet spices, underbrush and cigar ash, somewhat balsamic, bramble fruit with perfect ripeness, integrated and young but starting to show some tertiary complexity. The palate is velvety and medium-bodied, with fine-grained, chalky tannins denoting a limestone soil that brings finesse and texture and a sapid, tasty, almost salty finish. This is going to make a beautiful bottle of old Rioja in 30 years' time! 25,000 bottles produced. It was bottled after being fined with egg whites in July 2012.

More Info

Rioja
1
96 (WA)

Inc. VAT

£296.44

Wine Advocate (96)

Following the appreciation of the 2007 vintage from María José López de Heredia, the red 2007 Viña Tondonia Reserva is showing great, revealing unusual finesse and elegance. The nose is a little reticent but nuanced and complex, a little shy rather than explosive. The palate is medium-bodied, and the tannins are very refined. This has to be one of the finest vintages of Viña Tondonia Reserva of recent years. 200,000 bottles produced. It was bottled in November 2015.

More Info

Rioja
2
97 (TA)

Inc. VAT

£289.24

Tim Atkin MW (97)

Tondonia's reds have been on an upward curve recently and are now at the same level as the bodega's world-class whites. This is a fine, elegant, savoury, low-alcohol blend of Tempranillo with 20% Garnacha and 5% each of Mazuelo and Graciano, combining summer berry fruit, racy acidity, granular tannins and an earthy, balsamic undertone. Good now, but this will develop further in bottle.

More Info

Rioja
1
94 (TA)

Inc. VAT

£490.87

Tim Atkin MW (94)

Serious and concentrated, at least by the standards of some López de Heredia reds, this reflects the heat of the 2009 vintage. Tempranillo-based with 30% Garnacha, Graciano and Mazuelo, it's spicy, savoury and high toned with grippy tannins, layers of tobacco and red fruits and classic, supporting acidity. 2021-30

More Info

Rioja
3
96 (WA)

Inc. VAT

£314.44

Wine Advocate (96)

The 2010 Viña Tondonia Reserva has all I expect from a Reserva from Tondonia, complexity, elegance and evolution, a developed nose with notes of forest floor and wild berries, herbs and flowers, a touch of iodine, brick dust and very fine, polished tannins. It has the seriousness and elegance of Tondonia. This is a blend of 70% Tempranillo, 20% Garnacho (they use the masculine form of the name of the grape) and 5% each Graciano and Mazuelo that fermented in the ancient oak vats from when the winery was created 144 years ago and matured in well-seasoned, American oak barrels for six years. It has 13% alcohol, a pH of 3.4 and 6.6 grams of acidity. 260,000 bottles produced. It was bottled in May 2017.

More Info

Rioja
2
96 (WA)

Inc. VAT

£508.87

Wine Advocate (96)

The 2010 Viña Tondonia Reserva has all I expect from a Reserva from Tondonia, complexity, elegance and evolution, a developed nose with notes of forest floor and wild berries, herbs and flowers, a touch of iodine, brick dust and very fine, polished tannins. It has the seriousness and elegance of Tondonia. This is a blend of 70% Tempranillo, 20% Garnacho (they use the masculine form of the name of the grape) and 5% each Graciano and Mazuelo that fermented in the ancient oak vats from when the winery was created 144 years ago and matured in well-seasoned, American oak barrels for six years. It has 13% alcohol, a pH of 3.4 and 6.6 grams of acidity. 260,000 bottles produced. It was bottled in May 2017.

More Info

Rioja
1
96 (WA)

Inc. VAT

£244.84

Wine Advocate (96)

The 2010 Viña Tondonia Reserva has all I expect from a Reserva from Tondonia, complexity, elegance and evolution, a developed nose with notes of forest floor and wild berries, herbs and flowers, a touch of iodine, brick dust and very fine, polished tannins. It has the seriousness and elegance of Tondonia. This is a blend of 70% Tempranillo, 20% Garnacho (they use the masculine form of the name of the grape) and 5% each Graciano and Mazuelo that fermented in the ancient oak vats from when the winery was created 144 years ago and matured in well-seasoned, American oak barrels for six years. It has 13% alcohol, a pH of 3.4 and 6.6 grams of acidity. 260,000 bottles produced. It was bottled in May 2017.

More Info

Rioja
1
95 (JS)

Inc. VAT

£523.27

James Suckling (95)

A traditional beauty that effuses iron, warm earth and savory tobacco leaves, together with plums, spices and orange zest. This is juicy and still tight, with firm but savory tannins. Medium-weight and quite zesty in texture, as is the case with the other López de Heredia reds tasted this session. Drink now or hold.

More Info

Rioja
43
95 (JS)

Inc. VAT

£250.84

James Suckling (95)

A traditional beauty that effuses iron, warm earth and savory tobacco leaves, together with plums, spices and orange zest. This is juicy and still tight, with firm but savory tannins. Medium-weight and quite zesty in texture, as is the case with the other López de Heredia reds tasted this session. Drink now or hold.

More Info
Product Name
Region
Qty
Score
Price

Rioja
1
-

In Bond

£1,260.00

Rioja
1
96+ (WA)

In Bond

£744.00

Wine Advocate (96+)

The 2010 Viña Tondonia Rosado Gran Reserva was hitting on all cylinders. It was produced with 60% Garnacho (they use the masculine of the name here), 30% Tempranillo and 10% white Viura from vines averaging 91 years of age. Like all the wines, it fermented with indigenous yeasts (they have never used selected yeasts) in the 142 oak vats they have used since the beginning and then matured in old American oak barrels for four years. There is tons of complexity and nuance here; it's super elegant and layered, and as the wine sat in the glass, it developed more and more complex aromas, a subtle combination of balsam, red acid berries, a hint of medicine, fennel and wet chalk, a diesel-like touch, old wood and mushroom (beetroot?), licorice and yellow flowers, sweet spices... There's a lot more of everything. It's clean and crystalline, fresh and long, with terrific balance and depth. This has to be the finest rosado of recent times... 25,000 bottles produced. It was bottled in April 2016. The Gran Reserva wines from López de Heredia come back to the market with the heralded 2001 vintage. Otherwise, when I asked them about news, the answer was "We continue making Viña Tondonia as we have always done." Basically, they are against change... From their 170 hectares of vineyards, 124 are currently in production, from which they produce around 400,000 bottles. They are the most traditional among Rioja traditionalists.

More Info

Rioja
3
-

In Bond

£348.00

Rioja
1
-

In Bond

£678.00

Rioja
6
-

In Bond

£294.00

Rioja
1
94 (VN)

In Bond

£2,384.00

Vinous (94)

(aged for nine-and-a-half years in American oak barrels and then held in bottle for at least nine years before release) Limpid, brass-tinged yellow-gold. Highly pungent, heady aromas of orange pith, dried peach, iodine, jasmine, honey and toasted brioche pick up a smoky mineral nuance as the wine opens up. Deeply concentrated and expansive in the mouth, offering palate-coating marmalade, pit fruit and sweet butter flavors that show a refreshingly bitter edge and an echo of minerality. Sappy and surprisingly vibrant for its heft, delivering powerful mineral thrust and persistent floral and smoky mineral notes that cling to the strikingly long finish.

More Info

Rioja
1
96 (WA)

In Bond

£2,492.00

Wine Advocate (96)

Released even later than the red, the 1994 Viña Tondonia Blanco Gran Reserva, the most classical of all whites in existence in Spain, is a blend of 90% Viura and 10% Malvasía Riojana fermented in old (ancient!) oak vats with indigenous yeasts and matured in well-seasoned American oak barrels for ten years (yes, you read it correctly, ten years in barrique). It was bottled unfiltered in March 2005. This is by far the most complex white, with notes of curry and meat broth (think umami), that are complex, subtle and aromatic, plus show developing notes of mushrooms, autumn forest, aromatic herbs and hints of petrol and perhaps–and this might not be politically correct–traces of asparagus and mustard! The palate reveals a very compact wine, very intense, round but focused, with high-pitched flavors, great acidity and length. The wine is a chameleon, keeps changing in the glass, while the notes of green nuts, curry and morels made me think of a wine from the Jura. After drinking bottles from the 1940s, 50s and 60s, I can promise you this wine will outlive most of us, as the whites age even longer than the reds. 8,800 bottles exist.

More Info

Rioja
2
94 (VN)

In Bond

£767.00

Vinous (94)

Shimmering yellow-gold. Expansive aromas of lemon marmalade, peach nectar, chamomile, toasted nuts and honey, plus a hint of spicy ginger in the background. Broad and fleshy in the mouth, offering intense citrus and pit fruit, buttered toast and honey flavors and a subtle mineral undertone. Finishes very long and smooth, with building florality and repeating toast and pit fruit notes.

More Info

Rioja
1
93 (WA)

In Bond

£693.00

Wine Advocate (93)

The 2011 Viña Tondonia Blanco Reserva reflects a warm and ripe year, and the wine is more evolved and already hints at some caramel and honey. It has a mellow palate without the vibrancy of the 2010 I tasted next to it. This wine matured in used, ancient American oak barrels for six years. 19,000 bottles were filled in November 2019.

More Info

Rioja
2
96 (WA)

In Bond

£1,090.00

Wine Advocate (96)

The 1994 Vina Tondonia Gran Reserva has an elegant bouquet with light red cherries, orange blossom, mahogany bureau and burnt buttered toast. The palate has a meaty, savory entry with crisp tannins and racy acidity. It displays superb structure towards the finish where one finds notes of bitter lemon, orange peel and sage. Delicious! Drink now-2030+

More Info

Rioja
1
98 (WA)

In Bond

£950.00

Wine Advocate (98)

The 2001 Viña Tondonia Gran Reserva is the follow-up of the 1995. There is a sense of harmony and elegance, of nuance and subtleness that wasn't quite the same in the Bosconia, as comparing both wines is inevitable. They started picking the red grapes the 15th of October, and the last grapes were picked the 29th of October with good weather. The grapes ripened properly and thoroughly, and the wine has great balance for a long aging in bottle. This is 70% Tempranillo, 20% Garnacho and 5% each Graciano and Mazuelo that fermented in their 153-year-old oak vats with indigenous yeasts and matured in used barrels for 10 years. It has 13% alcohol, a pH of 3.4 and 6.4 grams of acidity (tartaric). The nose shows young (tasting it blind, you'd guess a 10-year old wine, not a 20-year-old wine!). It has a nose of sweet spices, underbrush and cigar ash, somewhat balsamic, bramble fruit with perfect ripeness, integrated and young but starting to show some tertiary complexity. The palate is velvety and medium-bodied, with fine-grained, chalky tannins denoting a limestone soil that brings finesse and texture and a sapid, tasty, almost salty finish. This is going to make a beautiful bottle of old Rioja in 30 years' time! 25,000 bottles produced. It was bottled after being fined with egg whites in July 2012.

More Info

Rioja
1
96 (WA)

In Bond

£231.00

Wine Advocate (96)

Following the appreciation of the 2007 vintage from María José López de Heredia, the red 2007 Viña Tondonia Reserva is showing great, revealing unusual finesse and elegance. The nose is a little reticent but nuanced and complex, a little shy rather than explosive. The palate is medium-bodied, and the tannins are very refined. This has to be one of the finest vintages of Viña Tondonia Reserva of recent years. 200,000 bottles produced. It was bottled in November 2015.

More Info

Rioja
2
97 (TA)

In Bond

£225.00

Tim Atkin MW (97)

Tondonia's reds have been on an upward curve recently and are now at the same level as the bodega's world-class whites. This is a fine, elegant, savoury, low-alcohol blend of Tempranillo with 20% Garnacha and 5% each of Mazuelo and Graciano, combining summer berry fruit, racy acidity, granular tannins and an earthy, balsamic undertone. Good now, but this will develop further in bottle.

More Info

Rioja
1
94 (TA)

In Bond

£377.00

Tim Atkin MW (94)

Serious and concentrated, at least by the standards of some López de Heredia reds, this reflects the heat of the 2009 vintage. Tempranillo-based with 30% Garnacha, Graciano and Mazuelo, it's spicy, savoury and high toned with grippy tannins, layers of tobacco and red fruits and classic, supporting acidity. 2021-30

More Info

Rioja
3
96 (WA)

In Bond

£246.00

Wine Advocate (96)

The 2010 Viña Tondonia Reserva has all I expect from a Reserva from Tondonia, complexity, elegance and evolution, a developed nose with notes of forest floor and wild berries, herbs and flowers, a touch of iodine, brick dust and very fine, polished tannins. It has the seriousness and elegance of Tondonia. This is a blend of 70% Tempranillo, 20% Garnacho (they use the masculine form of the name of the grape) and 5% each Graciano and Mazuelo that fermented in the ancient oak vats from when the winery was created 144 years ago and matured in well-seasoned, American oak barrels for six years. It has 13% alcohol, a pH of 3.4 and 6.6 grams of acidity. 260,000 bottles produced. It was bottled in May 2017.

More Info

Rioja
2
96 (WA)

In Bond

£392.00

Wine Advocate (96)

The 2010 Viña Tondonia Reserva has all I expect from a Reserva from Tondonia, complexity, elegance and evolution, a developed nose with notes of forest floor and wild berries, herbs and flowers, a touch of iodine, brick dust and very fine, polished tannins. It has the seriousness and elegance of Tondonia. This is a blend of 70% Tempranillo, 20% Garnacho (they use the masculine form of the name of the grape) and 5% each Graciano and Mazuelo that fermented in the ancient oak vats from when the winery was created 144 years ago and matured in well-seasoned, American oak barrels for six years. It has 13% alcohol, a pH of 3.4 and 6.6 grams of acidity. 260,000 bottles produced. It was bottled in May 2017.

More Info

Rioja
1
96 (WA)

In Bond

£188.00

Wine Advocate (96)

The 2010 Viña Tondonia Reserva has all I expect from a Reserva from Tondonia, complexity, elegance and evolution, a developed nose with notes of forest floor and wild berries, herbs and flowers, a touch of iodine, brick dust and very fine, polished tannins. It has the seriousness and elegance of Tondonia. This is a blend of 70% Tempranillo, 20% Garnacho (they use the masculine form of the name of the grape) and 5% each Graciano and Mazuelo that fermented in the ancient oak vats from when the winery was created 144 years ago and matured in well-seasoned, American oak barrels for six years. It has 13% alcohol, a pH of 3.4 and 6.6 grams of acidity. 260,000 bottles produced. It was bottled in May 2017.

More Info

Rioja
1
95 (JS)

In Bond

£404.00

James Suckling (95)

A traditional beauty that effuses iron, warm earth and savory tobacco leaves, together with plums, spices and orange zest. This is juicy and still tight, with firm but savory tannins. Medium-weight and quite zesty in texture, as is the case with the other López de Heredia reds tasted this session. Drink now or hold.

More Info

Rioja
43
95 (JS)

In Bond

£193.00

James Suckling (95)

A traditional beauty that effuses iron, warm earth and savory tobacco leaves, together with plums, spices and orange zest. This is juicy and still tight, with firm but savory tannins. Medium-weight and quite zesty in texture, as is the case with the other López de Heredia reds tasted this session. Drink now or hold.

More Info
Name
Price Low
Price High
Year (Old)
Year (New)