Rall Wines
About Rall Wines
Donovan Rall has established an enviable reputation as one of South Africa's most talented winemakers. Cutting his teeth in New Zealand, the Rhône Valley and, finally, with the Sadie Family, his time at the latter was instrumental to Rall's current understanding of the diverse terroir of this expansive region.
In 2008, Donovan Rall set out on his own, creating his eponymous winery – Rall Wines. As was to be expected, it didn't take him long to capture the interest of numerous leading wine critics. In fact, Donovan's very first wine in 2008 already garnered a five-star rating from the Platter's Wine Guide.
Today, his winery, touted as "one of the most consistent" in the country, is rated as a "First Growth" in Tim Atkin's Cape Classification System.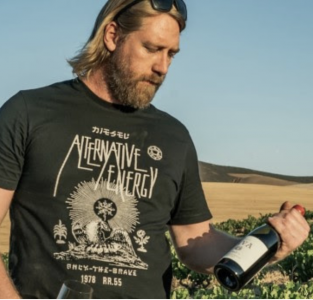 Prices:
Product Name
Region
Qty
Score
Price
Coastal Region
1
-

Inc. VAT

£328.07
Coastal Region
1
97 (VN)

Inc. VAT

£376.07

Vinous (97)

The 2021 Syrah Ava comes from two schist vineyards, the main component from the parcel that forms the Rall Syrah, in a corner where the clusters are very small. It has a compelling bouquet with dark berry fruit, slate-like scents, hints of broom and Provençal herbs. The palate is medium-bodied with a dense yet paradoxically elegant frame of tannins, precise peppery black fruit with a persistent, beautifully proportioned finish. All this at just 11.9% alcohol. Brilliant.

More Info

4
95 (TA)

Inc. VAT

£142.07

Tim Atkin MW (95)

A wine doesn't have to be big to be complex," says Donovan Rall of this refined, ageworthy Cinsault, which combines fruit from Darling and the Swartland. Textured, refreshing yet with quite a bit of tannin for the variety, this is crunchy, complex and elegant with layers of summer berry and black cherry fruit. 2022-26

More Info

5
94 (TA)

Inc. VAT

£139.67

Tim Atkin MW (94)

Sold as a Coastal red because it includes fruit from the Swartland as well as Darling - the vineyards are only two kilometres apart - this is a delicate, yet focused red with some whole bunch spices and sap, black cherry and raspberry fruit, nuanced tannins and a floral, tapering finish. 2022-27

More Info

Coastal Region
2
92 (TA)

Inc. VAT

£136.07

Tim Atkin MW (92)

Now into its third vintage - and showing its highest alcohol yet at a towering 11% alcohol - this very rare Cinsault Blanc is sourced from a 0.2-hectare parcel on granite in Wellington. Naturally fermented in clay amphorae, it's salty and very fresh, with lemongrass and citrus peel flavours. 2021-25

More Info

Coastal Region
2
93 (TA)

Inc. VAT

£142.07

Tim Atkin MW (93)

Donovan Rall has moved to two picks for this wine to give it more nuances. The same is true of the shift away from oak to separate fermentations in stainless steel, concrete and a solitary amphora. Complex, fresh and very pure, this has the variety's characteristic brightness and acidity, with some creamy lees and a long, focused nish. 2021-26

More Info

Coastal Region
5
94 (TA)

Inc. VAT

£142.07

Tim Atkin MW (94)

"Massive acidities" is how Donovan Rall describes the 2019 white wines, and he's not exaggerating. This concrete egg-fermented Grenache Blanc comes from a single vineyard at 620 metres in Piekenierskloof and is a case in point. Peachy, pithy and linear with bready undertones and a tangy, textural finish. 2021-25

More Info

Coastal Region
1
95 (TA)

Inc. VAT

£152.87

Tim Atkin MW (95)

Donovan Rall only used the first pick for this stunning Piekenierskloof Grenache Blanc in 2020, fermenting and ageing it in a combination of concrete eggs and amphoras. It's a salty, complex, dialled back white with notes of gunflint, wild herbs and greengage and high-altitude minerality and precision.

More Info

3
94 (VN)

Inc. VAT

£166.07

Vinous (94)

The 2016 Red contains Carignan for the first time, though Syrah still comprises 80% of the blend, along with Cinsault and Grenache. It has a very detailed bouquet with scents of black plum, blackberry, a touch of gravel and the 100% whole bunch lending a slightly earthy tincture. The palate is medium-bodied with grippy tannin, quite firm in the mouth and maybe more masculine compared to other Syrah-dominated Rhône blends, yet there is wonderful freshness and delineation here. It exerts a gentle grip on the midpalate and those schistous soils impart a wonderful mineralité on the finish. Outstanding.

More Info

3
94 (TA)

Inc. VAT

£154.07

Tim Atkin MW (94)

"The most southern Rhône-like red I've made" is how Donovan Rall describes this 50% whole bunch-fermented cuvée of Syrah with 30% Grenache, Carignan and Cinsault. Broad and spicy, with Mediterranean garrigue aromas, a tannic backdrop and meaty, bloody intensity. 2021-28

More Info

1
94 (CE)

Inc. VAT

£154.07

Christian Eedes (94)

65% Syrah, 13% Grenache, 13% Cinsault and 9% Carignan. The nose is particularly expressive with notes of red and black berries, cured meat, lavender, herbs and pepper while the palate is rich and flavourful but equally not short of freshness – a bit less foursquare than preceding vintages have tended to be. Complex and satisfying.

More Info

1
94 (VN)

Inc. VAT

£164.87

Vinous (94)

The 2020 Red Blend is 100% whole bunch matured in old French oak. It has a lovely, quite bold and expressive, succulent dark cherry and cassis-tinged bouquet that bursts from the glass. The palate is the ripest of Rall's portfolio with grippy tannins that frame the layered dark berry fruit laced with white pepper and black tea. Nicely proportioned and very persistent on the finish. Excellent.

More Info

1
95 (VN)

Inc. VAT

£160.07

Vinous (95)

The 2021 Syrah is a maiden release from a 10-hectare parcel on schist soils that Rall took two weeks to track down the owner. It was cropped at 2 tons/hectare as it is so rocky. This comes from the early-picked fruit and matured in concrete only. The bouquet is very endearing with raspberry, wild strawberry and a very slight confit-like scent. The palate is very harmonious with fine grip, a little tertiary in style, beautifully proportioned and elegant on the finish. Outstanding.

More Info

4
94 (VN)

Inc. VAT

£160.07

Vinous (94)

The 2017 White is a blend of 60% Chenin Blanc, 30% Verdelho and 10% Viognier. It is the first vintage where the Chardonnay has been left out due to the concentration. It has an intense bouquet of oyster shell, lemon thyme and crushed stone, very focused in style. The palate is very well balanced, with a lightly spiced entry, linear and racy, and a gorgeous orange pith, nectarine and white peach finish that lingers in the mouth. Outstanding.

More Info

4
95 (TA)

Inc. VAT

£178.07

Tim Atkin MW (95)

As he did in 2017, Donovan Rall made his signature white wine without any Chardonnay, going for a 60/35/5 blend of Chenin Blanc, Verdelho and Viognier from the Swartland and Stellenbosch. Firmly established as one of the best blends in the Cape, it's still youthful and primary, but has stony reduction, ne lees and a medley of pear, citrus and stone fruit. 2021-26

More Info

2
96 (TA)

Inc. VAT

£172.07

Tim Atkin MW (96)

The Swartland and Stellenbosch are the twin sources of this consistently outstanding white blend from Donovan Rall, made from a cuvée of Chenin Blanc with 32% Verdelho and a splash of Viognier. Nuanced, understated and focused, with wax, lanolin and aniseed top notes and a palate of citrus, pear and peach skin. Taut and refreshing.

More Info

1
95 (TA)

Inc. VAT

£166.07

Tim Atkin MW (95)

Donovan Rall is a consummate blender of grapes, crafting seamless assemblages like this one of Chenin Blanc with 34% Verdelho and 1% Viognier. Dominated by fruit from the granite soils of the Paardeberg, it has aromas of oatmeal, wet stone and white flowers, peach, pear and lemongrass fruit and the tangy acidity of the vintage.

More Info
Product Name
Region
Qty
Score
Price
Coastal Region
1
-

In Bond

£260.00
Coastal Region
1
97 (VN)

In Bond

£300.00

Vinous (97)

The 2021 Syrah Ava comes from two schist vineyards, the main component from the parcel that forms the Rall Syrah, in a corner where the clusters are very small. It has a compelling bouquet with dark berry fruit, slate-like scents, hints of broom and Provençal herbs. The palate is medium-bodied with a dense yet paradoxically elegant frame of tannins, precise peppery black fruit with a persistent, beautifully proportioned finish. All this at just 11.9% alcohol. Brilliant.

More Info

4
95 (TA)

In Bond

£105.00

Tim Atkin MW (95)

A wine doesn't have to be big to be complex," says Donovan Rall of this refined, ageworthy Cinsault, which combines fruit from Darling and the Swartland. Textured, refreshing yet with quite a bit of tannin for the variety, this is crunchy, complex and elegant with layers of summer berry and black cherry fruit. 2022-26

More Info

5
94 (TA)

In Bond

£103.00

Tim Atkin MW (94)

Sold as a Coastal red because it includes fruit from the Swartland as well as Darling - the vineyards are only two kilometres apart - this is a delicate, yet focused red with some whole bunch spices and sap, black cherry and raspberry fruit, nuanced tannins and a floral, tapering finish. 2022-27

More Info

Coastal Region
2
92 (TA)

In Bond

£100.00

Tim Atkin MW (92)

Now into its third vintage - and showing its highest alcohol yet at a towering 11% alcohol - this very rare Cinsault Blanc is sourced from a 0.2-hectare parcel on granite in Wellington. Naturally fermented in clay amphorae, it's salty and very fresh, with lemongrass and citrus peel flavours. 2021-25

More Info

Coastal Region
2
93 (TA)

In Bond

£105.00

Tim Atkin MW (93)

Donovan Rall has moved to two picks for this wine to give it more nuances. The same is true of the shift away from oak to separate fermentations in stainless steel, concrete and a solitary amphora. Complex, fresh and very pure, this has the variety's characteristic brightness and acidity, with some creamy lees and a long, focused nish. 2021-26

More Info

Coastal Region
5
94 (TA)

In Bond

£105.00

Tim Atkin MW (94)

"Massive acidities" is how Donovan Rall describes the 2019 white wines, and he's not exaggerating. This concrete egg-fermented Grenache Blanc comes from a single vineyard at 620 metres in Piekenierskloof and is a case in point. Peachy, pithy and linear with bready undertones and a tangy, textural finish. 2021-25

More Info

Coastal Region
1
95 (TA)

In Bond

£114.00

Tim Atkin MW (95)

Donovan Rall only used the first pick for this stunning Piekenierskloof Grenache Blanc in 2020, fermenting and ageing it in a combination of concrete eggs and amphoras. It's a salty, complex, dialled back white with notes of gunflint, wild herbs and greengage and high-altitude minerality and precision.

More Info

3
94 (VN)

In Bond

£125.00

Vinous (94)

The 2016 Red contains Carignan for the first time, though Syrah still comprises 80% of the blend, along with Cinsault and Grenache. It has a very detailed bouquet with scents of black plum, blackberry, a touch of gravel and the 100% whole bunch lending a slightly earthy tincture. The palate is medium-bodied with grippy tannin, quite firm in the mouth and maybe more masculine compared to other Syrah-dominated Rhône blends, yet there is wonderful freshness and delineation here. It exerts a gentle grip on the midpalate and those schistous soils impart a wonderful mineralité on the finish. Outstanding.

More Info

3
94 (TA)

In Bond

£115.00

Tim Atkin MW (94)

"The most southern Rhône-like red I've made" is how Donovan Rall describes this 50% whole bunch-fermented cuvée of Syrah with 30% Grenache, Carignan and Cinsault. Broad and spicy, with Mediterranean garrigue aromas, a tannic backdrop and meaty, bloody intensity. 2021-28

More Info

1
94 (CE)

In Bond

£115.00

Christian Eedes (94)

65% Syrah, 13% Grenache, 13% Cinsault and 9% Carignan. The nose is particularly expressive with notes of red and black berries, cured meat, lavender, herbs and pepper while the palate is rich and flavourful but equally not short of freshness – a bit less foursquare than preceding vintages have tended to be. Complex and satisfying.

More Info

1
94 (VN)

In Bond

£124.00

Vinous (94)

The 2020 Red Blend is 100% whole bunch matured in old French oak. It has a lovely, quite bold and expressive, succulent dark cherry and cassis-tinged bouquet that bursts from the glass. The palate is the ripest of Rall's portfolio with grippy tannins that frame the layered dark berry fruit laced with white pepper and black tea. Nicely proportioned and very persistent on the finish. Excellent.

More Info

1
95 (VN)

In Bond

£120.00

Vinous (95)

The 2021 Syrah is a maiden release from a 10-hectare parcel on schist soils that Rall took two weeks to track down the owner. It was cropped at 2 tons/hectare as it is so rocky. This comes from the early-picked fruit and matured in concrete only. The bouquet is very endearing with raspberry, wild strawberry and a very slight confit-like scent. The palate is very harmonious with fine grip, a little tertiary in style, beautifully proportioned and elegant on the finish. Outstanding.

More Info

4
94 (VN)

In Bond

£120.00

Vinous (94)

The 2017 White is a blend of 60% Chenin Blanc, 30% Verdelho and 10% Viognier. It is the first vintage where the Chardonnay has been left out due to the concentration. It has an intense bouquet of oyster shell, lemon thyme and crushed stone, very focused in style. The palate is very well balanced, with a lightly spiced entry, linear and racy, and a gorgeous orange pith, nectarine and white peach finish that lingers in the mouth. Outstanding.

More Info

4
95 (TA)

In Bond

£135.00

Tim Atkin MW (95)

As he did in 2017, Donovan Rall made his signature white wine without any Chardonnay, going for a 60/35/5 blend of Chenin Blanc, Verdelho and Viognier from the Swartland and Stellenbosch. Firmly established as one of the best blends in the Cape, it's still youthful and primary, but has stony reduction, ne lees and a medley of pear, citrus and stone fruit. 2021-26

More Info

2
96 (TA)

In Bond

£130.00

Tim Atkin MW (96)

The Swartland and Stellenbosch are the twin sources of this consistently outstanding white blend from Donovan Rall, made from a cuvée of Chenin Blanc with 32% Verdelho and a splash of Viognier. Nuanced, understated and focused, with wax, lanolin and aniseed top notes and a palate of citrus, pear and peach skin. Taut and refreshing.

More Info

1
95 (TA)

In Bond

£125.00

Tim Atkin MW (95)

Donovan Rall is a consummate blender of grapes, crafting seamless assemblages like this one of Chenin Blanc with 34% Verdelho and 1% Viognier. Dominated by fruit from the granite soils of the Paardeberg, it has aromas of oatmeal, wet stone and white flowers, peach, pear and lemongrass fruit and the tangy acidity of the vintage.

More Info