Renato Molino
About Renato Molino
Located in Annunziata, a tiny hamlet near the historic commune of La Morra, Renato Molino is one of the few truly old-school Barolo winemakers remaining in Piedmont. The cantina was founded by Renato's grandfather Luigi, who bought the estate back in 1926. Nearly 100 years on and not much has changed. Renato, his wife Maddalena and their four daughters Chiara, Grazia, Lucia and Olimpia follow ancestral winemaking traditions by taking meticulous care of their vineyards and making minimal interventions in the cellar.
The family produce a small quantity of two Barolo wines. The straight Barolo is made with select grapes from their holdings in Villero (Castiglione Falletto) and Rocche dell'Annunziata (La Morra). From the best grapes of their 50 years old vineyard in Rocche dell'Annunziata, Renato crafts a stunning single cru Barolo. The family also make a young and vibrant Nebbiolo-based Vino Rosso called Spluva.
Renato's wines are elegant, typified by their delicacy and unadulterated expression of terroir. The total production is approximately 7,000 bottles, but this varies depending on the vintage.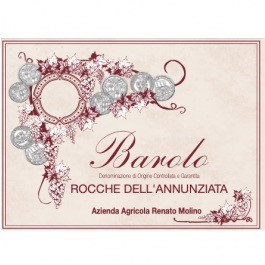 Prices:
Product Name
Region
Qty
Score
Price
Piedmont
1
-

Inc. VAT

£266.87

Here we have anything but your average Barolo classico... Renato expertly blends his best parcels in Rocche dell'Annunziata (50-year-old vines), Annunziata (26-year-old vines), Boiolo (24-year-old vines) and Villero (30-year-old vines) crus, making this something of a super cuvée. With incredible concentration, structure and balance through to the finish, this is a serious Barolo showing the intensity and classic profile that mark the 2016 vintage out as one of the best ever in Barolo.

More Info

Piedmont
2
-

Inc. VAT

£113.35

Produced from Renato's prized 50 year old Rocche dell'Annunziata parcel. A clay and limestone terroir with a southern exposure. Delicate, perfumed, sweet candied light cherry fruit and so beguiling that for the long-standing disciples of Nebbiolo this Barolo will make you cry it is that sublime. A genius winemaker, a desert island wine.

More Info

Piedmont
4
-

Inc. VAT

£346.07

Produced from Renato's prized 50 year old Rocche dell'Annunziata parcel. A clay and limestone terroir with a southern exposure. Delicate, perfumed, sweet candied light cherry fruit and so beguiling that for the long-standing disciples of Nebbiolo this Barolo will make you cry it is that sublime. A genius winemaker, a desert island wine.

More Info
Product Name
Region
Qty
Score
Price
Piedmont
1
-

In Bond

£209.00

Here we have anything but your average Barolo classico... Renato expertly blends his best parcels in Rocche dell'Annunziata (50-year-old vines), Annunziata (26-year-old vines), Boiolo (24-year-old vines) and Villero (30-year-old vines) crus, making this something of a super cuvée. With incredible concentration, structure and balance through to the finish, this is a serious Barolo showing the intensity and classic profile that mark the 2016 vintage out as one of the best ever in Barolo.

More Info

Piedmont
2
-

In Bond

£90.00

Produced from Renato's prized 50 year old Rocche dell'Annunziata parcel. A clay and limestone terroir with a southern exposure. Delicate, perfumed, sweet candied light cherry fruit and so beguiling that for the long-standing disciples of Nebbiolo this Barolo will make you cry it is that sublime. A genius winemaker, a desert island wine.

More Info

Piedmont
4
-

In Bond

£275.00

Produced from Renato's prized 50 year old Rocche dell'Annunziata parcel. A clay and limestone terroir with a southern exposure. Delicate, perfumed, sweet candied light cherry fruit and so beguiling that for the long-standing disciples of Nebbiolo this Barolo will make you cry it is that sublime. A genius winemaker, a desert island wine.

More Info