Robert Niero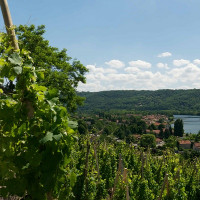 Domaine Niero is series of terraced hillsides in the Norther Rhône which are home to top-quality vines of Viognier and Syrah. This landscape is a key element essential to the production of our unparalleled vintages of Condrieu, Côte-Rôtie and Saint-Joseph from this estate.
Rémi Niero recently took over the position as head of the vineyard from his father Robert, who, from Rémi's early age, passed onto him his entire expertise and devotion for wine growing. Robert Niero had initially acquired a small vineyard from his father-in-law, Jean Pinchon, in 1985. Robert planted further vines and laboured to expand the estate and increase its quality. His efforts have been rewarded in the form of authentic and naturally balanced wines which are increasingly attracting top scores and international acclaim.
Developed through generations by Jean, Robert and Rémi, the domaine is now present in the appellations of Condrieu, Côte-Rôtie and Saint-Joseph, all of which now produce celebrated wines issued from the greatest AOPs (Appellation d'Origine Protégée) of the Rhône Valley.
Prices:
Year
Wine
Region
Format
Qty
Score
Price
Wishlist

Remi Niero Condrieu Cuvee de Chery 2019 (6x75cl)

Inc. VAT: £281.27

2019
Rhone
6x75cl
1
96.0 (JD)

Read Review/Description

Inc. VAT: £281.27
Year
Wine
Region
Format
Qty
Score
Price
Wishlist

Remi Niero Condrieu Cuvee de Chery 2019 (6x75cl)

In Bond: £221.00

2019
Rhone
6x75cl
1
96.0 (JD)

Read Review/Description

In Bond: £221.00