S.C. Pannell
About S.C. Pannell
Having parents who founded 2 wineries (Moss Wood and Picardy) gave Stephen Pannell a good head start in winemaking, and it was a matter of time before he started his own label. A fervent advocate of Australian Grenache, Pannell's wines are known to be exceptionally approachable without sacrificing age ability.
Before starting his own label in 2004, Stephen Pannell was the chief winemaker at Hardy's between 1999 and 2003, having also undergone several apprenticeships in France, most notably at Domaine Comte Lafon and Mouton-Rothschild. His fascination with Grenache is rooted in his preference to make medium-bodied wines rather than heavy blockbusters, with Grenache seemingly the perfect choice. After spending over 20 years crafting Grenache from McLaren Vale, Stephen Pannell is hopeful that the varietal will become McLaren Vale's most recognized wine in good time.
Over the course of his career, Stephen has amassed a string of accolades, including being named one of the 50 most influential contributors to the world of wine by Decanter Magazine and being the first winemaker in McLaren Vale history to win the Bushing Trophy for best red wine of show in McLaren Vale four times over!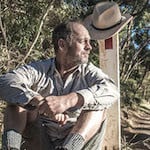 Name
Price Low
Price High
Year (Old)
Year (New)
Prices:
Product Name
Region
Qty
Score
Price

South Australia
1
96 (HWC)

Inc. VAT

£259.24

Halliday Wine Companion (96)

A beautiful grenache, clarity its watchword: colour, aroma, varietal expression and aftertaste. Perfumed red berries of every description flow through the light to medium-bodied palate where pomegranate is foremost in shaping mouthfeel and flavour. Irresistible now or in 10 years hence.

More Info

South Australia
1
99 (HWC)

Inc. VAT

£618.04

Halliday Wine Companion (99)

A block regenerated by the Pannells since they purchased it in '12, it produces small berries in small bunches of intensely flavoured grapes. Hand-picked, 10 days on skins, pressed to French puncheons for 19 months maturation. It is the only unblended wine so far made and sold under the Koomilya banner, 4560 bottles made. It is a wine of beauty, with effortless poise and flawless fruit that is medium to full-bodied at most. How long will it live? Try 40 years.

More Info

South Australia
1
97 (JS)

Inc. VAT

£229.24

James Suckling (97)

An outstanding grenache from old bush vines in the Smart Vineyard, perched up on the Clarendon ridge line. This has an edge of white pepper and pomegranate with notes of bright raspberries and fresh leaves. This wine fuses elegance and power with a sleekly defined palate that carries real intensity in 2018. The structure is keenly tailored. Long and taut, red-fruit finish. Drink or hold. Screw cap.

More Info
Product Name
Region
Qty
Score
Price

South Australia
1
96 (HWC)

In Bond

£200.00

Halliday Wine Companion (96)

A beautiful grenache, clarity its watchword: colour, aroma, varietal expression and aftertaste. Perfumed red berries of every description flow through the light to medium-bodied palate where pomegranate is foremost in shaping mouthfeel and flavour. Irresistible now or in 10 years hence.

More Info

South Australia
1
99 (HWC)

In Bond

£499.00

Halliday Wine Companion (99)

A block regenerated by the Pannells since they purchased it in '12, it produces small berries in small bunches of intensely flavoured grapes. Hand-picked, 10 days on skins, pressed to French puncheons for 19 months maturation. It is the only unblended wine so far made and sold under the Koomilya banner, 4560 bottles made. It is a wine of beauty, with effortless poise and flawless fruit that is medium to full-bodied at most. How long will it live? Try 40 years.

More Info

South Australia
1
97 (JS)

In Bond

£175.00

James Suckling (97)

An outstanding grenache from old bush vines in the Smart Vineyard, perched up on the Clarendon ridge line. This has an edge of white pepper and pomegranate with notes of bright raspberries and fresh leaves. This wine fuses elegance and power with a sleekly defined palate that carries real intensity in 2018. The structure is keenly tailored. Long and taut, red-fruit finish. Drink or hold. Screw cap.

More Info
Name
Price Low
Price High
Year (Old)
Year (New)