Sine Qua Non
About Sine Qua Non
There really is no winery quite like Sine Qua Non (means "something essential"). Manfred and Elaine Krankl followed in that noblest of Californian winery traditions in 1994, building one of the world's greatest estates from the ground up in Ventura County (Central Coast AVA). Founded from passion for the land and a relentless desire to produce simply the best wines that they could, Antonio Galloni (Vinous) declared that "the sheer drive for perfection and attention to detail at Sine Qua Non is something I have rarely witnessed anywhere else in the world".
Today, Sine Qua Non is probably the quintessential tiny production, cult winemaker, producing just 4,000 cases a year across a number of wines made from different vineyards. The huge global demand is based on the critical acclaim for almost the winery produces. It takes years to get onto the mailing list, and the wines almost never come back onto the market once purchased. Older vintages are occasionally sold at auction for stratospheric prices.
Sine Qua Nons' Wines
Manfred Krankl (an Austrian immigrant in California) and his wines break all the rules. There is no standard label, every wine is named differently (every year). There is no marketing. The wines are sold via mailing list and have grown via word of mouth (and critical acclaim). Even the grapes are different – predominantly Rhône Valley varietals like Syrah and Grenache.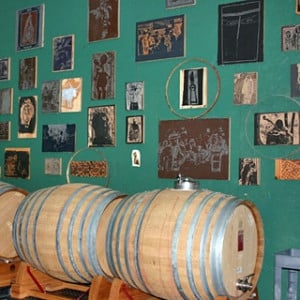 Prices:
Product Name
Region
Qty
Score
Price
California
2
97-99 (WA)

Inc. VAT

£1,962.47

Wine Advocate (97-99)

The 2018 Grenache Profuga is composed of 77.5% Grenache, 10% Mourvèdre, 8.3% Syrah, 3.3% Petite Sirah and 0.9% Viognier. The vineyard sources are 38% Cumulus Estate, 35% The Third Twin Estate, 23% Eleven Confessions Estate and 4% Bien Nacido Vineyard. Deep garnet-purple in color, the wine does bedazzling pirouettes out of the glass with the most gorgeous rose oil, kirsch, licorice and fragrant earth scents, leading into a powerful core of black raspberries, redcurrant jelly and powdered cinnamon plus a waft of underbrush. Medium to full-bodied, the palate is incredibly fresh, elegant and polished, yet make no mistake—there is a lot of power and energy on the mid-palate. This is all beautifully framed by tightly knit, very finely grained tannins, and the finish holds this provocative, lingering siren's note, delivering exotic spices and rose-laced accents. Beguiling. 1,350 cases and 600 magnums were made.

More Info

California
3
98 (WA)

Inc. VAT

£1,914.47

Wine Advocate (98)

The 2019 Grenache Distenta I is composed of 76% Grenache, 8% Mourvèdre, 9.3% Syrah, 4.3% Petite Sirah and 2.4% Viognier. The vineyard sources are 11% Cumulus Estate, 39% The Third Twin Estate, 32% Eleven Confessions Estate, 3% Molly Aida and 15% Bien Nacido vineyard. Around 43% whole cluster was performed, predominately on the Grenache. The small proportion of Viognier was co-fermented with red grapes, but interestingly, because it ripens earlier than the reds, the white berries were frozen and added to the reds at the time of fermentation. As an added bonus, these frozen grapes help to cool and, therefore, slow the fermentation. The wine was aged for around 23 months in 26.5% new French oak, 66.7% used oak and 6.8% concrete. It was bottled June 21, 2021.

More Info

California
1
100 (WA)

Inc. VAT

£649.48

Wine Advocate (100)

The 2019 Syrah Distenta I is composed of 83.6% Syrah, 3% Mourvedre, 5.2% Petite Sirah, 6.2% Grenache, 1.4% Muscat and 0.6% Petit Manseng. "I think Muscat is the number-one white grape for me to blend with reds," Manfred told me last year. "It kinda triples the effect of the wine." The red winemaking included 33% whole cluster. The vineyard sources for this wine are 35% The Third Twin, 33% Eleven Confessions, 31% Cumulus and 1% Molly Aida—all estate-owned vineyards. This wine was bottled at the end of July 2021, after 23 months in French oak, 43% new. Deep garnet-purple colored, it erupts from the glass with a powerfully fragrant nose of red roses, Morello cherries, boysenberries and juicy blueberries, followed by hints of mocha, star anise, cardamom and cassia. The concentrated, full-bodied palate is jam-packed with bright, crunchy black, blue and red fruits. It has a rock-solid structure of firm, finely-grained tannins and seamless freshness lifting the shimmering layers to a long, energetic finish. The complexity and vivacity of this Syrah are simply jaw-dropping!

More Info

California
1
-

Inc. VAT

£4,024.72
California
1
-

Inc. VAT

£6,958.07
California
1
-

Inc. VAT

£6,532.07
California
8
-

Inc. VAT

£3,299.27

Every case contains 3 bottles of each Sine Qua Non Grenache E 2015 and Sine Qua Non Syrah M 2015

&nbsp

Sine Qua Non Grenache E 2015

&nbsp

100 points | Lisa Perrotti-Brown (Wine Advocate)

&nbsp "This is a single-vineyard Grenache-dominated, barrel-selection blend coming from the Eleven Confessions Estate vineyard in Sta. Rita Hills. It bears Elaine Krankl's initial and a portrait Manfred made of Elaine on the label. The blend is 82% Grenache, 12% Syrah, 5% Petite Syrah and 1% Viognier, and 56% was fermented using whole clusters. It was aged for around 38 months in French oak, 28% new. &nbsp

Deep garnet-purple colored, the 2015 Grenache E slides beguilingly out of the glass with a powerfully evocative, earthy/meaty nose of wood smoke, grilled meats, fragrant soil, truffles and iron ore with a core of kirsch, blackberry pie, Black Forest cake and aniseed plus touches of wild sage, rose hip tea and Indian spices. The palate is full-bodied, surprisingly muscular and built like a brick house with an unbelievable structure of very fine, densely pixilated tannins supporting the generous, multi-faceted layers, finishing with epic length, jaw-dropping texture and tons of cerebral mineral and spice nuances. WOW! 900 cases, 228 magnums and 30 double magnums were made." Drinking Window: 2020 – 2035

&nbsp &nbsp

Sine Qua Non Syrah M 2015

&nbsp

99 points | Lisa Perrotti-Brown (Wine Advocate)

"This is a single-vineyard Syrah-dominant blend coming from the Eleven Confessions Estate vineyard in Sta. Rita Hills. It bears Manfred Krankl's initial and a provocative self-portrait on the label. The blend is 90.6% Syrah, 4.4% Petite Syrah, 2.6% Grenache and 2.4% Viognier. Forty-three percent was fermented using whole clusters. It was aged for around 38 months in French oak, 66% new.

&nbsp

Deep garnet-purple in color, the 2015 Syrah M starts off a little closed, slowly unfurling to show layer upon layer of savory notes: peppered salami, woodsmoke, marmite and black olives, beneath a profound core of preserved plums, blueberry coulis and Chinese five spice with fragrant touches of fenugreek, Sichuan pepper, crushed rocks and mossy bark. Exquisitely textured with firm, rounded tannins, the taut, full-bodied, muscular fruit is laced with seamless freshness, finishing with fantastic persistence. This is a Syrah for the long haul! 913 cases, 228 magnums and 30 double magnums were made." Drinking Window: 2021 – 2050

More Info

California
1
-

Inc. VAT

£3,558.47
California
1
-

Inc. VAT

£6,358.07
California
1
-

Inc. VAT

£3,263.27
California
3
98+ (VN)

Inc. VAT

£1,994.87

Vinous (98+)

A dark, beguiling beauty, the 2016 Syrah Ratsel 16 is just as impressive from bottle as it was from barrel. Layers of flavor build effortlessly as this rich, layered Syrah shows off its considerable allure. Blackberry jam, lavender, spice, menthol, chocolate and licorice build into the sumptuous finish. This is another wine in the range that is bursting at the seams with energy and vibrancy, as if expressing the purest essence of life. I loved it.

More Info

California
1
-

Inc. VAT

£1,807.12
California
2
98-100 (WA)

Inc. VAT

£1,914.47

Wine Advocate (98-100)

The 2017 Grenache is a finished blend. Composed of 76% Grenache, 10% Mourvedre, 9% Syrah, 3.8% Petit Sirah and 1.2% Viognier, and the vineyard sources are: 46% Cumulus Estate, 29% Eleven Confessions Estate, 6% Molly Aida Estate, 17% The Third Twin Estate and 2% Bien Nacido Vineyard. It was aged for around 23 months in 23% new French oak, 48% used oak (various sizes) and 29% concrete, and 46% (mainly Grenache) was fermented using whole clusters. Medium garnet-purple, this young, bombastic Grenache explodes from the glass with the most incredible perfume: red roses, cinnamon stick, lilacs and crushed black cherries with chocolate box, aniseed, garrigue and dried herbs plus gentle waves of lavender, dusty soil and smoked meats. Full-bodied with an incredibly silky texture, the decadently fruited palate features amazing freshness and vibrancy, finishing with stacks of flavor layers and a provocatively savory/chewy lift coming from the use of whole cluster. Just. Magic.

More Info

California
2
99+ (WA)

Inc. VAT

£2,828.59

Wine Advocate (99+)

"I had never really liked Mourvedre," Manfred mentioned during our tasting. "But the more I worked with it, the more I liked it. There is some synchronicity that takes place when you blend it." Apart from being a Mourvedre-dominant blend, the other unusual thing about this wine is that this is only the second wine to be 100% from The Third Twin Vineyard—a vineyard in Los Alamos purchased by Manfred and Elaine in 2000. Not to be confused with some new Central Coast plantings of what turned out to be Graciano, Manfred explained that this is Mourvedre Clone "S," sourced from John Alban. Composed of 53% Mourvedre, 16% Syrah, 14% 14% Grenache, 9% Petit Sirah, 6% Graciano and 2% Viognier, 42% of whole clusters were used and the rest was destemmed. It spent around 31 months in French oak barrels, 42% new. Very deep garnet-purple in color, the 2016 Nuestra Senora Del Tercer Gemelo has a wonderfully meaty/savory nose over a core of crème de cassis and baked plums with nut and fruit cake undertones followed by yeast extract, tilled soil, fungi and unsmoked cigar notes. The massively rich, full-bodied palate is incredibly precise, features wonderfully delineated, complex savory, earthy and mineral layers, all lifted by fantastic freshness. The jaw-dropping depth of flavors is superbly supported by firm, ripe, grainy tannins, finishing on a compelling iron-ore note. Truly, this is a wine without peers!

More Info
Product Name
Region
Qty
Score
Price
California
2
97-99 (WA)

In Bond

£1,622.00

Wine Advocate (97-99)

The 2018 Grenache Profuga is composed of 77.5% Grenache, 10% Mourvèdre, 8.3% Syrah, 3.3% Petite Sirah and 0.9% Viognier. The vineyard sources are 38% Cumulus Estate, 35% The Third Twin Estate, 23% Eleven Confessions Estate and 4% Bien Nacido Vineyard. Deep garnet-purple in color, the wine does bedazzling pirouettes out of the glass with the most gorgeous rose oil, kirsch, licorice and fragrant earth scents, leading into a powerful core of black raspberries, redcurrant jelly and powdered cinnamon plus a waft of underbrush. Medium to full-bodied, the palate is incredibly fresh, elegant and polished, yet make no mistake—there is a lot of power and energy on the mid-palate. This is all beautifully framed by tightly knit, very finely grained tannins, and the finish holds this provocative, lingering siren's note, delivering exotic spices and rose-laced accents. Beguiling. 1,350 cases and 600 magnums were made.

More Info

California
3
98 (WA)

In Bond

£1,582.00

Wine Advocate (98)

The 2019 Grenache Distenta I is composed of 76% Grenache, 8% Mourvèdre, 9.3% Syrah, 4.3% Petite Sirah and 2.4% Viognier. The vineyard sources are 11% Cumulus Estate, 39% The Third Twin Estate, 32% Eleven Confessions Estate, 3% Molly Aida and 15% Bien Nacido vineyard. Around 43% whole cluster was performed, predominately on the Grenache. The small proportion of Viognier was co-fermented with red grapes, but interestingly, because it ripens earlier than the reds, the white berries were frozen and added to the reds at the time of fermentation. As an added bonus, these frozen grapes help to cool and, therefore, slow the fermentation. The wine was aged for around 23 months in 26.5% new French oak, 66.7% used oak and 6.8% concrete. It was bottled June 21, 2021.

More Info

California
1
100 (WA)

In Bond

£539.00

Wine Advocate (100)

The 2019 Syrah Distenta I is composed of 83.6% Syrah, 3% Mourvedre, 5.2% Petite Sirah, 6.2% Grenache, 1.4% Muscat and 0.6% Petit Manseng. "I think Muscat is the number-one white grape for me to blend with reds," Manfred told me last year. "It kinda triples the effect of the wine." The red winemaking included 33% whole cluster. The vineyard sources for this wine are 35% The Third Twin, 33% Eleven Confessions, 31% Cumulus and 1% Molly Aida—all estate-owned vineyards. This wine was bottled at the end of July 2021, after 23 months in French oak, 43% new. Deep garnet-purple colored, it erupts from the glass with a powerfully fragrant nose of red roses, Morello cherries, boysenberries and juicy blueberries, followed by hints of mocha, star anise, cardamom and cassia. The concentrated, full-bodied palate is jam-packed with bright, crunchy black, blue and red fruits. It has a rock-solid structure of firm, finely-grained tannins and seamless freshness lifting the shimmering layers to a long, energetic finish. The complexity and vivacity of this Syrah are simply jaw-dropping!

More Info

California
1
-

In Bond

£3,345.00
California
1
-

In Bond

£5,785.00
California
1
-

In Bond

£5,430.00
California
8
-

In Bond

£2,736.00

Every case contains 3 bottles of each Sine Qua Non Grenache E 2015 and Sine Qua Non Syrah M 2015

&nbsp

Sine Qua Non Grenache E 2015

&nbsp

100 points | Lisa Perrotti-Brown (Wine Advocate)

&nbsp "This is a single-vineyard Grenache-dominated, barrel-selection blend coming from the Eleven Confessions Estate vineyard in Sta. Rita Hills. It bears Elaine Krankl's initial and a portrait Manfred made of Elaine on the label. The blend is 82% Grenache, 12% Syrah, 5% Petite Syrah and 1% Viognier, and 56% was fermented using whole clusters. It was aged for around 38 months in French oak, 28% new. &nbsp

Deep garnet-purple colored, the 2015 Grenache E slides beguilingly out of the glass with a powerfully evocative, earthy/meaty nose of wood smoke, grilled meats, fragrant soil, truffles and iron ore with a core of kirsch, blackberry pie, Black Forest cake and aniseed plus touches of wild sage, rose hip tea and Indian spices. The palate is full-bodied, surprisingly muscular and built like a brick house with an unbelievable structure of very fine, densely pixilated tannins supporting the generous, multi-faceted layers, finishing with epic length, jaw-dropping texture and tons of cerebral mineral and spice nuances. WOW! 900 cases, 228 magnums and 30 double magnums were made." Drinking Window: 2020 – 2035

&nbsp &nbsp

Sine Qua Non Syrah M 2015

&nbsp

99 points | Lisa Perrotti-Brown (Wine Advocate)

"This is a single-vineyard Syrah-dominant blend coming from the Eleven Confessions Estate vineyard in Sta. Rita Hills. It bears Manfred Krankl's initial and a provocative self-portrait on the label. The blend is 90.6% Syrah, 4.4% Petite Syrah, 2.6% Grenache and 2.4% Viognier. Forty-three percent was fermented using whole clusters. It was aged for around 38 months in French oak, 66% new.

&nbsp

Deep garnet-purple in color, the 2015 Syrah M starts off a little closed, slowly unfurling to show layer upon layer of savory notes: peppered salami, woodsmoke, marmite and black olives, beneath a profound core of preserved plums, blueberry coulis and Chinese five spice with fragrant touches of fenugreek, Sichuan pepper, crushed rocks and mossy bark. Exquisitely textured with firm, rounded tannins, the taut, full-bodied, muscular fruit is laced with seamless freshness, finishing with fantastic persistence. This is a Syrah for the long haul! 913 cases, 228 magnums and 30 double magnums were made." Drinking Window: 2021 – 2050

More Info

California
1
-

In Bond

£2,952.00
California
1
-

In Bond

£5,285.00
California
1
-

In Bond

£2,706.00
California
3
98+ (VN)

In Bond

£1,649.00

Vinous (98+)

A dark, beguiling beauty, the 2016 Syrah Ratsel 16 is just as impressive from bottle as it was from barrel. Layers of flavor build effortlessly as this rich, layered Syrah shows off its considerable allure. Blackberry jam, lavender, spice, menthol, chocolate and licorice build into the sumptuous finish. This is another wine in the range that is bursting at the seams with energy and vibrancy, as if expressing the purest essence of life. I loved it.

More Info

California
1
-

In Bond

£1,497.00
California
2
98-100 (WA)

In Bond

£1,582.00

Wine Advocate (98-100)

The 2017 Grenache is a finished blend. Composed of 76% Grenache, 10% Mourvedre, 9% Syrah, 3.8% Petit Sirah and 1.2% Viognier, and the vineyard sources are: 46% Cumulus Estate, 29% Eleven Confessions Estate, 6% Molly Aida Estate, 17% The Third Twin Estate and 2% Bien Nacido Vineyard. It was aged for around 23 months in 23% new French oak, 48% used oak (various sizes) and 29% concrete, and 46% (mainly Grenache) was fermented using whole clusters. Medium garnet-purple, this young, bombastic Grenache explodes from the glass with the most incredible perfume: red roses, cinnamon stick, lilacs and crushed black cherries with chocolate box, aniseed, garrigue and dried herbs plus gentle waves of lavender, dusty soil and smoked meats. Full-bodied with an incredibly silky texture, the decadently fruited palate features amazing freshness and vibrancy, finishing with stacks of flavor layers and a provocatively savory/chewy lift coming from the use of whole cluster. Just. Magic.

More Info

California
2
99+ (WA)

In Bond

£2,346.00

Wine Advocate (99+)

"I had never really liked Mourvedre," Manfred mentioned during our tasting. "But the more I worked with it, the more I liked it. There is some synchronicity that takes place when you blend it." Apart from being a Mourvedre-dominant blend, the other unusual thing about this wine is that this is only the second wine to be 100% from The Third Twin Vineyard—a vineyard in Los Alamos purchased by Manfred and Elaine in 2000. Not to be confused with some new Central Coast plantings of what turned out to be Graciano, Manfred explained that this is Mourvedre Clone "S," sourced from John Alban. Composed of 53% Mourvedre, 16% Syrah, 14% 14% Grenache, 9% Petit Sirah, 6% Graciano and 2% Viognier, 42% of whole clusters were used and the rest was destemmed. It spent around 31 months in French oak barrels, 42% new. Very deep garnet-purple in color, the 2016 Nuestra Senora Del Tercer Gemelo has a wonderfully meaty/savory nose over a core of crème de cassis and baked plums with nut and fruit cake undertones followed by yeast extract, tilled soil, fungi and unsmoked cigar notes. The massively rich, full-bodied palate is incredibly precise, features wonderfully delineated, complex savory, earthy and mineral layers, all lifted by fantastic freshness. The jaw-dropping depth of flavors is superbly supported by firm, ripe, grainy tannins, finishing on a compelling iron-ore note. Truly, this is a wine without peers!

More Info