Taupenot-Merme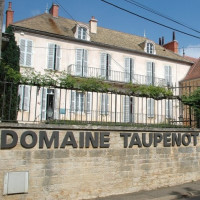 About Domaine Taupenot-Merme
Domaine Taupenot-Merme is a dynamic, up-and-coming domaine based in Morey-Saint-Denis, with 13 hectares under vines in the Côte de Nuits and Côte de Beaune. It is run by the seventh generation Romain Taupenot alongside his sister, Virginie. Seventh-generation Romain Taupenot runs this domaine with his sister, Virginie.
Viniculture
The average age of the vines are over 50 years old and they follow lutte raisonnée or 'the reasoned struggle' principle in the vineyard, meaning chemicals are used only when they are absolutely needed, if ever.
The house style is generally focused on the great purity of fruit and intensity of aromatics in both their reds and whites. Generally known for producing wine from less-celebrated appellations, such as Auxey-Duresses and Saint-Romain, they champion these underrated wines with great style and class.
Prices:
Year
Wine
Region
Format
Qty
Score
Price
Wishlist

Taupenot Merme Auxey-Duresses 1er Cru 2020 (6x75cl)

Inc. VAT: £334.07

2020
Burgundy
6x75cl
1
89-92 (BH)

Read Review/Description

Inc. VAT: £334.07

Taupenot Merme Chambolle-Musigny 1er Cru La Combe d'Orveau 2011 (6x75cl)

Inc. VAT: £730.07

2011
Burgundy
6x75cl
1
91 (WA)

Read Review/Description

Inc. VAT: £730.07

Taupenot Merme Chambolle-Musigny 2020 (6x75cl)

Inc. VAT: £436.07

2020
Burgundy
6x75cl
1
89-91 (VN)

Read Review/Description

Inc. VAT: £436.07

Taupenot Merme Charmes-Chambertin Grand Cru 2012 (6x75cl)

Inc. VAT: £1,378.07

2012
Burgundy
6x75cl
3
96 (TA)

Read Review/Description

Inc. VAT: £1,378.07

Taupenot Merme Charmes-Chambertin Grand Cru 2013 (6x75cl)

Inc. VAT: £1,378.07

2013
Burgundy
6x75cl
2
92-94 (WA)

Read Review/Description

Inc. VAT: £1,378.07

Taupenot Merme Charmes-Chambertin Grand Cru 2015 (6x75cl)

Inc. VAT: £1,201.67

2015
Burgundy
6x75cl
1
93-95 (WA)

Read Review/Description

Inc. VAT: £1,201.67

Taupenot Merme Charmes-Chambertin Grand Cru 2019 (6x75cl)

Inc. VAT: £1,564.07

2019
Burgundy
6x75cl
3
93-95 (VN)

Read Review/Description

Inc. VAT: £1,564.07

Taupenot Merme Charmes-Chambertin Grand Cru 2020 (6x75cl)

Inc. VAT: £1,786.07

2020
Burgundy
6x75cl
1
93-95 (VN)

Read Review/Description

Inc. VAT: £1,786.07

Taupenot Merme Corton-Rognet Grand Cru 2011 (6x75cl)

Inc. VAT: £730.07

2011
Burgundy
6x75cl
2
91 (WA)

Read Review/Description

Inc. VAT: £730.07

Taupenot Merme Corton-Rognet Grand Cru 2020 (6x75cl)

Inc. VAT: £1,546.07

2020
Burgundy
6x75cl
1
93-95 (VN)

Read Review/Description

Inc. VAT: £1,546.07

Taupenot Merme Gevrey-Chambertin 1er Cru Bel Air 2011 (6x75cl)

Inc. VAT: £786.47

2011
Burgundy
6x75cl
2
90 (VN)

Read Review/Description

Inc. VAT: £786.47

Taupenot Merme Gevrey-Chambertin 1er Cru Bel Air 2013 (6x75cl)

Inc. VAT: £624.47

2013
Burgundy
6x75cl
1
89-92 (BH)

Read Review/Description

Inc. VAT: £624.47

Taupenot Merme Gevrey-Chambertin 1er Cru Bel Air 2015 (6x75cl)

Inc. VAT: £730.07

2015
Burgundy
6x75cl
1
93 (VN)

Read Review/Description

Inc. VAT: £730.07

Taupenot Merme Gevrey-Chambertin 1er Cru Bel Air 2018 (6x75cl)

Inc. VAT: £744.47

2018
Burgundy
6x75cl
2
94 (VN)

Read Review/Description

Inc. VAT: £744.47

Taupenot Merme Gevrey-Chambertin 1er Cru Bel Air 2020 (6x75cl)

Inc. VAT: £916.07

2020
Burgundy
6x75cl
1
92-95 (JMO)

Read Review/Description

Inc. VAT: £916.07

Taupenot Merme Gevrey-Chambertin 2019 (6x75cl)

Inc. VAT: £535.67

2019
Burgundy
6x75cl
1
89-91 (BH)

Read Review/Description

Inc. VAT: £535.67

Taupenot Merme Gevrey-Chambertin 2020 (6x75cl)

Inc. VAT: £488.87

2020
Burgundy
6x75cl
1
89-91 (VN)

Read Review/Description

Inc. VAT: £488.87

Taupenot Merme Mazoyeres-Chambertin Grand Cru 2012 (6x75cl)

Inc. VAT: £1,344.47

2012
Burgundy
6x75cl
1
92-94 (VN)

Read Review/Description

Inc. VAT: £1,344.47

Taupenot Merme Mazoyeres-Chambertin Grand Cru 2016 (6x75cl)

Inc. VAT: £2,382.47

2016
Burgundy
6x75cl
1
95 (VN)

Read Review/Description

Inc. VAT: £2,382.47

Taupenot Merme Mazoyeres-Chambertin Grand Cru 2019 (6x75cl)

Inc. VAT: £1,690.07

2019
Burgundy
6x75cl
1
95-97 (VN)

Read Review/Description

Inc. VAT: £1,690.07

Taupenot Merme Mazoyeres-Chambertin Grand Cru 2020 (6x75cl)

Inc. VAT: £2,293.67

2020
Burgundy
6x75cl
1
94-96 (VN)

Read Review/Description

Inc. VAT: £2,293.67

Taupenot Merme Morey-Saint-Denis 1er Cru La Riotte 2020 (6x75cl)

Inc. VAT: £913.67

2020
Burgundy
6x75cl
2
93-95 (VN)

Read Review/Description

Inc. VAT: £913.67

Taupenot Merme Nuits-Saint-Georges 1er Cru Les Pruliers 2010 (12x75cl)

Inc. VAT: £1,737.34

2010
Burgundy
12x75cl
1
91-93 (VN)

Read Review/Description

Inc. VAT: £1,737.34

Taupenot Merme Nuits-Saint-Georges 1er Cru Les Pruliers 2015 (6x75cl)

Inc. VAT: £539.27

2015
Burgundy
6x75cl
2
94 (VN)

Read Review/Description

Inc. VAT: £539.27

Taupenot Merme Nuits-Saint-Georges 1er Cru Les Pruliers 2018 (6x75cl)

Inc. VAT: £598.07

2018
Burgundy
6x75cl
1
91-93 (VN (NM))

Read Review/Description

Inc. VAT: £598.07

Taupenot Merme Nuits-Saint-Georges 1er Cru Les Pruliers 2019 (6x75cl)

Inc. VAT: £702.47

2019
Burgundy
6x75cl
3
91-93 (VN)

Read Review/Description

Inc. VAT: £702.47
Year
Wine
Region
Format
Qty
Score
Price
Wishlist

Taupenot Merme Auxey-Duresses 1er Cru 2020 (6x75cl)

In Bond: £265.00

2020
Burgundy
6x75cl
1
89-92 (BH)

Read Review/Description

In Bond: £265.00

Taupenot Merme Chambolle-Musigny 1er Cru La Combe d'Orveau 2011 (6x75cl)

In Bond: £595.00

2011
Burgundy
6x75cl
1
91 (WA)

Read Review/Description

In Bond: £595.00

Taupenot Merme Chambolle-Musigny 2020 (6x75cl)

In Bond: £350.00

2020
Burgundy
6x75cl
1
89-91 (VN)

Read Review/Description

In Bond: £350.00

Taupenot Merme Charmes-Chambertin Grand Cru 2012 (6x75cl)

In Bond: £1,135.00

2012
Burgundy
6x75cl
3
96 (TA)

Read Review/Description

In Bond: £1,135.00

Taupenot Merme Charmes-Chambertin Grand Cru 2013 (6x75cl)

In Bond: £1,135.00

2013
Burgundy
6x75cl
2
92-94 (WA)

Read Review/Description

In Bond: £1,135.00

Taupenot Merme Charmes-Chambertin Grand Cru 2015 (6x75cl)

In Bond: £988.00

2015
Burgundy
6x75cl
1
93-95 (WA)

Read Review/Description

In Bond: £988.00

Taupenot Merme Charmes-Chambertin Grand Cru 2019 (6x75cl)

In Bond: £1,290.00

2019
Burgundy
6x75cl
3
93-95 (VN)

Read Review/Description

In Bond: £1,290.00

Taupenot Merme Charmes-Chambertin Grand Cru 2020 (6x75cl)

In Bond: £1,475.00

2020
Burgundy
6x75cl
1
93-95 (VN)

Read Review/Description

In Bond: £1,475.00

Taupenot Merme Corton-Rognet Grand Cru 2011 (6x75cl)

In Bond: £595.00

2011
Burgundy
6x75cl
2
91 (WA)

Read Review/Description

In Bond: £595.00

Taupenot Merme Corton-Rognet Grand Cru 2020 (6x75cl)

In Bond: £1,275.00

2020
Burgundy
6x75cl
1
93-95 (VN)

Read Review/Description

In Bond: £1,275.00

Taupenot Merme Gevrey-Chambertin 1er Cru Bel Air 2011 (6x75cl)

In Bond: £642.00

2011
Burgundy
6x75cl
2
90 (VN)

Read Review/Description

In Bond: £642.00

Taupenot Merme Gevrey-Chambertin 1er Cru Bel Air 2013 (6x75cl)

In Bond: £507.00

2013
Burgundy
6x75cl
1
89-92 (BH)

Read Review/Description

In Bond: £507.00

Taupenot Merme Gevrey-Chambertin 1er Cru Bel Air 2015 (6x75cl)

In Bond: £595.00

2015
Burgundy
6x75cl
1
93 (VN)

Read Review/Description

In Bond: £595.00

Taupenot Merme Gevrey-Chambertin 1er Cru Bel Air 2018 (6x75cl)

In Bond: £607.00

2018
Burgundy
6x75cl
2
94 (VN)

Read Review/Description

In Bond: £607.00

Taupenot Merme Gevrey-Chambertin 1er Cru Bel Air 2020 (6x75cl)

In Bond: £750.00

2020
Burgundy
6x75cl
1
92-95 (JMO)

Read Review/Description

In Bond: £750.00

Taupenot Merme Gevrey-Chambertin 2019 (6x75cl)

In Bond: £433.00

2019
Burgundy
6x75cl
1
89-91 (BH)

Read Review/Description

In Bond: £433.00

Taupenot Merme Gevrey-Chambertin 2020 (6x75cl)

In Bond: £394.00

2020
Burgundy
6x75cl
1
89-91 (VN)

Read Review/Description

In Bond: £394.00

Taupenot Merme Mazoyeres-Chambertin Grand Cru 2012 (6x75cl)

In Bond: £1,107.00

2012
Burgundy
6x75cl
1
92-94 (VN)

Read Review/Description

In Bond: £1,107.00

Taupenot Merme Mazoyeres-Chambertin Grand Cru 2016 (6x75cl)

In Bond: £1,972.00

2016
Burgundy
6x75cl
1
95 (VN)

Read Review/Description

In Bond: £1,972.00

Taupenot Merme Mazoyeres-Chambertin Grand Cru 2019 (6x75cl)

In Bond: £1,395.00

2019
Burgundy
6x75cl
1
95-97 (VN)

Read Review/Description

In Bond: £1,395.00

Taupenot Merme Mazoyeres-Chambertin Grand Cru 2020 (6x75cl)

In Bond: £1,898.00

2020
Burgundy
6x75cl
1
94-96 (VN)

Read Review/Description

In Bond: £1,898.00

Taupenot Merme Morey-Saint-Denis 1er Cru La Riotte 2020 (6x75cl)

In Bond: £748.00

2020
Burgundy
6x75cl
2
93-95 (VN)

Read Review/Description

In Bond: £748.00

Taupenot Merme Nuits-Saint-Georges 1er Cru Les Pruliers 2010 (12x75cl)

In Bond: £1,421.00

2010
Burgundy
12x75cl
1
91-93 (VN)

Read Review/Description

In Bond: £1,421.00

Taupenot Merme Nuits-Saint-Georges 1er Cru Les Pruliers 2015 (6x75cl)

In Bond: £436.00

2015
Burgundy
6x75cl
2
94 (VN)

Read Review/Description

In Bond: £436.00

Taupenot Merme Nuits-Saint-Georges 1er Cru Les Pruliers 2018 (6x75cl)

In Bond: £485.00

2018
Burgundy
6x75cl
1
91-93 (VN (NM))

Read Review/Description

In Bond: £485.00

Taupenot Merme Nuits-Saint-Georges 1er Cru Les Pruliers 2019 (6x75cl)

In Bond: £572.00

2019
Burgundy
6x75cl
3
91-93 (VN)

Read Review/Description

In Bond: £572.00