Ten Minutes by Tractor
There is no doubt, nowadays, that the cool breezy climate of Australia's Mornington Peninsula is capable of producing refined, precise and elegant Pinot Noir and Chardonnay to rival the best that comes out of Burgundy. Right at the top of the Mornington Tree sits the Ten Minutes by Tractor estate, and we are delighted to offer the new release of their single-vineyard 2017s today.
The curious name of Ten Minutes by Tractor comes from the ten minutes tractor ride between the three estate vineyards, McCutcheon, Judd and Wallis. Established in 1997, the rise of the estate began when Martin and Karen Spedding acquired it in 2001. Introducing significant investment to improve both the vineyard and the winery, Ten Minutes by Tractor goes from strength to strength and has now established itself as one of the top estates in the cool, maritime Mornington Peninsula:
"
The wines from this estate have become classier and classier with each passing year. Indeed, it's fast heading for elite status.
" (Campbell Mattinson & Gary Walsh)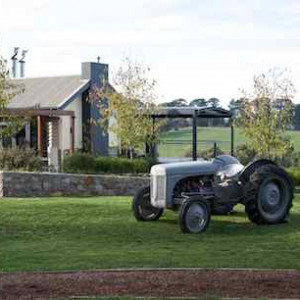 Name
Price Low
Price High
Year (Old)
Year (New)
Prices:
Product Name
Region
Qty
Score
Price

Victoria
2
-

Inc. VAT

£525.89

Victoria
2
-

Inc. VAT

£525.89

Victoria
2
-

Inc. VAT

£564.04
Product Name
Region
Qty
Score
Price

Victoria
2
-

In Bond

£419.00

Victoria
2
-

In Bond

£419.00

Victoria
2
-

In Bond

£454.00
Name
Price Low
Price High
Year (Old)
Year (New)