Tenuta di Trinoro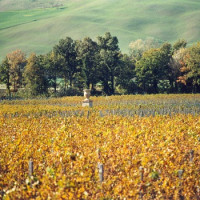 About Tenuta di Trinoro
One of the most eccentrically helmed and breathtakingly situated Tuscan estates to emerge from the powerful Super Tuscan movement, the name Trinoro may not enjoy the internationally ubiquitous fame of the likes of Sassicaia or Tignanello, but it is a producer with whom serious collectors simply must become more intimately acquainted.
Situated in peculiar isolation, compared to the countless wineries clustered around Bolgheri for example, Tenuta di Trinoro rests in a valley near Sarteano where Tuscany meets Umbria and Lazio. Enigmatic proprietor Andrea Franchetti describes his vinous home as "a godforsaken place on the east of the first limestone mountain north of Rome with an ex-volcano between it and the sea".
Protected by the 600 metre-high Monte Amiata, a unique microclimate is one of the main advantages of Trinoro, creating a very even year during which the summers are hot but not scorching and there are still leaves on the trees in December. Franchetti counts himself blessed to be in a position to leave his grapes on the vine for such a long time, and this long maturation process certainly shows in the powerfully concentrated and gorgeously layered fruit of his cuvées.
A particular focus of Trinoro is on the increasingly fashionable Cabernet Franc grape, a varietal which Franchetti considers to be both wrongly maligned and incorrectly relegated to the third string by the Bordelais. Very much the darling grape of oenophiles the world over at this moment in time, it is easy to see why this wonderful varietal is capturing the imaginations of so many when handled by masters such as Franchetti.