Domaine de Triennes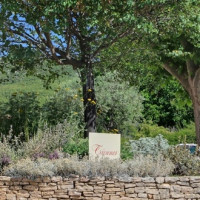 About Domaine de Triennes
Founded in 1989 by two Burgundian superstars, Jacques Seyss of Domaine Dujac and Aubert de Villaine of Domaine de la Romanée-Conti, Domaine de Triennes has quickly established itself as one of the finest estates in Provence.
Situated deep in truffle country, vines have been grown here for some two thousand years. Taking their cue from the property's ancient roots, the name is derived from the triennia, festivities held in honour of Bacchus that took place every three years in Roman times.
The Vineyard and the Wine
This 40-hectare estate thoroughly impressed the legendary duo of Seyss and Villaine from the moment they set eyes on it. The site's southern exposure and clay and limestone soils were said to put them in mind of some of their more familiar Burgundian terroir - something of which you will find no better masters. Perched between 420 and 450 meters above sea-level between the mountain ranges of Monts Aurelien and Sainte Baume, they knew exquisite rosé could rise from this ground.
Boasting a range of grape varieties including Syrah, Viognier, Carignan, Cinsault, Chardonnay, Cabernet Sauvignon and Merlot, Domaine de Triennes is usually a blend dominated by Cinsault. Warm days and cool nights ensure slow ripening which produces sublime fruit, shaped into ripe but extremely elegant wines by Jacques's talented son, Jeremy, who now runs the estate.
This beautifully elegant and masterfully constructed wine is a different beast entirely to many mass-produced rosés from the region. Whilst still fresh and eminently drinkable, there is a tight core of acidity supporting complex notes of wild strawberries, tart red fruits and a touch of vanilla.