Ulysse Collin
About Ulysse Collin
One of the most enigmatic and sought-after names in modern Champagne, Ulysse Collin is very much at the forefront of the grower-revolution across the region incomparable to any except possibly Selosse.
Olivier Collin is the mastermind behind his family estate's rise to the very top of cult Champagne. Based on the lesser-know appellation of the Coteaux de Sezanne to the southwest of the Côte des Blancs, the Collin family has held and managed vines in the area since 1812. Still, their fruit had, until 2003, been leased out permanently to other winemakers. Olivier took the visionary decision to reclaim his first 4.5 hectares and begin crafting terroir-driven wines in 2004, after which his remaining 4.2 hectares joined a year later.
The comparisons with Selosse are particularly apt not only due to their shared status and reverence amongst collectors but also as Olivier completed an internship with the great Anselme Selosse in 2001, going a long way to explaining much of their shared philosophy.
Inspired by his mentor, each of Collin's cuvées go through oak barrel fermentation, and he does not believe in "vintage" as understood by the other growers and Grande Marque houses. He prefers instead to meld the long-practised art of assemblage (blending) with a firm belief in the importance of site-specific terroir. Only single-vineyard wines are made under the Ulysse Collin label, with cuvée variation occurring in dosage and time on lees before disgorgement.
'The most important thing for me is the signature of the site of a place... Vintage could be interesting to me, but it is not the most important
Olivier Collin
Naturally, each of his wines does have a vintage base upon which the wine is constructed and his extensive use of reserve wines allows these cuvées to show incredible nuance and personality. Most importantly, however, remains the signature of each plot which Collin believes possesses its own very distinct personalities.
Hailed by William Kelley (Wine Advocate) as producing wines which are 'among the very best being produced in contemporary Champagne' and 'as profound as they are ambitious, this is a producer whose wines are only going to become harder and harder to acquire.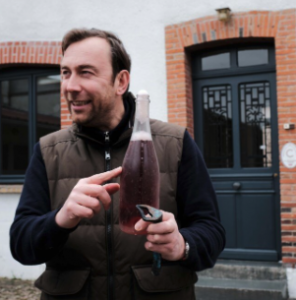 Name
Price Low
Price High
Year (Old)
Year (New)
Prices:
Product Name
Region
Qty
Score
Price

Champagne
2
97+ (WA)

Inc. VAT

£488.00

Wine Advocate (97+)

Disgorged with 1.7 grams per liter dosage after 48 months sur lattes, Collin's NV Extra-Brut Blanc de Blancs Les Pierrières (2016) 48 months bursts with aromas of green apple, blanched almonds, confit citrus and pastry cream. Full-bodied, layered and muscular, it's deep and concentrated, with racy acids and this site's telltale chiseled, incisive profile; it's long and penetrating, concluding with chalky grip. With this late-disgorged version, Les Pierrières takes another step.

More Info

Champagne
1
97+ (WA)

Inc. VAT

£1,293.62

Wine Advocate (97+)

Disgorged with 1.7 grams per liter dosage after 48 months sur lattes, Collin's NV Extra-Brut Blanc de Blancs Les Pierrières (2016) 48 months bursts with aromas of green apple, blanched almonds, confit citrus and pastry cream. Full-bodied, layered and muscular, it's deep and concentrated, with racy acids and this site's telltale chiseled, incisive profile; it's long and penetrating, concluding with chalky grip. With this late-disgorged version, Les Pierrières takes another step.

More Info

Champagne
1
97+ (WA)

Inc. VAT

£2,332.84

Wine Advocate (97+)

Disgorged with 1.7 grams per liter dosage after 48 months sur lattes, Collin's NV Extra-Brut Blanc de Blancs Les Pierrières (2016) 48 months bursts with aromas of green apple, blanched almonds, confit citrus and pastry cream. Full-bodied, layered and muscular, it's deep and concentrated, with racy acids and this site's telltale chiseled, incisive profile; it's long and penetrating, concluding with chalky grip. With this late-disgorged version, Les Pierrières takes another step.

More Info

Champagne
1
100.0

Inc. VAT

£1,048.40

Champagne
1
100.0

Inc. VAT

£3,093.60

Champagne
2
95 (WA)

Inc. VAT

£367.20

Wine Advocate (95)

The most refined of these new releases, the NV (2008) Extra Brut Blanc de Noirs Les Maillons wrap around the palate with endless layers of sensual fruit. Sweet red berries, flowers and subtle spices waft from the glass, but the Maillons is all about weightless, crystalline purity, tension and grace. From a purely textural standpoint, the Maillons stands apart for the finesse of its mousse and its exceptional overall harmony. Readers who can find the Maillons should not hesitate, it is insanely beautiful.

More Info

Champagne
1
-

Inc. VAT

£4,565.23

Quintet Case - Les Pierrières Blanc de Blancs - Les Maillons Blanc de Noirs - Les Enfers Blanc de Blancs - Les Maillons Rosé de Saignée - Les Roises Blanc de Blancs

More Info

Champagne
1
100 (WA)

Inc. VAT

£2,769.62

Wine Advocate (100)

Disgorged in March 2020 with 2.4 grams dosage, the NV Extra-Brut Blanc de Blancs Les Enfers (2014) 60 months is based on the 2014 vintage. Indeed, it's the same tirage that was released last year after 48 months on lees, but its additional year sur lattes has transformed it into an altogether different wine, one that attains new levels of texture, sapid nuance and quite simply excitement. Unwinding in the glass with scents of freshly baked bread, honeyed pears, pomelo, blanched almonds, praline and white flowers, it's full-bodied, layered and multidimensional, with a textural attack segueing into a deep and concentrated mid-palate that's pure and precise, girdled by racy acids and complemented by an elegantly pillowy mousse, concluding with a long, intensely mineral finish. It is testimony to Olivier Collin's immense ambition and relentless work ethic that he has achieved such results not in the celebrated terroirs of the Côte de Blancs or the Montagne de Reims, but rather in the little-known Val du Petit Morin, and in the process, he is expanding the parameters of the possible in Champagne.

More Info

Champagne
1
99 (WA)

Inc. VAT

£4,331.54

Wine Advocate (99)

Disgorged after 60 months on the lees, which will now be the standard for this cuvée, Collin's NV Extra-Brut Blanc de Blancs Les Enfers (2016) unwinds in the glass with complex aromas of crisp Anjou pear and stone fruits mingled with pastry cream, toasted almonds and white flowers. Full-bodied, satiny and seamless, it's deep and complete, with racy acids, terrific texture and unerring precision. While my allegiance varies between Les Enfers and Les Roises, depending on the year and the disgorgement, in 2016 it's impossible to choose: both wines are benchmarks for contemporary Champagne.

More Info

Champagne
5
-

Inc. VAT

£1,963.24

Champagne
1
97 (WA)

Inc. VAT

£2,743.24

Wine Advocate (97)

Disgorged in March 2020 with 2.4 grams per liter dosage, the NV Extra Brut Blanc de Noirs Les Maillons (2016) is based on the 2016 vintage, complemented by 50% reserve wines from 2015. Wafting from the glass with aromas of mirabelle plum, clear honey, toasted almonds, vanilla pod, mandarin, nutmeg and apricot, it's full-bodied, fleshy and enveloping, with a concentrated core of fruit, racy acids and a lovely pinpoint mousse. Charming and demonstrative, it's also one of the most precise renditions of Les Maillons produced to date. At fully 18,500 bottles, this is Collin's largest cuvée.

More Info

Champagne
1
97+ (WA)

Inc. VAT

£2,455.24

Wine Advocate (97+)

Disgorged with 1.7 grams per liter dosage after 48 months sur lattes, Collin's NV Extra-Brut Blanc de Blancs Les Pierrières (2016) 48 months bursts with aromas of green apple, blanched almonds, confit citrus and pastry cream. Full-bodied, layered and muscular, it's deep and concentrated, with racy acids and this site's telltale chiseled, incisive profile; it's long and penetrating, concluding with chalky grip. With this late-disgorged version, Les Pierrières takes another step.

More Info

Champagne
1
100 (WA)

Inc. VAT

£2,889.62

Wine Advocate (100)

Collin's NV Extra-Brut Blanc de Blancs Les Roises (2015) 60 months is an arresting, thrilling wine that bursts with aromas of peach, confit lemon, mandarin oil, buttery pastry, almonds and white flowers. Full-bodied, deep and multidimensional, with huge concentration and mid-palate amplitude, it's vibrant and precise, with a pillowy mousse and an immensely long and intensely saline finish. Despite my best intentions, as soon as I tasted this Les Roises, I knew that my self-imposed embargo on any further 100-point scores for Champagne in 2021 would have to be broken. And the frightening thing is that Collin shows no signs of relenting in his quest to expand the parameters of the possible in Champagne! While bottles of this tiny disgorgement won't be easy to find, anyone eager to taste one of the region's contemporary benchmarks should make every effort to seek one out.

More Info

Champagne
1
99 (WA)

Inc. VAT

£4,331.54

Wine Advocate (99)

Disgorged this year after 60 months on the lees, the NV Extra-Brut Blanc de Blancs Les Roises (2016) is brilliant, offering up complex aromas of confit orange, peach, citrus blossom, nutmeg and freshly baked bread, followed by a full-bodied, satiny and layered palate that's broader and more textural than Les Enfers, its deep core of fruit underpinned by racy acids and chalky structure. As I remarked on the wine's palpable levels of dry extract, Collin observed that due to the smaller size of the grapes Les Roises produces (due to fan leaf virus, or court-noué), he's obliged to press harder to liberate the juice, delivering simultaneously more dry extract and a slightly higher pH than adjacent Les Enfers. In addition to the supplemental concentration those smaller berries provide, this surely helps to explain some of the wine's texture and body.

More Info
Product Name
Region
Qty
Score
Price

Champagne
2
97+ (WA)

In Bond

£404.00

Wine Advocate (97+)

Disgorged with 1.7 grams per liter dosage after 48 months sur lattes, Collin's NV Extra-Brut Blanc de Blancs Les Pierrières (2016) 48 months bursts with aromas of green apple, blanched almonds, confit citrus and pastry cream. Full-bodied, layered and muscular, it's deep and concentrated, with racy acids and this site's telltale chiseled, incisive profile; it's long and penetrating, concluding with chalky grip. With this late-disgorged version, Les Pierrières takes another step.

More Info

Champagne
1
97+ (WA)

In Bond

£1,070.00

Wine Advocate (97+)

Disgorged with 1.7 grams per liter dosage after 48 months sur lattes, Collin's NV Extra-Brut Blanc de Blancs Les Pierrières (2016) 48 months bursts with aromas of green apple, blanched almonds, confit citrus and pastry cream. Full-bodied, layered and muscular, it's deep and concentrated, with racy acids and this site's telltale chiseled, incisive profile; it's long and penetrating, concluding with chalky grip. With this late-disgorged version, Les Pierrières takes another step.

More Info

Champagne
1
97+ (WA)

In Bond

£1,928.00

Wine Advocate (97+)

Disgorged with 1.7 grams per liter dosage after 48 months sur lattes, Collin's NV Extra-Brut Blanc de Blancs Les Pierrières (2016) 48 months bursts with aromas of green apple, blanched almonds, confit citrus and pastry cream. Full-bodied, layered and muscular, it's deep and concentrated, with racy acids and this site's telltale chiseled, incisive profile; it's long and penetrating, concluding with chalky grip. With this late-disgorged version, Les Pierrières takes another step.

More Info

Champagne
1
100.0

In Bond

£871.00

Champagne
1
100.0

Inc. VAT

£3,093.60

Champagne
2
95 (WA)

Inc. VAT

£367.20

Wine Advocate (95)

The most refined of these new releases, the NV (2008) Extra Brut Blanc de Noirs Les Maillons wrap around the palate with endless layers of sensual fruit. Sweet red berries, flowers and subtle spices waft from the glass, but the Maillons is all about weightless, crystalline purity, tension and grace. From a purely textural standpoint, the Maillons stands apart for the finesse of its mousse and its exceptional overall harmony. Readers who can find the Maillons should not hesitate, it is insanely beautiful.

More Info

Champagne
1
-

In Bond

£3,791.00

Quintet Case - Les Pierrières Blanc de Blancs - Les Maillons Blanc de Noirs - Les Enfers Blanc de Blancs - Les Maillons Rosé de Saignée - Les Roises Blanc de Blancs

More Info

Champagne
1
100 (WA)

In Bond

£2,300.00

Wine Advocate (100)

Disgorged in March 2020 with 2.4 grams dosage, the NV Extra-Brut Blanc de Blancs Les Enfers (2014) 60 months is based on the 2014 vintage. Indeed, it's the same tirage that was released last year after 48 months on lees, but its additional year sur lattes has transformed it into an altogether different wine, one that attains new levels of texture, sapid nuance and quite simply excitement. Unwinding in the glass with scents of freshly baked bread, honeyed pears, pomelo, blanched almonds, praline and white flowers, it's full-bodied, layered and multidimensional, with a textural attack segueing into a deep and concentrated mid-palate that's pure and precise, girdled by racy acids and complemented by an elegantly pillowy mousse, concluding with a long, intensely mineral finish. It is testimony to Olivier Collin's immense ambition and relentless work ethic that he has achieved such results not in the celebrated terroirs of the Côte de Blancs or the Montagne de Reims, but rather in the little-known Val du Petit Morin, and in the process, he is expanding the parameters of the possible in Champagne.

More Info

Champagne
1
99 (WA)

In Bond

£3,600.00

Wine Advocate (99)

Disgorged after 60 months on the lees, which will now be the standard for this cuvée, Collin's NV Extra-Brut Blanc de Blancs Les Enfers (2016) unwinds in the glass with complex aromas of crisp Anjou pear and stone fruits mingled with pastry cream, toasted almonds and white flowers. Full-bodied, satiny and seamless, it's deep and complete, with racy acids, terrific texture and unerring precision. While my allegiance varies between Les Enfers and Les Roises, depending on the year and the disgorgement, in 2016 it's impossible to choose: both wines are benchmarks for contemporary Champagne.

More Info

Champagne
5
-

In Bond

£1,620.00

Champagne
1
97 (WA)

In Bond

£2,270.00

Wine Advocate (97)

Disgorged in March 2020 with 2.4 grams per liter dosage, the NV Extra Brut Blanc de Noirs Les Maillons (2016) is based on the 2016 vintage, complemented by 50% reserve wines from 2015. Wafting from the glass with aromas of mirabelle plum, clear honey, toasted almonds, vanilla pod, mandarin, nutmeg and apricot, it's full-bodied, fleshy and enveloping, with a concentrated core of fruit, racy acids and a lovely pinpoint mousse. Charming and demonstrative, it's also one of the most precise renditions of Les Maillons produced to date. At fully 18,500 bottles, this is Collin's largest cuvée.

More Info

Champagne
1
97+ (WA)

In Bond

£2,030.00

Wine Advocate (97+)

Disgorged with 1.7 grams per liter dosage after 48 months sur lattes, Collin's NV Extra-Brut Blanc de Blancs Les Pierrières (2016) 48 months bursts with aromas of green apple, blanched almonds, confit citrus and pastry cream. Full-bodied, layered and muscular, it's deep and concentrated, with racy acids and this site's telltale chiseled, incisive profile; it's long and penetrating, concluding with chalky grip. With this late-disgorged version, Les Pierrières takes another step.

More Info

Champagne
1
100 (WA)

In Bond

£2,400.00

Wine Advocate (100)

Collin's NV Extra-Brut Blanc de Blancs Les Roises (2015) 60 months is an arresting, thrilling wine that bursts with aromas of peach, confit lemon, mandarin oil, buttery pastry, almonds and white flowers. Full-bodied, deep and multidimensional, with huge concentration and mid-palate amplitude, it's vibrant and precise, with a pillowy mousse and an immensely long and intensely saline finish. Despite my best intentions, as soon as I tasted this Les Roises, I knew that my self-imposed embargo on any further 100-point scores for Champagne in 2021 would have to be broken. And the frightening thing is that Collin shows no signs of relenting in his quest to expand the parameters of the possible in Champagne! While bottles of this tiny disgorgement won't be easy to find, anyone eager to taste one of the region's contemporary benchmarks should make every effort to seek one out.

More Info

Champagne
1
99 (WA)

In Bond

£3,600.00

Wine Advocate (99)

Disgorged this year after 60 months on the lees, the NV Extra-Brut Blanc de Blancs Les Roises (2016) is brilliant, offering up complex aromas of confit orange, peach, citrus blossom, nutmeg and freshly baked bread, followed by a full-bodied, satiny and layered palate that's broader and more textural than Les Enfers, its deep core of fruit underpinned by racy acids and chalky structure. As I remarked on the wine's palpable levels of dry extract, Collin observed that due to the smaller size of the grapes Les Roises produces (due to fan leaf virus, or court-noué), he's obliged to press harder to liberate the juice, delivering simultaneously more dry extract and a slightly higher pH than adjacent Les Enfers. In addition to the supplemental concentration those smaller berries provide, this surely helps to explain some of the wine's texture and body.

More Info
Name
Price Low
Price High
Year (Old)
Year (New)