Vérité Winery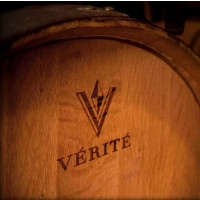 About Vérité Winery
Described by Robert M. Parker, Jr. as "one of the most extraordinary men in the wine world I have ever met", Jess Jackson had a vision for a winery that would treat Californian terroir with the same enthusiasm and respect as those in France. An encounter with Pierre Seillan in the early 1990s confirmed that Jackson had found his vigneron, and the pair founded Vérité (French for "truth") with the express intention of being as truthful as possible to the more than 50 "micro-crus" across three appellations from which the estate sources.
Viniculture
Truth, transparency and terroir characteristics are the single most significant guiding principle of Pierre Seillan as a winemaker, who passionately repeats his mantra of "la droit du sol" - "the right of the soil". Three distinct yet equally brilliant cuvées are produced, with each representing a unique blending of varietals, climate, soil and winemaking.
These three wines are titled La Muse, La Joie and Le Désir. La Muse is a Merlot dominant blend, with a touch of Cabernet Franc (5%) and Malbec (2%) - the resulting wine is elegant, graceful and impossibly silky.
La Joie is Cabernet Sauvignon based, supported by 11% Merlot and 5% Petit Verdot. The resulting wine is incredibly pure, focused and aristocratic, displaying classic varietal notes of redcurrants, blackcurrants, menthol and fresh sage - gloriously complex with a savoury edge to temper the gorgeous fruit.
Finally, Le Désir is Vérité's glorious expression of Cabernet Franc alongside 12% Merlot and 6% Malbec. One of the single greatest Cabernet Franc dominant wines in the world, it is beguilingly complex and spicy on the nose and palate, with hints of star anise, vanilla and warm toast are undercut by a pronounced iron minerality and beautifully fine tannins.