Domaine du Vieux Télégraphe
About Domaine du Vieux Télégraphe
Domaine du Vieux Télégraphe was founded in 1898 by Hippolyte Brunier and is still in the family. The intriguing name came from the view from an ageing signal tower, built-in 1792. Located in La Crau, arguably the grandest cru in Chateauneuf du Pape, their philosophy aims to get the most of this great terroir.
A leading "old-guard estate" of this historic appellation, Vieux Télégraphe continues to craft wines in a "classic, age-worthy, and uncompromising style" according to Jeb Dunnuck – for this ardent belief in unapologetically powerful expressions of their terroir, critics and collectors alike thank them most sincerely.
Winemaker and owner Daniel Brunier believes wholeheartedly in the terroir of his estate, refusing to compromise its integrity by crafting a "super cuvée" from a singled-out portion of the vines – in Brunier's eyes, every inch of Vieux Télégraphe is worthy of inclusion in a "super cuvée".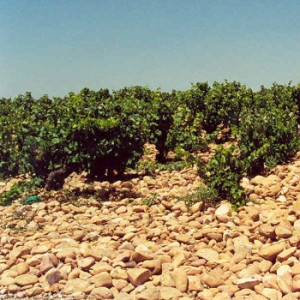 Name
Price Low
Price High
Year (Old)
Year (New)
Prices:
Product Name
Region
Qty
Score
Price

Rhone
1
-

Inc. VAT

£756.04

Rhone
1
91 (WA)

Inc. VAT

£1,372.87

Wine Advocate (91)

The elegant 2000 Vieux Telegraphe La Crau possesses 14.8% alcohol, along with a deep ruby/purple color, charming, rich, fruitiness, and firm tannin in the finish. With loads of freshness, copious quantities of pepper, seaweed, and black fruit characteristics, and a distinctive minerality, this full-bodied, sweet 2000 requires 2-3 years of cellaring; it should age well for 15-16 years. Anticipated maturity: 2005-2018.

More Info

Rhone
1
96+ (WA)

Inc. VAT

£913.20

Wine Advocate (96+)

The 2007 Vieux Telegraphe may be the greatest wine made at this property since the 2005 and 1998. Dense ruby/purple-tinged with an exquisite nose of salty sea breezes, licorice, ground pepper, jammy black cherries, black currants, figs, and plums, this is a full-bodied, rich, Provencal-styled offering with lots of sweet, ripe tannin. It is surprisingly accessible for a Vieux Telegraphe (this wine normally shuts down several years after bottling), but it should have great longevity (25+ years) given its power, full-bodied mouthfeel, and enormous length and richness. This is a brilliant effort from brothers Frederic and Daniel Brunier.

More Info

Rhone
2
94 (WA)

Inc. VAT

£1,200.07

Wine Advocate (94)

A super showing for this wine, the 2009 Chateauneuf du Pape is meaty and intense, with black olives and black cherries equally sharing the spotlight. Full-bodied, rich and velvety, with a long finish, it may be just a bit coarse in texture, but it delivers happiness in the glass. Drink now or hold; it should drink well for at least another decade.

More Info

Rhone
1
93 (VN)

Inc. VAT

£951.67

Vinous (93)

(65% grenache, 15% syrah and 15% mourvedre): Bright ruby-red. Black raspberry, cherry compote, potpourri and Asian spices on the highly perfumed nose. Juicy red and dark berry flavors stain the palate, showing terrific clarity and spicy lift. The spicy quality comes back strong on the finish, which is framed by silky, harmonious tannins. In a graceful, almost weightless style, with zero excess fat but noteworthy flavor intensity. I underestimated this wine last year.

More Info

Rhone
1
91-93 (VN)

Inc. VAT

£508.84

Vinous (91-93)

Vivid ruby. Intense red and dark berry aromas are complemented by peppery spice, garrigue and floral pastille notes. Sappy and precise on the palate, offering concentrated, vivacious black raspberry, cherry cola and spicecake flavors. Supple, harmonious tannins build steadily on the very long, seamless finish, which leaves behind lavender and juicy dark berry notes.

More Info

Rhone
1
96 (JS)

Inc. VAT

£784.87

James Suckling (96)

A wine with playful, attractive character. An array of red, blue and purple fruits. Gently spicy, chalky and fragrant, it has a very supple, fleshy and layered palate with a web of fine, smooth and supple tannins. Extremely elegant and composed. A long draw on the finish. Great depth and drive. This will live super long. Try after 2020.

More Info

Rhone
2
96 (JS)

Inc. VAT

£404.44

James Suckling (96)

A wine with playful, attractive character. An array of red, blue and purple fruits. Gently spicy, chalky and fragrant, it has a very supple, fleshy and layered palate with a web of fine, smooth and supple tannins. Extremely elegant and composed. A long draw on the finish. Great depth and drive. This will live super long. Try after 2020.

More Info

Rhone
1
98 (JS)

Inc. VAT

£963.67

James Suckling (98)

Impressive, complex array of wild cherries, raspberries, garrigue herbs, lightly spiced pastry and stony, chalky minerals. Super-fresh florals. The palate has superb texture, roundness, completeness, depth and detail. Powerful yet elegant with powdery tannins and essence-like red fruit. Super-fleshy, supple and dense core, then strong at the edges. Layer upon layer peels away on the finish. Resounding finesse and equilibrium, showing the full potential of the plateau La Crau. Drink or hold.

More Info

Rhone
1
98 (JS)

Inc. VAT

£373.24

James Suckling (98)

Impressive, complex array of wild cherries, raspberries, garrigue herbs, lightly spiced pastry and stony, chalky minerals. Super-fresh florals. The palate has superb texture, roundness, completeness, depth and detail. Powerful yet elegant with powdery tannins and essence-like red fruit. Super-fleshy, supple and dense core, then strong at the edges. Layer upon layer peels away on the finish. Resounding finesse and equilibrium, showing the full potential of the plateau La Crau. Drink or hold.

More Info

Rhone
1
96 (JS)

Inc. VAT

£824.47

James Suckling (96)

Immediately a sense of darker fruit in this vintage. The nose has closed up a little since tasting in barrel. It has some reserved, sanguine notes and an essence-like, raspberry core. Some stones and chalk here, too. Very long and focused palate. The grenache is singing here. Dense but soft and supple tannins, the product of thick, healthy skins. Best from 2025.

More Info

Rhone
2
96 (JS)

Inc. VAT

£346.84

James Suckling (96)

Immediately a sense of darker fruit in this vintage. The nose has closed up a little since tasting in barrel. It has some reserved, sanguine notes and an essence-like, raspberry core. Some stones and chalk here, too. Very long and focused palate. The grenache is singing here. Dense but soft and supple tannins, the product of thick, healthy skins. Best from 2025.

More Info

Rhone
1
94-96 (WA)

Inc. VAT

£390.04

Wine Advocate (94-96)

The final blend of the 2018 Chateauneuf du Pape La Crau will include 60% to 65% Grenache, 15% each Mourvèdre and Syrah, with the remainder Cinsault. Boasting complex scents of roses, black tea, raspberries and cherries on the nose, it follows that up with a full-bodied palate that's silky and airy in texture yet flavorful and tremendously long on the finish. It fits perfectly with the Brunier's stated goal of pursuing elegance.

More Info

Rhone
1
96-98 (JD)

Inc. VAT

£486.04

Jeb Dunnuck (96-98)

Looking at the flagship 2019 Châteauneuf Du Pape from this benchmark estate, it reveals a denser ruby/purple color as well as stunning notes of smoked red and black fruits, crushed rocks, peppery garrigue, and truffly earth. Hitting the palate with full-bodied richness, it stays tight and compact on the palate, with terrific mid-palate depth, a focused, structured mouthfeel, and one great finish. This is a brilliant Châteauneuf du Pape from the Brunier family that's going to benefit from upwards of 5-7 years of bottle age and have 30+ years of overall longevity.

More Info

Rhone
2
92-94+ (JD)

Inc. VAT

£440.69

Jeb Dunnuck (92-94+)

The 2020 Châteauneuf Du Pape should be a gem of a wine as well as age-worthy. Lots of red and black berry fruits, licorice, wild herbs, and pepper define this medium to full-bodied, ripe, yet very classic, focused, elegant 2020. I love its underlying structure as well as its balance. Give bottles 4-5 years and enjoy over the following two decades.

More Info

Rhone
1
95 (JD)

Inc. VAT

£487.24

Jeb Dunnuck (95)

One of my favorite whites from the south of France is Daniel Brunier's Châteauneuf du Pape Blanc and his 2019 is another stunning effort. Always a blend of Clairette, Roussanne, Grenache Blanc, and Bourboulenc brought up in foudre, this beauty boasts an exotic nose of honeyed peach, quince, crushed citrus, and salty minerality, all with a floral edge. Medium to full-bodied on the palate with flawless balance and beautifully integrated acidity, enjoy this concentrated white anytime over the coming 15-20 years.

More Info

Rhone
1
89-91 (VN)

Inc. VAT

£258.29

Vinous (89-91)

Vivid ruby. Fresh red berries and garrigue on the fragrant, high-pitched nose. Juicy and precise, offering gently sweet raspberry and cherry flavors and slow-mounting spiciness. Finishes soft and supple, with no obvious tannins and good cling.

More Info

Rhone
1
93 (VN)

Inc. VAT

£236.03

Vinous (93)

Deep violet. Ripe, spice-accented dark berry and cherry preserve scents show strong garrigue and floral accents. Pliant in texture and broad in the mouth, offering sappy boysenberry, bitter cherry and floral pastille flavors and a peppery topnote. Finishes long and gently chewy, with the floral and spice notes repeating.

More Info

Rhone
3
-

Inc. VAT

£455.38
Product Name
Region
Qty
Score
Price

Rhone
1
-

In Bond

£614.00

Rhone
1
91 (WA)

In Bond

£1,112.00

Wine Advocate (91)

The elegant 2000 Vieux Telegraphe La Crau possesses 14.8% alcohol, along with a deep ruby/purple color, charming, rich, fruitiness, and firm tannin in the finish. With loads of freshness, copious quantities of pepper, seaweed, and black fruit characteristics, and a distinctive minerality, this full-bodied, sweet 2000 requires 2-3 years of cellaring; it should age well for 15-16 years. Anticipated maturity: 2005-2018.

More Info

Rhone
1
96+ (WA)

Inc. VAT

£913.20

Wine Advocate (96+)

The 2007 Vieux Telegraphe may be the greatest wine made at this property since the 2005 and 1998. Dense ruby/purple-tinged with an exquisite nose of salty sea breezes, licorice, ground pepper, jammy black cherries, black currants, figs, and plums, this is a full-bodied, rich, Provencal-styled offering with lots of sweet, ripe tannin. It is surprisingly accessible for a Vieux Telegraphe (this wine normally shuts down several years after bottling), but it should have great longevity (25+ years) given its power, full-bodied mouthfeel, and enormous length and richness. This is a brilliant effort from brothers Frederic and Daniel Brunier.

More Info

Rhone
2
94 (WA)

In Bond

£968.00

Wine Advocate (94)

A super showing for this wine, the 2009 Chateauneuf du Pape is meaty and intense, with black olives and black cherries equally sharing the spotlight. Full-bodied, rich and velvety, with a long finish, it may be just a bit coarse in texture, but it delivers happiness in the glass. Drink now or hold; it should drink well for at least another decade.

More Info

Rhone
1
93 (VN)

In Bond

£761.00

Vinous (93)

(65% grenache, 15% syrah and 15% mourvedre): Bright ruby-red. Black raspberry, cherry compote, potpourri and Asian spices on the highly perfumed nose. Juicy red and dark berry flavors stain the palate, showing terrific clarity and spicy lift. The spicy quality comes back strong on the finish, which is framed by silky, harmonious tannins. In a graceful, almost weightless style, with zero excess fat but noteworthy flavor intensity. I underestimated this wine last year.

More Info

Rhone
1
91-93 (VN)

In Bond

£408.00

Vinous (91-93)

Vivid ruby. Intense red and dark berry aromas are complemented by peppery spice, garrigue and floral pastille notes. Sappy and precise on the palate, offering concentrated, vivacious black raspberry, cherry cola and spicecake flavors. Supple, harmonious tannins build steadily on the very long, seamless finish, which leaves behind lavender and juicy dark berry notes.

More Info

Rhone
1
96 (JS)

In Bond

£622.00

James Suckling (96)

A wine with playful, attractive character. An array of red, blue and purple fruits. Gently spicy, chalky and fragrant, it has a very supple, fleshy and layered palate with a web of fine, smooth and supple tannins. Extremely elegant and composed. A long draw on the finish. Great depth and drive. This will live super long. Try after 2020.

More Info

Rhone
2
96 (JS)

In Bond

£321.00

James Suckling (96)

A wine with playful, attractive character. An array of red, blue and purple fruits. Gently spicy, chalky and fragrant, it has a very supple, fleshy and layered palate with a web of fine, smooth and supple tannins. Extremely elegant and composed. A long draw on the finish. Great depth and drive. This will live super long. Try after 2020.

More Info

Rhone
1
98 (JS)

In Bond

£771.00

James Suckling (98)

Impressive, complex array of wild cherries, raspberries, garrigue herbs, lightly spiced pastry and stony, chalky minerals. Super-fresh florals. The palate has superb texture, roundness, completeness, depth and detail. Powerful yet elegant with powdery tannins and essence-like red fruit. Super-fleshy, supple and dense core, then strong at the edges. Layer upon layer peels away on the finish. Resounding finesse and equilibrium, showing the full potential of the plateau La Crau. Drink or hold.

More Info

Rhone
1
98 (JS)

In Bond

£295.00

James Suckling (98)

Impressive, complex array of wild cherries, raspberries, garrigue herbs, lightly spiced pastry and stony, chalky minerals. Super-fresh florals. The palate has superb texture, roundness, completeness, depth and detail. Powerful yet elegant with powdery tannins and essence-like red fruit. Super-fleshy, supple and dense core, then strong at the edges. Layer upon layer peels away on the finish. Resounding finesse and equilibrium, showing the full potential of the plateau La Crau. Drink or hold.

More Info

Rhone
1
96 (JS)

In Bond

£655.00

James Suckling (96)

Immediately a sense of darker fruit in this vintage. The nose has closed up a little since tasting in barrel. It has some reserved, sanguine notes and an essence-like, raspberry core. Some stones and chalk here, too. Very long and focused palate. The grenache is singing here. Dense but soft and supple tannins, the product of thick, healthy skins. Best from 2025.

More Info

Rhone
2
96 (JS)

In Bond

£273.00

James Suckling (96)

Immediately a sense of darker fruit in this vintage. The nose has closed up a little since tasting in barrel. It has some reserved, sanguine notes and an essence-like, raspberry core. Some stones and chalk here, too. Very long and focused palate. The grenache is singing here. Dense but soft and supple tannins, the product of thick, healthy skins. Best from 2025.

More Info

Rhone
1
94-96 (WA)

In Bond

£309.00

Wine Advocate (94-96)

The final blend of the 2018 Chateauneuf du Pape La Crau will include 60% to 65% Grenache, 15% each Mourvèdre and Syrah, with the remainder Cinsault. Boasting complex scents of roses, black tea, raspberries and cherries on the nose, it follows that up with a full-bodied palate that's silky and airy in texture yet flavorful and tremendously long on the finish. It fits perfectly with the Brunier's stated goal of pursuing elegance.

More Info

Rhone
1
96-98 (JD)

In Bond

£389.00

Jeb Dunnuck (96-98)

Looking at the flagship 2019 Châteauneuf Du Pape from this benchmark estate, it reveals a denser ruby/purple color as well as stunning notes of smoked red and black fruits, crushed rocks, peppery garrigue, and truffly earth. Hitting the palate with full-bodied richness, it stays tight and compact on the palate, with terrific mid-palate depth, a focused, structured mouthfeel, and one great finish. This is a brilliant Châteauneuf du Pape from the Brunier family that's going to benefit from upwards of 5-7 years of bottle age and have 30+ years of overall longevity.

More Info

Rhone
2
92-94+ (JD)

In Bond

£348.00

Jeb Dunnuck (92-94+)

The 2020 Châteauneuf Du Pape should be a gem of a wine as well as age-worthy. Lots of red and black berry fruits, licorice, wild herbs, and pepper define this medium to full-bodied, ripe, yet very classic, focused, elegant 2020. I love its underlying structure as well as its balance. Give bottles 4-5 years and enjoy over the following two decades.

More Info

Rhone
1
95 (JD)

In Bond

£390.00

Jeb Dunnuck (95)

One of my favorite whites from the south of France is Daniel Brunier's Châteauneuf du Pape Blanc and his 2019 is another stunning effort. Always a blend of Clairette, Roussanne, Grenache Blanc, and Bourboulenc brought up in foudre, this beauty boasts an exotic nose of honeyed peach, quince, crushed citrus, and salty minerality, all with a floral edge. Medium to full-bodied on the palate with flawless balance and beautifully integrated acidity, enjoy this concentrated white anytime over the coming 15-20 years.

More Info

Rhone
1
89-91 (VN)

In Bond

£196.00

Vinous (89-91)

Vivid ruby. Fresh red berries and garrigue on the fragrant, high-pitched nose. Juicy and precise, offering gently sweet raspberry and cherry flavors and slow-mounting spiciness. Finishes soft and supple, with no obvious tannins and good cling.

More Info

Rhone
1
93 (VN)

In Bond

£186.00

Vinous (93)

Deep violet. Ripe, spice-accented dark berry and cherry preserve scents show strong garrigue and floral accents. Pliant in texture and broad in the mouth, offering sappy boysenberry, bitter cherry and floral pastille flavors and a peppery topnote. Finishes long and gently chewy, with the floral and spice notes repeating.

More Info

Rhone
3
-

In Bond

£341.00
Name
Price Low
Price High
Year (Old)
Year (New)