Zind Humbrecht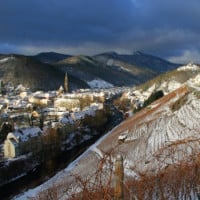 About Zind Humbrecht
Domaine Zind-Humbrecht in the Alsace, was created in 1959 continuing the Humbrecht family's history of wine growing for three centuries. It is now managed by Olivier Humbrecht, the first Frenchman to become a master of wine.
One of the most important domaines in Alsace since its foundation in 1620, Domaine Zind Humbrecht has been passed down through generations of the Humbrecht Family for 400 years. Not only is the domaine one of the most traditional, it is also one of the most dynamic in this heavily German-influenced French wine region.
Perhaps it is four centuries of experience and dedication to their land and terroir that led them to convert to biodynamics back in 1997. The results are tangible and their wines, especially those from the most prestigious Grands Crus, go toe-to-toe with the finest white wines in the world.
Prices:
Year
Wine
Region
Format
Qty
Score
Price
Wishlist

Zind Humbrecht Gewurztraminer Hengst Grand Cru 2020 (6x75cl)

Inc. VAT: £394.07

2020
Alsace
6x75cl
1
-
Inc. VAT: £394.07

Zind Humbrecht Gewurztraminer Rangen Thann Grand Cru Clos Saint Urbain 2017 (6x75cl)

Inc. VAT: £454.07

2017
Alsace
6x75cl
1
-
Inc. VAT: £454.07

Zind Humbrecht Gewurztraminer Rangen Thann Grand Cru Clos Saint Urbain 2020 (6x75cl)

Inc. VAT: £565.67

2020
Alsace
6x75cl
2
-
Inc. VAT: £565.67

Zind Humbrecht Gewurztraminer Windsbuhl 2004 (12x75cl)

Inc. VAT: £848.14

2004
Alsace
12x75cl
1
94 (WA)

Read Review/Description

Inc. VAT: £848.14

Zind Humbrecht Pinot Gris Clos Windsbuhl 2007 (12x75cl)

Inc. VAT: £794.14

2007
Alsace
12x75cl
1
88 (WA)

Read Review/Description

Inc. VAT: £794.14

Zind Humbrecht Pinot Gris Rotenberg 2019 (6x75cl)

Inc. VAT: £323.27

2019
Alsace
6x75cl
1
95 (JS)

Read Review/Description

Inc. VAT: £323.27

Zind Humbrecht Riesling Brand Grand Cru 2019 (6x75cl)

Inc. VAT: £473.27

2019
Alsace
6x75cl
2
98 (JS)

Read Review/Description

Inc. VAT: £473.27

Zind Humbrecht Riesling Clos Windsbuhl 2018 (6x75cl)

Inc. VAT: £424.07

2018
Alsace
6x75cl
1
96 (VN)

Read Review/Description

Inc. VAT: £424.07

Zind Humbrecht Riesling Rangen Thann Grand Cru Clos Saint Urbain 2018 (6x75cl)

Inc. VAT: £466.07

2018
Alsace
6x75cl
1
97 (JS)

Read Review/Description

Inc. VAT: £466.07
Year
Wine
Region
Format
Qty
Score
Price
Wishlist

Zind Humbrecht Gewurztraminer Hengst Grand Cru 2020 (6x75cl)

In Bond: £315.00

2020
Alsace
6x75cl
1
-
In Bond: £315.00

Zind Humbrecht Gewurztraminer Rangen Thann Grand Cru Clos Saint Urbain 2017 (6x75cl)

In Bond: £365.00

2017
Alsace
6x75cl
1
-
In Bond: £365.00

Zind Humbrecht Gewurztraminer Rangen Thann Grand Cru Clos Saint Urbain 2020 (6x75cl)

In Bond: £458.00

2020
Alsace
6x75cl
2
-
In Bond: £458.00

Zind Humbrecht Gewurztraminer Windsbuhl 2004 (12x75cl)

In Bond: £680.00

2004
Alsace
12x75cl
1
94 (WA)

Read Review/Description

In Bond: £680.00

Zind Humbrecht Pinot Gris Clos Windsbuhl 2007 (12x75cl)

In Bond: £635.00

2007
Alsace
12x75cl
1
88 (WA)

Read Review/Description

In Bond: £635.00

Zind Humbrecht Pinot Gris Rotenberg 2019 (6x75cl)

In Bond: £256.00

2019
Alsace
6x75cl
1
95 (JS)

Read Review/Description

In Bond: £256.00

Zind Humbrecht Riesling Brand Grand Cru 2019 (6x75cl)

In Bond: £381.00

2019
Alsace
6x75cl
2
98 (JS)

Read Review/Description

In Bond: £381.00

Zind Humbrecht Riesling Clos Windsbuhl 2018 (6x75cl)

In Bond: £340.00

2018
Alsace
6x75cl
1
96 (VN)

Read Review/Description

In Bond: £340.00

Zind Humbrecht Riesling Rangen Thann Grand Cru Clos Saint Urbain 2018 (6x75cl)

In Bond: £375.00

2018
Alsace
6x75cl
1
97 (JS)

Read Review/Description

In Bond: £375.00