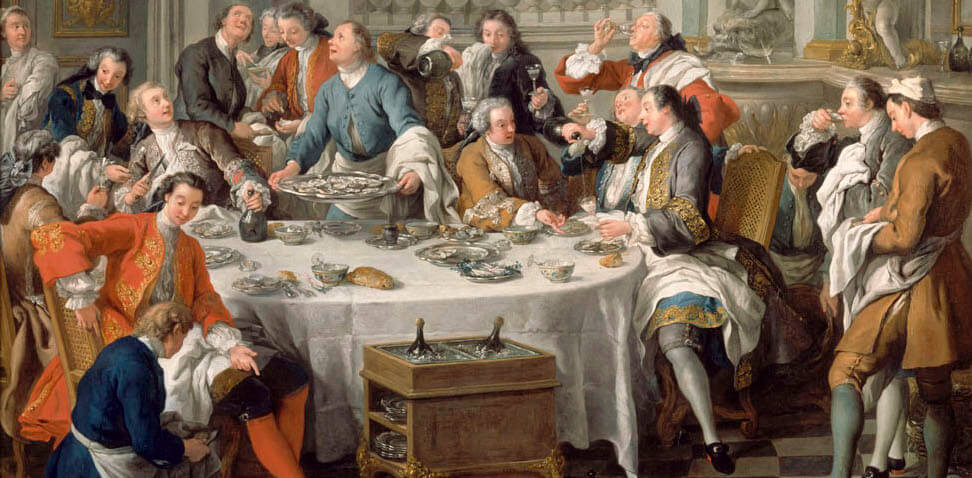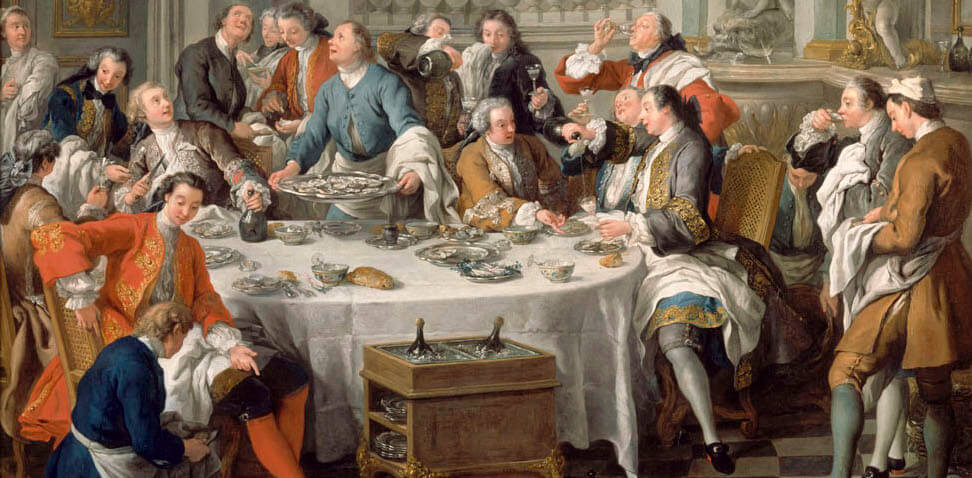 Following on from last month's instalment, we left Champagne just as it's rivalry with Burgundy had been resolved in a most unexpected fashion. Instead of continuing to wage their war of vines and still wines, the champenois embraced the natural volatility of their juice. When they did it proved a masterstroke of marketing genius and the world's obsession with the luxurious bottles of bubbly has never died away.
Marking a break with his father, The Sun King (who hated bubbles in his Champagne), Louis XV celebrated them and did so in a manner which we would find very familiar today. A less formal, more convivial monarch, Louis commissioned a painting which would depict the spirit of his court and the artist, Jean-François de Troy chose a Champagne-oriented party as the focus.
In Le Déjeuner d'Huîtres we see a portrait of 1730s life at Versailles. Not a formal banquet or ceremony, a feast of oysters and Champagne around a small table with an intimate group of enthusiastic drinkers. This is the first portrayal of Champagne as we know it - bubbly & cork-popping; the life of the party.
They're clearly enthralled by the qualities of their newfound beverage. One partygoer pours Champagne from a height into his companion's glass while they marvel at the mousse generated before their eyes, while another group of guests train their eyes skyward, following the flight of a cork, rocketing toward the heavens. Bottles aplenty occupy ice trays, while oysters by the hundreds adorn the table and trays, while the discarded shells cover the floor.
_
"Le Déjeuner d'Huîtres is the first portrayal of Champagne as we know it - bubbly & cork-popping; the life of the party."
_
Recogniseable and similar though it was, there were some differences in the Champagne they were drinking. It underwent a very familiar bottle-fermentation process to produce the bubbles but it would have been decidedly sweeter, with lower alcohol and residual sugar in levels similar a half-dry kabinett riesling.
It's not the sort of party many of us are often privy to (speaking unfortunately for myself here), however it is an entirely relatable context for anyone who loves Champagne. The painting itself is also one of the major factors in how Champagne came to be associated with celebration and the upper classes throughout history.
One has to wonder if de Troy knew the influence he was to wield through his paintbrush, whether he would be pleased? Probably.
Champagne's later history is at least as interesting as its early history, though in the centuries ahead there were darker days with examples of monumental heroism and resilience. In next month's instalment we jump ahead to the latter half of the 19th century, when the perils of Champagne's frontier location become all too clear.