Cristal 2015 - The recent release of the 2015 vintage provides a perfect context to have an updated look at Cristal 2014s investment potential. The 2015 was released with a substantial 15% price increase.

Champagne Performance - Champagne has been one of the best performing themes of the last 2 years and producers are catching up.

Investment Methodology - As an investment metric for Champagne, vintage perception is as important as score. The 2014 vintage is rated as "Outstanding" by the Wine Advocate.

Brand Power - Louis Roederer is one of the region's most prestigious and sought-after producers. It is a proven investment performer, especially in 'top' vintages. They also have the brand power to walk the price up closer to those of global comparisons such as Bordeaux First Growths.

Demand - Champagne has recently experienced an explosion in demand, and with only a finite supply available, prices have skyrocketed. Champagne has always been a more accessible entry point for fine wine drinkers.

Catalyst - The 2014 price increase will make top scoring back vintages like 2014 an excellent buying opportunity while the market catches up.
---
Latest Cristal Releases Have Skyrocketed in Price
The last three releases of Cristal (2013, 2012 and 2009) serve as a useful comparison for the 2014, as they are of comparable quality in terms of vintage perception and Wine Advocate score.
The table below demonstrates the clear pathway for price growth as Cristal ages. Luxury Champagne benefits from having a much wider appeal than comparable quality still wines and is also able to be enjoyed much younger. This combines with little to no stock being held back causing a supply shortage as the wine ages resulting in higher prices.

---
Vintage is the Best Indicator of Investment Potential in Champagne
For investment purposes, you need to buy Champagne based on vintage, as opposed to score. Vintage perception is more important in Champagne than in any other region. Since the turn of the Millennium, there have been 11 vintages rated as "Outstanding" or above by Wine Advocate: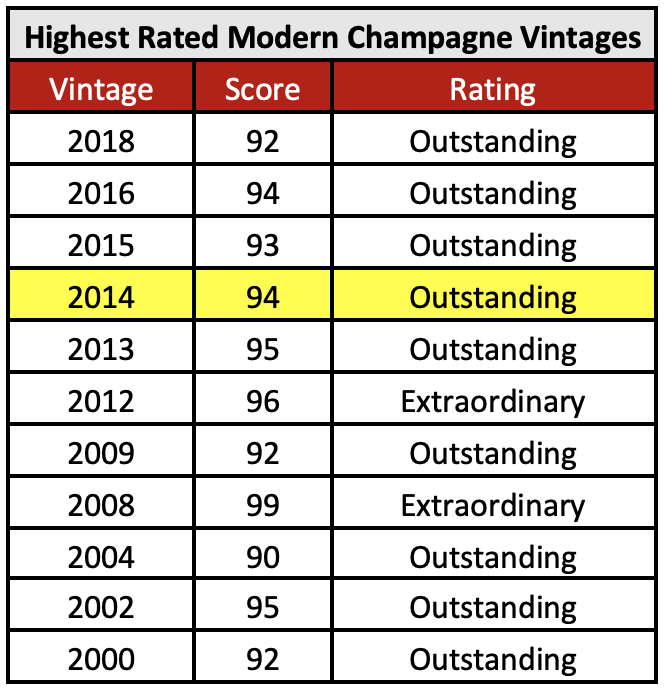 ---
Two Strong Short-Term Price Catalysts
We initially addressed how China (and Hong Kong) lifted almost all Covid restrictions which we suggested would result in a pronounced increase in demand as individuals began to socialise and celebrate again. As Cristal 2014 is the cheapest vintage on the market, and as it is ready to drink now, we believed this vintage would see an immediate spike in demand from on-trade premises. We have noticed over the past couple of months that our trade volumes to Asia have been particularly ramping up, suggesting that we may have been correct in our assessment.
The recent Cristal 2015 vintage release confirmed our suspicions surrounding the release price hike. We saw the 2015 vintage come to market at a substantial 10% premium. This makes the 2014 even more appealing when you consider the score, price and brand.
Supply direct from Louis Roederer of the 2014 has now completely ceased, which usually results in an instant tightening of the market. This is now the last opportunity to secure at primary release prices. What we can expect to see now are these well priced back vintages walk up to the price of the new release.
---
2020 Production Cuts Set Scene for Champagne Bull Market
The COVID pandemic had a significant impact on Champagne, with production capacity significantly affected. The Comité Interprofessionnel du Vin de Champagne (CIVC) reduced the annual limit on Champagne production in 2020 by 25%.
Once lockdown restrictions ended at the end of 2020, Champagne demand re-emerged from newly re-opened on trade premises. This sudden increase of demand met a reduced supply curve which resulted in a scramble for available stocks. This imbalance was, in our view, the main driver of the remarkable price performance of Champagne in 2021 and 2022.
---
Champagne Matches Burgundy for Price Performance
Champagne shares with Burgundy a strong tendency for demand to exceed supply. Over the last two years, Burgundy and Champagne have competed for best performing region status.

---
2014 is the Best Cristal 'Buy' – Hong Kong is Best Price
Having established (as if it were necessary) the investment credentials of Cristal, and of the 2014 vintage, the investment case for Cristal 2014 is simple.
In a few markets around the world, the 2014 vintage is still available at the original release price.
One of these markets is Hong Kong, where the pricing of Cristal 2014 represents an exceptional entry point: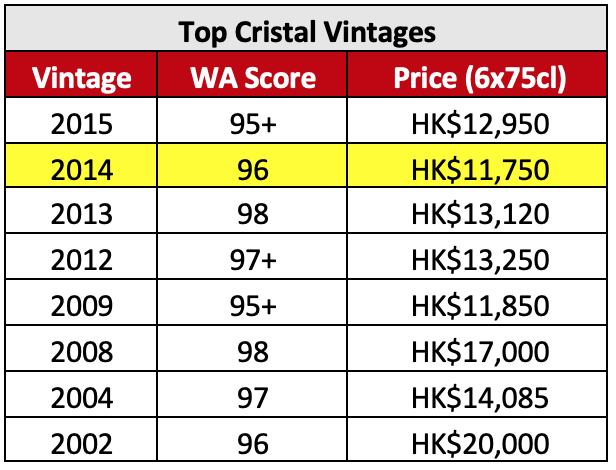 ---
Cristal 2014 is a Great Long-Term Hold – But Hong Kong Offers Best Entry Price Right Now
We therefore encourage all collectors to look at purchasing Hong Kong landed Cristal 2014. We like Cristal 2014 in general as a medium to long-term play, but the price and near term re-opening catalyst in Hong Kong makes this the most attractive market in which to place this bet.
---