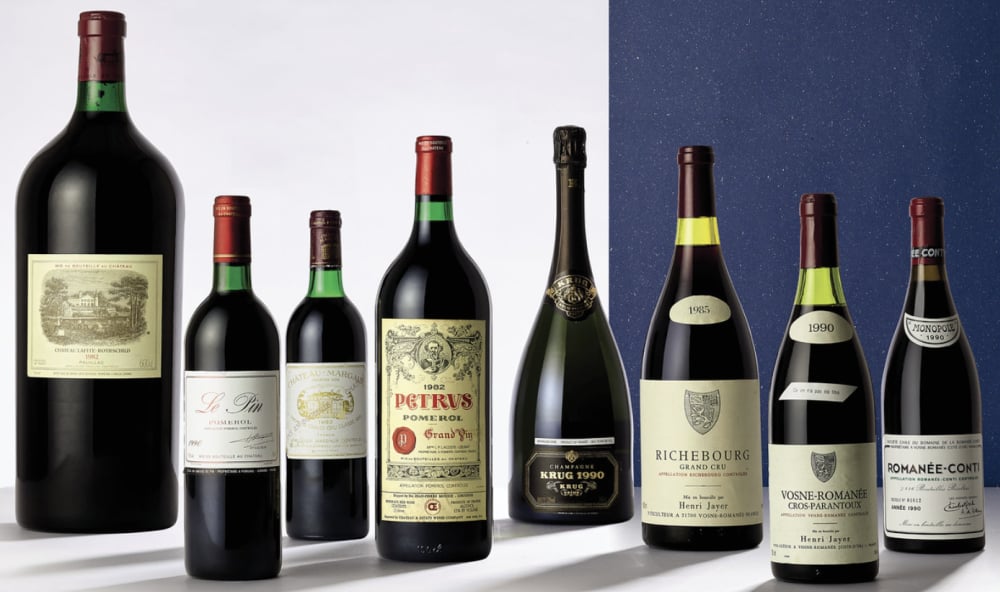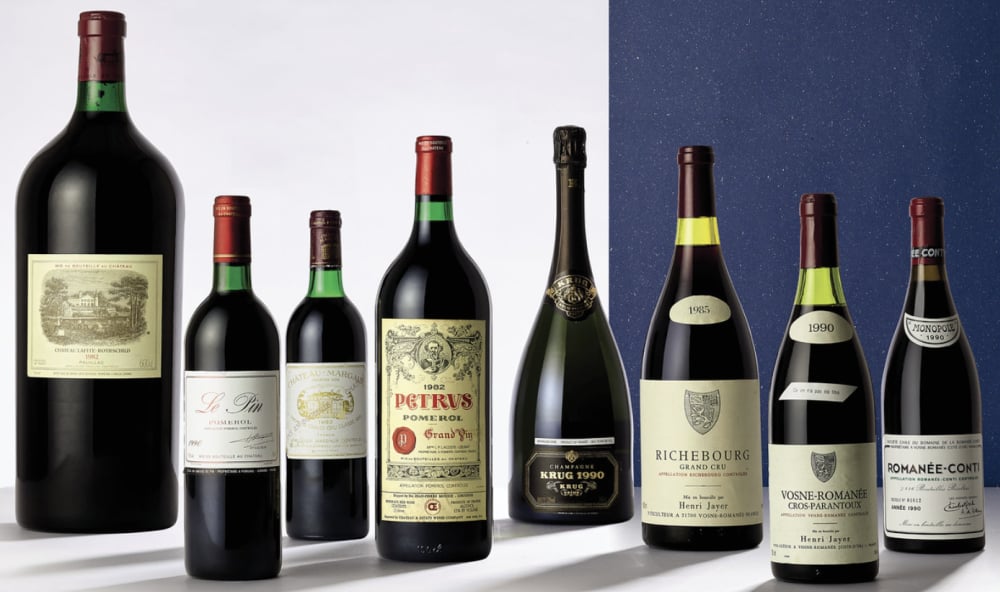 2022 has been a year to forget for most mainstream investors. 'Crypto' has also been a train wreck of collapsing prices, hacks and exchange failures.
Yet amidst the carnage, fine wine collectors are toasting another excellent year, with prices up almost +20%. The most frequent question we get asked right now is: "every asset I own got crushed this year except my fine wine … why is that?"
In this note we explain why fine wine prices continued to rise in 2022, and what this means for the future performance of this emerging alternative asset class.
Fine wine prices (Liv-ex Investibles Index) are up +18.4% year to date (2022), handily outpacing mainstream bonds, equities and crypto.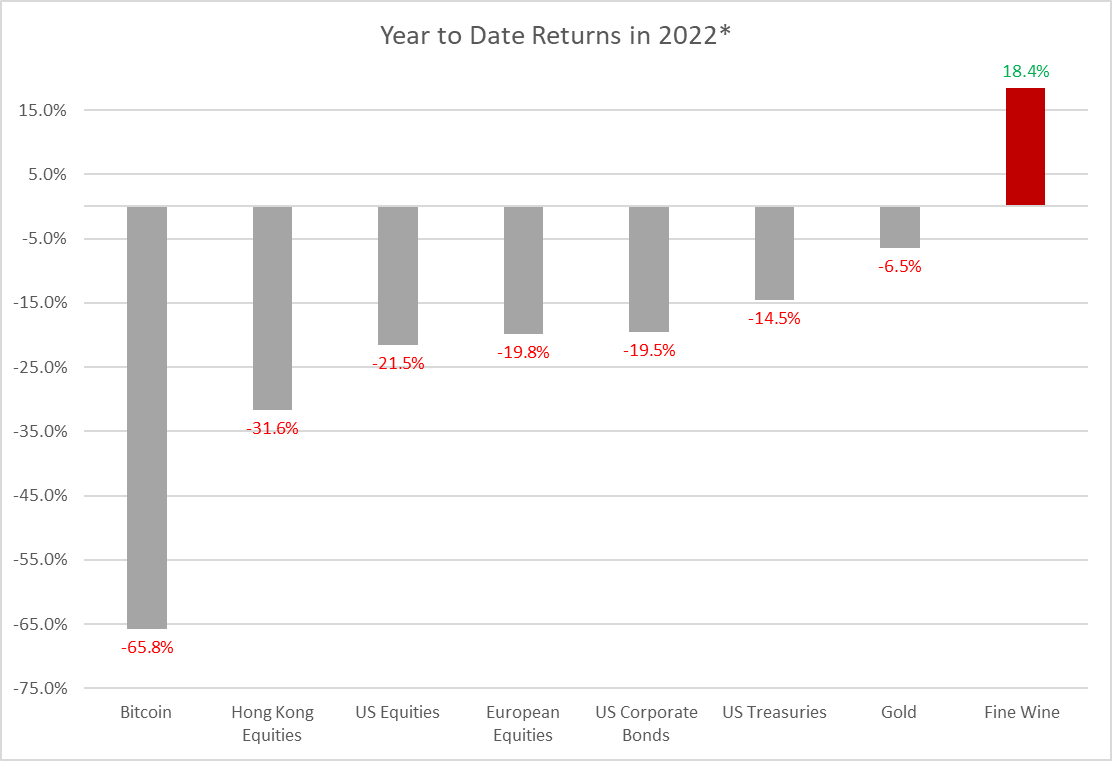 *Prices as at 9th November 2022
Collectible Assets Don't Follow Mainstream Markets



But fine wine isn't the only asset performing well in this year's difficult environment.
Other 'collectible' assets have also risen in 2022. In the first half of this year, Christie's reported its best performance since 2015, with total sales of US$ 4.1 billion (driven largely by fine art). Classic cars have also seen 'best ever' auction sales this year. Earlier this year, Knight Frank published data on the performance of collectible assets over the preceding 12 months:
The resilience of collectibles in 2022 (especially fine wine, art and watches) has led Credit Suisse, in partnership with Deloitte, to recommend collectibles more widely as a store of value for private investors for the longer term.
---
Six Factors Behind Surge in Fine Wine Demand
Our analysis reveals six factors behind the current surge in demand for fine wine. Some of these are shared with other collectibles, others are specific to fine wine:
1. Rapid growth of Ultra-High-Net-Worth-Individuals (UHNWIs) across the world.
2. Shrinking / reduced supply patterns.
3. Weakness in GBP and Euro.
4. Inflation protection sought by private investors.
5. Lack of leverage in fine wine.
6. Long-term price drivers still active / accelerating.
Let's unpack each of these in more detail:
1. High-Net-Worth Individuals Continue to Grow
Extremely wealthy new collectors of fine wine are being created at an unprecedented rate.
In their Wealth Report 2022, Knight Frank estimate that the number of Ultra-High-Net-Worth-Individuals (people with assets over US$ 30 million) increased by +9.3% over the past year to over 610,000. Every region except Africa saw significant new UHNWI creation: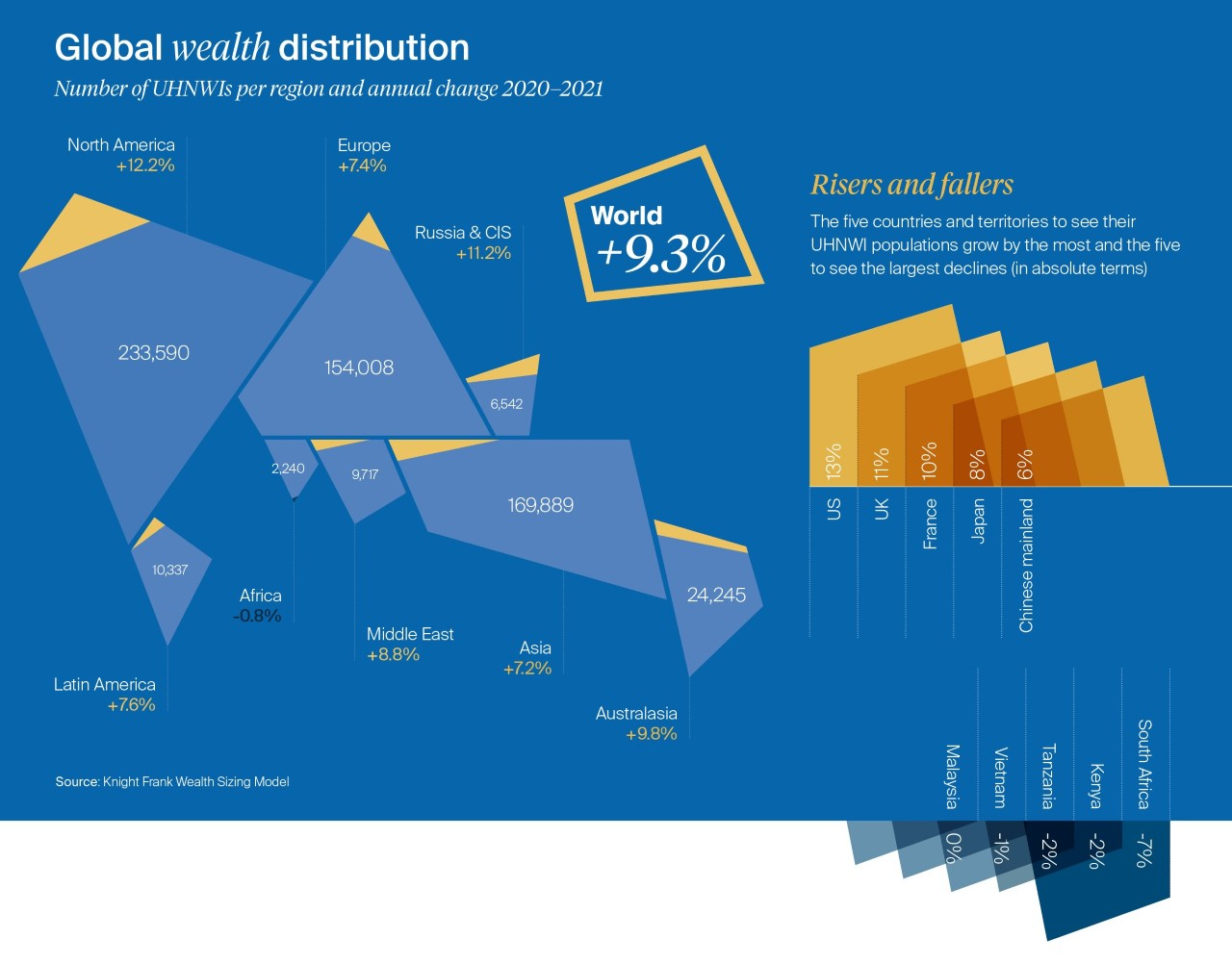 The number of UHNWIs in the world has grown by over 260,000 since 2016. And crucially, the Wealth Report finds that UHNWIs invest, on average, a massive 16% of their wealth into collectible assets.
By 2026, Asia will surpass Europe as the region with the second highest UHNWI total (behind the USA). Singapore alone will see its population of UHNWIs swell to over 6,000 over the next four years.
Between now and 2026, Knight Frank estimate that UHNWIs will rise by a further 170,000. Translated into potential demand for fine wine, the Knight Frank numbers are staggering:

*16% of wealth invested into collectible assets.
**10% of amount invested into collectibles goes into fine wine.
In the table above we assume that only 10% of the money UHNWIs invest into collectibles (only) goes into fine wine between now and 2026. But even this modest percentage allocation would result in over US$ 80 billion of new demand for fine wine over the next four years.
That US$ 81.6 billion total threatens to swamp the current fine wine market:

The potential demand from new UHNWI collectors in just the next four years is more than the entire capitalization of all the fine wine in the world (which includes all the wine owned by producers, merchants, traders and private individuals combined). And it is more than 13 times the annual turnover of fine wine (which includes the primary and secondary markets).
If this demand materializes as anticipated, the effect on prices will surely be significant. These new flows of funds into find wine from UHNWIs are not speculative. Lots of capital flowed into crypto markets in 2021, but these were short-term flows chasing quick returns. UHNWIs coming to collectibles like fine wine do so with the intention of staying in the asset class for the long-term.
2. Supply of New Fine Wine is Not Keeping up with Demand
The wall of new money flowing into fine wine must flow into either new releases (the 'primary' market) or the 'secondary' market (wine released in previous years and held in storage).
But the insufficiency of primary market to satisfy even existing demand is becoming ever more acute. We find ourselves allocating new releases more and more frequently, and not just the traditionally tight upper echelons of Burgundy. We are now forced to allocate many new releases from Bordeaux, Champagne, Napa Valley and Super Tuscany because demand outstrips supply to such a large extent.
The volume of primary market supply has negatively impacted by a number of factors:
Bordeaux 2021

vintage was significantly smaller than the previous three (-20% below the ten-year average, according to Decanter).
Similar climatic conditions affected Burgundy 2021 (even more severely). 2021 is the lowest yielding Burgundy vintage since 1981, with production down 50-80% across the board.
Super Tuscans like Masseto have introduced new limits on exports to traditional markets like the UK in order to focus on emerging countries which never used to receive allocations (Columbia is a recent example).
A string of low yielding Champagne vintages (2009, 2010, 2011) have seen Champagne inventories fall to such an extent that Moët Hennessy CEO Philippe Schaus recently said that the group (which owns big name Champagnes like Moët & Chandon, Krug, Dom Pérignon and Veuve Clicquot) is literally "running out of stock" of its top wines.
The drawdown of their library stocks is forcing more and more producers to hold back inventory from the primary markets, a trend which rising inflation will only exacerbate. Producers like Château Latour and Château D'Yquem release no wine en primeur, and others such as Château Palmer are retaining as much as 50% of their production for release years later.
Add to this the variability of harvests which climate change is engendering, and it is clear that the supply of fine wine onto the primary market is becoming lower and less reliable.
The diminution of primary market supply means that the secondary market must take up the slack. But here the picture is mixed, at best. There are signs that secondary market liquidity is improving, as trading platforms like ours increase in sophistication and spreads start to narrow. But our own data shows that the propensity to consume fine wine is actually increasing, especially amongst our Asian collectors.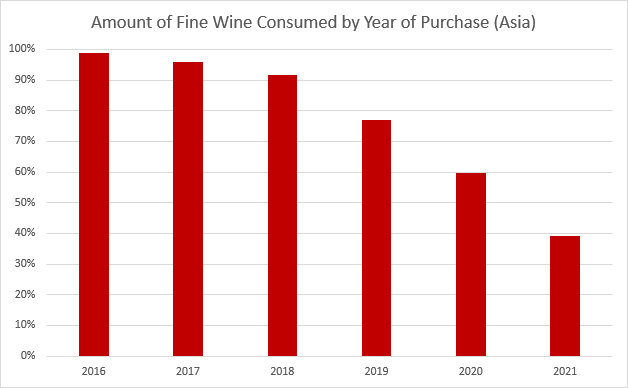 Far from aging their fine wine for decades in storage, after only four years our Asian clients have consumed almost 92% of their purchases. And by year six this has increased to 99%. This propensity to consume is important because it means that there just isn't the depth of secondary market supply of older vintages to supply new collectors.
3. Weakness of GBP and Euro
Fine wine is predominantly priced either in Euros (currency of production) or GBP (currency of secondary market trading). Both these currencies have depreciated significantly against the US Dollar in 2022.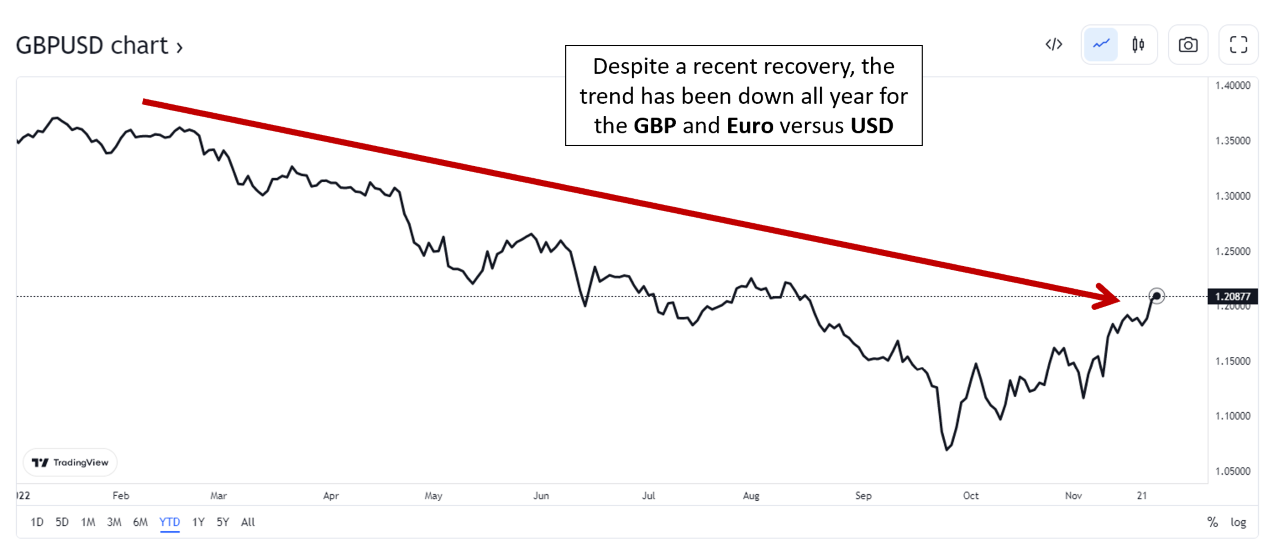 The weakness of Euro and GBP has made fine wine even more attractive to buyers using US Dollar-related currencies. This has increased the purchase power of collectors in places like the United States, Hong Kong, United Arab Emirates and Singapore in 2022, further inflating demand from these countries.
4.
Inflation Protection sought by Investors
Mainstream assets performed very poorly in 2022 as a pulse of inflation worked its way through global economies and central banks responded with interest rate rises.
Of course, no one knows if this is going to be a 'transitory' blip or the start of an inflationary decade (or more!). But many investors aren't prepared to take the chance and are re-positioning their portfolios for the worst case. Research published recently by the hedge fund Man Group and Duke University found that during inflationary periods only commodities, collectibles and some hedge fund strategies produced positive real returns.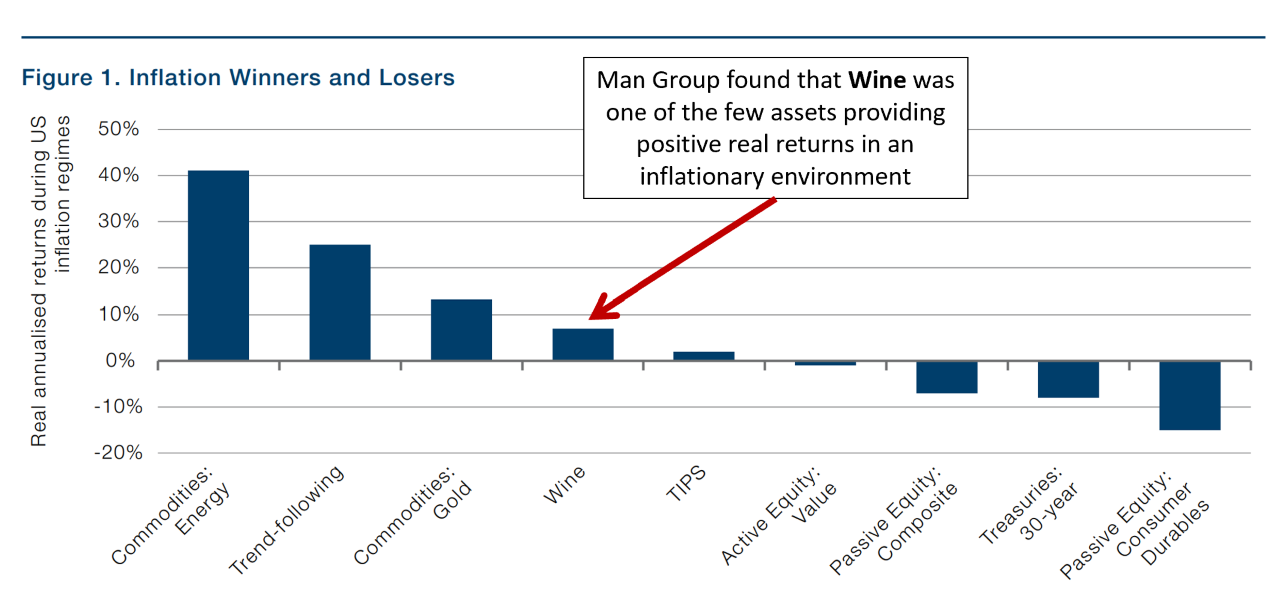 Sophisticated investors are shifting allocations into 'tangible' assets like fine wine as a hedge against potentially higher and longer inflation, and this is an important driver of current demand for fine wine.
5. Lack of Leverage in Fine Wine
Rising interest rates have driven a wave of de-levering across financial markets.
One of the reasons for fine wine's lack of volatility is that is virtually no leverage in our markets. No one uses debt to buy fine wine, and there very little institutional money invested. The lack of 'hot' or levered capital in fine wine markers means that there is rarely / never a stampede to exit. This accounts for fine wine's lack of price volatility, which in turn drives a Sharpe Ratio above that of comparable mainstream asset classes: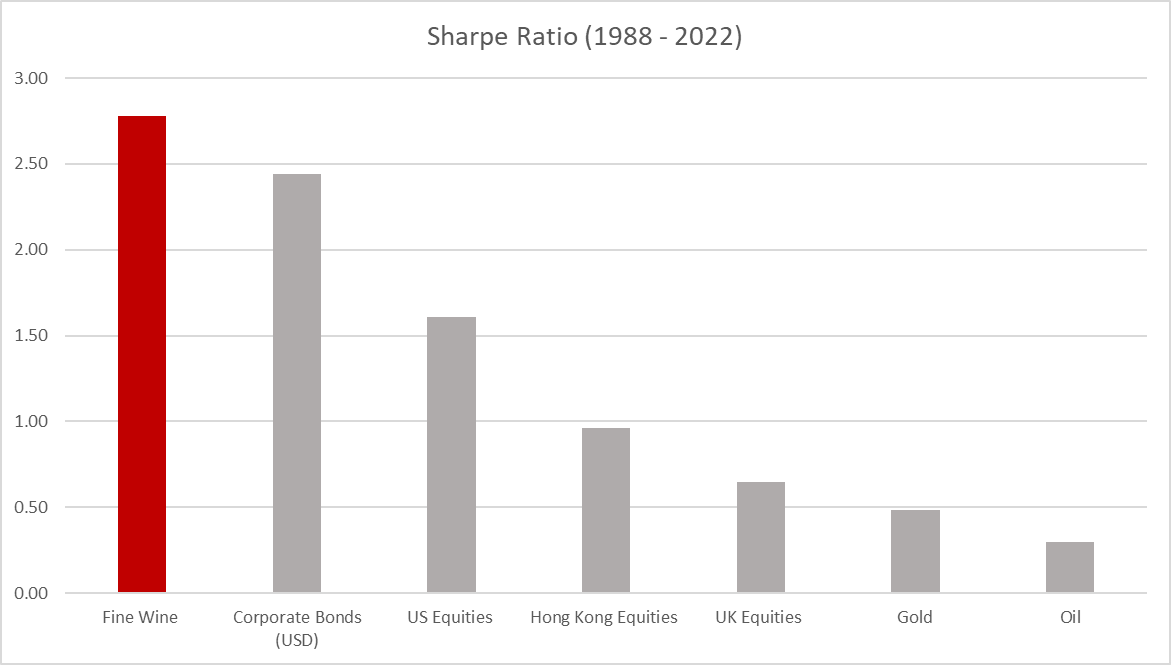 6. Long-term Price Drivers haven't gone away
The short-term price drivers described above merely add to the long-term structure imbalances which have driven price appreciation for decades. We have written extensively about the long-term drivers of fine wine performance in our Investment Guide, but the two most fundamental factors remain:
Most fine wine producers can't increase production at all

– There are strict controls on what can be produced where in most of the best terroirs. These controls often take the form of very visible physical boundaries, such as the walls around Burgundy vineyards such as the famous Musigny Grand Cru: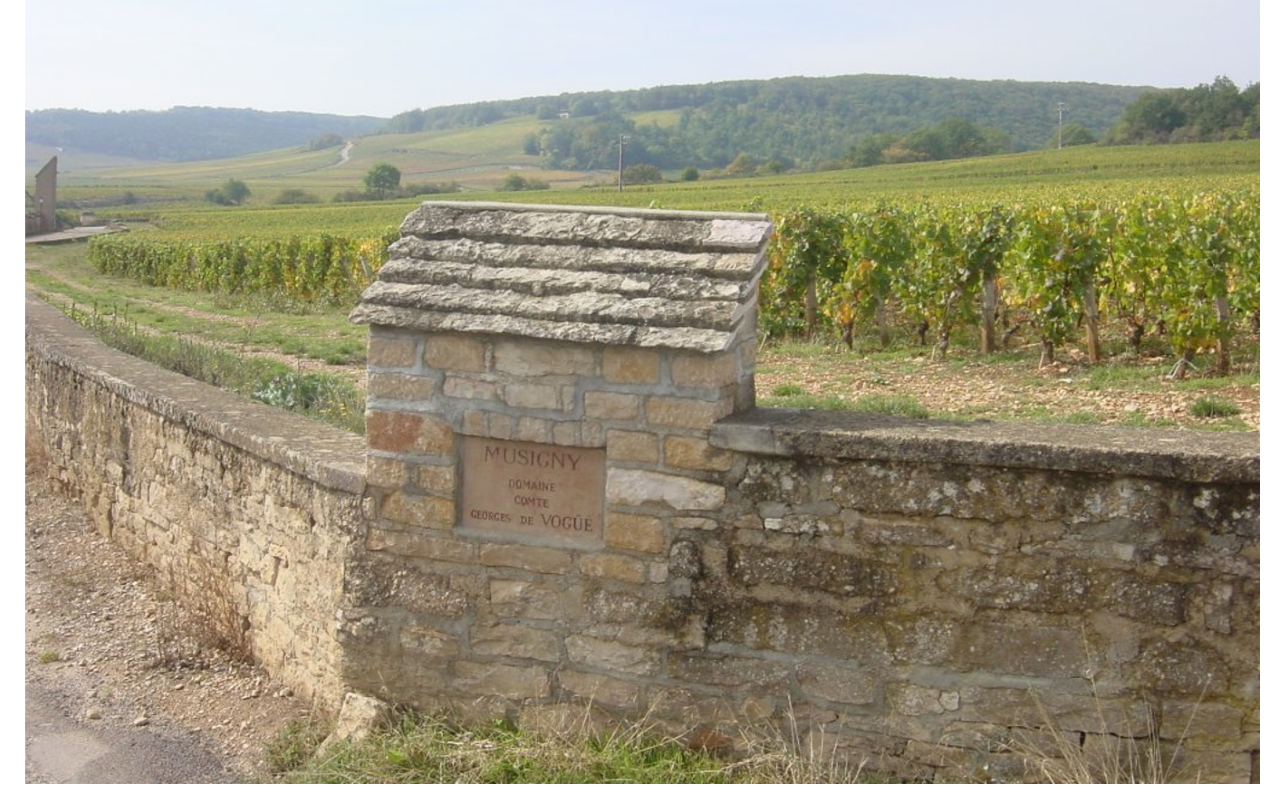 Fine wine gets better (and hence more valuable) as it ages

– Today's top wines will continue to develop complexity in the bottle for 50 years (and often beyond). This physical improvement over time is almost unique to fine wine and requires no effort on the part of the holder except for payment of storage charges (which have fallen significantly in percentage terms as prices have risen). Château Haut-Brion 2015 will still be developing complexity in the bottle in the year 2075. What will the price of a case of 6 bottles in perfect condition be then?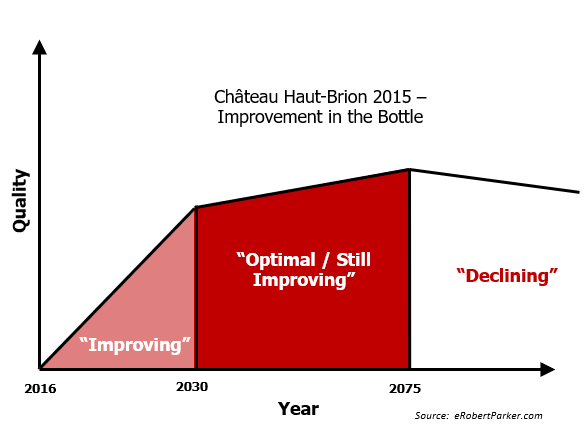 Conclusion
It has been another year of steady price appreciation for fine wine collectors, in stark contrast to the generally poor performance of mainstream assets. The appreciation in prices is being driven by factors which look well entrenched. Of course, no market goes up forever, and at some point we will see fine wine prices take a breather. But the sheer volume of new coming into the asset class shows no signs of abating, and combined with the other supporting factors outlined above, it is hard to see any significant cooling of prices in the short-term.