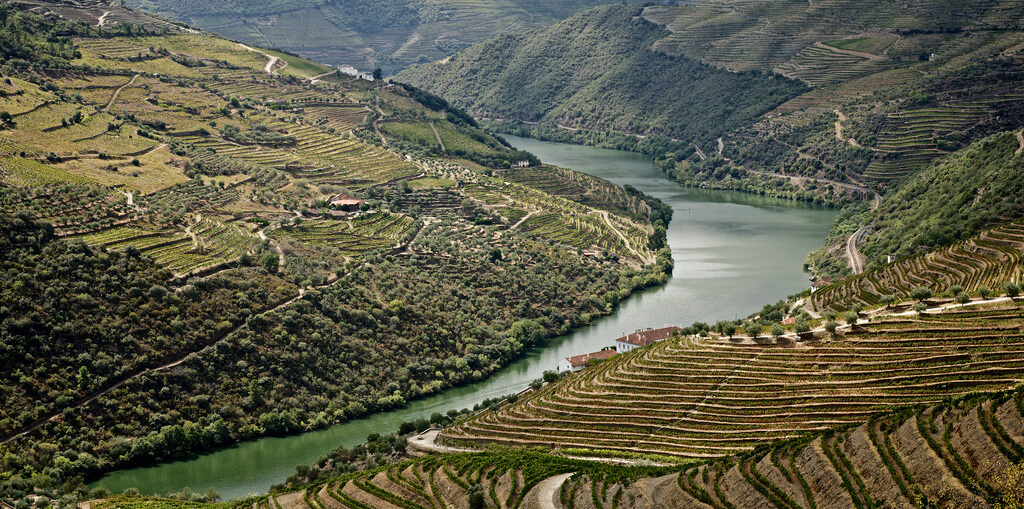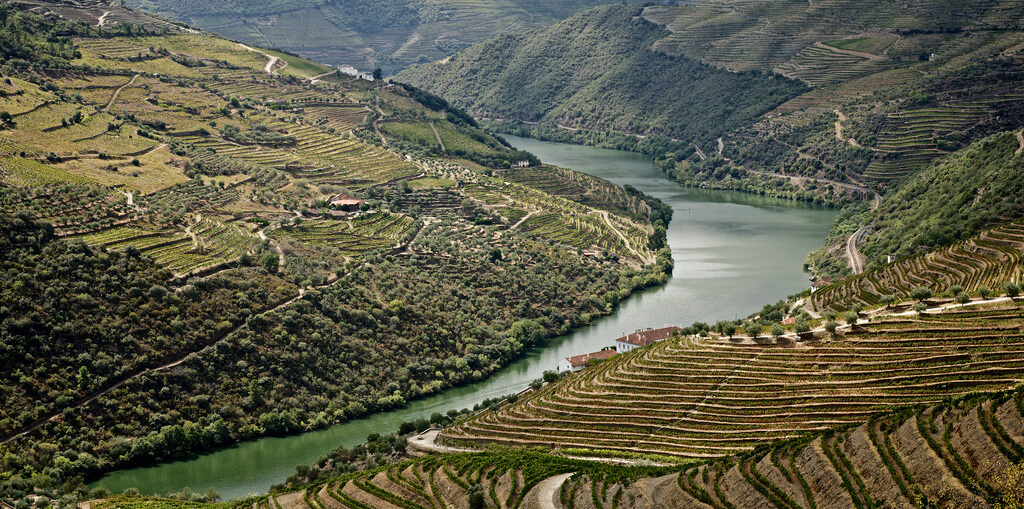 With such a patchwork of celebrated vineyards and wine regions scattered across just about every country in Europe it can hardly be a surprise that a few great appellations fly under the radar. Last month we wrote about the underrated achievements of Puglia, one of mainland Europe's southernmost regions, and now we turn our attention to its westernmost.
Hard up against the Atlantic coast of Portugal lies the well-known Douro Valley, best known as the source of grapes for the sweet fortified wines made by the legendary lodges of Porto. Increasingly these houses are turning their attention to table wine and the results are thrilling. With a fiercely individualistic focus in terms of grape varieties, you won't find many Bolgheri-style international blends, in fact most vineyards were planted so randomly that it was only in the past few decades that vignerons have figured out what vines they actually have thanks to DNA analysis.
From the steep slopes of the Douro River Valley local names like Niepoort, Casa Ferreirinha and Vale do Meão among many others have begun to properly celebrate the uniqueness of their vineyards. These field blends contain a bewildering variety including the likes of Touriga Franca, Touriga Nacional, Trincadeira, Tinta Cão, Aragonês (Tempranillo) and too many more to name here, yielding full-blooded reds can challenge top Bordeaux and Duero for style and longevity.
_
"These field blends yield full-blooded reds that can challenge top Bordeaux and Duero for style and longevity."
_
Further along the river, in the sandy soils along the coast lies the country's greatest hidden gem, Colares. While Colares may not have the geopolitical history boasted by Porto but it is still perhaps the most venerable historical region for table wines in Portugal. Thanks to its sandy soils, Colares evaded the phylloxera blight, meaning it can claim some of the oldest vines in the world making it an essential part of the world's winemaking heritage. A snapshot of another era the wines are truly remarkable. We recently had the chance to enjoy a bottle of 1967 Viuva Gomes Tinto at PROVA wine bar in Porto and found it to be a bafflingly compelling experience. A combination of aromatics and structure evoking one simultaneously of old Barolo and Hermitage it is a wonder that these wines do not command more recognition among fine wine circles.
More startling is that it is a region in dire need of defence in the face of relentless expansion of beach-front property developers, Colares has seen its acreage shrink faster than any extant region on earth. With 2,500 acres under vine in 1940 the region presently comprises a mere 50 acres, much of which is planted with the unique Ramisco vairety. With one small resort-s worth of space left standing there is not much left to protect this singularly unique region.
Similarly situated along the ocean and just to the south of the Douro is the oft neglected Bairrada. Another impressive region sporting its own array of native varieties including Baga, Castelão and Rufete the wines are deep and intensely flavoured, with some similarities to those of the Douro and the dense clay soils evoke something of the structure of Pomerol.
These regions show that Portugal's contribution to the world of fine wine is far greater than many give it credit for and hopefully before long that will all change. Its fiercely independent traditions, unique native varieties and the innate quality of the wines in these three regions and many more put Portugal alongside France Spain and Italy as Europe's essential wine-producing nations even if it lags far behind in production and recognition.
We haven't even delved into regions such as Dão, Alentejo, Ribatejo or the Madeira Island. Suffice to say Portugal's potential on the international fine wine market is far from fully realised!