The 2019 Montrose is one of our top picks from the exceptional 2019 vintage.
Château Montrose is a top Deuxième Cru (Second Growth) estate which consistently challenges Bordeaux First Growths for quality, but without the exorbitant price tag.
Montrose 2019 is one of the best ever modern vintages of this Saint-Estèphe property (neighbour of Cos d'Estournel).
Double 100 points (Perrotti-Brown and Galloni) and a price tag of only GBP 810 (SGD 1,320, HKD 7,640) per (6x75cl) makes for a very compelling proposition.
One of only two Bordeaux wines to receive a perfect 100 points score from Galloni in 2019.
Phenomenal aging potential with a drinking window until 2070.
An estate with significant positive momentum amongst collectors.
---
Best Value Vintage from Château Montrose
The 2019 vintage from Montrose is obviously significantly undervalued versus other vintages. Priced at only GBP 810 (SGD 1,320, HKD 7,640) per (6x75cl), it is far below its 'fair value' of over GBP 1,000 (SGD 1,625, HKD 9,430) a case: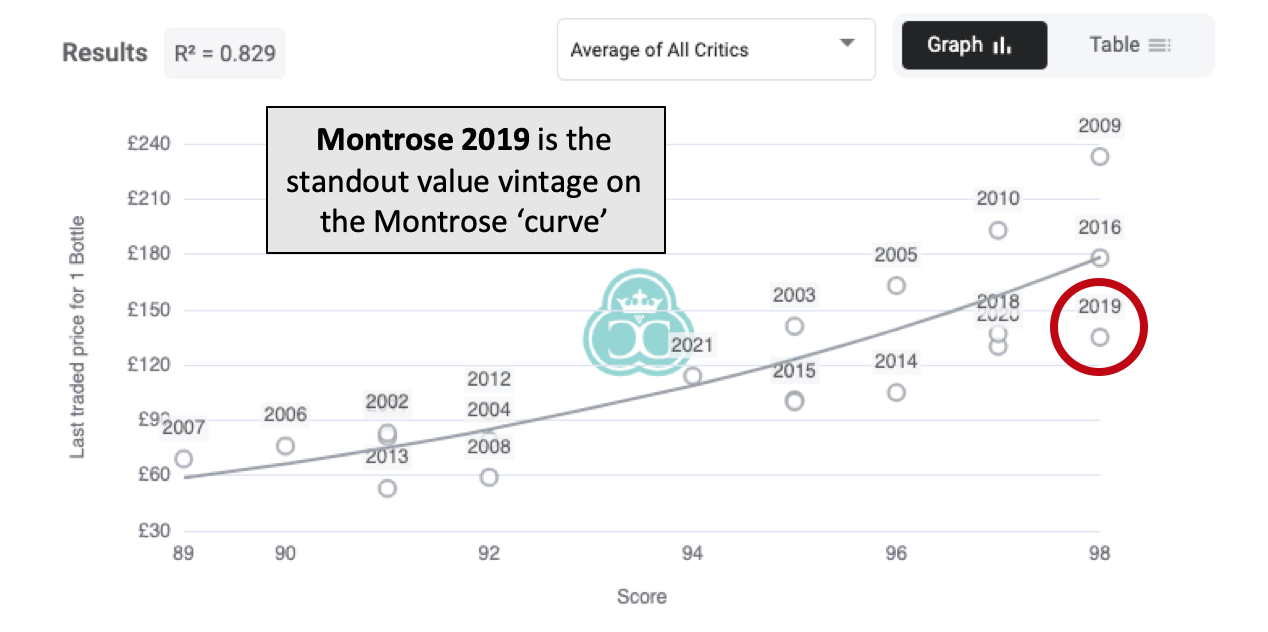 Château Montrose is generally very efficiently priced by the market, with prices rising smoothly with average critic score. The R2 of the correlation between price and score is around 83%. This makes the current undervalution of the 2019 vintage all the more surprising, and certainly implies that an upwards correction in price can be expected over the medium-term. Given the recent 100 point score from Lisa Perotti-Brown in her 2019 in bottle review in May 2022, we can see strong potential for a future upwards rescore from Wine Advocate.
Montrose 2019 is one of the most critically acclaimed vintages from this estate over the past few decades. Other comparative vintages currently trade at higher premiums. The 2009 vintage for instance, trades at over a 50% premium:

---
Best Performing Second Growth Since Release
Montrose 2019 has already exhibited impressive price action since its release in June 2020, with a 35% increase from its release price of GBP 600 (SGD 975, HKD 5,655) per (6x75cl). This performance has outpaced some of the most highly rated Bordeaux 2019 Second Growths: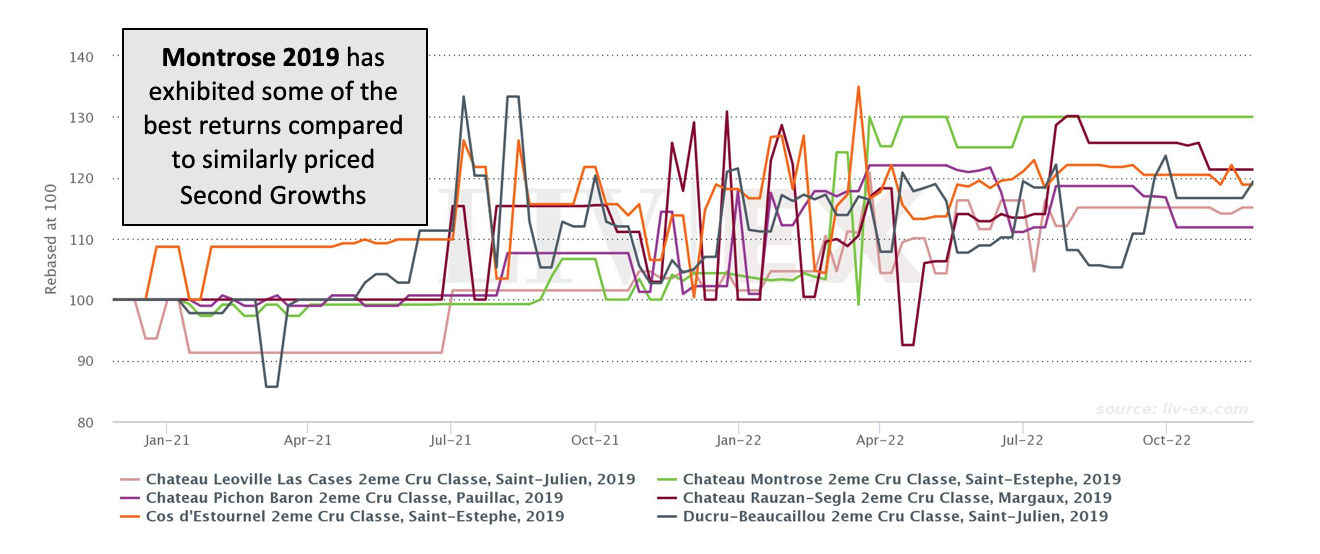 This price momentum is important, because it shows that collectors are allocating capital to this vintage above others, which is obviously bullish for future price evolution.
---
Phenomenal Ageing Potential to 2070
The 2019 vintage in Bordeaux as a whole has been universally acclaimed by top critics. This is important as the general consensus of a vintage will influence its future performance as an investment tool.
The Montrose 2019 is clearly an excellent wine. Antonio Galloni calls it: "clearly one of the wines of the vintage" (100 points), and Lisa Perrotti-Brown (formally of Wine Advocate, now running her own publication as The Wine Independent) says it is "a real head turner" (100 points).
What all the critics also agree on is the extraordinary long life ahead of this wine. With an expected drinking window extending as far as the 2070s, there is the potential for huge development within the bottle. But there is also the potential for huge price appreciation over the coming 50 year lifetime of this vintage.
---
An Estate with Positive Momentum
Château Montrose have instated considerable price hikes with their En Primeur release prices over the past decade, rising over 70% in that period. Anecdotally, we always see very high demand with customers eager to get their hands on a case, even with the consistent price increases.
Following the general market trend of consistent En Primeur price hikes, we see no signs of Château Montrose doing anything but continuing on their current path of steady and consistent price rises. It is not out of the question to think that release prices will see another 70% hike in the next 10 years.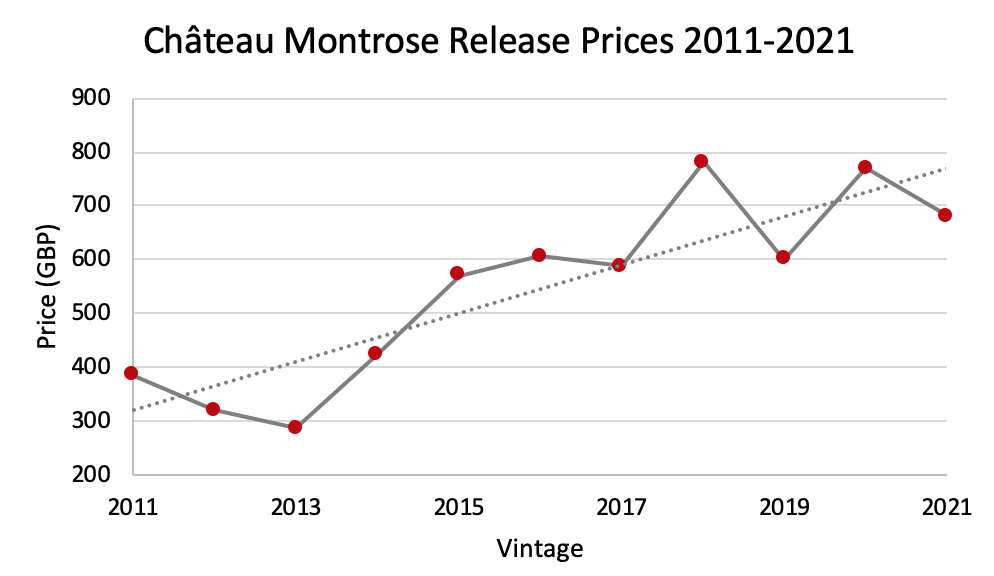 What tends to happen following release price hikes, is that undervalued back vintages tend to get scooped off the market as they appear much more attractive when compared to their younger counterpart. We feel the 2019 vintage is the most attractive back vintage and there is a high probability we will see supply of this vintage begin to dwindle in the coming years.
With one of the highest average scores ever from the estate, with reasonable price tag and an extensive life ahead of it, and from an estate clearly 'on the up', Château Montrose 2019 looks like a top long-term investment.
---