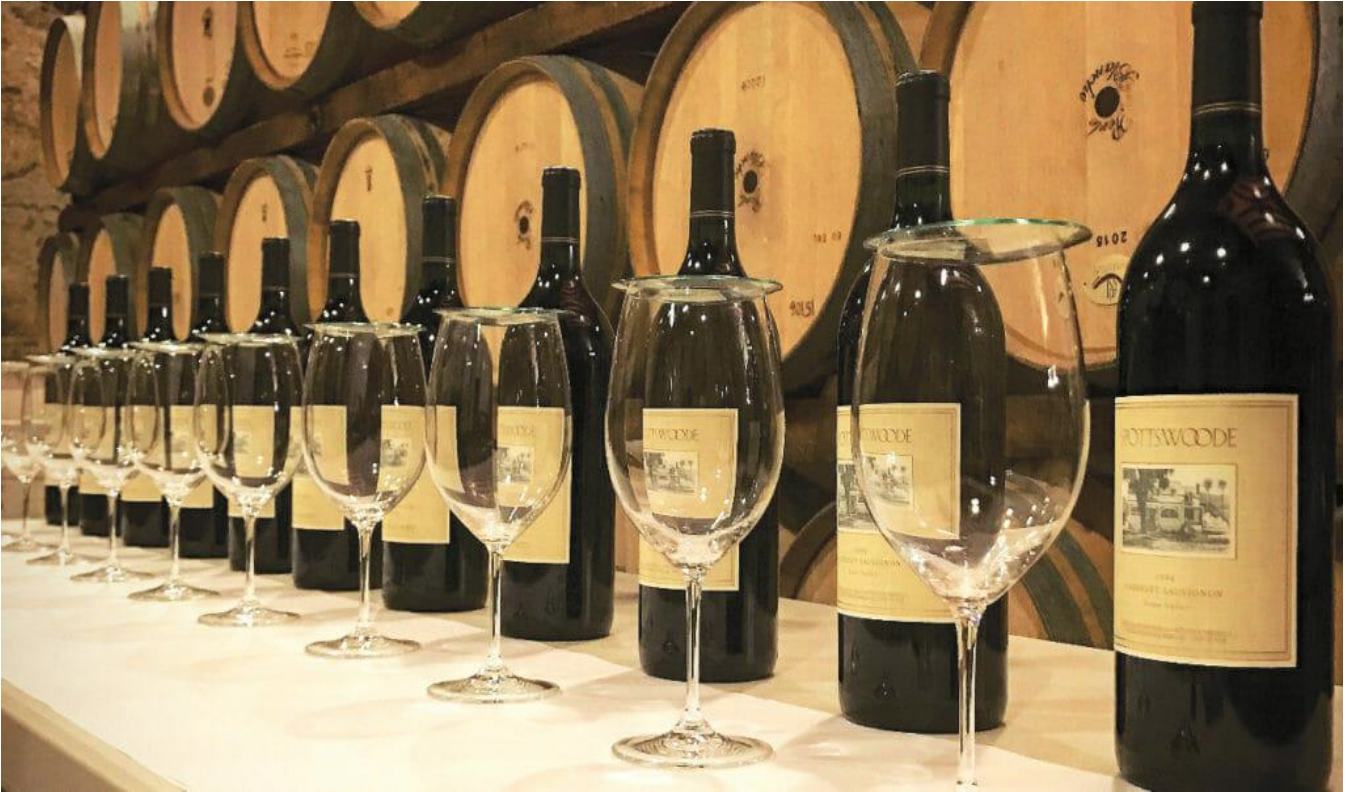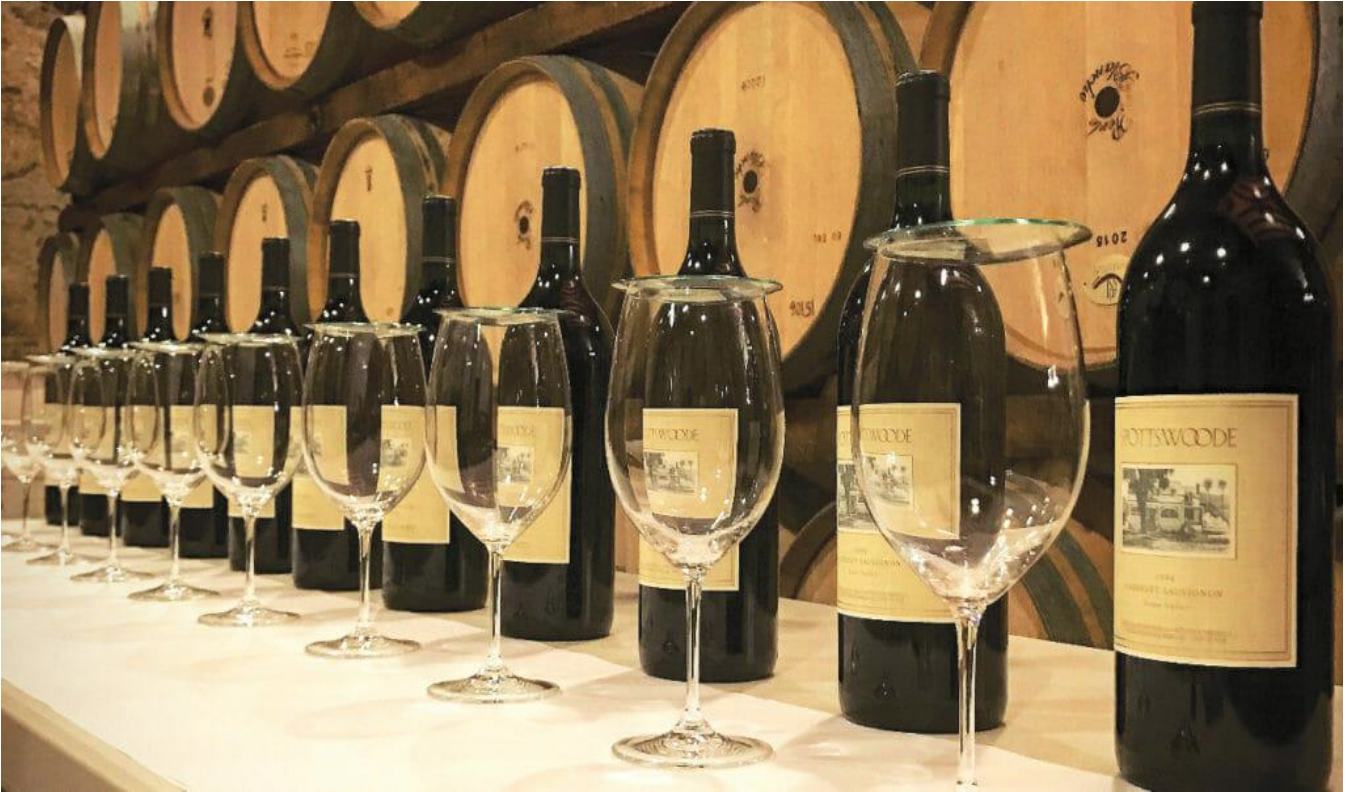 Napa Valley wines have caught a strong bid since early 2021, rising +33.1% since Feb. 2021.
2018 Napa Valley is one of only seven vintages in the last 50 years to be rated 'Extraordinary' by Wine Advocate.
Spottswoode Cabernet Sauvignon 2018 is one of the wines of the 2018 vintage, with a double 100 points score from Wine Advocate and Jeb Dunnuck.
The Spottswoode Cabernet Sauvignon 2018 is by far the cheapest double 100 points wine from Spottswoode, and also cheaper than comparable scoring wines from other regions.
We haven't recommended enough Californian wines recently, given how hot the market has been, but this is perfect place to start!
We see +30% price upside over the next 24 months for this wine.
California is Breaking Out
Diversification is important in fine wine portfolios. Although Champagne and Burgundy have garnered most of the headlines recently, California is now giving them a run for their money, with very strong gains over the past year. After trading sideways for two years, California has decisively 'broken out' over the last 12 months: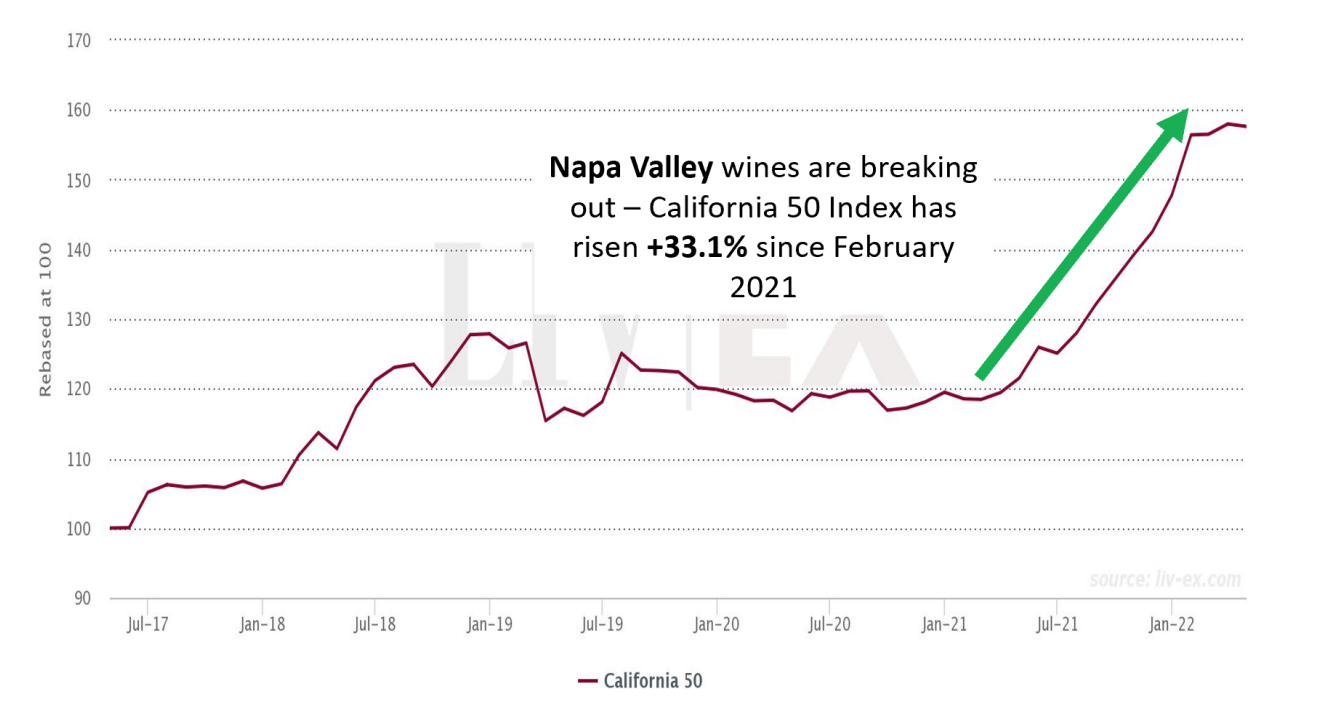 2018 Vintage - Best Investment Buy
According to Wine Advocate, only seven vintages of Californian Cabernet since 1970 have achieved the highest 'Extraordinary' rating: 2001, 2007, 2012, 2013, 2015, 2016 and 2018. Decanter magazine wrote of the 2018 vintage: "The 2018 Napa Valley Cabernet vintage belongs in an echelon with the finest of the past two decades … When compared to recent vintages, it is most synonymous with the highly acclaimed 2016."
As the youngest 'Extraordinary' vintage, 2018 is the most price accessible and it therefore makes sense for collectors to look here for opportunities.
Spottswoode – A Californian Heritage Estate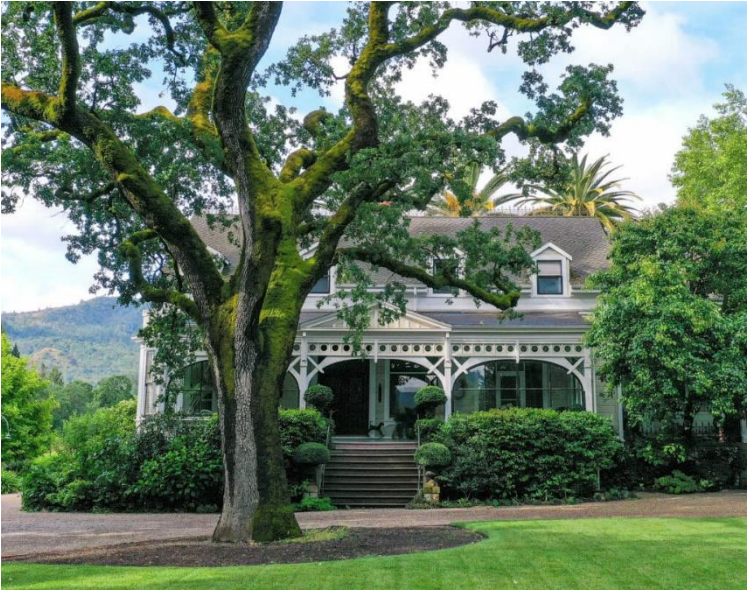 Spottswoode is one of California's oldest and most respected 'heritage' estates.
A Victorian winery founded way back in 1882, it sits on hallowed terroir on the western edge of St. Helena at the base of the Mayacamas mountains.
The 42ha of vines are planted primarily to Cabernet Sauvignon and have been certified organic since 1992.
The historic estate buildings evoke a romantic 'Great Gatsby' period of American history.
Spottswoode has been family owned (Novak family) since 1972 and the family manages the property to this day.
Spottswoode Cabernet Sauvignon 2018 – Loads of Upside
Spottswoode Cabernet Sauvignon 2018 has many points supporting its recommendation:
It is one of the best vines of the 'Extraordinary' 2018 Napa vintage.
It is scored 100 points by both Wine Advocate and Jeb Dunnuck.
Dunnuck calls it: "One of the wines of the vintage, as well as a legendary Napa Cabernet that will compete with anything out there".
Starts drinking in 2023 but will last until 2060 – great investment longevity.
Blend is 86% Cabernet Sauvignon, 9% Cabernet Franc and 5% Petit Verdot (familiar to Bordeaux lovers).
A significant discount to other double 100 points vintages of Spottswoode Cabernet:
There are very few 100 point back vintages on the secondary market of Spottswoode Cabernet. Genuine rarity is assured in the future.
The exceptional value for money, and hence investment potential, is summarised in the table below, which shows the limited number of wines rated 100 points by both Wine Advocate and Jeb Dunnuck. Spottswoode Cabernet Sauvignon 2018 is dramatically cheaper than the others.
Upside Price Target of GBP1,550 (6x75cl)
Given the strength of the Californian market right now, and the relative undervaluation of Spottswoode Cabernet generally – considering its quality - we see the whole Spottswoode 'curve' moving higher and the 2018 trading at GBP 1,550 per case (6x75cl) within two years (as +30% move from today's price of only GBP 1,195).
---
IMPORTANT NOTICE
This report has been issued or approved for issue by an entity forming part of Cru (as defined below) and has been forwarded to you solely for your information and should not be considered as an offer or solicitation of an offer to sell, buy, or subscribe to any securities or any derivative instrument or any other rights pertaining thereto ("financial instruments"). This report is intended for use by professional or business investors only. This report may not be reproduced without the consent of Cru.
The information and opinions expressed in this report have been compiled from sources believed to be reliable, but, neither Cru, nor any of its directors, officers, or employees accepts liability from any loss arising from the use hereof or makes any representations as to its accuracy and completeness. Any opinions, forecasts or estimates herein constitute a judgement as at the date of this report. There can be no assurance that future results or events will be consistent with any such opinions, forecasts, or estimates. Past performance should not be taken as an indication or guarantee of future performance, and no representation or warranty, express or implied is made regarding future performance. This information is subject to change without notice, its accuracy is not guaranteed, it may be incomplete or condensed and it may not contain all material information concerning the product or products mentioned. Cru is not agreeing to, nor is it required to update the opinions, forecasts or estimates contained herein.
The value of any products mentioned in this report can fall as well as rise. Foreign currency denominated products are subject to fluctuations in exchange rates that may have a positive or adverse effect on the value, price or income of such products.
This report does not have regard to the specific instrument objectives, financial situation and the particular needs of any specific person who may receive this report. Investors should seek financial advice regarding the appropriateness of investing in any products or investment strategies discussed in this report.
Cru (or its directors, officers or employees) may, to the extent permitted by law, own or have a position in the products of any company or related company or products referred to herein and may add to or dispose of any such position or may make a market or act as a principal in any transaction in such products. Directors of Cru may also be directors of any of the companies mentioned in this report. Cru (or its directors, officers or employees) may, to the extent permitted by law, act upon or use the information or opinions presented herein, or research or analysis on which they are based prior to the material being published. Cru may have issued other reports that are inconsistent with, and reach different conclusions from, the information presented in this report. Those reports reflect the different assumptions, views and analytical methods of the analysts who prepared them.
For the purposes of this disclaimer, "Cru" shall mean: (i) Cru London Limited; (ii) Cru Asia Limited and (iii) from time to time, in relation to Cru London Limited and/or Cru Asia Limited, the ultimate holding company of that entity, a subsidiary (or a subsidiary of a subsidiary) of that entity, a holding company of that entity or any other subsidiary of that holding company, and any affiliated entity of any such entities.
This publication is confidential for the information of the addressee only and may not be reproduced in whole or in part, copies circulated, or disclosed to another party, without the prior written consent of an entity within Cru. Products referred to in this research report may not be eligible for sale in those jurisdictions where an entity within Cru is not authorised or permitted by local law to do so. In particular, Cru does not allow the redistribution of this report to non-professional investors or persons outside the jurisdictions referred to above and Cru cannot be held responsible in any way for third parties who effect such redistribution or recipients thereof. © 2022.