Tuscany
Tuscany, a picturesque region in central Italy, is renowned for producing some of the world's finest wines. With its rolling hills, Mediterranean climate, and rich cultural heritage, Tuscany offers a perfect combination of terroir and winemaking expertise. The region is home to legendary vineyards and wineries that have become synonymous with excellence and tradition.

One of the most famous vineyards in Tuscany is Antinori, a family-owned winery with a history dating back over 600 years. Their wines, such as Tignanello and Solaia, have achieved iconic status, showcasing the region's commitment to quality and innovation. Another renowned vineyard is Castello di Volpaia, known for its exceptional Chianti Classico wines that beautifully represent the Sangiovese grape.

Tuscany is synonymous with Chianti, a red wine made primarily from Sangiovese grapes. Chianti Classico, produced in the heart of the Chianti region, is highly regarded for its balance, elegance, and age-worthiness. Vineyards like Castello di Ama, Fontodi, and Fèlsina craft outstanding Chianti Classico wines that capture the essence of Tuscan winemaking.

The region is also famous for Brunello di Montalcino, a prestigious red wine made from Sangiovese Grosso grapes. Montalcino is home to renowned wineries such as Biondi-Santi and Casanova di Neri, which produce exceptional Brunello di Montalcino wines with remarkable structure, depth, and longevity.

Tuscany's coastal region, Bolgheri, has gained international acclaim for its Super Tuscan wines. These wines often blend international grape varieties like Cabernet Sauvignon and Merlot with local varieties. Notable vineyards in Bolgheri include Tenuta San Guido, known for its iconic Sassicaia, and Ornellaia, which produces the renowned Ornellaia wine.

Tuscany's diverse terroir also allows for the production of white wines, with Vernaccia di San Gimignano being the most notable. Vernaccia vineyards like Teruzzi & Puthod and Panizzi create crisp and aromatic white wines that showcase the region's versatility.
Tuscany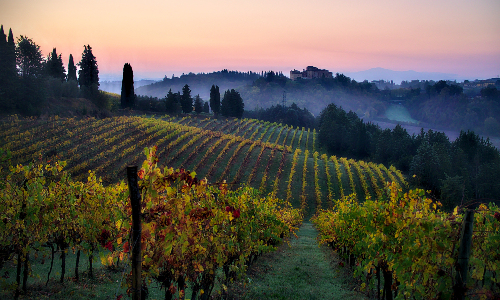 Name
Price Low
Price High
Year (Old)
Year (New)
Product Name
Region
Qty
Score
Price

Tuscany
2
90 (VN)

Inc. VAT

£811.98

Vinous (90)

The 2004 Argentiera is sweet and layered in its dark cherries, toasted oak, earthiness and smoke. It offers notable balance, with ripe tannins that are beautifully woven into the wine's medium-bodied yet generous frame. This blend of 40% Cabernet Sauvignon, 40% Merlot and 20% Cabernet Franc spent 14 months in French oak.

More Info

Tuscany
1
97 (WA)

Inc. VAT

£702.04

Wine Advocate (97)

The 2016 Bolgheri Superiore Argentiera is 50% Cabernet Sauvignon, 40% Merlot and 10% Cabernet Franc, and the Cabernet Sauvignon logically feels and tastes most prominent. This is a dark and penetrating Tuscan red that is beautifully elevated, thanks to the extremely elegant and buoyant quality of the aromas. They lift gracefully from the glass with light-footed, almost fleeting character. However, don't underestimate the power and the concentration of the wine, because this vintage delivers both with abundance. I've had my eye on this estate since the vineyards were first planted some 20 years ago, and there is no doubt that this vintage brings Tenuta Argentiera into a new era as a Bolgheri protagonist. Some 80,000 bottles were made.

More Info

Tuscany
1
96 (JS)

Inc. VAT

£627.64

James Suckling (96)

Aromas of plums and berries with some chocolate and vanilla undertones. Full-bodied and layered with soft tannins that are bright at the end. Currants and blackberries. Currant bush, too. Love the tannin texture to this. Drink in 2025.

More Info

Tuscany
1
97 (WA)

Inc. VAT

£547.24

Wine Advocate (97)

What a beauty and what an incredible leap forward to excellence. The Tenuta Argentiera 2019 Bolgheri Superiore Argentiera shows depth and wide shoulders with soft plushness and impeccable fruit. The full-bodied wine is dialed up on all levels from perfumes, intensity, mouthfeel, texture and freshness. This bottle should hold past the 20-year mark.

More Info

Tuscany
2
-

Inc. VAT

£575.09

Tuscany
4
-

Inc. VAT

£439.24

Tuscany
5
-

Inc. VAT

£330.29

Tuscany
1
95+ (JD)

Inc. VAT

£572.47

Jeb Dunnuck (95+)

The 2016 Brunello di Montalcino has remarkably consistent integration from the nose to the palate. There are generous aromatics of fresh raspberry, rosemary, lavender and Mediterranean herbs. The palate opens up with ripe and inviting cherry fruit and tea leaf, with supple tannin and freshness on the finish. Its drinkability now should not be confused for a lack of structure, as it is true to the energetic nature of the vintage. Drink 2021-2036.

More Info

Tuscany
1
95+ (JD)

Inc. VAT

£349.24

Jeb Dunnuck (95+)

The 2016 Brunello di Montalcino has remarkably consistent integration from the nose to the palate. There are generous aromatics of fresh raspberry, rosemary, lavender and Mediterranean herbs. The palate opens up with ripe and inviting cherry fruit and tea leaf, with supple tannin and freshness on the finish. Its drinkability now should not be confused for a lack of structure, as it is true to the energetic nature of the vintage. Drink 2021-2036.

More Info

Tuscany
10
95 (WI)

Inc. VAT

£275.09

The Wine Independent (95)

This 2018 Altesino Brunello di Montalcino has an attractive, spicy, strawberry and black pepper nose with a little hint of fresh earth and iron. These mineral notes are often a distinctive characteristic of Altesino as a producer, and their northerly terroir. What is striking about this wine is that it has a much longer finish and more depth and range of flavors than many other 2018s. There is a definite shape to the wine, with a beginning, a middle and an end. It ends with a very long and lingering finish. A characterful and distinctive style of Brunello.

More Info

Tuscany
1
97 (WE)

Inc. VAT

£501.64

Wine Enthusiast (97)

Balancing power and grace, this wine delivers alluring aromas and flavors of ripe black cherry, raspberry compote, grilled herb, licorice and tar. Vibrant acidity and firm, velvety tannins provide freshness and structure, while a hint of pipe tobacco closes the lingering finish. Drink 2020–2032.

More Info

Tuscany
3
97 (VN)

Inc. VAT

£395.63

Vinous (97)

Good full pale ruby-red. Knockout aromas and flavors of red cherry, raspberry, licorice and minerals, complicated by hints of iris and violet. Extremely suave and polished on the extremely long, pure, mineral finish. Deeper, richer, more tannic and longer than the lovely 2013 Brunello Classico from Altesino, this is an absolutely beautiful Brunello. I especially like that the pristine, refined aromas and flavors of the famed Montosoli site are showcased to maximum effect here. One of the best Brunellos of the vintage.

More Info

Tuscany
1
97 (JS)

Inc. VAT

£502.84

James Suckling (97)

A very nuanced but powerful Brunello showing hibiscus, raspberry tea, gunpowder, petrichor, dried orange rind and spearmint. The rows of sharp tannins are very defined and agile, and the acidity is tensely strung up in overtures of vivacious red fruit. A beautiful, nimble Brunello 2015. Drink from 2024.

More Info

Tuscany
1
97 (WS)

Inc. VAT

£508.84

Wine Spectator (97)

Packed with sweet, ripe cherry, plum and raspberry fruit and framed by loamy earth and woodsy notes, this red is intense, lively and light on its feet. Balanced, with firm tannins and a salty, minerally impression on the lingering aftertaste. Best from 2024 through 2045. 1,200 cases made.

More Info

Tuscany
300
94+ (VN)

Inc. VAT

£527.09

Vinous (94+)

The aromatics alone are worth the price of entry on the 2017 Brunello di Montalcino Montosoli. A dazzling display is revealed as this opens like a basket of freshly picked flowers with ripe strawberries, cloves and a hint of plum sauce that adds gravitas. Its elegance is nicely matched by a balanced inner sweetness, as mineral-tinged red berries are contrasted by hints of sour citrus and savory spice. Fine tannins mount, yet are almost imperceptible until the finish, where notes of blood orange mingle with licorice and inner rose. In a word, spellbinding. While some cellaring will be needed, I expect the 2017 Montosoli to enjoy a broad, open and highly pleasurable drinking window.

More Info

Tuscany
90
97 (JS)

Inc. VAT

£527.09

James Suckling (97)

This has a complex nose of cranberries, dried pineapple, soy, bark, cardamom, mocha, iodine and wet leather. Full-bodied, with firm and very fine tannins. It really builds in intensity, expanding into a broad array of fresh and dried fruit and espresso bean, before converging again on a long and driven finish. Fantastic already. Try now or in a couple of years.

More Info

Tuscany
30
-

Inc. VAT

£612.04

Tuscany
1
97 (WS)

Inc. VAT

£1,084.87

Wine Spectator (97)

Laced with ripe cherry, strawberry, floral, spice, iron and leather flavors, this red is complex and charming, yet with serious tannins that ply the structure and lift the long finish. The fine balance should facilitate longevity. Best from 2024 through 2048. 1,600 cases made.

More Info

Tuscany
1
96+ (WA)

Inc. VAT

£499.24

Wine Advocate (96+)

The Altesino 2016 Brunello di Montalcino Riserva holds tight to its unique character and power. The classic 2016 vintage produced generous wines that are layered and rich but also coiled tightly at their core. This wine exemplifies this point, adding lots of tart Sangiovese fruit and freshness along the way. It also shows an impressive richness of flavors with dried cherry, licorice, pressed violets, balsam herb and dusty limestone. The caveat with this wine, should you decide to drink it early, is that it needs extra time to open (and a double decanting would also help). This 10,000-bottle production opens beautifully in time.

More Info

Tuscany
7
-

Inc. VAT

£242.69

Tuscany
9
-

Inc. VAT

£237.89

Tuscany
4
88 (VN)

Inc. VAT

£311.09

Vinous (88)

I find it hard to get excited about the 2013 Syrah Bramasole. The dark, pruney, chocolatey flavors and overripe character aren't especially interesting.

More Info

Tuscany
1
93 (VN)

Inc. VAT

£257.09

Vinous (93)

Rich dark fruits, spiced cookie, smoky plums and black cherries define the 2018 Syrah Bramasole. This is cool-toned, pliant and pleasantly sweet, with a fresh display of inner violets, minerals and bright acids that keep the mouth watering. Nuanced tannins and sweet spice linger as this high-energy Cortona Syrah tapers off with blue and purple-toned florals. The 2018 Bramasole is stunning and so easy to like.

More Info

Tuscany
1
94 (VN)

Inc. VAT

£279.89

Vinous (94)

Crushed ashen stone, peppery black fruits, camphor and lifting mineral tones waft up from the 2019 Syrah Bramasole. This is soft and deeply textural, guided by brisk acids and salty minerals which mix with its masses of ripe dark fruits to create a harmonious expression. Aggressive tannins saturate toward the close. There's so much potential here and with incredible length. A "wow" wine for sure; one that will provide a long and steady evolution in the cellar.

More Info

Tuscany
3
-

Inc. VAT

£244.09

Tuscany
8
-

Inc. VAT

£237.89

Tuscany
2
-

Inc. VAT

£379.49

Tuscany
5
-

Inc. VAT

£394.84

Tuscany
15
91 (VN)

Inc. VAT

£215.09

Vinous (91)

The 2018 Vino Nobile di Montepulciano wafts up with a rich display of sweet cherries, blueberries tinged with violet, lavender and a hint of vanilla bean. This is so soft and pliant with elegant waves of ripe red and hints of blue fruits, as fine tannins slowly saturate. Hard red candies and licorice last incredibly long. The 2018 tapers off lightly structured and tinged with sweet purple florals. Simply lovely.

More Info

Tuscany
6
-

Inc. VAT

£252.04
Product Name
Region
Qty
Score
Price

Tuscany
2
90 (VN)

In Bond

£651.00

Vinous (90)

The 2004 Argentiera is sweet and layered in its dark cherries, toasted oak, earthiness and smoke. It offers notable balance, with ripe tannins that are beautifully woven into the wine's medium-bodied yet generous frame. This blend of 40% Cabernet Sauvignon, 40% Merlot and 20% Cabernet Franc spent 14 months in French oak.

More Info

Tuscany
1
97 (WA)

In Bond

£569.00

Wine Advocate (97)

The 2016 Bolgheri Superiore Argentiera is 50% Cabernet Sauvignon, 40% Merlot and 10% Cabernet Franc, and the Cabernet Sauvignon logically feels and tastes most prominent. This is a dark and penetrating Tuscan red that is beautifully elevated, thanks to the extremely elegant and buoyant quality of the aromas. They lift gracefully from the glass with light-footed, almost fleeting character. However, don't underestimate the power and the concentration of the wine, because this vintage delivers both with abundance. I've had my eye on this estate since the vineyards were first planted some 20 years ago, and there is no doubt that this vintage brings Tenuta Argentiera into a new era as a Bolgheri protagonist. Some 80,000 bottles were made.

More Info

Tuscany
1
96 (JS)

In Bond

£507.00

James Suckling (96)

Aromas of plums and berries with some chocolate and vanilla undertones. Full-bodied and layered with soft tannins that are bright at the end. Currants and blackberries. Currant bush, too. Love the tannin texture to this. Drink in 2025.

More Info

Tuscany
1
97 (WA)

In Bond

£440.00

Wine Advocate (97)

What a beauty and what an incredible leap forward to excellence. The Tenuta Argentiera 2019 Bolgheri Superiore Argentiera shows depth and wide shoulders with soft plushness and impeccable fruit. The full-bodied wine is dialed up on all levels from perfumes, intensity, mouthfeel, texture and freshness. This bottle should hold past the 20-year mark.

More Info

Tuscany
2
-

In Bond

£460.00

Tuscany
4
-

In Bond

£350.00

Tuscany
5
-

In Bond

£256.00

Tuscany
1
95+ (JD)

In Bond

£445.00

Jeb Dunnuck (95+)

The 2016 Brunello di Montalcino has remarkably consistent integration from the nose to the palate. There are generous aromatics of fresh raspberry, rosemary, lavender and Mediterranean herbs. The palate opens up with ripe and inviting cherry fruit and tea leaf, with supple tannin and freshness on the finish. Its drinkability now should not be confused for a lack of structure, as it is true to the energetic nature of the vintage. Drink 2021-2036.

More Info

Tuscany
1
95+ (JD)

In Bond

£275.00

Jeb Dunnuck (95+)

The 2016 Brunello di Montalcino has remarkably consistent integration from the nose to the palate. There are generous aromatics of fresh raspberry, rosemary, lavender and Mediterranean herbs. The palate opens up with ripe and inviting cherry fruit and tea leaf, with supple tannin and freshness on the finish. Its drinkability now should not be confused for a lack of structure, as it is true to the energetic nature of the vintage. Drink 2021-2036.

More Info

Tuscany
10
95 (WI)

In Bond

£210.00

The Wine Independent (95)

This 2018 Altesino Brunello di Montalcino has an attractive, spicy, strawberry and black pepper nose with a little hint of fresh earth and iron. These mineral notes are often a distinctive characteristic of Altesino as a producer, and their northerly terroir. What is striking about this wine is that it has a much longer finish and more depth and range of flavors than many other 2018s. There is a definite shape to the wine, with a beginning, a middle and an end. It ends with a very long and lingering finish. A characterful and distinctive style of Brunello.

More Info

Tuscany
1
97 (WE)

In Bond

£402.00

Wine Enthusiast (97)

Balancing power and grace, this wine delivers alluring aromas and flavors of ripe black cherry, raspberry compote, grilled herb, licorice and tar. Vibrant acidity and firm, velvety tannins provide freshness and structure, while a hint of pipe tobacco closes the lingering finish. Drink 2020–2032.

More Info

Tuscany
3
97 (VN)

In Bond

£319.00

Vinous (97)

Good full pale ruby-red. Knockout aromas and flavors of red cherry, raspberry, licorice and minerals, complicated by hints of iris and violet. Extremely suave and polished on the extremely long, pure, mineral finish. Deeper, richer, more tannic and longer than the lovely 2013 Brunello Classico from Altesino, this is an absolutely beautiful Brunello. I especially like that the pristine, refined aromas and flavors of the famed Montosoli site are showcased to maximum effect here. One of the best Brunellos of the vintage.

More Info

Tuscany
1
97 (JS)

In Bond

£403.00

James Suckling (97)

A very nuanced but powerful Brunello showing hibiscus, raspberry tea, gunpowder, petrichor, dried orange rind and spearmint. The rows of sharp tannins are very defined and agile, and the acidity is tensely strung up in overtures of vivacious red fruit. A beautiful, nimble Brunello 2015. Drink from 2024.

More Info

Tuscany
1
97 (WS)

In Bond

£408.00

Wine Spectator (97)

Packed with sweet, ripe cherry, plum and raspberry fruit and framed by loamy earth and woodsy notes, this red is intense, lively and light on its feet. Balanced, with firm tannins and a salty, minerally impression on the lingering aftertaste. Best from 2024 through 2045. 1,200 cases made.

More Info

Tuscany
300
94+ (VN)

In Bond

£420.00

Vinous (94+)

The aromatics alone are worth the price of entry on the 2017 Brunello di Montalcino Montosoli. A dazzling display is revealed as this opens like a basket of freshly picked flowers with ripe strawberries, cloves and a hint of plum sauce that adds gravitas. Its elegance is nicely matched by a balanced inner sweetness, as mineral-tinged red berries are contrasted by hints of sour citrus and savory spice. Fine tannins mount, yet are almost imperceptible until the finish, where notes of blood orange mingle with licorice and inner rose. In a word, spellbinding. While some cellaring will be needed, I expect the 2017 Montosoli to enjoy a broad, open and highly pleasurable drinking window.

More Info

Tuscany
90
97 (JS)

In Bond

£420.00

James Suckling (97)

This has a complex nose of cranberries, dried pineapple, soy, bark, cardamom, mocha, iodine and wet leather. Full-bodied, with firm and very fine tannins. It really builds in intensity, expanding into a broad array of fresh and dried fruit and espresso bean, before converging again on a long and driven finish. Fantastic already. Try now or in a couple of years.

More Info

Tuscany
30
-

In Bond

£494.00

Tuscany
1
97 (WS)

In Bond

£872.00

Wine Spectator (97)

Laced with ripe cherry, strawberry, floral, spice, iron and leather flavors, this red is complex and charming, yet with serious tannins that ply the structure and lift the long finish. The fine balance should facilitate longevity. Best from 2024 through 2048. 1,600 cases made.

More Info

Tuscany
1
96+ (WA)

In Bond

£400.00

Wine Advocate (96+)

The Altesino 2016 Brunello di Montalcino Riserva holds tight to its unique character and power. The classic 2016 vintage produced generous wines that are layered and rich but also coiled tightly at their core. This wine exemplifies this point, adding lots of tart Sangiovese fruit and freshness along the way. It also shows an impressive richness of flavors with dried cherry, licorice, pressed violets, balsam herb and dusty limestone. The caveat with this wine, should you decide to drink it early, is that it needs extra time to open (and a double decanting would also help). This 10,000-bottle production opens beautifully in time.

More Info

Tuscany
7
-

In Bond

£183.00

Tuscany
9
-

In Bond

£179.00

Tuscany
4
88 (VN)

In Bond

£240.00

Vinous (88)

I find it hard to get excited about the 2013 Syrah Bramasole. The dark, pruney, chocolatey flavors and overripe character aren't especially interesting.

More Info

Tuscany
1
93 (VN)

In Bond

£195.00

Vinous (93)

Rich dark fruits, spiced cookie, smoky plums and black cherries define the 2018 Syrah Bramasole. This is cool-toned, pliant and pleasantly sweet, with a fresh display of inner violets, minerals and bright acids that keep the mouth watering. Nuanced tannins and sweet spice linger as this high-energy Cortona Syrah tapers off with blue and purple-toned florals. The 2018 Bramasole is stunning and so easy to like.

More Info

Tuscany
1
94 (VN)

In Bond

£214.00

Vinous (94)

Crushed ashen stone, peppery black fruits, camphor and lifting mineral tones waft up from the 2019 Syrah Bramasole. This is soft and deeply textural, guided by brisk acids and salty minerals which mix with its masses of ripe dark fruits to create a harmonious expression. Aggressive tannins saturate toward the close. There's so much potential here and with incredible length. A "wow" wine for sure; one that will provide a long and steady evolution in the cellar.

More Info

Tuscany
3
-

In Bond

£197.00

Tuscany
8
-

In Bond

£179.00

Tuscany
2
-

In Bond

£297.00

Tuscany
5
-

In Bond

£313.00

Tuscany
15
91 (VN)

In Bond

£160.00

Vinous (91)

The 2018 Vino Nobile di Montepulciano wafts up with a rich display of sweet cherries, blueberries tinged with violet, lavender and a hint of vanilla bean. This is so soft and pliant with elegant waves of ripe red and hints of blue fruits, as fine tannins slowly saturate. Hard red candies and licorice last incredibly long. The 2018 tapers off lightly structured and tinged with sweet purple florals. Simply lovely.

More Info

Tuscany
6
-

In Bond

£194.00