Umbria
Welcome to the picturesque region of Umbria, a hidden gem nestled in the heart of Italy, renowned for its captivating landscapes and exceptional wines. As an expert with a discerning palate, you possess a deep appreciation for the rich viticultural heritage, diverse terroir, and exceptional quality that define Umbria wines. Join us on a journey to explore the finest expressions of this remarkable region, where ancient vineyards, indigenous grape varieties, and winemaking expertise converge.

Umbria is home to a myriad of esteemed vineyards that have garnered international acclaim for their exceptional wines. Among the most renowned estates is Arnaldo Caprai, celebrated for its exquisite Sagrantino di Montefalco wines. With a deep respect for tradition and a commitment to sustainability, Arnaldo Caprai showcases the potential of Sagrantino, a unique and indigenous grape that thrives in the region's rolling hills.

Another prominent vineyard in Umbria is Lungarotti, a family-owned estate that has been at the forefront of winemaking in the region for generations. Known for its exceptional Torgiano Rosso Riserva and Grechetto wines, Lungarotti combines tradition and innovation to craft wines that beautifully reflect the terroir and character of Umbria.

Other notable vineyards in Umbria include Castello della Sala, owned by Antinori, renowned for its elegant white wines, and Perticaia, celebrated for its nuanced and age-worthy Sagrantino wines. Rocca di Fabbri and Tabarrini are also esteemed estates, recognized for their dedication to producing high-quality wines that showcase the unique terroir and grape varieties of Umbria.

Umbria's diverse terroir, characterized by its rolling hills, volcanic soils, and a Mediterranean climate, provides an ideal environment for cultivating a range of grape varieties. Sangiovese, Sagrantino, Grechetto, and Trebbiano Spoletino are among the region's iconic grapes, each contributing to the unique character and personality of Umbria wines.

Umbria wines captivate the senses with their refined elegance, balanced structure, and expressive flavours. From the robust and age-worthy Sagrantino reds to the vibrant and aromatic Grechetto whites, these wines offer a captivating journey through the terroir and winemaking traditions of Umbria.
Umbria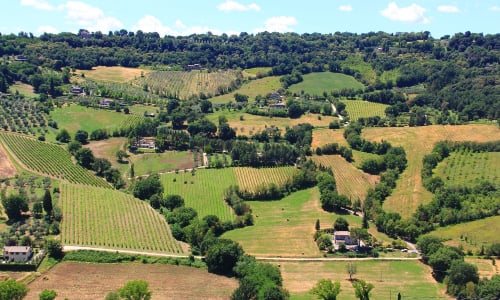 Name
Price Low
Price High
Year (Old)
Year (New)
Product Name
Region
Qty
Score
Price

Umbria
1
90 (VN)

Inc. VAT

£234.04

Vinous (90)

Dried apricots and peaches emerge from an air of white smoke and incense as the 2020 Bramìto della Sala opens up in the glass. It's soft and appealing through its stimulating mix of mineral-tinged orchard fruits and complementary nuances of sour citrus. Hints of grapefruit and green botanicals linger throughout the long, spicy. mouthwatering finale. The 2019 represents excellent value in the category of entry-level Italian Chardonnay.

More Info

Umbria
3
89 (VN)

Inc. VAT

£99.20

Vinous (89)

The 2021 Bramìto della Sala is an Umbrian Chardonnay that reaches up from the glass with a sweetly seductive mix of crushed yellow apples, honeyed florals and lime zest. It's soft-textured with vividly ripe orchard fruits and nuances of chamomile within. The Bramìto tapers off with a citrusy tension balanced by pleasant hints of tropical melon and confectionery spice. It's totally charming and beautifully balanced.

More Info

Umbria
10
89 (VN)

Inc. VAT

£283.24

Vinous (89)

The 2021 Bramìto della Sala is an Umbrian Chardonnay that reaches up from the glass with a sweetly seductive mix of crushed yellow apples, honeyed florals and lime zest. It's soft-textured with vividly ripe orchard fruits and nuances of chamomile within. The Bramìto tapers off with a citrusy tension balanced by pleasant hints of tropical melon and confectionery spice. It's totally charming and beautifully balanced.

More Info

Umbria
1
-

Inc. VAT

£127.24

Umbria
1
95 (JS)

Inc. VAT

£256.01

James Suckling (95)

Intense aromas of crushed lime and lemon as well as mineral and flint follow through to a medium body, ultra-precise acid and fruit balance. Long and linear finish. Just a hint of vanilla and cream. Give it a year or two to develop in the bottle but already a beauty.

More Info

Umbria
1
95 (JS)

Inc. VAT

£574.84

James Suckling (95)

Intense aromas of crushed lime and lemon as well as mineral and flint follow through to a medium body, ultra-precise acid and fruit balance. Long and linear finish. Just a hint of vanilla and cream. Give it a year or two to develop in the bottle but already a beauty.

More Info

Umbria
1
97 (JS)

Inc. VAT

£301.61

James Suckling (97)

This is the Batard Montrachet of Italy with such and amazing depth and compression of beautiful fruit and chalk. Dried mango and dried green papaya. Full body, yet tight and focused. Energized acidity. Vibrance. Don't miss this one. A wine for now or in the future.

More Info

Umbria
2
99 (JS)

Inc. VAT

£582.04

James Suckling (99)

This is big and powerful, without being ripe and heavy. So much apple, stone, and hints of toffee. Aromatic. Full-bodied, layered and framed with phenolic tension and a great finish. Muscular and agile at the same time. One of the best I have tasted. Drink or hold.

More Info

Umbria
1
97 (JS)

Inc. VAT

£523.24

James Suckling (97)

A full-bodied white with complex aromas of hawthorn, ripe peach, apricot, mango, lime, flint, toast and some smoke. Layered, concentrated and persistent with bright acidity and a firm, phenolic texture. Hint of vanilla. Very long and refined. Beautiful as always. Very approachable, but better from 2022.

More Info

Umbria
2
97 (JS)

Inc. VAT

£498.04

James Suckling (97)

Complex nose of toast, charred pineapple, green papaya, kaffir lime and lemon. Crushed stones and white pepper, too. Full-bodied with vibrant acidity. Textured. Long and layered. Delicious and concentrated. Drink or hold.

More Info

Umbria
3
96+ (WA)

Inc. VAT

£846.07

Wine Advocate (96+)

This wine is mostly Chardonnay with about 7% Grechetto. The presence of the Grechetto has declined quite a bit over the past couple of vintages. Given these tweaks to the winemaking formula, the 2021 Cervaro della Sala promises an exceptionally crisp and linear presentation with salty mineral tones, lots of stone fruit and tart apple. No malolactic fermentation or oak is used on the Umbrian grape that always adds a hint of rusticity and Umbrian authenticity. However, the Chardonnay is fermented in oak and aged in both new and used barrel. In light of climate change, work is being completed to reduce vineyard density, with new plantings going in at 3,500 vines per hectare, down from 5,500 vines per hectare like we saw in the past.

More Info

Umbria
2
96+ (WA)

Inc. VAT

£202.01

Wine Advocate (96+)

This wine is mostly Chardonnay with about 7% Grechetto. The presence of the Grechetto has declined quite a bit over the past couple of vintages. Given these tweaks to the winemaking formula, the 2021 Cervaro della Sala promises an exceptionally crisp and linear presentation with salty mineral tones, lots of stone fruit and tart apple. No malolactic fermentation or oak is used on the Umbrian grape that always adds a hint of rusticity and Umbrian authenticity. However, the Chardonnay is fermented in oak and aged in both new and used barrel. In light of climate change, work is being completed to reduce vineyard density, with new plantings going in at 3,500 vines per hectare, down from 5,500 vines per hectare like we saw in the past.

More Info

Umbria
60
96+ (WA)

Inc. VAT

£190.40

Wine Advocate (96+)

This wine is mostly Chardonnay with about 7% Grechetto. The presence of the Grechetto has declined quite a bit over the past couple of vintages. Given these tweaks to the winemaking formula, the 2021 Cervaro della Sala promises an exceptionally crisp and linear presentation with salty mineral tones, lots of stone fruit and tart apple. No malolactic fermentation or oak is used on the Umbrian grape that always adds a hint of rusticity and Umbrian authenticity. However, the Chardonnay is fermented in oak and aged in both new and used barrel. In light of climate change, work is being completed to reduce vineyard density, with new plantings going in at 3,500 vines per hectare, down from 5,500 vines per hectare like we saw in the past.

More Info

Umbria
2
96+ (WA)

Inc. VAT

£477.64

Wine Advocate (96+)

This wine is mostly Chardonnay with about 7% Grechetto. The presence of the Grechetto has declined quite a bit over the past couple of vintages. Given these tweaks to the winemaking formula, the 2021 Cervaro della Sala promises an exceptionally crisp and linear presentation with salty mineral tones, lots of stone fruit and tart apple. No malolactic fermentation or oak is used on the Umbrian grape that always adds a hint of rusticity and Umbrian authenticity. However, the Chardonnay is fermented in oak and aged in both new and used barrel. In light of climate change, work is being completed to reduce vineyard density, with new plantings going in at 3,500 vines per hectare, down from 5,500 vines per hectare like we saw in the past.

More Info

Umbria
1
-

Inc. VAT

£911.38

Umbria
26
-

Inc. VAT

£481.49

Umbria
5
92 (VN)

Inc. VAT

£270.29

Vinous (92)

The 2020 Conte della Vipera bursts from the glass with an intense display that mixes zests of lime, grapefruit and blood orange with smoky crushed stone and dusty yellow flowers. This is soft in feel yet possesses an energizing core of sour citrus and bright acidity that brings its mineral-tinged notes of melon and mango into vivid focus. Savory herbs and sour citrus linger through the medium-length finale, leaving the mouth watering for another sip. The Conte della Vipera is a spicy and vibrant blend of Sauvignon Blanc and Sémillon.

More Info

Umbria
1
-

Inc. VAT

£625.00

Umbria
1
-

Inc. VAT

£246.29

Umbria
3
-

Inc. VAT

£189.60

Umbria
6
90 (VN)

Inc. VAT

£254.69

Vinous (90)

The 2018 Montefalco Sagrantino Collepiano takes its time opening in the glass, at first floral with a hint of red currants. Coaxing releases pretty notions of rose water, cinnamon and black cherries. It's incredibly soft and round on the palate, also more finessed than expected, with pretty wild berry fruits and mineral underpinnings offset by a pleasant inner sweetness. A mix of plum and inner violet florals lingers, as the 2018 finishes lightly tannic yet fresh. The 2018 is a more accessible vintage for Collepiano, which will provide plenty of pleasure with only minimal cellaring.

More Info

Umbria
2
95 (VN)

Inc. VAT

£627.64

Vinous (95)

Deep, dark and almost animalistic in nature, the 1997 Montefalco Sagrantino 25 Anni boasts a rich ruby hue in the glass without any bricking at the rim. Balsamic spice, dried black cherries, leather, minty herbs and hints of mocha form its beguiling bouquet. Its textures are velvety-smooth, yet the wine is surprisingly lifted with tart berries and sweet inner herbal tones, as silty tannins slowly saturate toward the close. While still lightly structured, which I believe the 1997 always will be, the finale remains completely pleasurable and long, with a mentholated freshness and a bitter hint of espresso that lingers.

More Info

Umbria
1
93 (VN)

Inc. VAT

£322.80

Vinous (93)

Caprai's top wine, the Sagrantino di Montefalco 25 Anni, was first released in 1993 to commemorate the estate's 25th anniversary. It has since gone on to become one of Italy's most recognized wines. The 25 Anni starts as a vineyard selection of the finest fruit at harvest, followed by a second selection in the cellar. Essentially the 25 Anni represents the finest barrels of Sagrantino the estate has produced in a given year. The wine undergoes malolactic fermentation in French oak and sees approximately 50-60% new barrels, depending on the vintage. The 1998 Sagrantino di Montefalco 25 Anni has developed pretty notes of menthol, tar and spices that add complexity to a rich core of fruit. The tannins remain on the firm side, and one day in the not too distant future they will likely win the battle for domination in the wine's balance. For today, though, the 1998 is in a beautiful spot to deliver considerable pleasure.

More Info

Umbria
1
97 (RP)

Inc. VAT

£760.57

Wine Advocate - Robert Parker (97)

The 2000 Montefalco 25 Anni simply multiplies all the elements exponentially with room-filling aromas of sweet berry fruit and perfectly integrated oak and a mouth-coating cascade of ripe fruit, powerful, dense, and sensual tannins in a swelling flow of unrelieved pleasure. I would be very surprised if this wine did not last another two decades.

More Info

Umbria
1
-

Inc. VAT

£651.64

Umbria
5
-

Inc. VAT

£395.63

Umbria
1
94 (VN)

Inc. VAT

£540.04

Vinous (94)

The 2004 Sagrantino di Montefalco 25 Anni is even more remarkable. A dark, brooding beauty, this pure Sagrantino flows from the glass with awesome richness. The wine's fruit is still primary and vibrant, while the textural sensations on the palate are totally seductive. The firm Sagrantino tannins are there, but the wine has so much fruit they are barely perceptible. First made to celebrate the property's 25th anniversary, the 25 Anni is a selection of the best fruit and sees 24 months in small French oak barrels. It represents the very finest in contemporary winemaking.

More Info

Umbria
1
-

Inc. VAT

£597.89

Umbria
1
95 (VN)

Inc. VAT

£585.46

Vinous (95)

The truly captivating 2016 Montefalco Sagrantino 25 Anni pulls you close to the glass with a beguiling bouquet that mixes citrus-tinged black fruits with exotic spices, hints of oregano, menthol and a dusting of cocoa. While there's admirable weight and depth here, the textures are more like pure silk, delicately draped across the palate, yet leaving behind a saturating blend of intense dark fruits, minerals and fine-grained tannin. There's so much depth and concentration to work through that, even as the 2016 finishes youthfully structured and dry, it continues to resonate for well over a minute with notes of currant, sage and dark chocolate. Bury this beautiful beast for at least 3–5 years in your cellar, and then enjoy it over the next decade or more. This is a fantastic rendition of Arnaldo Caprai's 25 Anni.

More Info

Umbria
1
94 (VN)

Inc. VAT

£443.86

Vinous (94)

An exotic and smoky mix of dusty dried flowers, allspice, sage and dried black cherries emerges from the hauntingly dark 2018 Montefalco Sagrantino 25 Anni. This is densely textural and weighty in feel, yet the balance is on point, as brisk acids maintain momentum, and a saturation of ripe red and black fruits permeate the palate. Balsam, mint, tobacco, dark chocolate and licorice can all be found through the long and utterly dramatic finale, as the 25 Anni finishes structured, yet more approachable than I've come to expect. Arnaldo Caprai did a great job in creating a highly successful wine in 2018; however, don't expect it to take the usual ten years (or more) that this bottling usually does to come around.

More Info
Product Name
Region
Qty
Score
Price

Umbria
1
90 (VN)

In Bond

£179.00

Vinous (90)

Dried apricots and peaches emerge from an air of white smoke and incense as the 2020 Bramìto della Sala opens up in the glass. It's soft and appealing through its stimulating mix of mineral-tinged orchard fruits and complementary nuances of sour citrus. Hints of grapefruit and green botanicals linger throughout the long, spicy. mouthwatering finale. The 2019 represents excellent value in the category of entry-level Italian Chardonnay.

More Info

Umbria
3
89 (VN)

In Bond

£80.00

Vinous (89)

The 2021 Bramìto della Sala is an Umbrian Chardonnay that reaches up from the glass with a sweetly seductive mix of crushed yellow apples, honeyed florals and lime zest. It's soft-textured with vividly ripe orchard fruits and nuances of chamomile within. The Bramìto tapers off with a citrusy tension balanced by pleasant hints of tropical melon and confectionery spice. It's totally charming and beautifully balanced.

More Info

Umbria
10
89 (VN)

In Bond

£220.00

Vinous (89)

The 2021 Bramìto della Sala is an Umbrian Chardonnay that reaches up from the glass with a sweetly seductive mix of crushed yellow apples, honeyed florals and lime zest. It's soft-textured with vividly ripe orchard fruits and nuances of chamomile within. The Bramìto tapers off with a citrusy tension balanced by pleasant hints of tropical melon and confectionery spice. It's totally charming and beautifully balanced.

More Info

Umbria
1
-

In Bond

£90.00

Umbria
1
95 (JS)

In Bond

£208.00

James Suckling (95)

Intense aromas of crushed lime and lemon as well as mineral and flint follow through to a medium body, ultra-precise acid and fruit balance. Long and linear finish. Just a hint of vanilla and cream. Give it a year or two to develop in the bottle but already a beauty.

More Info

Umbria
1
95 (JS)

In Bond

£463.00

James Suckling (95)

Intense aromas of crushed lime and lemon as well as mineral and flint follow through to a medium body, ultra-precise acid and fruit balance. Long and linear finish. Just a hint of vanilla and cream. Give it a year or two to develop in the bottle but already a beauty.

More Info

Umbria
1
97 (JS)

In Bond

£246.00

James Suckling (97)

This is the Batard Montrachet of Italy with such and amazing depth and compression of beautiful fruit and chalk. Dried mango and dried green papaya. Full body, yet tight and focused. Energized acidity. Vibrance. Don't miss this one. A wine for now or in the future.

More Info

Umbria
2
99 (JS)

In Bond

£469.00

James Suckling (99)

This is big and powerful, without being ripe and heavy. So much apple, stone, and hints of toffee. Aromatic. Full-bodied, layered and framed with phenolic tension and a great finish. Muscular and agile at the same time. One of the best I have tasted. Drink or hold.

More Info

Umbria
1
97 (JS)

In Bond

£420.00

James Suckling (97)

A full-bodied white with complex aromas of hawthorn, ripe peach, apricot, mango, lime, flint, toast and some smoke. Layered, concentrated and persistent with bright acidity and a firm, phenolic texture. Hint of vanilla. Very long and refined. Beautiful as always. Very approachable, but better from 2022.

More Info

Umbria
2
97 (JS)

In Bond

£399.00

James Suckling (97)

Complex nose of toast, charred pineapple, green papaya, kaffir lime and lemon. Crushed stones and white pepper, too. Full-bodied with vibrant acidity. Textured. Long and layered. Delicious and concentrated. Drink or hold.

More Info

Umbria
3
96+ (WA)

In Bond

£673.00

Wine Advocate (96+)

This wine is mostly Chardonnay with about 7% Grechetto. The presence of the Grechetto has declined quite a bit over the past couple of vintages. Given these tweaks to the winemaking formula, the 2021 Cervaro della Sala promises an exceptionally crisp and linear presentation with salty mineral tones, lots of stone fruit and tart apple. No malolactic fermentation or oak is used on the Umbrian grape that always adds a hint of rusticity and Umbrian authenticity. However, the Chardonnay is fermented in oak and aged in both new and used barrel. In light of climate change, work is being completed to reduce vineyard density, with new plantings going in at 3,500 vines per hectare, down from 5,500 vines per hectare like we saw in the past.

More Info

Umbria
2
96+ (WA)

In Bond

£163.00

Wine Advocate (96+)

This wine is mostly Chardonnay with about 7% Grechetto. The presence of the Grechetto has declined quite a bit over the past couple of vintages. Given these tweaks to the winemaking formula, the 2021 Cervaro della Sala promises an exceptionally crisp and linear presentation with salty mineral tones, lots of stone fruit and tart apple. No malolactic fermentation or oak is used on the Umbrian grape that always adds a hint of rusticity and Umbrian authenticity. However, the Chardonnay is fermented in oak and aged in both new and used barrel. In light of climate change, work is being completed to reduce vineyard density, with new plantings going in at 3,500 vines per hectare, down from 5,500 vines per hectare like we saw in the past.

More Info

Umbria
60
96+ (WA)

In Bond

£156.00

Wine Advocate (96+)

This wine is mostly Chardonnay with about 7% Grechetto. The presence of the Grechetto has declined quite a bit over the past couple of vintages. Given these tweaks to the winemaking formula, the 2021 Cervaro della Sala promises an exceptionally crisp and linear presentation with salty mineral tones, lots of stone fruit and tart apple. No malolactic fermentation or oak is used on the Umbrian grape that always adds a hint of rusticity and Umbrian authenticity. However, the Chardonnay is fermented in oak and aged in both new and used barrel. In light of climate change, work is being completed to reduce vineyard density, with new plantings going in at 3,500 vines per hectare, down from 5,500 vines per hectare like we saw in the past.

More Info

Umbria
2
96+ (WA)

In Bond

£382.00

Wine Advocate (96+)

This wine is mostly Chardonnay with about 7% Grechetto. The presence of the Grechetto has declined quite a bit over the past couple of vintages. Given these tweaks to the winemaking formula, the 2021 Cervaro della Sala promises an exceptionally crisp and linear presentation with salty mineral tones, lots of stone fruit and tart apple. No malolactic fermentation or oak is used on the Umbrian grape that always adds a hint of rusticity and Umbrian authenticity. However, the Chardonnay is fermented in oak and aged in both new and used barrel. In light of climate change, work is being completed to reduce vineyard density, with new plantings going in at 3,500 vines per hectare, down from 5,500 vines per hectare like we saw in the past.

More Info

Umbria
1
-

In Bond

£721.00

Umbria
26
-

In Bond

£382.00

Umbria
5
92 (VN)

In Bond

£206.00

Vinous (92)

The 2020 Conte della Vipera bursts from the glass with an intense display that mixes zests of lime, grapefruit and blood orange with smoky crushed stone and dusty yellow flowers. This is soft in feel yet possesses an energizing core of sour citrus and bright acidity that brings its mineral-tinged notes of melon and mango into vivid focus. Savory herbs and sour citrus linger through the medium-length finale, leaving the mouth watering for another sip. The Conte della Vipera is a spicy and vibrant blend of Sauvignon Blanc and Sémillon.

More Info

Umbria
1
-

In Bond

£508.00

Umbria
1
-

In Bond

£186.00

Umbria
3
-

Inc. VAT

£189.60

Umbria
6
90 (VN)

In Bond

£193.00

Vinous (90)

The 2018 Montefalco Sagrantino Collepiano takes its time opening in the glass, at first floral with a hint of red currants. Coaxing releases pretty notions of rose water, cinnamon and black cherries. It's incredibly soft and round on the palate, also more finessed than expected, with pretty wild berry fruits and mineral underpinnings offset by a pleasant inner sweetness. A mix of plum and inner violet florals lingers, as the 2018 finishes lightly tannic yet fresh. The 2018 is a more accessible vintage for Collepiano, which will provide plenty of pleasure with only minimal cellaring.

More Info

Umbria
2
95 (VN)

In Bond

£507.00

Vinous (95)

Deep, dark and almost animalistic in nature, the 1997 Montefalco Sagrantino 25 Anni boasts a rich ruby hue in the glass without any bricking at the rim. Balsamic spice, dried black cherries, leather, minty herbs and hints of mocha form its beguiling bouquet. Its textures are velvety-smooth, yet the wine is surprisingly lifted with tart berries and sweet inner herbal tones, as silty tannins slowly saturate toward the close. While still lightly structured, which I believe the 1997 always will be, the finale remains completely pleasurable and long, with a mentholated freshness and a bitter hint of espresso that lingers.

More Info

Umbria
1
93 (VN)

Inc. VAT

£322.80

Vinous (93)

Caprai's top wine, the Sagrantino di Montefalco 25 Anni, was first released in 1993 to commemorate the estate's 25th anniversary. It has since gone on to become one of Italy's most recognized wines. The 25 Anni starts as a vineyard selection of the finest fruit at harvest, followed by a second selection in the cellar. Essentially the 25 Anni represents the finest barrels of Sagrantino the estate has produced in a given year. The wine undergoes malolactic fermentation in French oak and sees approximately 50-60% new barrels, depending on the vintage. The 1998 Sagrantino di Montefalco 25 Anni has developed pretty notes of menthol, tar and spices that add complexity to a rich core of fruit. The tannins remain on the firm side, and one day in the not too distant future they will likely win the battle for domination in the wine's balance. For today, though, the 1998 is in a beautiful spot to deliver considerable pleasure.

More Info

Umbria
1
97 (RP)

In Bond

£616.00

Wine Advocate - Robert Parker (97)

The 2000 Montefalco 25 Anni simply multiplies all the elements exponentially with room-filling aromas of sweet berry fruit and perfectly integrated oak and a mouth-coating cascade of ripe fruit, powerful, dense, and sensual tannins in a swelling flow of unrelieved pleasure. I would be very surprised if this wine did not last another two decades.

More Info

Umbria
1
-

In Bond

£527.00

Umbria
5
-

In Bond

£319.00

Umbria
1
94 (VN)

In Bond

£434.00

Vinous (94)

The 2004 Sagrantino di Montefalco 25 Anni is even more remarkable. A dark, brooding beauty, this pure Sagrantino flows from the glass with awesome richness. The wine's fruit is still primary and vibrant, while the textural sensations on the palate are totally seductive. The firm Sagrantino tannins are there, but the wine has so much fruit they are barely perceptible. First made to celebrate the property's 25th anniversary, the 25 Anni is a selection of the best fruit and sees 24 months in small French oak barrels. It represents the very finest in contemporary winemaking.

More Info

Umbria
1
-

In Bond

£479.00

Umbria
1
95 (VN)

In Bond

£468.00

Vinous (95)

The truly captivating 2016 Montefalco Sagrantino 25 Anni pulls you close to the glass with a beguiling bouquet that mixes citrus-tinged black fruits with exotic spices, hints of oregano, menthol and a dusting of cocoa. While there's admirable weight and depth here, the textures are more like pure silk, delicately draped across the palate, yet leaving behind a saturating blend of intense dark fruits, minerals and fine-grained tannin. There's so much depth and concentration to work through that, even as the 2016 finishes youthfully structured and dry, it continues to resonate for well over a minute with notes of currant, sage and dark chocolate. Bury this beautiful beast for at least 3–5 years in your cellar, and then enjoy it over the next decade or more. This is a fantastic rendition of Arnaldo Caprai's 25 Anni.

More Info

Umbria
1
94 (VN)

In Bond

£350.00

Vinous (94)

An exotic and smoky mix of dusty dried flowers, allspice, sage and dried black cherries emerges from the hauntingly dark 2018 Montefalco Sagrantino 25 Anni. This is densely textural and weighty in feel, yet the balance is on point, as brisk acids maintain momentum, and a saturation of ripe red and black fruits permeate the palate. Balsam, mint, tobacco, dark chocolate and licorice can all be found through the long and utterly dramatic finale, as the 25 Anni finishes structured, yet more approachable than I've come to expect. Arnaldo Caprai did a great job in creating a highly successful wine in 2018; however, don't expect it to take the usual ten years (or more) that this bottling usually does to come around.

More Info