Veneto
Veneto, located in north-eastern Italy, is a region renowned for its outstanding fine wines. With a long winemaking history and diverse terroir, Veneto offers a wide range of exceptional wines that captivate wine enthusiasts around the world. The region is home to renowned vineyards and wineries that have gained international recognition for their quality and craftsmanship.

One of the most famous vineyards in Veneto is Allegrini, known for producing Amarone della Valpolicella, a prestigious and robust red wine made from dried grapes. Another prominent vineyard is Tommasi, which specializes in Amarone and Valpolicella wines, showcasing the rich flavors and complexity of the region. Zenato is also notable, producing acclaimed wines such as Amarone and Lugana.

The flagship wine of Veneto is Prosecco, a sparkling wine that has gained tremendous popularity in recent years. The region of Valdobbiadene-Conegliano is the heartland of Prosecco production, with renowned vineyards such as Nino Franco, Bisol, and Ruggeri producing exceptional examples of this lively and refreshing sparkling wine.

Valpolicella, a red wine region within Veneto, is famous for its red wines made primarily from Corvina, Rondinella, and Molinara grapes. Wineries like Masi, Tedeschi, and Zeni produce outstanding Valpolicella wines, ranging from the vibrant and fruity Valpolicella Classico to the full-bodied and concentrated Amarone.

Veneto is also known for its sweet wine, Recioto di Soave, made from the Garganega grape. Wineries such as Pieropan and Suavia craft elegant and luscious Recioto di Soave wines that display the region's expertise in producing exquisite dessert wines.

Whether you are exploring the elegant Prosecco, the rich Amarone della Valpolicella, or the luscious Recioto di Soave, Veneto offers a remarkable selection of fine wines that showcase the region's winemaking excellence. With its unique terroir, indigenous grape varieties, and commitment to quality, Veneto continues to enchant wine lovers with its outstanding wine offerings.
Veneto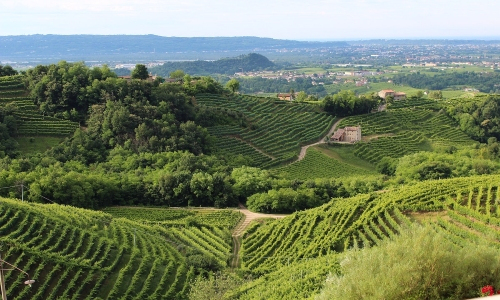 Name
Price Low
Price High
Year (Old)
Year (New)
Product Name
Region
Qty
Score
Price

Veneto
2
-

Inc. VAT

£443.09

Veneto
1
-

Inc. VAT

£421.84

Veneto
1
-

Inc. VAT

£1,910.59

Veneto
1
100 (DC)

Inc. VAT

£813.70

Decanter (100)

One of two Allegrini wines making their debut on the Place de Bordeaux this year. From an 8ha vineyard at 415m. Richly scented on the nose with a beautiful nuance to the dark fruits, floral scents and sweet spices, all melding together. The texture is so appealing, rich yet smooth and silky, dominating the palate with the flavours of stewed blackcurrants, coffee beans, orange rind, slightly bitter medicinal herbs, juicy balsamic peppery fruit and a beguiling saltiness. It's enveloping in the best way, but still juicy and lively, really leaves a lingering impression on the palate, an absolute lifeforce. Tannins are on the chewy and grippy side, coating the mouth and tongue but the presentation of the flavours is so precise and detailed. This is amazingly good with excellent freshness throughout. 5% Oseleta completes the blend. Ageing 48 months in French oak barriques, 6 months in Slavonian oak. First vintage was 2011 with no 2014 made.

More Info

Veneto
5
100 (DC)

Inc. VAT

£730.34

Decanter (100)

Another astounding wine from Allegrini, if you didn't buy Fiermonte last year here's a chance to buy something just as good. The most gorgeous nose; full of flowers, chocolate truffles, red fruits and dried berries - fragranced and just so inviting, also so pure. The texture and mouthfeel are just perfect - round, enveloping, the perfect weight to give structure and body with intensity and fleshiness yet nothing is over the top or too much. Delicious crunchy and fleshy fruit, wonderful minty freshness with accents of incense fragrance, wood spice and exotic spices before a lingering chalky finish with an underlying saltiness. Pure, precise, clearly defined, juicy, totally moreish. What more can you ask for? A little less friendly and overtly charming than the 2015 at the same time last year, this carries more muscle, opulence, power and boldness but it has exceptional forward motion and freshness. It delights and enthralls in equal measure from the first sip! Just wow! A blend of 45% Corvina, 45% Corvinone, 5% Rondinella and 5% Oseleta.

More Info

Veneto
1
93 (VN)

Inc. VAT

£317.21

Vinous (93)

A burst of mocha and clove is balanced by dusty black cherries and savory herbs as the 2017 La Poja blossoms in the glass. This is a heady and extroverted expression with a pretty inner sweetness contrasted by tart black fruits and inner herb tones. Dark chocolate, cloves, hints of vanilla and candied lavender can all be found through the incredibly long and palate-staining finale. The 2017 finishes lightly structured. For all of its extroverted character, the La Poja boasts only three grams of residual sugar per liter. This may be a big wine, but the balance is remarkable.

More Info

Veneto
1
93 (VN)

Inc. VAT

£553.24

Vinous (93)

A burst of mocha and clove is balanced by dusty black cherries and savory herbs as the 2017 La Poja blossoms in the glass. This is a heady and extroverted expression with a pretty inner sweetness contrasted by tart black fruits and inner herb tones. Dark chocolate, cloves, hints of vanilla and candied lavender can all be found through the incredibly long and palate-staining finale. The 2017 finishes lightly structured. For all of its extroverted character, the La Poja boasts only three grams of residual sugar per liter. This may be a big wine, but the balance is remarkable.

More Info

Veneto
5
-

Inc. VAT

£660.29

Veneto
2
-

Inc. VAT

£543.85

Veneto
3
-

Inc. VAT

£603.85

Veneto
2
-

Inc. VAT

£603.85

Veneto
1
-

Inc. VAT

£240.25

Veneto
1
-

Inc. VAT

£487.45

Veneto
1
-

Inc. VAT

£375.85

Veneto
1
-

Inc. VAT

£458.65

Veneto
3
-

Inc. VAT

£275.09

Veneto
1
95+ (VN)

Inc. VAT

£385.82

Vinous (95+)

The 2016 Amarone della Valpolicella Classico Ravazzol dazzles with a vivid and exotic mix, as crushed rocks blow off to reveal bright cherries with autumnal spices and dusty rose. Its velvety-smooth yet energetic, with tart mineral-tinged berries giving way to cocoa, tobacco and exotic spice that saturates. While sweet on the nose, this is more savory on the palate and flinty through the finale, turning lightly structured and lingering incredibly long yet pure with the prettiest of red florals. Wow; the 2016 is finessed, delicate, feminine and communicates beautiful harmony. Lose some in your cellar.

More Info

Veneto
1
-

Inc. VAT

£405.89

Veneto
1
-

Inc. VAT

£270.29

Veneto
20
-

Inc. VAT

£333.89

Veneto
1
-

Inc. VAT

£734.69

Veneto
1
-

Inc. VAT

£1,381.69

Veneto
1
98 (VN)

Inc. VAT

£1,974.61

Vinous (98)

The 2008 Amarone della Valpolicella is compelling. With a little air, the tannins begin to soften, releasing a myriad of intense dark aromas and flavors. Bittersweet chocolate, cloves, violets, plums and blackberry jam cover every inch of the palate in a stunning, headspinning Amarone that captures all of the best qualities of the year. When Romano Dal Forno's wines are on, there is nothing quite like them, and that is certainly the case here. If opened young, the 2008 needs a little air. Actually, a lot of air.

More Info

Veneto
1
98 (VN)

Inc. VAT

£1,647.79

Vinous (98)

The 2008 Amarone della Valpolicella is compelling. With a little air, the tannins begin to soften, releasing a myriad of intense dark aromas and flavors. Bittersweet chocolate, cloves, violets, plums and blackberry jam cover every inch of the palate in a stunning, headspinning Amarone that captures all of the best qualities of the year. When Romano Dal Forno's wines are on, there is nothing quite like them, and that is certainly the case here. If opened young, the 2008 needs a little air. Actually, a lot of air.

More Info

Veneto
2
99 (DC)

Inc. VAT

£840.32

Decanter (99)

The blend for this wine, whose fruit is dried for three months, is 55 per cent Corvina, 15 per cent Rondinella, 20 per cent Croatina and 10 per cent Oseleta; all the vines are at least 10 years old. A black wine, and a velvet nosebox: pressed black fruits, seeping with fruit essences; smoke and cinders; herbal complexities; teasing floral notes, too, to lighten the tone a little. The alcohol level on the label might lead you to expect a gobstopper – so you'll be taken aback by the fine-milled elegance of this wine, by its disposition and organization, by its fleet-footed elegance and freshness, even though its concentration, power and textural presence make it a wine of absolute authority. There isn't a trace of superfluous fat in the mid-palate – though it's tongue-coating, head-turning, inspiring: a gathering of sumptuous fruited energies. "It's very difficult to for my father to feel happy about any of his wines; he's very critical," said Michele. "But with this vintage, he didn't have anything to say."

More Info

Veneto
1
99 (DC)

Inc. VAT

£1,590.96

Decanter (99)

The blend for this wine, whose fruit is dried for three months, is 55 per cent Corvina, 15 per cent Rondinella, 20 per cent Croatina and 10 per cent Oseleta; all the vines are at least 10 years old. A black wine, and a velvet nosebox: pressed black fruits, seeping with fruit essences; smoke and cinders; herbal complexities; teasing floral notes, too, to lighten the tone a little. The alcohol level on the label might lead you to expect a gobstopper – so you'll be taken aback by the fine-milled elegance of this wine, by its disposition and organization, by its fleet-footed elegance and freshness, even though its concentration, power and textural presence make it a wine of absolute authority. There isn't a trace of superfluous fat in the mid-palate – though it's tongue-coating, head-turning, inspiring: a gathering of sumptuous fruited energies. "It's very difficult to for my father to feel happy about any of his wines; he's very critical," said Michele. "But with this vintage, he didn't have anything to say."

More Info

Veneto
1
97 (JS)

Inc. VAT

£1,655.76

James Suckling (97)

A decadent nose of treacle tart, chocolate, tar, tons of black fruit such as blackberries and mulberries and even ash and licorice. A dense, layered mouthfeel makes for a full-bodied palate that's explosive yet somehow so refined and pretty all at the same time. The finish goes on and on. Incredible now, but better to wait for this giant to settle well into 2020.

More Info

Veneto
2
98 (WA)

Inc. VAT

£1,466.59

Wine Advocate (98)

The 2013 Amarone della Valpolicella Monte Lodoletta is my favorite wine in the retrospective, along with the amazing 2011, 2009 and 1996 vintages. This wine was released at the beginning of this year, and because Dal Forno skipped over the 2014 vintage, this is the only Amarone we will see for a while (until the highly anticipated 2015 is released). The 2013 vintage is characterized by a slightly more streamlined mouthfeel (which isn't saying much given the baseline enormity of these wines) with carefully etched aromas of black cherry, rum cake, dark chocolate and toasted espresso. The 2013 vintage was balanced overall without the sudden heat waves we saw in the summers of 2011 and 2012. The grapes finished a slow and steady ripening process over an extended growing season. The effect is graceful and focused. Put this bottle aside in your cellar for the decades to come.

More Info

Veneto
1
100 (JS)

Inc. VAT

£1,136.28

James Suckling (100)

This is black as pitch in the glass and, yes, there's a light, tarry edge to the super-concentrated prune, date and currant fruit. But even more interesting are the complex notes of bitter-orange liqueur, aged balsamic, fresh roasting herbs, cinnamon, roasted chestnuts, black tea and licorice. The more you decant in advance, the more nuances will emerge. It's full-boded with huge concentration and lots of chewy tannin that is managing to hold the fruit back for now. This needs plenty of time to develop in the bottle. Just superb. One of the greatest Dal Forno's ever.

More Info

Veneto
1
100 (JS)

Inc. VAT

£1,871.76

James Suckling (100)

This is black as pitch in the glass and, yes, there's a light, tarry edge to the super-concentrated prune, date and currant fruit. But even more interesting are the complex notes of bitter-orange liqueur, aged balsamic, fresh roasting herbs, cinnamon, roasted chestnuts, black tea and licorice. The more you decant in advance, the more nuances will emerge. It's full-boded with huge concentration and lots of chewy tannin that is managing to hold the fruit back for now. This needs plenty of time to develop in the bottle. Just superb. One of the greatest Dal Forno's ever.

More Info
Product Name
Region
Qty
Score
Price

Veneto
2
-

In Bond

£350.00

Veneto
1
-

In Bond

£348.00

Veneto
1
-

In Bond

£1,571.00

Veneto
1
100 (DC)

In Bond

£667.50

Decanter (100)

One of two Allegrini wines making their debut on the Place de Bordeaux this year. From an 8ha vineyard at 415m. Richly scented on the nose with a beautiful nuance to the dark fruits, floral scents and sweet spices, all melding together. The texture is so appealing, rich yet smooth and silky, dominating the palate with the flavours of stewed blackcurrants, coffee beans, orange rind, slightly bitter medicinal herbs, juicy balsamic peppery fruit and a beguiling saltiness. It's enveloping in the best way, but still juicy and lively, really leaves a lingering impression on the palate, an absolute lifeforce. Tannins are on the chewy and grippy side, coating the mouth and tongue but the presentation of the flavours is so precise and detailed. This is amazingly good with excellent freshness throughout. 5% Oseleta completes the blend. Ageing 48 months in French oak barriques, 6 months in Slavonian oak. First vintage was 2011 with no 2014 made.

More Info

Veneto
5
100 (DC)

In Bond

£599.00

Decanter (100)

Another astounding wine from Allegrini, if you didn't buy Fiermonte last year here's a chance to buy something just as good. The most gorgeous nose; full of flowers, chocolate truffles, red fruits and dried berries - fragranced and just so inviting, also so pure. The texture and mouthfeel are just perfect - round, enveloping, the perfect weight to give structure and body with intensity and fleshiness yet nothing is over the top or too much. Delicious crunchy and fleshy fruit, wonderful minty freshness with accents of incense fragrance, wood spice and exotic spices before a lingering chalky finish with an underlying saltiness. Pure, precise, clearly defined, juicy, totally moreish. What more can you ask for? A little less friendly and overtly charming than the 2015 at the same time last year, this carries more muscle, opulence, power and boldness but it has exceptional forward motion and freshness. It delights and enthralls in equal measure from the first sip! Just wow! A blend of 45% Corvina, 45% Corvinone, 5% Rondinella and 5% Oseleta.

More Info

Veneto
1
93 (VN)

In Bond

£259.00

Vinous (93)

A burst of mocha and clove is balanced by dusty black cherries and savory herbs as the 2017 La Poja blossoms in the glass. This is a heady and extroverted expression with a pretty inner sweetness contrasted by tart black fruits and inner herb tones. Dark chocolate, cloves, hints of vanilla and candied lavender can all be found through the incredibly long and palate-staining finale. The 2017 finishes lightly structured. For all of its extroverted character, the La Poja boasts only three grams of residual sugar per liter. This may be a big wine, but the balance is remarkable.

More Info

Veneto
1
93 (VN)

In Bond

£445.00

Vinous (93)

A burst of mocha and clove is balanced by dusty black cherries and savory herbs as the 2017 La Poja blossoms in the glass. This is a heady and extroverted expression with a pretty inner sweetness contrasted by tart black fruits and inner herb tones. Dark chocolate, cloves, hints of vanilla and candied lavender can all be found through the incredibly long and palate-staining finale. The 2017 finishes lightly structured. For all of its extroverted character, the La Poja boasts only three grams of residual sugar per liter. This may be a big wine, but the balance is remarkable.

More Info

Veneto
5
-

In Bond

£531.00

Veneto
2
-

In Bond

£450.00

Veneto
3
-

In Bond

£500.00

Veneto
2
-

In Bond

£500.00

Veneto
1
-

In Bond

£197.00

Veneto
1
-

In Bond

£403.00

Veneto
1
-

In Bond

£310.00

Veneto
1
-

In Bond

£379.00

Veneto
3
-

In Bond

£210.00

Veneto
1
95+ (VN)

In Bond

£301.00

Vinous (95+)

The 2016 Amarone della Valpolicella Classico Ravazzol dazzles with a vivid and exotic mix, as crushed rocks blow off to reveal bright cherries with autumnal spices and dusty rose. Its velvety-smooth yet energetic, with tart mineral-tinged berries giving way to cocoa, tobacco and exotic spice that saturates. While sweet on the nose, this is more savory on the palate and flinty through the finale, turning lightly structured and lingering incredibly long yet pure with the prettiest of red florals. Wow; the 2016 is finessed, delicate, feminine and communicates beautiful harmony. Lose some in your cellar.

More Info

Veneto
1
-

In Bond

£319.00

Veneto
1
-

In Bond

£206.00

Veneto
20
-

In Bond

£259.00

Veneto
1
-

In Bond

£593.00

Veneto
1
-

In Bond

£1,145.00

Veneto
1
98 (VN)

In Bond

£1,622.00

Vinous (98)

The 2008 Amarone della Valpolicella is compelling. With a little air, the tannins begin to soften, releasing a myriad of intense dark aromas and flavors. Bittersweet chocolate, cloves, violets, plums and blackberry jam cover every inch of the palate in a stunning, headspinning Amarone that captures all of the best qualities of the year. When Romano Dal Forno's wines are on, there is nothing quite like them, and that is certainly the case here. If opened young, the 2008 needs a little air. Actually, a lot of air.

More Info

Veneto
1
98 (VN)

In Bond

£1,352.00

Vinous (98)

The 2008 Amarone della Valpolicella is compelling. With a little air, the tannins begin to soften, releasing a myriad of intense dark aromas and flavors. Bittersweet chocolate, cloves, violets, plums and blackberry jam cover every inch of the palate in a stunning, headspinning Amarone that captures all of the best qualities of the year. When Romano Dal Forno's wines are on, there is nothing quite like them, and that is certainly the case here. If opened young, the 2008 needs a little air. Actually, a lot of air.

More Info

Veneto
2
99 (DC)

In Bond

£693.00

Decanter (99)

The blend for this wine, whose fruit is dried for three months, is 55 per cent Corvina, 15 per cent Rondinella, 20 per cent Croatina and 10 per cent Oseleta; all the vines are at least 10 years old. A black wine, and a velvet nosebox: pressed black fruits, seeping with fruit essences; smoke and cinders; herbal complexities; teasing floral notes, too, to lighten the tone a little. The alcohol level on the label might lead you to expect a gobstopper – so you'll be taken aback by the fine-milled elegance of this wine, by its disposition and organization, by its fleet-footed elegance and freshness, even though its concentration, power and textural presence make it a wine of absolute authority. There isn't a trace of superfluous fat in the mid-palate – though it's tongue-coating, head-turning, inspiring: a gathering of sumptuous fruited energies. "It's very difficult to for my father to feel happy about any of his wines; he's very critical," said Michele. "But with this vintage, he didn't have anything to say."

More Info

Veneto
1
99 (DC)

In Bond

£1,304.00

Decanter (99)

The blend for this wine, whose fruit is dried for three months, is 55 per cent Corvina, 15 per cent Rondinella, 20 per cent Croatina and 10 per cent Oseleta; all the vines are at least 10 years old. A black wine, and a velvet nosebox: pressed black fruits, seeping with fruit essences; smoke and cinders; herbal complexities; teasing floral notes, too, to lighten the tone a little. The alcohol level on the label might lead you to expect a gobstopper – so you'll be taken aback by the fine-milled elegance of this wine, by its disposition and organization, by its fleet-footed elegance and freshness, even though its concentration, power and textural presence make it a wine of absolute authority. There isn't a trace of superfluous fat in the mid-palate – though it's tongue-coating, head-turning, inspiring: a gathering of sumptuous fruited energies. "It's very difficult to for my father to feel happy about any of his wines; he's very critical," said Michele. "But with this vintage, he didn't have anything to say."

More Info

Veneto
1
97 (JS)

In Bond

£1,358.00

James Suckling (97)

A decadent nose of treacle tart, chocolate, tar, tons of black fruit such as blackberries and mulberries and even ash and licorice. A dense, layered mouthfeel makes for a full-bodied palate that's explosive yet somehow so refined and pretty all at the same time. The finish goes on and on. Incredible now, but better to wait for this giant to settle well into 2020.

More Info

Veneto
2
98 (WA)

In Bond

£1,201.00

Wine Advocate (98)

The 2013 Amarone della Valpolicella Monte Lodoletta is my favorite wine in the retrospective, along with the amazing 2011, 2009 and 1996 vintages. This wine was released at the beginning of this year, and because Dal Forno skipped over the 2014 vintage, this is the only Amarone we will see for a while (until the highly anticipated 2015 is released). The 2013 vintage is characterized by a slightly more streamlined mouthfeel (which isn't saying much given the baseline enormity of these wines) with carefully etched aromas of black cherry, rum cake, dark chocolate and toasted espresso. The 2013 vintage was balanced overall without the sudden heat waves we saw in the summers of 2011 and 2012. The grapes finished a slow and steady ripening process over an extended growing season. The effect is graceful and focused. Put this bottle aside in your cellar for the decades to come.

More Info

Veneto
1
100 (JS)

In Bond

£936.00

James Suckling (100)

This is black as pitch in the glass and, yes, there's a light, tarry edge to the super-concentrated prune, date and currant fruit. But even more interesting are the complex notes of bitter-orange liqueur, aged balsamic, fresh roasting herbs, cinnamon, roasted chestnuts, black tea and licorice. The more you decant in advance, the more nuances will emerge. It's full-boded with huge concentration and lots of chewy tannin that is managing to hold the fruit back for now. This needs plenty of time to develop in the bottle. Just superb. One of the greatest Dal Forno's ever.

More Info

Veneto
1
100 (JS)

In Bond

£1,538.00

James Suckling (100)

This is black as pitch in the glass and, yes, there's a light, tarry edge to the super-concentrated prune, date and currant fruit. But even more interesting are the complex notes of bitter-orange liqueur, aged balsamic, fresh roasting herbs, cinnamon, roasted chestnuts, black tea and licorice. The more you decant in advance, the more nuances will emerge. It's full-boded with huge concentration and lots of chewy tannin that is managing to hold the fruit back for now. This needs plenty of time to develop in the bottle. Just superb. One of the greatest Dal Forno's ever.

More Info