Bernard Moreau
About Bernard Moreau
Domaine Bernard Moreau a Chassagne-Montrachet estate producing wonderfully opulent Rouge and Blancs. The domaine dates from 1809 when Auguste Moreau constructed a cellar in the region and began to cultivate grapes in the appellation. The holdings were increased in the 1930s by descendent Marcel Moreau. The current owner is Bernard Moreau, who took over in the early 1960s at the age of just 14! Today, it is Bernard's sons Alex and Benoît who lead the business.
Vineyard and Winemaking
Domaine Bernard Moreau comprises 9 ha of vineyards with an additional 5ha (12 acres) famed under contract. Most of this is in Chassagne-Montrachet, although there are also plots in Saint-Aubin and Volnay. The vines are old, yields are kept low and annual production only amounts to around 8,000 cases.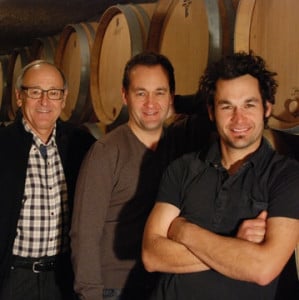 Prices:
Product Name
Region
Qty
Score
Price
Burgundy
9
-

Inc. VAT

£472.54
Burgundy
1
86 (VN)

Inc. VAT

£530.14

Vinous (86)

Bottled in August the 2020 Bourgogne Chardonnay has an attractive nose with light citrus fruit, apple peelings and honeyuckle. The palate is well balanced with fine depth, slight pithy in style with hints of brioche and hazelnut on the finish. Closure: Diam

More Info

Burgundy
1
93 (VN)

Inc. VAT

£1,920.47

Vinous (93)

Pale yellow. Delicate, pure scents of lemon thyme, white flowers and rocky minerality. Dense, juicy and intense, with brisk citrussy acidity intensifying the lemon and floral flavors. Not a blockbuster, this refined premier cru perfumes the mouth on the rising, subtly saline finish.

More Info

Burgundy
2
91-93 (VN)

Inc. VAT

£1,129.67

Vinous (91-93)

The 2019 Chassagne-Montrachet Morgeots 1er Cru has a terse bouquet, certainly one of the most austere and Puligny-like from Alex Moreau this year. The palate is well balanced with a fine bead of acidity, taut and fresh, steely and focused with wonderful sapidity towards the finish. Excellent.

More Info

Burgundy
1
-

Inc. VAT

£703.67
Burgundy
1
89-91 (WA)

Inc. VAT

£433.67

Wine Advocate (89-91)

Notes of crisp green orchard fruit, lemon oil and blanched almonds introduce the 2017 Saint-Aubin 1er Cru Sur Gamay, a medium to full-bodied, ample but crisp wine with an elegant, pure profile. Despite its mouthwateringly succulent acid backbone, it's structurally quite open-knit and will make a great choice for anyone seeking a Moreau wine for more immediate gratification.

More Info

Burgundy
1
90-92 (WA)

Inc. VAT

£550.07

Wine Advocate (90-92)

The 2016 Saint-Aubin 1er Cru En Remilly, which was taken from tank and fined, has quite a powerful, well-defined, lemon zest and walnut-scented bouquet that just springs from the glass. The palate is well defined with hints of blackcurrant complementing the malic fruit, with a touch of spiciness coming through on the finish. Very fine—one of the best from Alex Moreau this year.

More Info
Product Name
Region
Qty
Score
Price
Burgundy
9
-

In Bond

£367.00
Burgundy
1
86 (VN)

In Bond

£415.00

Vinous (86)

Bottled in August the 2020 Bourgogne Chardonnay has an attractive nose with light citrus fruit, apple peelings and honeyuckle. The palate is well balanced with fine depth, slight pithy in style with hints of brioche and hazelnut on the finish. Closure: Diam

More Info

Burgundy
1
93 (VN)

In Bond

£1,587.00

Vinous (93)

Pale yellow. Delicate, pure scents of lemon thyme, white flowers and rocky minerality. Dense, juicy and intense, with brisk citrussy acidity intensifying the lemon and floral flavors. Not a blockbuster, this refined premier cru perfumes the mouth on the rising, subtly saline finish.

More Info

Burgundy
2
91-93 (VN)

In Bond

£928.00

Vinous (91-93)

The 2019 Chassagne-Montrachet Morgeots 1er Cru has a terse bouquet, certainly one of the most austere and Puligny-like from Alex Moreau this year. The palate is well balanced with a fine bead of acidity, taut and fresh, steely and focused with wonderful sapidity towards the finish. Excellent.

More Info

Burgundy
1
-

In Bond

£573.00
Burgundy
1
89-91 (WA)

In Bond

£348.00

Wine Advocate (89-91)

Notes of crisp green orchard fruit, lemon oil and blanched almonds introduce the 2017 Saint-Aubin 1er Cru Sur Gamay, a medium to full-bodied, ample but crisp wine with an elegant, pure profile. Despite its mouthwateringly succulent acid backbone, it's structurally quite open-knit and will make a great choice for anyone seeking a Moreau wine for more immediate gratification.

More Info

Burgundy
1
90-92 (WA)

In Bond

£445.00

Wine Advocate (90-92)

The 2016 Saint-Aubin 1er Cru En Remilly, which was taken from tank and fined, has quite a powerful, well-defined, lemon zest and walnut-scented bouquet that just springs from the glass. The palate is well defined with hints of blackcurrant complementing the malic fruit, with a touch of spiciness coming through on the finish. Very fine—one of the best from Alex Moreau this year.

More Info