Claude Riffault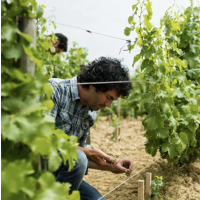 About Domaine Claude Riffault
Stéphane Riffault is regarded as the single most exciting talent in the entire Sancerre appellation. Barely 30 years old, the son of founder Claude Riffault, Stéphane has made his mark on his terroir and his Domaine in a manner like few others. Consistently releasing wines that are the envy of legendary winemakers more than twice his age, you should be buying cases bearing the name Domaine Claude Riffault.
The Winemaker
Stéphane Riffault manages 33 different parcels of vines in eight lieu-dits, spread across four villages in the Loire Valley. Combining to a total of 13.5 hectares, the estate has been certified organic by ECOCERT and fully biodynamic by BIODYVIN since 2017. In their relentless drive for perfection in harmony with the stunning natural surroundings, the entire harvest is completed by hand and Stéphane puts his good wife to work managing the team, whilst he himself focuses on rigorous sorting and gentle pressing.
Having both studied and worked in Burgundy (Stéphane spent large periods of time with Olivier Leflaive), there are noticeable Burgundian influences throughout his wines. Not, of course, in terms of attempting to emulate the characteristics of Chablis, but rather the attention to detail in the vineyard and emphasis on single lieu-dit expressions. These wines are Loire through-and-through, elevated to dizzying heights.
Prices: