Cristal
About Cristal
Cristal is the flagship cuvée of Maison Louis Roederer and has a history of its own that is more fascinating than that of many entire rival houses. Originally produced in 1876, Cristal was released following two decades of the increasing popularity of Champagne in Russia. Louis Roederer in particular was a favourite amongst the Russian aristocracy, with around a third of their wine being shipped directly to the grand houses and imperial palaces of Moscow and Saint Petersburg.
The period of Alexander II's reign saw sustained political instability, and the Tsar became increasingly fearful of assassination. Determining that the most likely method of his demise would be an explosive hidden behind the dark green glass of his favourite Champagne bottles, preparations were made for the finest wines Louis Roederer could offer to be presented in clear glass bottles.
Over 150 years later and Cristal is still one of, if not the, greatest expression of Champagne to be made. Modern winemaking techniques and a very talented, industrious team at Louis Roederer mean that the recent iterations of this vinous legend are amongst the very greatest ever made. Consistently challenging the title of wine of the vintage each year, Cristal is rightfully the pinnacle of Champagne.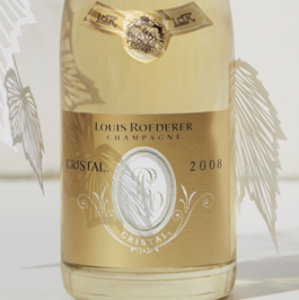 Name
Price Low
Price High
Year (Old)
Year (New)
Prices:
Product Name
Region
Qty
Score
Price

Champagne
1
19 (JR)

Inc. VAT

£2,772.83

Jancis Robinson (19)

Lovely richness on the nose with real spread of crème pâtissière but very tight and refreshing too. Very satisfying. At peak and very flattering. Long and fresh. Spreads opulently but not dully across the palate. So complete. Such lovely neatness.

More Info

Champagne
1
98 (JS)

Inc. VAT

£2,315.21

James Suckling (98)

The nose has such beautiful, autolysis character with brown-mushroom and toasted-almond aromas. The nose has still-fresh lemons and oyster shell, with . Very smooth, pastry-like texture on the palate with even layers and a core of fresh lemons and peaches. The striking thing here is the balance and melted-together complexity. In a very great place. This spent seven years sur latte, seven sur pointe and was disgorged in 2014. Drink now.

More Info
Product Name
Region
Qty
Score
Price

Champagne
1
19 (JR)

In Bond

£2,300.00

Jancis Robinson (19)

Lovely richness on the nose with real spread of crème pâtissière but very tight and refreshing too. Very satisfying. At peak and very flattering. Long and fresh. Spreads opulently but not dully across the palate. So complete. Such lovely neatness.

More Info

Champagne
1
98 (JS)

In Bond

£1,924.00

James Suckling (98)

The nose has such beautiful, autolysis character with brown-mushroom and toasted-almond aromas. The nose has still-fresh lemons and oyster shell, with . Very smooth, pastry-like texture on the palate with even layers and a core of fresh lemons and peaches. The striking thing here is the balance and melted-together complexity. In a very great place. This spent seven years sur latte, seven sur pointe and was disgorged in 2014. Drink now.

More Info
Name
Price Low
Price High
Year (Old)
Year (New)