Castello dei Rampolla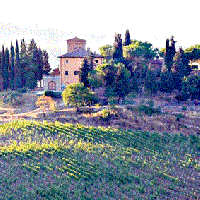 About Castello dei Rampolla
The historic estate of Castello dei Rampolla is held in tremendously high regard by Antoni Galloni (Vinous), the world's foremost writer on Italian wine, who considers that the Tuscan legend produces "some of the most compelling wines of Tuscany, and the world, for that matter". Nestled deep in the heart of the stunning Chianti Classico region, the team at Castello dei Rampolla pursue both biodynamic farming, and minimalist winemaking to give their wines a "feeling of transparency that is incredibly distinctive" which makes them, in Galloni's eyes, "one of the real stars of Chianti Classico".
Located in Panzano's famous Conce d'Oro (Golden Basin) district, the winery of Castello dei Rampolla is surrounded by a natural amphitheatre of breathtakingly beautiful hillside vineyards. Something of a maverick estate, inherited by the noble di Napoli family as part of a wedding dowry in 1739, Castello dei Rampolla is proudly "one of Tuscany's most intriguingly unconventional estates" (Wine Spectator). Alceo di Napoli revolutionised the estate upon inheriting the estate in 1965, so much so that the prestige cuvée of Castello dei Rampolla now bears his name! We are delighted to offer this very cuvée today.
There are no products matching the selection.