Sylvain Cathiard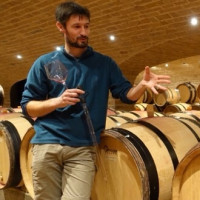 About Sylvain Cathiard
Originating from Savoie and arriving in Burgundy to work with the imperious Domaine de la Romanée Conti and Domaine Lamarche, the Cathiard family possess one of the most impressive collective CVs in the world. It has, expectedly, forged its glorious reputation later when they started a winery themselves.
Currently at the helm is Sebastian Cathiard, the third generation of the family, who cultivates a mere 5.5 hectares of land spread over so many sites with none bigger than one hectare. For context, the largest cuvée Cathiard produces is the Bourgogne Rouge, which sees just over 2,000 bottles of production each year.
Because of the scarcity, the unmatched demand and the heavy allocation for top restaurants, his wines are, naturally, some of the hardest to acquire.
Prices:
Year
Wine
Region
Format
Qty
Score
Price
Wishlist

Sylvain Cathiard Chambolle-Musigny Les Clos de l'Orme 2012 (6x75cl)

Inc. VAT: £2,952.76

2012
Burgundy
6x75cl
1
89-91 (VN)

Read Review/Description

Inc. VAT: £2,952.76

Sylvain Cathiard Chambolle-Musigny Les Clos de l'Orme 2013 (6x75cl)

Inc. VAT: £2,527.02

2013
Burgundy
6x75cl
1
90-92 (VN)

Read Review/Description

Inc. VAT: £2,527.02

Sylvain Cathiard Chambolle-Musigny Les Clos de l'Orme 2014 (6x75cl)

Inc. VAT: £2,687.42

2014
Burgundy
6x75cl
1
87-90 (VN)

Read Review/Description

Inc. VAT: £2,687.42

Sylvain Cathiard Chambolle-Musigny Les Clos de l'Orme 2018 (6x75cl)

Inc. VAT: £2,354.56

2018
Burgundy
6x75cl
1
91-93 (VN)

Read Review/Description

Inc. VAT: £2,354.56

Sylvain Cathiard Nuits-Saint-Georges 1er Cru Aux Murgers 2002 (12x75cl)

Inc. VAT: £9,782.89

2002
Burgundy
12x75cl
1
-
Inc. VAT: £9,782.89

Sylvain Cathiard Nuits-Saint-Georges 1er Cru Aux Murgers 2007 (12x75cl)

Inc. VAT: £6,990.94

2007
Burgundy
12x75cl
1
93 (WA)

Read Review/Description

Inc. VAT: £6,990.94

Sylvain Cathiard Nuits-Saint-Georges 1er Cru Aux Murgers 2014 (6x75cl)

Inc. VAT: £3,086.62

2014
Burgundy
6x75cl
1
92-94 (WA)

Read Review/Description

Inc. VAT: £3,086.62

Sylvain Cathiard Nuits-Saint-Georges 1er Cru Aux Thorey 2009 (6x75cl)

Inc. VAT: £3,646.22

2009
Burgundy
6x75cl
1
89-91 (VN)

Read Review/Description

Inc. VAT: £3,646.22

Sylvain Cathiard Nuits-Saint-Georges 1er Cru Aux Thorey 2010 (6x75cl)

Inc. VAT: £3,646.22

2010
Burgundy
6x75cl
1
88-90 (VN)

Read Review/Description

Inc. VAT: £3,646.22

Sylvain Cathiard Nuits-Saint-Georges 2012 (6x75cl)

Inc. VAT: £3,579.89

2012
Burgundy
6x75cl
1
89-91 (VN)

Read Review/Description

Inc. VAT: £3,579.89

Sylvain Cathiard Romanee-Saint-Vivant Grand Cru 1994 (1x75cl)

Inc. VAT: £1,620.00

1994
Burgundy
1x75cl
1
-
Inc. VAT: £1,620.00

Sylvain Cathiard Romanee-Saint-Vivant Grand Cru 2001 (6x75cl)

Inc. VAT: £15,646.22

2001
Burgundy
6x75cl
1
-
Inc. VAT: £15,646.22

Sylvain Cathiard Romanee-Saint-Vivant Grand Cru 2007 (6x75cl)

Inc. VAT: £21,288.02

2007
Burgundy
6x75cl
1
98 (VN)

Read Review/Description

Inc. VAT: £21,288.02

Sylvain Cathiard Romanee-Saint-Vivant Grand Cru 2011 (3x75cl)

Inc. VAT: £10,423.32

2011
Burgundy
3x75cl
1
93-96 (VN)

Read Review/Description

Inc. VAT: £10,423.32

Sylvain Cathiard Romanee-Saint-Vivant Grand Cru 2016 (1x75cl)

Inc. VAT: £4,224.98

2016
Burgundy
1x75cl
1
95-97 (WA)

Read Review/Description

Inc. VAT: £4,224.98

Sylvain Cathiard Romanee-Saint-Vivant Grand Cru 2016 (3x75cl)

Inc. VAT: £12,917.39

2016
Burgundy
3x75cl
1
95-97 (WA)

Read Review/Description

Inc. VAT: £12,917.39

Sylvain Cathiard Vosne-Romanee 1er Cru Aux Malconsorts 2006 (1x75cl)

Inc. VAT: £1,237.66

2006
Burgundy
1x75cl
1
93 (WA)

Read Review/Description

Inc. VAT: £1,237.66

Sylvain Cathiard Vosne-Romanee 1er Cru Aux Malconsorts 2014 (1x75cl)

Inc. VAT: £1,003.68

2014
Burgundy
1x75cl
1
95 (WA)

Read Review/Description

Inc. VAT: £1,003.68

Sylvain Cathiard Vosne-Romanee 1er Cru Aux Malconsorts 2015 (3x75cl)

Inc. VAT: £3,547.74

2015
Burgundy
3x75cl
1
96-98 (WA)

Read Review/Description

Inc. VAT: £3,547.74

Sylvain Cathiard Vosne-Romanee 1er Cru Aux Malconsorts 2019 (6x75cl)

Inc. VAT: £9,569.03

2019
Burgundy
6x75cl
1
-
Inc. VAT: £9,569.03

Sylvain Cathiard Vosne-Romanee 1er Cru Aux Reignots 2008 (12x75cl)

Inc. VAT: £12,662.89

2008
Burgundy
12x75cl
2
89-92 (VN)

Read Review/Description

Inc. VAT: £12,662.89

Sylvain Cathiard Vosne-Romanee 1er Cru Aux Reignots 2013 (6x75cl)

Inc. VAT: £5,949.73

2013
Burgundy
6x75cl
1
92-94 (VN)

Read Review/Description

Inc. VAT: £5,949.73

Sylvain Cathiard Vosne-Romanee 1er Cru Les Suchots 2015 (6x75cl)

Inc. VAT: £9,916.07

2015
Burgundy
6x75cl
1
95-97 (WA)

Read Review/Description

Inc. VAT: £9,916.07

Sylvain Cathiard Vosne-Romanee 2014 (6x75cl)

Inc. VAT: £2,021.70

2014
Burgundy
6x75cl
1
89-91 (WA)

Read Review/Description

Inc. VAT: £2,021.70

Sylvain Cathiard Vosne-Romanee 2015 (6x75cl)

Inc. VAT: £2,687.42

2015
Burgundy
6x75cl
1
89-91 (WA)

Read Review/Description

Inc. VAT: £2,687.42

Sylvain Cathiard Vosne-Romanee 2017 (6x75cl)

Inc. VAT: £2,088.02

2017
Burgundy
6x75cl
1
90 (VN)

Read Review/Description

Inc. VAT: £2,088.02

Sylvain Cathiard Vosne-Romanee 2018 (6x75cl)

Inc. VAT: £1,915.56

2018
Burgundy
6x75cl
1
89-91 (VN)

Read Review/Description

Inc. VAT: £1,915.56
Year
Wine
Region
Format
Qty
Score
Price
Wishlist

Sylvain Cathiard Chambolle-Musigny Les Clos de l'Orme 2012 (6x75cl)

In Bond: £2,447.24

2012
Burgundy
6x75cl
1
89-91 (VN)

Read Review/Description

In Bond: £2,447.24

Sylvain Cathiard Chambolle-Musigny Les Clos de l'Orme 2013 (6x75cl)

In Bond: £2,092.46

2013
Burgundy
6x75cl
1
90-92 (VN)

Read Review/Description

In Bond: £2,092.46

Sylvain Cathiard Chambolle-Musigny Les Clos de l'Orme 2014 (6x75cl)

In Bond: £2,226.13

2014
Burgundy
6x75cl
1
87-90 (VN)

Read Review/Description

In Bond: £2,226.13

Sylvain Cathiard Chambolle-Musigny Les Clos de l'Orme 2018 (6x75cl)

In Bond: £1,948.74

2018
Burgundy
6x75cl
1
91-93 (VN)

Read Review/Description

In Bond: £1,948.74

Sylvain Cathiard Nuits-Saint-Georges 1er Cru Aux Murgers 2002 (12x75cl)

In Bond: £8,125.63

2002
Burgundy
12x75cl
1
-
In Bond: £8,125.63

Sylvain Cathiard Nuits-Saint-Georges 1er Cru Aux Murgers 2007 (12x75cl)

In Bond: £5,799.00

2007
Burgundy
12x75cl
1
93 (WA)

Read Review/Description

In Bond: £5,799.00

Sylvain Cathiard Nuits-Saint-Georges 1er Cru Aux Murgers 2014 (6x75cl)

In Bond: £2,558.79

2014
Burgundy
6x75cl
1
92-94 (WA)

Read Review/Description

In Bond: £2,558.79

Sylvain Cathiard Nuits-Saint-Georges 1er Cru Aux Thorey 2009 (6x75cl)

In Bond: £3,025.13

2009
Burgundy
6x75cl
1
89-91 (VN)

Read Review/Description

In Bond: £3,025.13

Sylvain Cathiard Nuits-Saint-Georges 1er Cru Aux Thorey 2010 (6x75cl)

In Bond: £3,025.13

2010
Burgundy
6x75cl
1
88-90 (VN)

Read Review/Description

In Bond: £3,025.13

Sylvain Cathiard Nuits-Saint-Georges 2012 (6x75cl)

In Bond: £2,969.85

2012
Burgundy
6x75cl
1
89-91 (VN)

Read Review/Description

In Bond: £2,969.85

Sylvain Cathiard Romanee-Saint-Vivant Grand Cru 1994 (1x75cl)

Inc. VAT: £1,620.00

1994
Burgundy
1x75cl
1
-
Inc. VAT: £1,620.00

Sylvain Cathiard Romanee-Saint-Vivant Grand Cru 2001 (6x75cl)

In Bond: £13,025.13

2001
Burgundy
6x75cl
1
-
In Bond: £13,025.13

Sylvain Cathiard Romanee-Saint-Vivant Grand Cru 2007 (6x75cl)

In Bond: £17,726.63

2007
Burgundy
6x75cl
1
98 (VN)

Read Review/Description

In Bond: £17,726.63

Sylvain Cathiard Romanee-Saint-Vivant Grand Cru 2011 (3x75cl)

In Bond: £8,679.40

2011
Burgundy
3x75cl
1
93-96 (VN)

Read Review/Description

In Bond: £8,679.40

Sylvain Cathiard Romanee-Saint-Vivant Grand Cru 2016 (1x75cl)

In Bond: £3,518.59

2016
Burgundy
1x75cl
1
95-97 (WA)

Read Review/Description

In Bond: £3,518.59

Sylvain Cathiard Romanee-Saint-Vivant Grand Cru 2016 (3x75cl)

In Bond: £10,757.79

2016
Burgundy
3x75cl
1
95-97 (WA)

Read Review/Description

In Bond: £10,757.79

Sylvain Cathiard Vosne-Romanee 1er Cru Aux Malconsorts 2006 (1x75cl)

In Bond: £1,029.15

2006
Burgundy
1x75cl
1
93 (WA)

Read Review/Description

In Bond: £1,029.15

Sylvain Cathiard Vosne-Romanee 1er Cru Aux Malconsorts 2014 (1x75cl)

In Bond: £834.17

2014
Burgundy
1x75cl
1
95 (WA)

Read Review/Description

In Bond: £834.17

Sylvain Cathiard Vosne-Romanee 1er Cru Aux Malconsorts 2015 (3x75cl)

In Bond: £2,949.75

2015
Burgundy
3x75cl
1
96-98 (WA)

Read Review/Description

In Bond: £2,949.75

Sylvain Cathiard Vosne-Romanee 1er Cru Aux Malconsorts 2019 (6x75cl)

In Bond: £7,960.80

2019
Burgundy
6x75cl
1
-
In Bond: £7,960.80

Sylvain Cathiard Vosne-Romanee 1er Cru Aux Reignots 2008 (12x75cl)

In Bond: £10,525.63

2008
Burgundy
12x75cl
2
89-92 (VN)

Read Review/Description

In Bond: £10,525.63

Sylvain Cathiard Vosne-Romanee 1er Cru Aux Reignots 2013 (6x75cl)

In Bond: £4,944.72

2013
Burgundy
6x75cl
1
92-94 (VN)

Read Review/Description

In Bond: £4,944.72

Sylvain Cathiard Vosne-Romanee 1er Cru Les Suchots 2015 (6x75cl)

In Bond: £8,250.00

2015
Burgundy
6x75cl
1
95-97 (WA)

Read Review/Description

In Bond: £8,250.00

Sylvain Cathiard Vosne-Romanee 2014 (6x75cl)

In Bond: £1,671.36

2014
Burgundy
6x75cl
1
89-91 (WA)

Read Review/Description

In Bond: £1,671.36

Sylvain Cathiard Vosne-Romanee 2015 (6x75cl)

In Bond: £2,226.13

2015
Burgundy
6x75cl
1
89-91 (WA)

Read Review/Description

In Bond: £2,226.13

Sylvain Cathiard Vosne-Romanee 2017 (6x75cl)

In Bond: £1,726.63

2017
Burgundy
6x75cl
1
90 (VN)

Read Review/Description

In Bond: £1,726.63

Sylvain Cathiard Vosne-Romanee 2018 (6x75cl)

In Bond: £1,582.91

2018
Burgundy
6x75cl
1
89-91 (VN)

Read Review/Description

In Bond: £1,582.91