Murcia
Murcia, located in south-eastern Spain, is an emerging wine region that offers a treasure trove of fine wines. With its warm Mediterranean climate and diverse terroir, Murcia is gaining recognition for its exceptional wines that showcase the region's unique characteristics and winemaking expertise.

One of the most famous vineyards in Murcia is Bodegas Juan Gil, a family-owned winery with a long-standing tradition of winemaking. Their wines, such as Juan Gil Monastrell and Clio, have garnered international acclaim for their rich flavours, depth, and exceptional quality.

Murcia is renowned for its red wines, with the Monastrell grape variety taking centre stage. Vineyards like Casa Castillo, Bodegas Olivares, and Bodegas Luzón produce outstanding red wines that exhibit the intense fruit flavours, robust structure, and velvety tannins characteristic of Monastrell. These wines reflect the sun-drenched terroir of Murcia and offer a unique expression of the region's winemaking prowess.

In addition to red wines, Murcia also produces notable white wines. Bodegas Piqueras, Bodegas Sierra Norte, and Bodegas Estancia Piedra are among the vineyards that create exceptional white wines using grape varieties such as Macabeo, Airén, and Moscatel. These white wines display vibrant acidity, crisp fruit flavours, and a refreshing character that make them perfect companions for warm Mediterranean evenings.

Murcia's viticultural landscape is dotted with ancient vineyards and modern wineries, each contributing to the region's growing reputation as a producer of fine wines. The combination of favorable climate, diverse soils, and a commitment to quality winemaking has propelled Murcia onto the international wine stage.
Murcia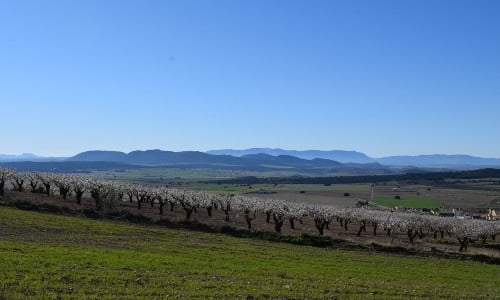 Name
Price Low
Price High
Year (Old)
Year (New)
Product Name
Region
Qty
Score
Price

Murcia
3
93 (WA)

Inc. VAT

£241.24

Wine Advocate (93)

The 2014 Campo Arriba comes from one of the highest elevations in Yecla and it's a blend of 70% Mourvèdre, 20% Syrah and 10% Grenache aged three months in small French oak. This winery, started in 1925 by the Candela family, has really hit pay day with this amazing value. Blackberries, blueberries, acacia flowers, and chalky minerality dominate the aromatics and flavors. It is full-bodied, the price is absurdly low for a wine of this quality, and I suspect it can age nicely for another 5-6 years, although its true value is its exuberance, fruit purity and density.

More Info

Jumilla
1
95 (WA)

Inc. VAT

£177.89

Wine Advocate (95)

The perfect Mediterranean vintage produced an outstanding Garnacha. The 2020 El Molar fermented with 35% full clusters and matured in a combination of 500-liter barrels and 5,000-liter foudres for one year. The wine is very young and tender; it feels more delicate despite having a little more alcohol than the 2019 (it's 15%) and with a slightly lower pH (3.49). It's super aromatic, extroverted and expressive, floral, elegant and complex. There is great balance, and the wine feels fresher and less ripe; it's refreshing and has a core of minerality and super fine tannins with pungent flavors. There is precision, elegance and balance, the three words that define the vintage. All the wines are very good value, but this is a steal. 40,000 bottles were filled in March 2022.

More Info

Jumilla
1
96 (WA)

Inc. VAT

£350.44

Wine Advocate (96)

The 2018 Las Gravas is a blend of 90% Monastrell from limestone gravel soils and 10% Garnacha also planted in the same gravel soils, but it's obviously much younger than the Monastrell. It fermented in underground pools with 25% to 30% full clusters and indigenous yeasts and matured in 5,000-liter oak foudres and 500-liter oak barrels for 16 months. It's an incredibly elegant and delicate Las Gravas, nuanced and with a discrete profile, a little shy at first. The palate is also super elegant and balanced, with refined tannins, a velvety texture and very fine chalky minerality. The north-facing vineyard, the backbone of this wine in a challenging and cooler year, is now 40 years old and has vigor and balance, which has resulted in an incredible wine through a lot of work in the vineyard. This has to be the finest vintage to date, a real triumph over the adverse conditions of the year that transcends the quality of the vintage. They used a lower percentage of Garnacha to avoid too much florality in the blend, and the wine is more serious. It's less explosive than the 2017, but I'd say, more gravelly... Bravo! 34,500 bottles produced. It was bottled in July 2020.

More Info

Jumilla
6
-

Inc. VAT

£212.81

Jumilla
2
96 (VN)

Inc. VAT

£880.60

Vinous (96)

Saturated violet. An expansive, spice-accented bouquet evokes cassis, cherry liqueur, fruitcake and potpourri; vanilla and woodsmoke nuances emerge with air. Juicy and deeply concentrated, offering palate-staining, appealingly sweet black and blue fruit preserve, violet pastille, licorice and mocha flavors that become livelier as the wine opens up. The floral and mineral notes reverberate emphatically on an extremely long, spicy finish that features mounting tannins and a hint of bitter chocolate.

More Info

Jumilla
20
-

Inc. VAT

£143.09
Product Name
Region
Qty
Score
Price

Murcia
3
93 (WA)

In Bond

£185.00

Wine Advocate (93)

The 2014 Campo Arriba comes from one of the highest elevations in Yecla and it's a blend of 70% Mourvèdre, 20% Syrah and 10% Grenache aged three months in small French oak. This winery, started in 1925 by the Candela family, has really hit pay day with this amazing value. Blackberries, blueberries, acacia flowers, and chalky minerality dominate the aromatics and flavors. It is full-bodied, the price is absurdly low for a wine of this quality, and I suspect it can age nicely for another 5-6 years, although its true value is its exuberance, fruit purity and density.

More Info

Jumilla
1
95 (WA)

In Bond

£129.00

Wine Advocate (95)

The perfect Mediterranean vintage produced an outstanding Garnacha. The 2020 El Molar fermented with 35% full clusters and matured in a combination of 500-liter barrels and 5,000-liter foudres for one year. The wine is very young and tender; it feels more delicate despite having a little more alcohol than the 2019 (it's 15%) and with a slightly lower pH (3.49). It's super aromatic, extroverted and expressive, floral, elegant and complex. There is great balance, and the wine feels fresher and less ripe; it's refreshing and has a core of minerality and super fine tannins with pungent flavors. There is precision, elegance and balance, the three words that define the vintage. All the wines are very good value, but this is a steal. 40,000 bottles were filled in March 2022.

More Info

Jumilla
1
96 (WA)

In Bond

£276.00

Wine Advocate (96)

The 2018 Las Gravas is a blend of 90% Monastrell from limestone gravel soils and 10% Garnacha also planted in the same gravel soils, but it's obviously much younger than the Monastrell. It fermented in underground pools with 25% to 30% full clusters and indigenous yeasts and matured in 5,000-liter oak foudres and 500-liter oak barrels for 16 months. It's an incredibly elegant and delicate Las Gravas, nuanced and with a discrete profile, a little shy at first. The palate is also super elegant and balanced, with refined tannins, a velvety texture and very fine chalky minerality. The north-facing vineyard, the backbone of this wine in a challenging and cooler year, is now 40 years old and has vigor and balance, which has resulted in an incredible wine through a lot of work in the vineyard. This has to be the finest vintage to date, a real triumph over the adverse conditions of the year that transcends the quality of the vintage. They used a lower percentage of Garnacha to avoid too much florality in the blend, and the wine is more serious. It's less explosive than the 2017, but I'd say, more gravelly... Bravo! 34,500 bottles produced. It was bottled in July 2020.

More Info

Jumilla
6
-

In Bond

£172.00

Jumilla
2
96 (VN)

In Bond

£721.00

Vinous (96)

Saturated violet. An expansive, spice-accented bouquet evokes cassis, cherry liqueur, fruitcake and potpourri; vanilla and woodsmoke nuances emerge with air. Juicy and deeply concentrated, offering palate-staining, appealingly sweet black and blue fruit preserve, violet pastille, licorice and mocha flavors that become livelier as the wine opens up. The floral and mineral notes reverberate emphatically on an extremely long, spicy finish that features mounting tannins and a hint of bitter chocolate.

More Info

Jumilla
20
-

In Bond

£100.00
Name
Price Low
Price High
Year (Old)
Year (New)