Cognac
Welcome to the enchanting realm of the finest cognacs, where time-honored traditions, meticulous craftsmanship, and the art of blending converge to create spirits of extraordinary depth, complexity, and elegance.

One of the most renowned names in the world of cognac is Rémy Martin. With a heritage dating back to 1724, Rémy Martin has established itself as a paragon of excellence and craftsmanship. Known for their commitment to using only the finest grapes from the Grande Champagne and Petite Champagne crus, Rémy Martin produces cognacs that exhibit remarkable finesse, floral notes, and exceptional aging potential.

From the house of Hennessy, we encounter a legacy of exceptional cognacs that spans over 250 years. Hennessy has become a symbol of refinement and prestige, renowned for their meticulous blending techniques and mastery in crafting harmonious expressions. With a portfolio ranging from their iconic VS (Very Special) to the prestigious Paradis, Hennessy has left an indelible mark on the world of cognac.

Venturing to the esteemed producer Martell, we discover a heritage that dates back to 1715. Martell Cognac is recognized for its smooth and balanced expressions, with a focus on distilling from wines sourced from the Borderies cru. Martell's attention to detail, from vineyard to cellar, results in cognacs that captivate the senses with their elegance, delicate fruit flavors, and subtle spice.

In the heart of the Cognac region, we find the venerable house of Courvoisier. Established in 1809, Courvoisier has a rich history and an unwavering commitment to quality. Their cognacs are crafted from grapes grown in the prestigious Grande Champagne and Borderies crus, showcasing a harmonious balance of flavors, including vibrant fruits, floral nuances, and a refined finish.

These esteemed producers represent just a fraction of the extraordinary cognac brands available to the discerning connoisseur. Each house embraces a unique approach, employing distinctive grape varieties, precise distillation methods, and exceptional aging techniques to create cognacs that embody the epitome of luxury and refinement.
Cognac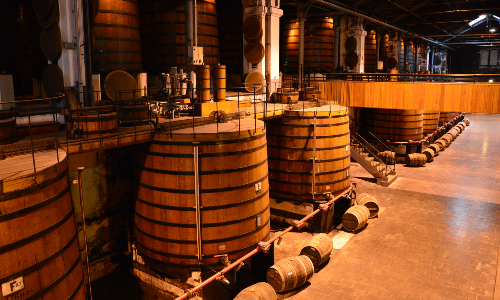 Name
Price Low
Price High
Year (Old)
Year (New)
Product Name
Region
Qty
Score
Price

Cognac
1
-

Inc. VAT

£895.39

Cognac
2
-

Inc. VAT

£508.74

Cognac
5
-

Inc. VAT

£536.08

Cognac
2
-

Inc. VAT

£2,091.28

Cognac
1
-

Inc. VAT

£2,518.16

Cognac
2
-

Inc. VAT

£455.15

Cognac
2
-

Inc. VAT

£390.35

Cognac
2
-

Inc. VAT

£386.75

Cognac
1
95 (VN)

Inc. VAT

£2,606.23

Vinous (95)

Blended from eaux-de-vie ranging from 30 to 130 years old, "this is the jewel of the Prestige collection," I was told by the brand ambassador. Louis Vuitton has apparently designed a trunk to hold the ornate crystal bottle. So how is the juice inside? Unexpectedly light amber in color with a very complex nose of jasmine, citrus blossom, cedar forest and a touch of forest floor. In the mouth, it's crisp, fresh and spicy, offering attractive notes of green tobacco, licorice and spring herbs, and a lean, angular structure that stands out. Yes, there's lots of hype, and the price is astronomical, but with Paradis Impérial you will at least get a delicious, subtle, complex brandy. (40% abv).

More Info

Cognac
1
-

Inc. VAT

£2,665.03

With its gold colour and its silky texture, this Cognac is the fantasy of all Cognac conoisseurs. The Richard Hennessy offers aromas of vanilla, spices, pepper and crystallied fruit.

More Info

Cognac
11
93 (VN)

Inc. VAT

£957.79

Vinous (93)

This is the original XO, the one that created the category. "From 12 to 30 years old, with an average of 12 years," according to the brand ambassador. Reddish copper in color. The attractive fruity nose features notes of prune and dried cherry, along with honey and pepper. On the palate, it's woody, and you get inklings of rancio, but the secondary notes are fresh and fruity, with date and prune, balancing the walnut and antique furniture varnish. Solid quality, but not particularly unique. (40% abv)

More Info

Cognac
1
-

Inc. VAT

£167.70

Cognac
2
-

Inc. VAT

£483.95

Cognac
2
-

Inc. VAT

£479.15

Cognac
1
-

Inc. VAT

£1,400.99

Cognac
1
-

Inc. VAT

£1,801.79

Cognac
1
-

Inc. VAT

£1,570.63

There is a superb decadence to this first release of Montrose's Grande Champagne Hors d'Age Cognac that brings to mind sultana and fig soaked in old Demerara rum. The signature of some extremely old spirit in the blend is instantly evident by virtue of an earthy complexity while the brightness and verve of younger cognac keeps the overall profile extremely lively and balanced. A fine brightness akin to mandarin orange with charred peel and candied bergamot adds character to the grape-driven palate. A long enduring finish brings in guava and honeyed mango as well as warming baking spices. A phenomenal effort from Montrose. If this is their first effort in Cognac then the future is very bright for this bottling indeed.

More Info

Cognac
10
-

Inc. VAT

£718.48

Cognac
1
-

Inc. VAT

£1,171.04

Cognac
2
-

Inc. VAT

£1,110.88

Cognac
1
-

Inc. VAT

£404.75

Cognac
2
-

Inc. VAT

£398.75

Cognac
2
-

Inc. VAT

£386.75

Cognac
2
-

Inc. VAT

£435.95

Cognac
2
-

Inc. VAT

£363.95

Cognac
2
-

Inc. VAT

£355.55

Cognac
2
-

Inc. VAT

£377.15

Cognac
2
-

Inc. VAT

£362.75

Cognac
2
-

Inc. VAT

£355.55

Cognac
2
-

Inc. VAT

£372.35
Product Name
Region
Qty
Score
Price

Cognac
1
-

In Bond

£693.00

Cognac
2
-

In Bond

£367.00

Cognac
5
-

In Bond

£367.00

Cognac
2
-

In Bond

£1,663.00

Cognac
1
-

In Bond

£1,939.00

Cognac
2
-

In Bond

£366.00

Cognac
2
-

In Bond

£312.00

Cognac
2
-

In Bond

£309.00

Cognac
1
95 (VN)

In Bond

£2,163.00

Vinous (95)

Blended from eaux-de-vie ranging from 30 to 130 years old, "this is the jewel of the Prestige collection," I was told by the brand ambassador. Louis Vuitton has apparently designed a trunk to hold the ornate crystal bottle. So how is the juice inside? Unexpectedly light amber in color with a very complex nose of jasmine, citrus blossom, cedar forest and a touch of forest floor. In the mouth, it's crisp, fresh and spicy, offering attractive notes of green tobacco, licorice and spring herbs, and a lean, angular structure that stands out. Yes, there's lots of hype, and the price is astronomical, but with Paradis Impérial you will at least get a delicious, subtle, complex brandy. (40% abv).

More Info

Cognac
1
-

In Bond

£2,212.00

With its gold colour and its silky texture, this Cognac is the fantasy of all Cognac conoisseurs. The Richard Hennessy offers aromas of vanilla, spices, pepper and crystallied fruit.

More Info

Cognac
11
93 (VN)

In Bond

£745.00

Vinous (93)

This is the original XO, the one that created the category. "From 12 to 30 years old, with an average of 12 years," according to the brand ambassador. Reddish copper in color. The attractive fruity nose features notes of prune and dried cherry, along with honey and pepper. On the palate, it's woody, and you get inklings of rancio, but the secondary notes are fresh and fruity, with date and prune, balancing the walnut and antique furniture varnish. Solid quality, but not particularly unique. (40% abv)

More Info

Cognac
1
-

In Bond

£130.00

Cognac
2
-

In Bond

£390.00

Cognac
2
-

In Bond

£386.00

Cognac
1
-

In Bond

£1,158.00

Cognac
1
-

In Bond

£1,492.00

Cognac
1
-

In Bond

£1,300.00

There is a superb decadence to this first release of Montrose's Grande Champagne Hors d'Age Cognac that brings to mind sultana and fig soaked in old Demerara rum. The signature of some extremely old spirit in the blend is instantly evident by virtue of an earthy complexity while the brightness and verve of younger cognac keeps the overall profile extremely lively and balanced. A fine brightness akin to mandarin orange with charred peel and candied bergamot adds character to the grape-driven palate. A long enduring finish brings in guava and honeyed mango as well as warming baking spices. A phenomenal effort from Montrose. If this is their first effort in Cognac then the future is very bright for this bottling indeed.

More Info

Cognac
10
-

In Bond

£519.00

Cognac
1
-

In Bond

£936.00

Cognac
2
-

In Bond

£846.00

Cognac
1
-

In Bond

£324.00

Cognac
2
-

In Bond

£319.00

Cognac
2
-

In Bond

£309.00

Cognac
2
-

In Bond

£350.00

Cognac
2
-

In Bond

£290.00

Cognac
2
-

In Bond

£283.00

Cognac
2
-

In Bond

£301.00

Cognac
2
-

In Bond

£289.00

Cognac
2
-

In Bond

£283.00

Cognac
2
-

In Bond

£297.00