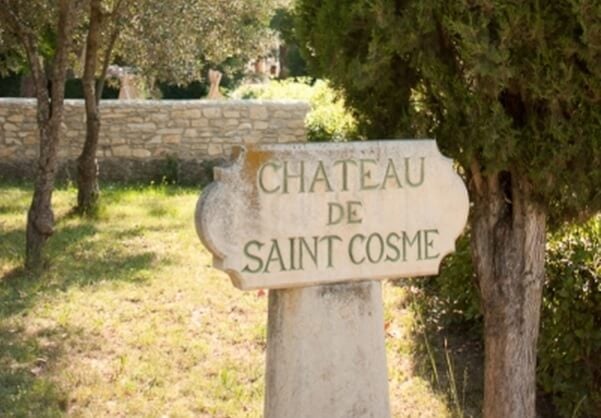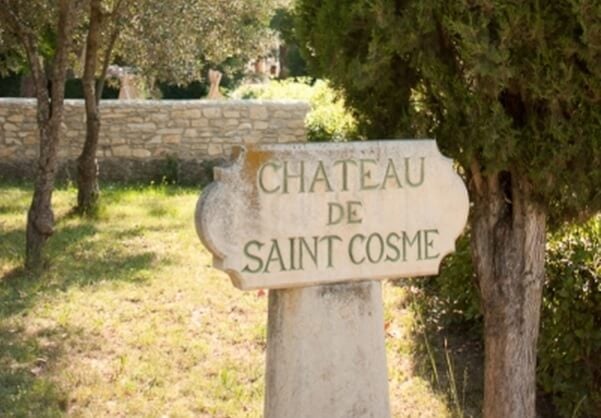 Newly released Rhone 2013s. Madeline Mehalko – Senior Buyer – shares the excitement of these archetypal Gigondas from Chateau Saint Cosme. One of our favourite Rhone producers.
It's that time of year again, to turn our attention to the latest releases of one of our favourite producers - Chateau St Cosme. Always released later than many Rhone producers, this follows on from our main Rhone 2013 campaign in the autumn (from which there are still some wines available, so do take a look here). For those who are not familiar with the wines of St Cosme, a brief introduction:
Louis Barroul runs this estate, which is widely regarded as being the finest in Gigondas. He turns out consistently excellent wines year on year which are generally much longer lived than many of their neighbours.  The terroir here is special – sitting high up in the Dentelles de Montmirail, the vineyards here benefit from altitude as well as a cool air that gets sucked down from the mountains and follows the valleys. They are completely surrounded by woodlands, giving protection and a natural balance all around. All of this makes it easy to follow organic principles and still have healthy grapes; it also means the wines can be picked much later than others in the area and generally have lower alcohol and higher acidity than is typical. There are old vines here, too – many that were planted over 100 years ago.
A darling of critics and consumers alike, these wines typically don't hang around for long once they are offered. We don't expect 2013 to be any different – especially given that volumes are down 30% for the Gigondas and 40% for the lieu dit Gigondas wines. It was an unusual vintage in the Southern Rhone where Grenache plays the starring role, in that there wasn't actually very much Grenache. Early rot in the beginning of the springtime and a poor flowering meant that Grenache was very thin on the ground. Not good for yields, but very good for the quality of the wines as Syrah and Mourvedre produced stunning results. This inevitably changes the profile of the wines somewhat, but as Louis says, "the vintage, whatever is its style or its level of quality, is one of the nicest things that Mother nature can offer us : a new wine every year, which will never be the same as any other one. Isn't it magical ?"
The harvest was the latest since 1963 – it started on 17 October and finished 19 October – meaning a lovely long, slow ripening for the grapes. Normally the harvest takes 9 days, but with rain forecasted at the crucial time, the number of pickers more than tripled and everyone worked as fast as they could to get it done before the heavens opened. The resulting wines are intense, complex and fresh, with tannins that are sturdily built but ripe and fine. Lovers of the estate should not miss this vintage which Louis believes to be truly great, if perhaps a little overlooked.
Chateau St Cosme Gigondas 2013 - £92 IB per 6x75, £20.86 per bottle inc VAT
"A wine that will probably end up being outstanding, the 2013 Gigondas (50% Grenache, 25% Mourvedre and 25% Syrah) has lots of blackberry, toasted spice, graphite and liquid herb aromas and flavors, medium-bodied richness and an elegant, seamless, lightly textured feel on the palate. It should drink nicely on release and evolve for 7-8 years." – 88-91 points, Jeb Dunnock erobertparker.com
Chateau St Cosme Gigondas Valbelle 2013 - £155 IB per 6x75, £33.46 per bottle inc VAT
Not a single vineyard lieu dit like the other cuvees, the Valbelle comes from 5 different parcels of old vines. Despite the lack of Grenache this year, it still makes up 90% of the Valbelle. Tasted before blending in summer of 2014, it displayed rich dark notes of tar and rye bread and black olive, lifted by garrigue herbs, perfumed strawberry and violet. Intense tannins on the finish hint at greatness to come, but this will be approachable sooner than the Claux, Hominis and Poste. – Cru notes
Chateau St Cosme Gigondas Hominis Fides 2013 - £230 IB per 6x75, £48.46 per bottle inc VAT
The most upfront and supple version of this cuvee I've tasted, the 2013 Gigondas Hominis Fides comes from sandy, loamy soils located just down from the estate. Made all from non-destemmed Grenache (as are all the single vineyards) and aged in smaller barrels, it exhibits notions of sweet cherries, blackberry liqueur, dusty soil and Asian spice. Medium to full-bodied, seamless and layered, with a silky, sexy profile, it should drink nicely on release and evolve for a decade. – 92-94 points, Jeb Dunnock erobertparker.com
Chateau St Cosme Gigondas Le Claux 2013 - £230 IB per 6x75, £48.46 per bottle inc VAT
The 2013 Gigondas Le Claux might again be the top wine in this lineup in the vintage. Offering up gorgeous black cherry, camphor, licorice and hints of tar, it hits the palate with serious richness, fabulous mid-palate depth and a plethora of medium to full-bodied aromas and flavors. While it shows the fresher, cooler nature of the vintage, it has more mid-palate depth and richness than the other cuvees, while still showing elegance and precision. It benefit from short term cellaring and have 10-15 years of longevity. – 93-96 points, Jeb Dunnock erobertparker.com