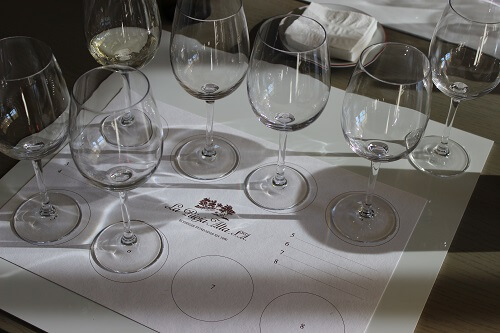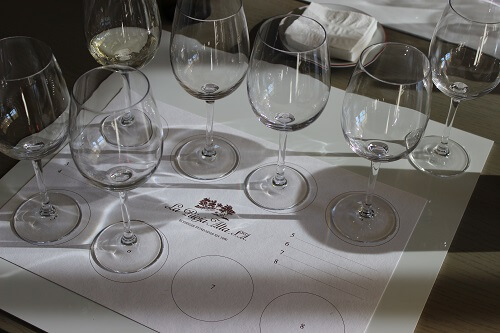 When so many wine drinkers do not have home cellars and so much fine wine is drunk too young as a result, it is good to know La Rioja Alta in Spain hold back their wines . Madeline Mehalko reports from their (very large) cellars.
Rioja is without a doubt the best known region in Spain, though Rioja as most consumers know it is generally reasonably priced, soft and easy-drinking. But it is an incredibly diverse region, and one which is capable of making wines of world-class elegance and refinement. In Rioja Alta, the more westerly part of the region which sits at higher altitudes, is where some of the finest wineries can be found.
The Avenida de Vizcaya in Haro, set within Rioja Alta, is like the Hollywood Walk of Fame for Rioja, every step you take you come across a different star. For a visitor, the place is a dream – towering, photo-ready wineries with ample tourist facilities, all conveniently right next door to each other so you can flit from tasting room to tasting room without needing look at a map (or get in the car). And the size of the places! When you consider the relatively small productions of some of the better quality estates, it's a wonder they need so much space (more on that later).
Despite the obvious time, money and effort spent making the wineries look great and keeping the tourists happy, the wines really are rather special. The best way to start to understand this is to go to the end of the Avenida de Vizcaya, park the car, walk in to the vineyards and make your way to the highest point. Here with the whole region spread out before you, you can see the USPs – unique selling points for those who aren't up on their marketing jargon. First – look at the river Ebro snaking its way through the landscape. Its undulating curves means it exerts its influence over vast swathes of the vineyards. Then look to the North – you can't see it, but the Atlantic is not far away, with its moderating effect on the climate. To the East is the Mediterranean Sea, more important in Rioja Baja than here, but it makes itself known nonetheless. South, a vast landmass, providing continental influences. Add to this mix high altitudes, chalky-clay soils, and an abundance of naturally growing fragrant wild herbs and you have quite the unique terroir.
La Rioja Alta was born out of a shared passion for this land. In 1890, five families joined together to form the Sociedad Vinicola de la Rioja Alta. These family names can be found in the names of some of the wines (Alberdi, Ardanza, Arana) and the chairman today is a fifth generation Alberdi. This year marked the 125th anniversary of the winery, and for 125 years quality has come before everything else. Only Reserva and Gran Reserva wines are made, and most of the wines in the range are not produced every year. The top wine, La Rioja Alta Gran Reserva 890 , for example, is only made on average only three times every ten years, when the conditions are exceptional. La Rioja Alta Gran Reserva 904, typically only four vintages in ten. The numbers of these cuvees mark significant dates for Rioja Alta – 1890, when the first wine was made, and 1904, when the five families officially formed a limited company. The '1' at the beginning of each was dropped to avoid confusion with the vintage on the label, and so cuvees 890 and 904 were born.
Back to those inexplicably large wineries. The reason they need so much space, is that unlike most other wine regions who tend to try and sell most of their production each year to fund and make space for the next vintage (sometimes even before the wine is put in to bottle a la en primeur), here they actually age the wine for you. For this, they need a lot of space. There are usually ten vintages or more sitting in barrels or bottles – that adds up to thousands of barrels and millions of bottles that need a home at any given time. We should be very grateful for this service; the economy in Spain isn't in the best situation and it selling the wine young would avoid this financial burden. But today when so many wine drinkers don't have cellars and so much vinous infanticide is committed as a result, it's great to know that the current vintages from wineries like Rioja Alta will have a degree of maturity and be entering its drinking window on purchase (but of course you can cellar them too).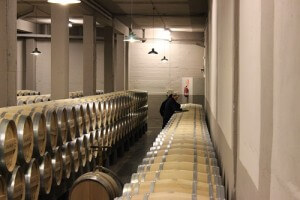 The style here is traditional with a modern edge. Local grape varieties are used, Tempranillo with a little Graciano and Mazuelo. The vineyards for the 904 and 890 surround the winery, vines of at least 40 years old set at 450 metres altitude. Unlike some of the more staunchly traditional wineries in the area, fermentations are done in stainless steel – this makes it much easier to control, and the wines end up with a clean precision. Barrels are made in-house from American oak with a low 'Rioja Alta' toast, and the 904 spends four years in barrel while the 890 spends six. The wines are incredibly fresh, silky and pure; tight in the first few years after they are released so they reward decanting to release their profound complexities. We are currently offering the 2005 La Rioja Alta Gran Reserva 904 and also have the 2004 Gran Reserva 904 both are stunning and ready to drink now. There are also some limited stocks of older vintages which we have managed to secure straight from the cellars of Rioja Alta – so no need to wait a decade or more to see how the wines age.