Alkina Wine Estates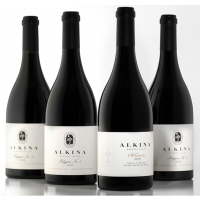 About Alkina Wine Estates
As noble a vinous quest as any in recent years, Argentine billionaire Alejandro Bulgheroni set out to establish a winery whose focus would be on the transparent expression of the finest Barossa terroir. A far-cry from heavy oak usage, massive extraction and emanating ripeness, the wines of his Alkina project are an altogether more Burgundian prospect. Already turning heads for doing exactly what they set out to do, redefining people's preconceived notions of Barossa as a region, we are thrilled to present three of the sublime wines from this exciting project.
Whilst its name translates to "moon" or "moonlight", Alkina has a decidedly terrestrial focus with a deep respect for the land and transparency of place. Founded as recently as 2015, the estate covers 60 hectares in total and has always been farmed following strict organic and biodynamic principles with the aim of nurturing beautiful micro-terroirs which are dubbed "Polygons".
Viniculture
Under the watchful eye of Alberto Antonini coupled with the expert knowledge of famed consultant Pedro Parra, each specific parcel of vines has developed thoroughly unique characteristics despite being as small as 0.3 hectares in some cases! Far from a painless process, however, Parra compiled one of the most detailed terroir analyses ever seen using Electro Conductivity Mapping Technology to identify suitable sites for the Polygons hidden amongst the 700-million-year-old soils.
Extremely low-intervention in their approach to winemaking with far more restrained use of wood than many of their more famous and established Barossa peers, the purity and balance of these wines is immediately evident. Significant use of concrete tulips, especially during fermentation, is deeply unusual in this part of the world, giving rise to a freshness practically unseen in the Valley.
Prices:
Year
Wine
Region
Format
Qty
Score
Price
Wishlist

Alkina Kin Field Red 2018 (3x150cl)

Inc. VAT: £166.07

2018
South Australia
3x150cl
2
-
Inc. VAT: £166.07

Alkina Old Quarter 2019 (1x150cl)

Inc. VAT: £143.35

2019
South Australia
1x150cl
4
-
Inc. VAT: £143.35

Alkina Old Quarter 2019 (6x75cl)

Inc. VAT: £426.47

2019
South Australia
6x75cl
8
-
Inc. VAT: £426.47

Alkina Polygon No. 1 Shiraz 2019 (1x150cl)

Inc. VAT: £415.75

2019
South Australia
1x150cl
3
98 (DC)

Read Review/Description

Inc. VAT: £415.75

Alkina Polygon No. 1 Shiraz 2019 (3x75cl)

Inc. VAT: £590.57

2019
South Australia
3x75cl
9
98 (DC)

Read Review/Description

Inc. VAT: £590.57

Alkina Polygon No. 3 Grenache 2018 (1x150cl)

Inc. VAT: £365.35

2018
South Australia
1x150cl
5
98 (WFW)

Read Review/Description

Inc. VAT: £365.35

Alkina Polygon No. 3 Grenache 2018 (3x75cl)

Inc. VAT: £548.04

2018
South Australia
3x75cl
8
98 (WFW)

Read Review/Description

Inc. VAT: £548.04

Alkina Polygon No. 5 Grenache 2018 (1x150cl)

Inc. VAT: £365.35

2018
South Australia
1x150cl
4
97 (WFW)

Read Review/Description

Inc. VAT: £365.35

Alkina Polygon No. 5 Grenache 2018 (3x75cl)

Inc. VAT: £548.04

2018
South Australia
3x75cl
10
97 (WFW)

Read Review/Description

Inc. VAT: £548.04
Year
Wine
Region
Format
Qty
Score
Price
Wishlist

Alkina Kin Field Red 2018 (3x150cl)

In Bond: £125.00

2018
South Australia
3x150cl
2
-
In Bond: £125.00

Alkina Old Quarter 2019 (1x150cl)

In Bond: £115.00

2019
South Australia
1x150cl
4
-
In Bond: £115.00

Alkina Old Quarter 2019 (6x75cl)

In Bond: £342.00

2019
South Australia
6x75cl
8
-
In Bond: £342.00

Alkina Polygon No. 1 Shiraz 2019 (1x150cl)

In Bond: £342.00

2019
South Australia
1x150cl
3
98 (DC)

Read Review/Description

In Bond: £342.00

Alkina Polygon No. 1 Shiraz 2019 (3x75cl)

In Bond: £485.44

2019
South Australia
3x75cl
9
98 (DC)

Read Review/Description

In Bond: £485.44

Alkina Polygon No. 3 Grenache 2018 (1x150cl)

In Bond: £300.00

2018
South Australia
1x150cl
5
98 (WFW)

Read Review/Description

In Bond: £300.00

Alkina Polygon No. 3 Grenache 2018 (3x75cl)

In Bond: £450.00

2018
South Australia
3x75cl
8
98 (WFW)

Read Review/Description

In Bond: £450.00

Alkina Polygon No. 5 Grenache 2018 (1x150cl)

In Bond: £300.00

2018
South Australia
1x150cl
4
97 (WFW)

Read Review/Description

In Bond: £300.00

Alkina Polygon No. 5 Grenache 2018 (3x75cl)

In Bond: £450.00

2018
South Australia
3x75cl
10
97 (WFW)

Read Review/Description

In Bond: £450.00