Álvaro Palacios
About Álvaro Palacios
The Palacios name is revered in the world of Spanish fine wine. The family's patriarch José Palacios Remondo started his Rioja winery in 1945, and with four of his nine children following in his footsteps, the dynasty lives on. His seventh child, son Álvaro Palacios put the acclaimed region of Priorat on the map with one of Spain's finest, most sought-after wines; the genre-defining L'Ermita.
Decanter Man of the Year (2015), Álvaro Palacios joined the hall of fame alongside winemaking legends; Robert Mondavi, Angelo Gaja & Serge Hochar. Having spent 2 years working at Petrus under Jean Pierre Moueix, before working alongside Rene Barbier, one of the biggest names in Priorat, Álvaro was well equipped when he started his own winery back in 1989.
Álvaro is "the dynamo and tour de force that has propelled Priorat to the forefront of the Spanish wine scene" – Luis Gutierrez, Wine Advocate. The scarcity and excellence of his flagship L'Ermita mean it comes at a premium, which is why it gives us great pleasure to offer the more affordable, and excitingly the highest-scoring vintage yet of Alvaro Palacios Priorat Finca Dofi 2019.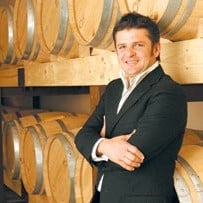 Name
Price Low
Price High
Year (Old)
Year (New)
Prices:
Product Name
Region
Qty
Score
Price

Catalunya
1
-

Inc. VAT

£314.98

Catalunya
1
-

Inc. VAT

£1,012.82

Who needs perfume when you have Les Aubaguetes? I swear I could smell the lavender planted around this 1.79ha vineyard in the wine. Sweet blueberry and blackberry fruit dominate and the concentration is incredible. The aromas are so bright, almost hedonistic, yet it is the mouthcoating sensation on the palate that is simply astonishing, like liquid coulis running through. As with all the 2018s, the freshness cuts through the palate bringing focus and precision. This is a wine of pure elegance and beauty. Drink 2024-2040.

More Info

Catalunya
1
-

Inc. VAT

£2,015.09

Catalunya
1
-

Inc. VAT

£891.14

Catalunya
2
96 (JS)

Inc. VAT

£248.89

James Suckling (96)

Subtle nose of dried rose petals, slate and hints of red cherries. Full body, a beautiful structure and a dense and harmonious texture. Single vineyard. So delicious now. Why wait?

More Info

Catalunya
1
96 (JS)

Inc. VAT

£590.44

James Suckling (96)

Subtle nose of dried rose petals, slate and hints of red cherries. Full body, a beautiful structure and a dense and harmonious texture. Single vineyard. So delicious now. Why wait?

More Info

Catalunya
3
97 (JS)

Inc. VAT

£283.61

James Suckling (97)

This is a very tight and fine-grained red with a compressed mouthfeel. The fruit comes through to a class and elegance. Such length. Ethereal structure. Unique. Drink or hold.

More Info

Catalunya
1
97 (JS)

Inc. VAT

£699.64

James Suckling (97)

This is a very tight and fine-grained red with a compressed mouthfeel. The fruit comes through to a class and elegance. Such length. Ethereal structure. Unique. Drink or hold.

More Info

Catalunya
1
96+ (WA)

Inc. VAT

£321.62

Wine Advocate (96+)

The origin of everything here and the first single-vineyard red, the 2018 Finca Dofí excels in 2018. Those 10 hectares planted 20 years ago in the village of Gratallops are mostly Garnacha, but the wine also has some 8% Cariñena and 2% white grapes. They all fermented after being destemmed and lightly crushed in oak vats with indigenous yeasts. The wine matured in large oak barrels (bocoyes and foudres) for 16 months. This is the refined version of the Gratallops (the vineyard is in the village!) but with an extra degree of depth and complexity, especially nuance and elegance, showcasing the captivating finesse and harmony of the vintage, which is a little in the style of the 2016 with more energy. I see that these 2018s are quite transparent and show the style of the zone, the iron soils, the dusty roads and the warmth of the soils; it's round and lush, spherical but with a spike of freshness. The élevage has been polished so as to render it almost invisible. This is drinkable now, and I think it's also going to age nicely in bottle and drink nicely throughout its life. 29,540 bottles produced. It was bottled in March 2020.

More Info

Catalunya
5
96+ (WA)

Inc. VAT

£590.44

Wine Advocate (96+)

The origin of everything here and the first single-vineyard red, the 2018 Finca Dofí excels in 2018. Those 10 hectares planted 20 years ago in the village of Gratallops are mostly Garnacha, but the wine also has some 8% Cariñena and 2% white grapes. They all fermented after being destemmed and lightly crushed in oak vats with indigenous yeasts. The wine matured in large oak barrels (bocoyes and foudres) for 16 months. This is the refined version of the Gratallops (the vineyard is in the village!) but with an extra degree of depth and complexity, especially nuance and elegance, showcasing the captivating finesse and harmony of the vintage, which is a little in the style of the 2016 with more energy. I see that these 2018s are quite transparent and show the style of the zone, the iron soils, the dusty roads and the warmth of the soils; it's round and lush, spherical but with a spike of freshness. The élevage has been polished so as to render it almost invisible. This is drinkable now, and I think it's also going to age nicely in bottle and drink nicely throughout its life. 29,540 bottles produced. It was bottled in March 2020.

More Info

Catalunya
1
97 (WA)

Inc. VAT

£552.04

Wine Advocate (97)

The single-vineyard red 2019 Finca Dofí comes from the 14 hectares of vines planted across three parajes (lieu-dits) in Gratallops. This year, it's 87% Garnacha, 12% Cariñena and 1% white grapes (Garnacha Blanca and Macabeo. It fermented in oak vats with indigenous yeasts and matured in large oak barrels (bocoyes and foudres) for 14 months. It's classy, elegant and fresh with very clean aromas and flavors, not lacking concentration or power. There is superb definition and purity here; it has to be the finest and most elegant Dofí to date. It has finer tannins and more elegance than La Baixada this year. The 2018 was fragrant and this has more clout but superb balance. These two vintages have been great for Dofí. I still remember the 2005, hard as nails then and what the wine is now—spherical and velvety. Dofí on a roll... It was bottled in May 2021, and 21,146 bottles were produced.

More Info

Catalunya
1
-

Inc. VAT

£239.54

Catalunya
1
94-96 (WA)

Inc. VAT

£303.89

Wine Advocate (94-96)

The blend of the 2021 Gratallops was higher in Cariñena than in the 2020 (25%), which resulted in a wine with a lower pH (3.37), the tendency that makes the 2021s more vibrant. They used some 40% full clusters for the fermentation (rather than adding the stems like in the past). The wine has acid berry freshness; and right now it's a bit difficult with the tannins and the acidity, but one more year of élevage should make it more polished. It should be long-lived and fresh. The expect some 17,300 bottles to be filled around April 2023.

More Info

Catalunya
1
91-93 (VN)

Inc. VAT

£713.05

Vinous (91-93)

Bright ruby. Highly nuanced aromas of blackcurrant, pungent minerals and spicy, toasty oak. Large-scaled yet light on its feet. Terrific fruit carries through to a very long, ripely tannic aftertaste. Kept fresh and lively by a flavor of licorice and very good acidity. A great showing for a vintage with a modest reputation for red wine in Spain. Palacios used more heavily toasted barrels following the rainy harvest of '97, but eschews charred oak in richer years like '98.

More Info

Catalunya
1
95-98 (VN)

Inc. VAT

£6,991.45

Vinous (95-98)

Bright medium ruby. An essence of berries on the nose; like a liqueur, with an almost medicinal suggestion of sheer concentration. Superripe and incredibly lush; as thick as this is, there's no heaviness thanks to its penetrating spiciness and solid backbone. Wonderfully perfumed in the mouth. Urgent finishing fruit currently hides the lush tannins. A wine of extraordinary length.

More Info

Catalunya
1
99 (WA)

Inc. VAT

£5,665.49

Wine Advocate (99)

The 2010 L'Ermita is approximately 90% Garnacha, 8% Carinena and 2% white grapes, mainly Garnacha Blanca, since that is the mix found in the vineyard, and it has been like this since the 2006 harvest. Every year the grapes are hand-picked and then the 45-odd people that take part in the harvest sit down and go through each and every bunch removing the grapes that are not pristine. So even if the harvest is late, there is no over ripeness in the wine, as all the raisined fruit is removed. The bunches, which are very small and loose, go through a sorting table and the selection is stricter. Nothing less than perfect makes it into the fermentation vats. I saw a beautiful video of the 2013 harvest, which happened later than ever, on November 5, which was breathtaking. Going back to the 2010, the grapes were picked on October 29, and the final yield was a tiny 7.8 hectoliters per hectare, which resulted in 1,254 bottles and a bunch of magnums (and bigger-sized bottles) from the 1.40 hectares of vines. The grapes fermented in oak vats and then aged for 16 months in new French oak barrels. The wine presents itself with an incredible freshness, the nose full of citric notes of blood orange (Alvaro talks about grapefruit), Mediterranean herbs, licorice, violets and aniseed, pure elegance and subtly, with electric, lively acidity (according to the technical data, it has a pH of 3.3, a figure far more common in whites than in reds), pungent flavors, and very good grip. Graceful, elegant, vibrant. The oak is imperceptible, fully integrated into the wine, both in the nose and the palate, as only the very best grapes in the world can do: this is a truly world-class wine, and one of the best (if not the best) L'Ermita ever produced. It's approachable now, but it should age and improve slowly and for a very long time. Drink 2014-2025+.

More Info

Catalunya
1
97-100 (WA)

Inc. VAT

£3,100.82

Wine Advocate (97-100)

As I saw in some of the other wines, there is a lot more Cariñena in the still unbottled 2016 L'Ermita than in the 2015. The varietal breakdown was approximately 85% Garnacha, 14% Cariñena and 1% white grapes—Garnacha Blanca, Macabeo and PX. The grapes are manually sorted and destemmed by the team that picks them and are put to ferment in an oak vat with the natural yeasts from the grapes. Malolactic was in barrique, which is where the wine was maturing when I tasted it. It has electric acidity that makes it vibrant, even if the nose might be a bit shy. I don't remember a vintage of L'Ermita with this concentration and acidity. We have to see how the élevage rounds it out, but this could be a very important vintage for L'Ermita. The expectation is to bottle some 2,000 bottles of this in May/June 2018.

More Info

Catalunya
2
99 (WA)

Inc. VAT

£2,649.62

Wine Advocate (99)

The flagship 2018 L'Ermita is already classified as Gran Vinya Classificada, the new category of grand cru vineyards from the Priorat appellation of origin. Like the 2017, the blend here is mostly Garnacha with about 20% Cariñena (the highest for this wine) and 2% of white grapes. It fermented with indigenous yeasts in oak vats with a maceration of 56 days and matured in oak barrels of different sizes for 14 months. The grapes were picked quite late but on the same date as the previous year, the 17th of October, because the vineyard is so regular. The wine is aromatic, intense and elegant, with a lifted nose and a high-pitched note of violet pastille, more refined than the Aubaguetes and Baixada. It is classical and proportioned, with contained and complex aromas and flavors and lots of energy, light in its feel but with inner power and strength. As with most great wines, it should develop nicely and for a long time in bottle but will drink well throughout its life. Grand vin, yes. 2,440 bottles were filled in April 2020.

More Info

Catalunya
1
-

Inc. VAT

£3,381.62

You can tell just what a leviathan the 2019 L'Ermita will be from the nose. Compelling, concentrated and complex with macerated raspberry and blueberry fruit with an edge of vanilla and heady spice. Even with this, the nose does not prepare you for how huge this wine is on the palate; a liquid red and black fruit bomb with melting tannins which dissolve instantaneously. The acidity is wonderfully present in this wine and this gives the body phenomenal lift and presence. With incredible power and poise, this L'Ermita will doubtless be worthy in time of the new Gran Vinya Classificada designation that its 2017 counterpart has just achieved.

More Info

Catalunya
1
-

Inc. VAT

£3,521.54

Catalunya
1
99-100 (WA)

Inc. VAT

£3,129.62

Wine Advocate (99-100)

The 2021 L'Ermita is a legend in the making, with 13.9% alcohol, the lowest ever, mind-boggling finesse and detail, purity, symmetry, elegance and great freshness that makes it vibrant with a low pH of 3.31 and 6.18 grams of acidity. These parameters should make it long-lived, and the wine is always going to be vibrant and develop citrus nose of grapefruit and orange peel. It's a powerful wine with plenty of energy, abundant tannins, even more fine and elegant than those from the 2020 I tasted next to it, and with great balance. It has a high percentage of Cariñena, much higher than the 2020, and comes down to 75% Garnacha, 24% Cariñena and 1% whites. Prices will be increased around 16%. They expect to produce some 2,800 bottles of this 2021 in April 2023.

More Info

Catalunya
1
-

Inc. VAT

£211.00

Catalunya
4
-

Inc. VAT

£422.47

Rioja
1
-

Inc. VAT

£2,217.64
Product Name
Region
Qty
Score
Price

Catalunya
1
-

In Bond

£224.00

Catalunya
1
-

In Bond

£836.00

Who needs perfume when you have Les Aubaguetes? I swear I could smell the lavender planted around this 1.79ha vineyard in the wine. Sweet blueberry and blackberry fruit dominate and the concentration is incredible. The aromas are so bright, almost hedonistic, yet it is the mouthcoating sensation on the palate that is simply astonishing, like liquid coulis running through. As with all the 2018s, the freshness cuts through the palate bringing focus and precision. This is a wine of pure elegance and beauty. Drink 2024-2040.

More Info

Catalunya
1
-

In Bond

£1,660.00

Catalunya
1
-

In Bond

£733.00

Catalunya
2
96 (JS)

In Bond

£201.00

James Suckling (96)

Subtle nose of dried rose petals, slate and hints of red cherries. Full body, a beautiful structure and a dense and harmonious texture. Single vineyard. So delicious now. Why wait?

More Info

Catalunya
1
96 (JS)

In Bond

£476.00

James Suckling (96)

Subtle nose of dried rose petals, slate and hints of red cherries. Full body, a beautiful structure and a dense and harmonious texture. Single vineyard. So delicious now. Why wait?

More Info

Catalunya
3
97 (JS)

In Bond

£231.00

James Suckling (97)

This is a very tight and fine-grained red with a compressed mouthfeel. The fruit comes through to a class and elegance. Such length. Ethereal structure. Unique. Drink or hold.

More Info

Catalunya
1
97 (JS)

In Bond

£567.00

James Suckling (97)

This is a very tight and fine-grained red with a compressed mouthfeel. The fruit comes through to a class and elegance. Such length. Ethereal structure. Unique. Drink or hold.

More Info

Catalunya
1
96+ (WA)

In Bond

£260.00

Wine Advocate (96+)

The origin of everything here and the first single-vineyard red, the 2018 Finca Dofí excels in 2018. Those 10 hectares planted 20 years ago in the village of Gratallops are mostly Garnacha, but the wine also has some 8% Cariñena and 2% white grapes. They all fermented after being destemmed and lightly crushed in oak vats with indigenous yeasts. The wine matured in large oak barrels (bocoyes and foudres) for 16 months. This is the refined version of the Gratallops (the vineyard is in the village!) but with an extra degree of depth and complexity, especially nuance and elegance, showcasing the captivating finesse and harmony of the vintage, which is a little in the style of the 2016 with more energy. I see that these 2018s are quite transparent and show the style of the zone, the iron soils, the dusty roads and the warmth of the soils; it's round and lush, spherical but with a spike of freshness. The élevage has been polished so as to render it almost invisible. This is drinkable now, and I think it's also going to age nicely in bottle and drink nicely throughout its life. 29,540 bottles produced. It was bottled in March 2020.

More Info

Catalunya
5
96+ (WA)

In Bond

£476.00

Wine Advocate (96+)

The origin of everything here and the first single-vineyard red, the 2018 Finca Dofí excels in 2018. Those 10 hectares planted 20 years ago in the village of Gratallops are mostly Garnacha, but the wine also has some 8% Cariñena and 2% white grapes. They all fermented after being destemmed and lightly crushed in oak vats with indigenous yeasts. The wine matured in large oak barrels (bocoyes and foudres) for 16 months. This is the refined version of the Gratallops (the vineyard is in the village!) but with an extra degree of depth and complexity, especially nuance and elegance, showcasing the captivating finesse and harmony of the vintage, which is a little in the style of the 2016 with more energy. I see that these 2018s are quite transparent and show the style of the zone, the iron soils, the dusty roads and the warmth of the soils; it's round and lush, spherical but with a spike of freshness. The élevage has been polished so as to render it almost invisible. This is drinkable now, and I think it's also going to age nicely in bottle and drink nicely throughout its life. 29,540 bottles produced. It was bottled in March 2020.

More Info

Catalunya
1
97 (WA)

In Bond

£444.00

Wine Advocate (97)

The single-vineyard red 2019 Finca Dofí comes from the 14 hectares of vines planted across three parajes (lieu-dits) in Gratallops. This year, it's 87% Garnacha, 12% Cariñena and 1% white grapes (Garnacha Blanca and Macabeo. It fermented in oak vats with indigenous yeasts and matured in large oak barrels (bocoyes and foudres) for 14 months. It's classy, elegant and fresh with very clean aromas and flavors, not lacking concentration or power. There is superb definition and purity here; it has to be the finest and most elegant Dofí to date. It has finer tannins and more elegance than La Baixada this year. The 2018 was fragrant and this has more clout but superb balance. These two vintages have been great for Dofí. I still remember the 2005, hard as nails then and what the wine is now—spherical and velvety. Dofí on a roll... It was bottled in May 2021, and 21,146 bottles were produced.

More Info

Catalunya
1
-

In Bond

£190.00

Catalunya
1
94-96 (WA)

In Bond

£234.00

Wine Advocate (94-96)

The blend of the 2021 Gratallops was higher in Cariñena than in the 2020 (25%), which resulted in a wine with a lower pH (3.37), the tendency that makes the 2021s more vibrant. They used some 40% full clusters for the fermentation (rather than adding the stems like in the past). The wine has acid berry freshness; and right now it's a bit difficult with the tannins and the acidity, but one more year of élevage should make it more polished. It should be long-lived and fresh. The expect some 17,300 bottles to be filled around April 2023.

More Info

Catalunya
1
91-93 (VN)

In Bond

£591.00

Vinous (91-93)

Bright ruby. Highly nuanced aromas of blackcurrant, pungent minerals and spicy, toasty oak. Large-scaled yet light on its feet. Terrific fruit carries through to a very long, ripely tannic aftertaste. Kept fresh and lively by a flavor of licorice and very good acidity. A great showing for a vintage with a modest reputation for red wine in Spain. Palacios used more heavily toasted barrels following the rainy harvest of '97, but eschews charred oak in richer years like '98.

More Info

Catalunya
1
95-98 (VN)

In Bond

£5,823.00

Vinous (95-98)

Bright medium ruby. An essence of berries on the nose; like a liqueur, with an almost medicinal suggestion of sheer concentration. Superripe and incredibly lush; as thick as this is, there's no heaviness thanks to its penetrating spiciness and solid backbone. Wonderfully perfumed in the mouth. Urgent finishing fruit currently hides the lush tannins. A wine of extraordinary length.

More Info

Catalunya
1
99 (WA)

In Bond

£4,702.00

Wine Advocate (99)

The 2010 L'Ermita is approximately 90% Garnacha, 8% Carinena and 2% white grapes, mainly Garnacha Blanca, since that is the mix found in the vineyard, and it has been like this since the 2006 harvest. Every year the grapes are hand-picked and then the 45-odd people that take part in the harvest sit down and go through each and every bunch removing the grapes that are not pristine. So even if the harvest is late, there is no over ripeness in the wine, as all the raisined fruit is removed. The bunches, which are very small and loose, go through a sorting table and the selection is stricter. Nothing less than perfect makes it into the fermentation vats. I saw a beautiful video of the 2013 harvest, which happened later than ever, on November 5, which was breathtaking. Going back to the 2010, the grapes were picked on October 29, and the final yield was a tiny 7.8 hectoliters per hectare, which resulted in 1,254 bottles and a bunch of magnums (and bigger-sized bottles) from the 1.40 hectares of vines. The grapes fermented in oak vats and then aged for 16 months in new French oak barrels. The wine presents itself with an incredible freshness, the nose full of citric notes of blood orange (Alvaro talks about grapefruit), Mediterranean herbs, licorice, violets and aniseed, pure elegance and subtly, with electric, lively acidity (according to the technical data, it has a pH of 3.3, a figure far more common in whites than in reds), pungent flavors, and very good grip. Graceful, elegant, vibrant. The oak is imperceptible, fully integrated into the wine, both in the nose and the palate, as only the very best grapes in the world can do: this is a truly world-class wine, and one of the best (if not the best) L'Ermita ever produced. It's approachable now, but it should age and improve slowly and for a very long time. Drink 2014-2025+.

More Info

Catalunya
1
97-100 (WA)

In Bond

£2,576.00

Wine Advocate (97-100)

As I saw in some of the other wines, there is a lot more Cariñena in the still unbottled 2016 L'Ermita than in the 2015. The varietal breakdown was approximately 85% Garnacha, 14% Cariñena and 1% white grapes—Garnacha Blanca, Macabeo and PX. The grapes are manually sorted and destemmed by the team that picks them and are put to ferment in an oak vat with the natural yeasts from the grapes. Malolactic was in barrique, which is where the wine was maturing when I tasted it. It has electric acidity that makes it vibrant, even if the nose might be a bit shy. I don't remember a vintage of L'Ermita with this concentration and acidity. We have to see how the élevage rounds it out, but this could be a very important vintage for L'Ermita. The expectation is to bottle some 2,000 bottles of this in May/June 2018.

More Info

Catalunya
2
99 (WA)

In Bond

£2,200.00

Wine Advocate (99)

The flagship 2018 L'Ermita is already classified as Gran Vinya Classificada, the new category of grand cru vineyards from the Priorat appellation of origin. Like the 2017, the blend here is mostly Garnacha with about 20% Cariñena (the highest for this wine) and 2% of white grapes. It fermented with indigenous yeasts in oak vats with a maceration of 56 days and matured in oak barrels of different sizes for 14 months. The grapes were picked quite late but on the same date as the previous year, the 17th of October, because the vineyard is so regular. The wine is aromatic, intense and elegant, with a lifted nose and a high-pitched note of violet pastille, more refined than the Aubaguetes and Baixada. It is classical and proportioned, with contained and complex aromas and flavors and lots of energy, light in its feel but with inner power and strength. As with most great wines, it should develop nicely and for a long time in bottle but will drink well throughout its life. Grand vin, yes. 2,440 bottles were filled in April 2020.

More Info

Catalunya
1
-

In Bond

£2,810.00

You can tell just what a leviathan the 2019 L'Ermita will be from the nose. Compelling, concentrated and complex with macerated raspberry and blueberry fruit with an edge of vanilla and heady spice. Even with this, the nose does not prepare you for how huge this wine is on the palate; a liquid red and black fruit bomb with melting tannins which dissolve instantaneously. The acidity is wonderfully present in this wine and this gives the body phenomenal lift and presence. With incredible power and poise, this L'Ermita will doubtless be worthy in time of the new Gran Vinya Classificada designation that its 2017 counterpart has just achieved.

More Info

Catalunya
1
-

In Bond

£2,925.00

Catalunya
1
99-100 (WA)

In Bond

£2,600.00

Wine Advocate (99-100)

The 2021 L'Ermita is a legend in the making, with 13.9% alcohol, the lowest ever, mind-boggling finesse and detail, purity, symmetry, elegance and great freshness that makes it vibrant with a low pH of 3.31 and 6.18 grams of acidity. These parameters should make it long-lived, and the wine is always going to be vibrant and develop citrus nose of grapefruit and orange peel. It's a powerful wine with plenty of energy, abundant tannins, even more fine and elegant than those from the 2020 I tasted next to it, and with great balance. It has a high percentage of Cariñena, much higher than the 2020, and comes down to 75% Garnacha, 24% Cariñena and 1% whites. Prices will be increased around 16%. They expect to produce some 2,800 bottles of this 2021 in April 2023.

More Info

Catalunya
1
-

In Bond

£163.00

Catalunya
4
-

In Bond

£320.00

Rioja
1
-

In Bond

£1,832.00
Name
Price Low
Price High
Year (Old)
Year (New)