Casa Lapostolle
About Casa Lapostolle
Casa Lapostolle is the Chilean project of the Marnier Lapostolle family; makers of the famous Grand Marnier liqueur. They have brought their Old World sensibility to Chile's top wine regions and the result has been a sterling success. With their flagship Clos Apalta, they have created one of only two southern hemisphere wines to be awarded the top spot on Decanter's Top 100 list. The other - Penfolds Grange 1995, so it sits in good company.
The estate was founded in 1994 by Alexandra Marnier-Lapostolle, the great-granddaughter of the creator of the Grand Marnier. Seeking to explore new frontiers, Alexandra found herself captivated by the magic of the Apalta Valley located in Colchagua, where century-old ungrafted vines basked undisturbed in the quiet golden light. The 60-hectare plot enjoys a microclimate that differs significantly from the rest of Chile, allowing grapes to reach optimal maturity.
The estate produces 2 wines – the Clos Apalta and a second wine, Le Petit Clos. The Clos Apalta has Carménère as the dominant component of the blend, with Cabernet Sauvignon, Merlot and sometimes Petit Verdot making up the rest. Aided by famed consultant Michel Rolland, Clos Apalta quickly gained recognition, with Robert Parker calling the first vintage an "extraordinary wine" and that "serious wine tasters should give it a try".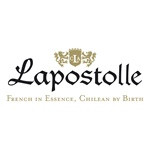 Prices:
Product Name
Region
Qty
Score
Price
Central Valley
1
100 (JS)

Inc. VAT

£719.27

James Suckling (100)

There is a subtle complexity on the nose with currant, berry, fresh herb and wet earth aromas. Cut fresh flowers, too. Full body, dense and powerful. Incredible character here with such purity and polish. It goes on for minutes. Formed, sculptured yet soulful. A monumental wine for Chile. Unbelievable. More powerful than the 2014 which was 100 points. A blend of 46% carmenere, 30% cabernet sauvignon, 19% merlot and 5% cabernet franc. Made from biodynamically grown grapes. Better in 2022.

More Info

Central Valley
10
99 (JS)

Inc. VAT

£608.87

James Suckling (99)

This is really focused and refined with fantastic dried flowers and dark berries. Dried-lavender and mint undertones. Medium-to full-bodied with refined and polished tannins that are all together and so focused. Really integrated and melted together on the palate. Compact and very linear. Please give this two or three years to come completely together, but it's already breathtaking. Better to drink after 2022.

More Info

Central Valley
3
100 (JS)

Inc. VAT

£661.07

James Suckling (100)

What a stunning nose of crushed berries, fresh flowers, sandalwood and light vineyard dust. Black olives, too. Very complex. Full-bodied with a beautiful, dense palate of blackberries, chocolate, walnuts and cigar box. Fantastic length and composure. The tannin just rolls over the palate. Very structured. The most classically structured wine ever from here. Goes on for minutes. Outrageous and so polished. A blend of 48% carmenere, 26% cabernet sauvignon, 25% merlot and 1% petit verdot. Try after 2025.

More Info

Central Valley
10
98 (JS)

Inc. VAT

£617.27

James Suckling (98)

So aromatic and fresh with dried flowers, sweet tobacco and hints of straw. Red fruit, cloves and green peppercorns. Medium-to full-bodied with fine tannins that are very fresh and refined. Fine, silky and beautiful. Hints of minerals and granite to the dark fruit. Such gorgeous length and beauty. 64% carmenere, 18% cabernet franc and 18% merlot. Extremely long and poised. Cooler wine. From biodynamically grown grapes. Delicious to drink already, but another three to four years will make it even better.

More Info

Central Valley
10
99 (JS)

Inc. VAT

£686.87

James Suckling (99)

A generous array of ripe black and blue fruit with pink peppercorns, green olives, dried flowers, toffee and chocolate orange. It's full-bodied with firm, creamy and velvety tannins. Long and polished. Lovely salted caramel and olives at the end. Keeps going. Unfolds on the finish. 70% carmenere, 18% merlot, 8% cabernet sauvignon and 4% petit verdot. Drink or hold.

More Info

Central Valley
15
96 (JS)

Inc. VAT

£179.35

James Suckling (96)

A juicy and delicious second wine from Clos Apalta. Beautiful, ripe and delicious with dark berries and mushrooms. Full-bodied and very balanced with complex walnut, spice and berry character. Dark chocolate and hazelnuts at the finish. Drinkable now, but better in 2022.

More Info

Central Valley
1
91 (VN)

Inc. VAT

£217.67

Vinous (91)

The 2017 Red Blend Le Petit Clos is a blend of 68% Cabernet Sauvignon, 16% Carménère, 9% Cabernet Franc, 5% Merlot and 2% Petit Verdot from Apalta, Colchagua, aged for six months in new oak before moving on to used barrels for 16 months. Violet-hued with a brick-dust sheen. The ripe nose offers black currant and blackberry jam with a hint of bay leaf. In the mouth it's intense with a lick of alcohol that intensifies the firm tannins, which become concentrated without being overbearing. Pleasant and long-lasting, this wine is defined by the warmer year.

More Info

Central Valley
2
94 (VN)

Inc. VAT

£241.07

Vinous (94)

The 2018 Le Petit Clos is a blend of 53% Carménère, 32% Cabernet Sauvignon, 12% Merlot and 3% Petit Verdot from Apalta, Colchagua. Dark garnet in hue. The complex nose offers plum jam, hints of smoke, herbs and pepper against a backdrop of cigar box and graphite. A ripe, broad, full-bodied red with precise acidity and a juicy, grippy flow (quite accomplished for the style), it ends with an intense, ripe finish. A red to hold on to.

More Info

Central Valley
10
95 (JS)

Inc. VAT

£294.47

James Suckling (95)

Aromatic and herbal nose of thyme, bay leaves, currants, blackberries, licorice and pomelo pith. Medium-bodied with a fleshy, delicious and open palate. Ripe tannins. Plush and caressing finish. 49% carmenere, 30% merlot, 18% cabernet sauvignon and 3% petit verdot. Drink now or hold.

More Info
Product Name
Region
Qty
Score
Price
Central Valley
1
100 (JS)

In Bond

£586.00

James Suckling (100)

There is a subtle complexity on the nose with currant, berry, fresh herb and wet earth aromas. Cut fresh flowers, too. Full body, dense and powerful. Incredible character here with such purity and polish. It goes on for minutes. Formed, sculptured yet soulful. A monumental wine for Chile. Unbelievable. More powerful than the 2014 which was 100 points. A blend of 46% carmenere, 30% cabernet sauvignon, 19% merlot and 5% cabernet franc. Made from biodynamically grown grapes. Better in 2022.

More Info

Central Valley
10
99 (JS)

In Bond

£494.00

James Suckling (99)

This is really focused and refined with fantastic dried flowers and dark berries. Dried-lavender and mint undertones. Medium-to full-bodied with refined and polished tannins that are all together and so focused. Really integrated and melted together on the palate. Compact and very linear. Please give this two or three years to come completely together, but it's already breathtaking. Better to drink after 2022.

More Info

Central Valley
3
100 (JS)

In Bond

£537.50

James Suckling (100)

What a stunning nose of crushed berries, fresh flowers, sandalwood and light vineyard dust. Black olives, too. Very complex. Full-bodied with a beautiful, dense palate of blackberries, chocolate, walnuts and cigar box. Fantastic length and composure. The tannin just rolls over the palate. Very structured. The most classically structured wine ever from here. Goes on for minutes. Outrageous and so polished. A blend of 48% carmenere, 26% cabernet sauvignon, 25% merlot and 1% petit verdot. Try after 2025.

More Info

Central Valley
10
98 (JS)

In Bond

£501.00

James Suckling (98)

So aromatic and fresh with dried flowers, sweet tobacco and hints of straw. Red fruit, cloves and green peppercorns. Medium-to full-bodied with fine tannins that are very fresh and refined. Fine, silky and beautiful. Hints of minerals and granite to the dark fruit. Such gorgeous length and beauty. 64% carmenere, 18% cabernet franc and 18% merlot. Extremely long and poised. Cooler wine. From biodynamically grown grapes. Delicious to drink already, but another three to four years will make it even better.

More Info

Central Valley
10
99 (JS)

In Bond

£559.00

James Suckling (99)

A generous array of ripe black and blue fruit with pink peppercorns, green olives, dried flowers, toffee and chocolate orange. It's full-bodied with firm, creamy and velvety tannins. Long and polished. Lovely salted caramel and olives at the end. Keeps going. Unfolds on the finish. 70% carmenere, 18% merlot, 8% cabernet sauvignon and 4% petit verdot. Drink or hold.

More Info

Central Valley
15
96 (JS)

In Bond

£145.00

James Suckling (96)

A juicy and delicious second wine from Clos Apalta. Beautiful, ripe and delicious with dark berries and mushrooms. Full-bodied and very balanced with complex walnut, spice and berry character. Dark chocolate and hazelnuts at the finish. Drinkable now, but better in 2022.

More Info

Central Valley
1
91 (VN)

In Bond

£168.00

Vinous (91)

The 2017 Red Blend Le Petit Clos is a blend of 68% Cabernet Sauvignon, 16% Carménère, 9% Cabernet Franc, 5% Merlot and 2% Petit Verdot from Apalta, Colchagua, aged for six months in new oak before moving on to used barrels for 16 months. Violet-hued with a brick-dust sheen. The ripe nose offers black currant and blackberry jam with a hint of bay leaf. In the mouth it's intense with a lick of alcohol that intensifies the firm tannins, which become concentrated without being overbearing. Pleasant and long-lasting, this wine is defined by the warmer year.

More Info

Central Valley
2
94 (VN)

In Bond

£187.50

Vinous (94)

The 2018 Le Petit Clos is a blend of 53% Carménère, 32% Cabernet Sauvignon, 12% Merlot and 3% Petit Verdot from Apalta, Colchagua. Dark garnet in hue. The complex nose offers plum jam, hints of smoke, herbs and pepper against a backdrop of cigar box and graphite. A ripe, broad, full-bodied red with precise acidity and a juicy, grippy flow (quite accomplished for the style), it ends with an intense, ripe finish. A red to hold on to.

More Info

Central Valley
10
95 (JS)

In Bond

£232.00

James Suckling (95)

Aromatic and herbal nose of thyme, bay leaves, currants, blackberries, licorice and pomelo pith. Medium-bodied with a fleshy, delicious and open palate. Ripe tannins. Plush and caressing finish. 49% carmenere, 30% merlot, 18% cabernet sauvignon and 3% petit verdot. Drink now or hold.

More Info