Ceretto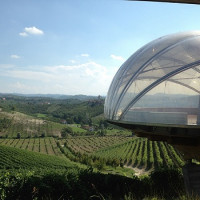 About Ceretto
Founded in the 1930s by Riccardo Ceretto, the great man's eponymous "azienda vinicola" did not own any vineyards throughout its formative years, instead of focusing singularly on the vinification of grapes purchased from growers across the region.
Taking the youthful boldness and vision, Riccardo's sons embarked on a project of ambitious purchasing. In the 1960s, Bruno and Marcello were highly attuned to the winds of change, which would see a deepened appreciation for terroir in all its glorious subtly and peculiarities.
The 1960s saw the brothers begin their epic Odyssey of mapping, studying and finally purchasing swathes of the greatest vineyards available. Truly avant-garde in the region, this foresight has paid dividends when one considers both the extent of Ceretto holdings and the sublime wines crafted from these individual terroirs. Neither brother left the region after their great expansion – remarkably, 2020 saw Marcello celebrate his 60th harvest amongst the vines in the heat, rain and wind shoulder to shoulder with fellow pickers.
Viniculture
In Barbaresco, the "Queen" to Barolo's "King", Ceretto owns and sources grapes from; Asili, famed for its silky tannins - Pajoré, a high-altitude limestone site in Treiso - Rabajà, with its dark fruits and muscular structure and Santo Stefano, arguably the single greatest Barbaresco vineyard of them all.
A model of exceptional management, the third generation of Ceretto vignerons have inherited a second Eden planted with transcendent vines in the shadow of the mountains – a testament to this philosophy, the entire range of Ceretto wines is certified organic as of 2015.
Prices:
Year
Wine
Region
Format
Qty
Score
Price
Wishlist

Ceretto (Monsordo Bernardina) Barbera d'Alba Piana 2015 (6x75cl)

Inc. VAT: £239.27

2015
Piedmont
6x75cl
1
-
Inc. VAT: £239.27

Ceretto (Monsordo Bernardina) Barbera d'Alba Piana 2020 (6x75cl)

Inc. VAT: £223.67

2020
Piedmont
6x75cl
2
-
Inc. VAT: £223.67

Ceretto Barbaresco 2016 (6x75cl)

Inc. VAT: £421.67

2016
Piedmont
6x75cl
3
92 (VN)

Read Review/Description

Inc. VAT: £421.67

Ceretto Barbaresco 2018 (6x75cl)

Inc. VAT: £295.67

2018
Piedmont
6x75cl
9
89 (VN)

Read Review/Description

Inc. VAT: £295.67

Ceretto Barbaresco 2019 (6x75cl)

Inc. VAT: £322.07

2019
Piedmont
6x75cl
20
90-92 (VN)

Read Review/Description

Inc. VAT: £322.07

Ceretto Barolo 2016 (6x75cl)

Inc. VAT: £292.07

2016
Piedmont
6x75cl
1
95+ (WA)

Read Review/Description

Inc. VAT: £292.07

Ceretto Barolo 2017 (6x75cl)

Inc. VAT: £368.87

2017
Piedmont
6x75cl
10
90 (VN)

Read Review/Description

Inc. VAT: £368.87

Ceretto Barolo 2018 (6x75cl)

Inc. VAT: £368.87

2018
Piedmont
6x75cl
3
88-90 (VN)

Read Review/Description

Inc. VAT: £368.87

Ceretto Barolo Bricco Rocche 1999 (1x150cl)

Inc. VAT: £242.95

1999
Piedmont
1x150cl
3
92 (VN)

Read Review/Description

Inc. VAT: £242.95

Ceretto Barolo Bricco Rocche 2016 (6x75cl)

Inc. VAT: £1,096.06

2016
Piedmont
6x75cl
1
98+ (WA)

Read Review/Description

Inc. VAT: £1,096.06

Ceretto Barolo Bricco Rocche 2017 (1x150cl)

2017
Piedmont
1x150cl
-
-

£285 - £314

Ceretto Barolo Bricco Rocche 2017 (6x75cl)

2017
Piedmont
6x75cl
-
-

£760 - £836

Ceretto Barolo Bricco Rocche 2018 (6x75cl)

Inc. VAT: £1,062.47

2018
Piedmont
6x75cl
2
95 (JS)

Read Review/Description

Inc. VAT: £1,062.47

Ceretto Barolo Brunate 2013 (6x75cl)

Inc. VAT: £778.07

2013
Piedmont
6x75cl
1
96 (VN)

Read Review/Description

Inc. VAT: £778.07

Ceretto Barolo Brunate 2016 (6x75cl)

Inc. VAT: £713.27

2016
Piedmont
6x75cl
1
97 (WA)

Read Review/Description

Inc. VAT: £713.27

Ceretto Barolo Brunate 2017 (1x150cl)

2017
Piedmont
1x150cl
-
17+ (JR)

Read Review/Description

£142 - £156

Ceretto Barolo Brunate 2017 (6x75cl)

Inc. VAT: £756.47

2017
Piedmont
6x75cl
3
17+ (JR)

Read Review/Description

Inc. VAT: £756.47

Ceretto Barolo Brunate 2018 (6x75cl)

Inc. VAT: £592.07

2018
Piedmont
6x75cl
20
95 (WA)

Read Review/Description

Inc. VAT: £592.07

Ceretto Barolo Cannubi San Lorenzo 2010 (1x150cl)

Inc. VAT: £1,223.35

2010
Piedmont
1x150cl
1
-
Inc. VAT: £1,223.35

Ceretto Barolo Cannubi San Lorenzo 2011 (1x150cl)

Inc. VAT: £1,532.95

2011
Piedmont
1x150cl
1
-
Inc. VAT: £1,532.95

Ceretto Barolo Prapo 2015 (1x150cl)

Inc. VAT: £269.35

2015
Piedmont
1x150cl
1
95+ (WA)

Read Review/Description

Inc. VAT: £269.35

Ceretto Barolo Prapo 2015 (1x300cl)

Inc. VAT: £621.52

2015
Piedmont
1x300cl
1
95+ (WA)

Read Review/Description

Inc. VAT: £621.52

Ceretto Barolo Prapo 2017 (1x150cl)

2017
Piedmont
1x150cl
-
96 (JS)

Read Review/Description

£163 - £180

Ceretto Bricco Asili Barbaresco Asili 1998 (6x75cl)

Inc. VAT: £593.27

1998
Piedmont
6x75cl
7
89 (WA)

Read Review/Description

Inc. VAT: £593.27

Ceretto Bricco Asili Barbaresco Asili 2006 (1x150cl)

Inc. VAT: £1,219.75

2006
Piedmont
1x150cl
1
92 (VN)

Read Review/Description

Inc. VAT: £1,219.75

Ceretto Bricco Asili Barbaresco Asili 2018 (6x75cl)

Inc. VAT: £908.87

2018
Piedmont
6x75cl
1
94 (VN)

Read Review/Description

Inc. VAT: £908.87

Ceretto Bricco Asili Barbaresco Asili 2019 (6x75cl)

Inc. VAT: £894.47

2019
Piedmont
6x75cl
1
95 (VN)

Read Review/Description

Inc. VAT: £894.47

Ceretto Bricco Asili Bernardot Barbaresco 2018 (6x75cl)

Inc. VAT: £619.67

2018
Piedmont
6x75cl
2
92 (VN)

Read Review/Description

Inc. VAT: £619.67

Ceretto Bricco Asili Bernardot Barbaresco 2019 (6x75cl)

Inc. VAT: £638.87

2019
Piedmont
6x75cl
1
94 (VN)

Read Review/Description

Inc. VAT: £638.87
Year
Wine
Region
Format
Qty
Score
Price
Wishlist

Ceretto (Monsordo Bernardina) Barbera d'Alba Piana 2015 (6x75cl)

In Bond: £186.00

2015
Piedmont
6x75cl
1
-
In Bond: £186.00

Ceretto (Monsordo Bernardina) Barbera d'Alba Piana 2020 (6x75cl)

In Bond: £173.00

2020
Piedmont
6x75cl
2
-
In Bond: £173.00

Ceretto Barbaresco 2016 (6x75cl)

In Bond: £338.00

2016
Piedmont
6x75cl
3
92 (VN)

Read Review/Description

In Bond: £338.00

Ceretto Barbaresco 2018 (6x75cl)

In Bond: £233.00

2018
Piedmont
6x75cl
9
89 (VN)

Read Review/Description

In Bond: £233.00

Ceretto Barbaresco 2019 (6x75cl)

In Bond: £255.00

2019
Piedmont
6x75cl
20
90-92 (VN)

Read Review/Description

In Bond: £255.00

Ceretto Barolo 2016 (6x75cl)

In Bond: £230.00

2016
Piedmont
6x75cl
1
95+ (WA)

Read Review/Description

In Bond: £230.00

Ceretto Barolo 2017 (6x75cl)

In Bond: £294.00

2017
Piedmont
6x75cl
10
90 (VN)

Read Review/Description

In Bond: £294.00

Ceretto Barolo 2018 (6x75cl)

In Bond: £294.00

2018
Piedmont
6x75cl
3
88-90 (VN)

Read Review/Description

In Bond: £294.00

Ceretto Barolo Bricco Rocche 1999 (1x150cl)

In Bond: £198.00

1999
Piedmont
1x150cl
3
92 (VN)

Read Review/Description

In Bond: £198.00

Ceretto Barolo Bricco Rocche 2016 (6x75cl)

In Bond: £899.99

2016
Piedmont
6x75cl
1
98+ (WA)

Read Review/Description

In Bond: £899.99

Ceretto Barolo Bricco Rocche 2017 (1x150cl)

2017
Piedmont
1x150cl
-
-

£285 - £314

Ceretto Barolo Bricco Rocche 2017 (6x75cl)

2017
Piedmont
6x75cl
-
-

£760 - £836

Ceretto Barolo Bricco Rocche 2018 (6x75cl)

In Bond: £872.00

2018
Piedmont
6x75cl
2
95 (JS)

Read Review/Description

In Bond: £872.00

Ceretto Barolo Brunate 2013 (6x75cl)

In Bond: £635.00

2013
Piedmont
6x75cl
1
96 (VN)

Read Review/Description

In Bond: £635.00

Ceretto Barolo Brunate 2016 (6x75cl)

In Bond: £581.00

2016
Piedmont
6x75cl
1
97 (WA)

Read Review/Description

In Bond: £581.00

Ceretto Barolo Brunate 2017 (1x150cl)

2017
Piedmont
1x150cl
-
17+ (JR)

Read Review/Description

£142 - £156

Ceretto Barolo Brunate 2017 (6x75cl)

In Bond: £617.00

2017
Piedmont
6x75cl
3
17+ (JR)

Read Review/Description

In Bond: £617.00

Ceretto Barolo Brunate 2018 (6x75cl)

In Bond: £480.00

2018
Piedmont
6x75cl
20
95 (WA)

Read Review/Description

In Bond: £480.00

Ceretto Barolo Cannubi San Lorenzo 2010 (1x150cl)

In Bond: £1,015.00

2010
Piedmont
1x150cl
1
-
In Bond: £1,015.00

Ceretto Barolo Cannubi San Lorenzo 2011 (1x150cl)

In Bond: £1,273.00

2011
Piedmont
1x150cl
1
-
In Bond: £1,273.00

Ceretto Barolo Prapo 2015 (1x150cl)

In Bond: £220.00

2015
Piedmont
1x150cl
1
95+ (WA)

Read Review/Description

In Bond: £220.00

Ceretto Barolo Prapo 2015 (1x300cl)

In Bond: £509.00

2015
Piedmont
1x300cl
1
95+ (WA)

Read Review/Description

In Bond: £509.00

Ceretto Barolo Prapo 2017 (1x150cl)

2017
Piedmont
1x150cl
-
96 (JS)

Read Review/Description

£163 - £180

Ceretto Bricco Asili Barbaresco Asili 1998 (6x75cl)

In Bond: £481.00

1998
Piedmont
6x75cl
7
89 (WA)

Read Review/Description

In Bond: £481.00

Ceretto Bricco Asili Barbaresco Asili 2006 (1x150cl)

In Bond: £1,012.00

2006
Piedmont
1x150cl
1
92 (VN)

Read Review/Description

In Bond: £1,012.00

Ceretto Bricco Asili Barbaresco Asili 2018 (6x75cl)

In Bond: £744.00

2018
Piedmont
6x75cl
1
94 (VN)

Read Review/Description

In Bond: £744.00

Ceretto Bricco Asili Barbaresco Asili 2019 (6x75cl)

In Bond: £732.00

2019
Piedmont
6x75cl
1
95 (VN)

Read Review/Description

In Bond: £732.00

Ceretto Bricco Asili Bernardot Barbaresco 2018 (6x75cl)

In Bond: £503.00

2018
Piedmont
6x75cl
2
92 (VN)

Read Review/Description

In Bond: £503.00

Ceretto Bricco Asili Bernardot Barbaresco 2019 (6x75cl)

In Bond: £519.00

2019
Piedmont
6x75cl
1
94 (VN)

Read Review/Description

In Bond: £519.00