Château de Saint Cosme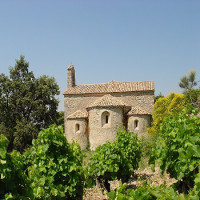 About Château Saint Cosme
Château de Saint Cosme is a best-kept secret for many wine trade insiders, a hugely respected and historic Southern Rhône producer, the Barruol family have called the beautiful appellation of Gigondas home for nearly 500 years.
Lying just to the north of Gigondas village, Château de Saint Cosme is the oldest property in the entire appellation. Acquiring the ancient site in 1570, the Barroul family began construction of the splendid château shortly after. Louis Barroul took up the mantle of 13 previous generations of winemakers at his family producer in 1992, and has become firmly established as one of the regions most talented and respected winemakers.
Louis is aided in no small part by the utterly unique and exquisite terroir of Château de Saint Cosme, which is quite rightly the envy of all other Gigondas producers. Located between two geological faults, the soil compositions and variations are like a patchwork of potential each giving life to slightly different characteristics in the vines planted there. The estate Gigondas is a blend of very old vines from three plots: Le Poste, Le Claux and Hominis Fides.
Prices:
Year
Wine
Region
Format
Qty
Score
Price
Wishlist

Saint Cosme Condrieu 2018 (6x75cl)

Inc. VAT: £457.67

2018
Rhone
6x75cl
1
-
Inc. VAT: £457.67

Saint Cosme Cote-Rotie 2019 (6x75cl)

Inc. VAT: £497.27

2019
Rhone
6x75cl
4
-
Inc. VAT: £497.27

Saint Cosme Cotes-du-Rhone 2019 (6x75cl)

Inc. VAT: £151.67

2019
Rhone
6x75cl
3
-
Inc. VAT: £151.67

Saint Cosme Cotes-du-Rhone 2020 (6x75cl)

Inc. VAT: £143.27

2020
Rhone
6x75cl
1
-
Inc. VAT: £143.27

Saint Cosme Gigondas 2015 (6x150cl)

Inc. VAT: £569.74

2015
Rhone
6x150cl
1
95 (WS)

Read Review/Description

Inc. VAT: £569.74

Saint Cosme Gigondas 2019 (6x75cl)

Inc. VAT: £392.87

2019
Rhone
6x75cl
1
93-95 (JD)

Read Review/Description

Inc. VAT: £392.87

Saint Cosme Gigondas Hominis Fides 2019 (6x75cl)

Inc. VAT: £576.47

2019
Rhone
6x75cl
1
-
Inc. VAT: £576.47

Saint Cosme Gigondas Le Claux 2012 (6x75cl)

Inc. VAT: £406.07

2012
Rhone
6x75cl
2
96 (WA)

Read Review/Description

Inc. VAT: £406.07

Saint Cosme Gigondas Le Claux 2013 (6x75cl)

Inc. VAT: £370.07

2013
Rhone
6x75cl
1
93 (WA)

Read Review/Description

Inc. VAT: £370.07

Saint Cosme Gigondas Le Claux 2017 (6x75cl)

Inc. VAT: £576.47

2017
Rhone
6x75cl
1
98 (JD)

Read Review/Description

Inc. VAT: £576.47

Saint Cosme Gigondas Le Claux 2019 (4x75cl)

Inc. VAT: £369.52

2019
Rhone
4x75cl
1
-
Inc. VAT: £369.52

Saint Cosme Gigondas Le Claux 2019 (6x75cl)

Inc. VAT: £520.07

2019
Rhone
6x75cl
1
-
Inc. VAT: £520.07

Saint Cosme Gigondas Le Claux 2020 (6x75cl)

Inc. VAT: £553.67

2020
Rhone
6x75cl
1
95-97 (JD)

Read Review/Description

Inc. VAT: £553.67

Saint Cosme Gigondas Le Poste 2020 (6x75cl)

Inc. VAT: £553.67

2020
Rhone
6x75cl
1
95-97 (JD)

Read Review/Description

Inc. VAT: £553.67

Saint Cosme Gigondas Valbelle 2015 (6x75cl)

Inc. VAT: £856.06

2015
Rhone
6x75cl
1
94 (WA)

Read Review/Description

Inc. VAT: £856.06
Year
Wine
Region
Format
Qty
Score
Price
Wishlist

Saint Cosme Condrieu 2018 (6x75cl)

In Bond: £368.00

2018
Rhone
6x75cl
1
-
In Bond: £368.00

Saint Cosme Cote-Rotie 2019 (6x75cl)

In Bond: £401.00

2019
Rhone
6x75cl
4
-
In Bond: £401.00

Saint Cosme Cotes-du-Rhone 2019 (6x75cl)

In Bond: £113.00

2019
Rhone
6x75cl
3
-
In Bond: £113.00

Saint Cosme Cotes-du-Rhone 2020 (6x75cl)

In Bond: £106.00

2020
Rhone
6x75cl
1
-
In Bond: £106.00

Saint Cosme Gigondas 2015 (6x150cl)

In Bond: £448.00

2015
Rhone
6x150cl
1
95 (WS)

Read Review/Description

In Bond: £448.00

Saint Cosme Gigondas 2019 (6x75cl)

In Bond: £314.00

2019
Rhone
6x75cl
1
93-95 (JD)

Read Review/Description

In Bond: £314.00

Saint Cosme Gigondas Hominis Fides 2019 (6x75cl)

In Bond: £467.00

2019
Rhone
6x75cl
1
-
In Bond: £467.00

Saint Cosme Gigondas Le Claux 2012 (6x75cl)

In Bond: £325.00

2012
Rhone
6x75cl
2
96 (WA)

Read Review/Description

In Bond: £325.00

Saint Cosme Gigondas Le Claux 2013 (6x75cl)

In Bond: £295.00

2013
Rhone
6x75cl
1
93 (WA)

Read Review/Description

In Bond: £295.00

Saint Cosme Gigondas Le Claux 2017 (6x75cl)

In Bond: £467.00

2017
Rhone
6x75cl
1
98 (JD)

Read Review/Description

In Bond: £467.00

Saint Cosme Gigondas Le Claux 2019 (4x75cl)

In Bond: £299.00

2019
Rhone
4x75cl
1
-
In Bond: £299.00

Saint Cosme Gigondas Le Claux 2019 (6x75cl)

In Bond: £420.00

2019
Rhone
6x75cl
1
-
In Bond: £420.00

Saint Cosme Gigondas Le Claux 2020 (6x75cl)

In Bond: £448.00

2020
Rhone
6x75cl
1
95-97 (JD)

Read Review/Description

In Bond: £448.00

Saint Cosme Gigondas Le Poste 2020 (6x75cl)

In Bond: £448.00

2020
Rhone
6x75cl
1
95-97 (JD)

Read Review/Description

In Bond: £448.00

Saint Cosme Gigondas Valbelle 2015 (6x75cl)

In Bond: £699.99

2015
Rhone
6x75cl
1
94 (WA)

Read Review/Description

In Bond: £699.99