Clos du Temple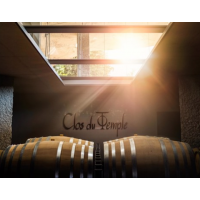 About Clos du Temple
Named for an ancient temple which once sat atop this tiny site of unique terroir, Clos du Temple is a ground-breaking project in Cabrières, the heart of the Languedoc region. The flagship winery of Gérard Bertrand, a proprietor of near-unrivalled ambition and owner of the world's largest number of hectares farmed entirely under biodynamic principles, it is one of the most meticulous and impressive examples of winemaking from vineyard to cellar in the entire South of France.
The vineyard, tucked away amongst rolling hills and perched on deceptively steep gravel-limestone soils, is composed of 12 hectares split into 11 distinct plots each of which is tended to very specifically according to their needs. Each and every step from pruning to picking is completed by hand, with a team of mules employed in lieu of tractors to till the earth.
Harvest always takes place plot-by-plot and as soon as the sun rises to maintain coolness in the fruit before vinification which both maximises freshness and allows the press to be extra gentle. Only free-run juices are selected for fermentation in utterly unique pyramid-shaped tanks (pictured below) at low temperatures before the wine is aged in new oak from Tronçais and Jupilles for six months on fine lees. Impossibly small details at each stage of the process combine to form a very special end product.
Prices:
Year
Wine
Region
Format
Qty
Score
Price
Wishlist

Gerard Bertrand Clos du Temple 2021 (3x75cl)

Inc. VAT: £548.04

2021
Languedoc
3x75cl
47
95 (DC)

Read Review/Description

Inc. VAT: £548.04

Gerard Bertrand Rivesaltes Legend 1945 (1x75cl)

Inc. VAT: £536.32

1945
Roussillon
1x75cl
1
-
Inc. VAT: £536.32
Year
Wine
Region
Format
Qty
Score
Price
Wishlist

Gerard Bertrand Clos du Temple 2021 (3x75cl)

In Bond: £450.00

2021
Languedoc
3x75cl
47
95 (DC)

Read Review/Description

In Bond: £450.00

Gerard Bertrand Rivesaltes Legend 1945 (1x75cl)

In Bond: £434.00

1945
Roussillon
1x75cl
1
-
In Bond: £434.00