Denis Durantou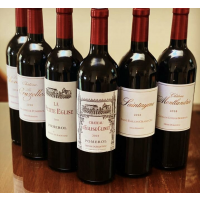 About Denis Durantou
Denis Durantou was a legendary figure across Bordeaux and the wider world of wine. Whilst he will be sorely missed, he is survived by his wife Marie Reilhac and daughters Alix, Noemie and Constance. Fortunately for the quality of the wines, Durantou's right-hand man of many years, Olivier Gautrat, continues to craft the stunning range of wines leads by the formidable Château L'Eglise Client.
Of course, Durantou's reputation as a genius winemaker was founded on the superb Grand Vin of Château L'Eglise Clinet. The estate, which thanks to his stewardship, finds itself alongside the likes of Pétrus and Lafleur, consistently challenges for the title of wine of the vintage from across the whole of Bordeaux.
However, what the Durantous have also become famed for are their incredibly good value wines from other properties within their holdings. Often regarded as some of the best value wines in Bordeaux, they are quite simply must-buy wines for their quality and value.
Viniculture
Château Les Cruzelles is a small property in Lalande de Pomerol just 1km from Pomerol itself. Sharing more than a few classic Pomerol characteristics, this wine always massively over-delivers given its price point. From the younger vines in Les Cruzelles' vineyards, La Chenade is produced which again offers remarkable value for money and a different expression of the same terroir.
In Saint-Émilion, there is Saintayme found in the commune of Saint Etienne de Lisse with neighbours such as Ch. Valandraud just a stone's throw away.
Located in the Côtes de Castillon and only added to the Durantou portfolio in 2009 is Château Montlandrie. Often besting a number of very serious St-Émilion wines in blind tastings amongst experts, it remains seriously well-priced in the line-up.