Dominio del Águila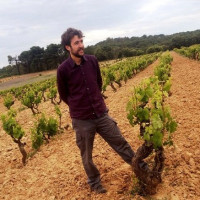 About Dominio del Águila
Founded as recently as 2010, Bodegas Dominio del Águila is forging a new path through its incredible cuvées from the famous Ribera del Duero region in Spain. Famed, quite rightly, for its staggeringly rich, bold and uncompromising wines, this young estate is offering an altogether more elegant, restrained and highly terroir-focused interpretation of the region and its varietals. Judging by both the demand for its wines and the critical acclaim achieved in well under a decade, this is clearly an alternative of which oenophiles are more than welcome.

Situated in the village of La Aguilera, Dominio del Águila is the brainchild of Jorge Mónzon and partner Isabel Rodero. Collectors may be surprised that wine of such quality can be crafted by such a young winemaker from an estate very much in its infancy. It just so happens that Jorge boasts what may be the single most impressive CV of any young winemaker on Earth – his very first full-time viticultural position was at Domaine de la Romanée-Conti! Departing France for his native Spain, Mónzon took a position at a fairly well-known winery in the very same region in which he now produces such exceptional cuvées - Vega-Sicilia.
Viniculture
It was whilst working at Bodegas Arzuaga-Navarro, however, that the ambitious vigneron came across a number of ancient vineyard parcels whose grapes were being sold to, and used in the prestige cuvées of, other wineries across the region. Seizing his moment, Jorge and Isabel snatched these plots up, mainly Tempranillo, some of which were over 100 years old.

Farmed fully biodynamically, terroir expression is extraordinarily important to the couple. "Our goal is to make pure and fine wines" says Jorge, and Dominio del Águila would certainly win the golden boot in this regard. Chief amongst their deeply covetable range is the breath-taking "Peñas Aladas" Gran Reserva. Sourced from some of the very oldest vines in La Aguilera on the eponymous hillside of Peñas Aladas, this is a unique and fascinating terroir within the region. Situated at a lofty 880 meters above sea-level, these vineyard plots are some three whole degrees Celsius cooler than the average temperature in the surrounding area. A cool climate site, in the context of Ribera del Duero, the terroir is conducive to long, slow fruit maturation giving complexity and power to the sublime grapes.