Dominique Laurent
Discover the exceptional quality and craftsmanship of Dominique Laurent's fine wine collection. As a renowned micro-négociant in Burgundy, Dominique Laurent produces exquisite wines that reflect the essence of the individual terroir and showcase the finest aspects of each vineyard.


An Exquisite Range of Dominique Laurent
Since 1988, Dominique Laurent has been producing a magnificent range of fine French wines, with a particular focus on the Burgundy region. Over the years, Dominique Laurent's commitment to quality and innovation has earned him countless accolades from the world's most esteemed wine critics and publications. Sourcing grapes from premium vineyards across Burgundy, Dominique Laurent creates unique wines that embody the true character of each individual terroir.


Exceptional Winemaking Techniques
Dominique Laurent is renowned for his innovative and meticulous winemaking techniques, including the use of 100% new oak barrels for ageing his wines. By applying traditional Burgundian methods coupled with his own unique touches, Dominique Laurent elevates his wines to new heights of quality and distinction. Each vintage is a testament to Dominique's mastery of the winemaking process, resulting in a truly unforgettable wine tasting experience.


Outstanding Reputation and Accolades
Over the years, Dominique Laurent's wines have garnered an awe-inspiring reputation among wine enthusiasts and collectors worldwide. Wine publications such as Wine Spectator and Decanter have consistently rewarded Dominique Laurent's creations with top scores and rave reviews. Full-bodied, rich, and elegant, Dominique Laurent's wines are considered among the finest Burgundies available on the market today.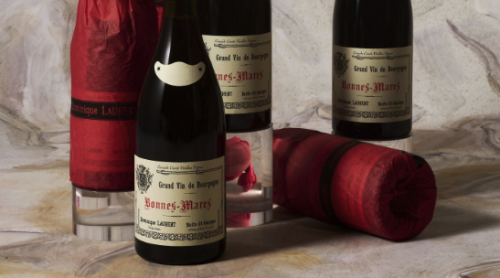 Name
Price Low
Price High
Year (Old)
Year (New)
Prices:
Product Name
Region
Qty
Score
Price

Burgundy
2
-

Inc. VAT

£1,145.29

Burgundy
1
94-97 (VN)

Inc. VAT

£2,123.09

Vinous (94-97)

(these nearly century-old vines yielded only 20 hectoliters per hectare in 2013; 10% vendange entier; the Clos Saint-Denis, Clos de la Roche, Clos de Bèze and Chambertin were all completely destemmed): Medium red. Aromas of smoky, earthy wild herbs, dried flowers and mocha, with fruit in the background today. Like liquid silk in the mouth, but energized by strong minerality and a peppery, herbal vibrancy. Incredible slow-building finish leaves behind a resounding sappy character. A potentially great and classic Bonnes-Mares for the long haul.

More Info

Burgundy
4
-

Inc. VAT

£512.89

Burgundy
1
-

Inc. VAT

£570.25

Burgundy
1
-

Inc. VAT

£1,538.44

Burgundy
1
-

Inc. VAT

£2,051.09

Burgundy
3
-

Inc. VAT

£412.09

Burgundy
1
-

Inc. VAT

£385.69

Burgundy
1
-

Inc. VAT

£1,595.09

Burgundy
2
-

Inc. VAT

£882.29

Burgundy
1
-

Inc. VAT

£1,154.44

Burgundy
3
-

Inc. VAT

£213.85

Burgundy
3
-

Inc. VAT

£260.40
Product Name
Region
Qty
Score
Price

Burgundy
2
-

In Bond

£948.00

Burgundy
1
94-97 (VN)

In Bond

£1,750.00

Vinous (94-97)

(these nearly century-old vines yielded only 20 hectoliters per hectare in 2013; 10% vendange entier; the Clos Saint-Denis, Clos de la Roche, Clos de Bèze and Chambertin were all completely destemmed): Medium red. Aromas of smoky, earthy wild herbs, dried flowers and mocha, with fruit in the background today. Like liquid silk in the mouth, but energized by strong minerality and a peppery, herbal vibrancy. Incredible slow-building finish leaves behind a resounding sappy character. A potentially great and classic Bonnes-Mares for the long haul.

More Info

Burgundy
4
-

In Bond

£421.00

Burgundy
1
-

In Bond

£472.00

Burgundy
1
-

In Bond

£1,266.00

Burgundy
1
-

In Bond

£1,690.00

Burgundy
3
-

In Bond

£337.00

Burgundy
1
-

In Bond

£315.00

Burgundy
1
-

In Bond

£1,310.00

Burgundy
2
-

In Bond

£716.00

Burgundy
1
-

In Bond

£946.00

Burgundy
3
-

In Bond

£175.00

Burgundy
3
-

Inc. VAT

£260.40
Name
Price Low
Price High
Year (Old)
Year (New)