Domaine E. Guigal
About Domaine E. Guigal
Domaine E. Guigal was created by Etienne Guigal in 1946 and has since passed to his son Marcel, and grandson Phillippe. Alongside wine-maker Jacques Desvernois (previously of Paul Jaboulet Aîné), the three generations of Guigals have forged one of the world's greatest estates, consistently producing some of the most sought-after wines around the globe.
Standing as one of the world's greatest estates with a long and successful history of producing some of the globe's greatest bottles. No single winemaker nor family has done as much to craft the fine wine world's perception of Côte-Rôtie as a truly ethereal appellation as the Guigal. The family has been described as the "reference point" estate in Northern Rhône by Jeb Dunnuck.
Vinicultre
One of Guigal's crowing achievements is the creation of three spectacular and rare cuvées that demonstrate the greatest of Rhone terroir.
Of the three, La Mouline is perhaps the most floral, feminine and seductively elegant. Indescribably silky in its construction. A product of vines with an average age of 75 years old, the scent of La Mouline is as beguiling as any wine – heady violets, flowers, wet slate, exotic black fruits and the darkest espresso imaginable rise unrelentingly from the glass.
La Landonne is a pure Syrah wine – as fine an example of the varietal's potential as one could ever hope to taste – and often requires the most bottle age to become approachable of the three.
La Turque is the youngest cuvée of the holy triumvirate, both in that it made its debut after the other two and its average vine age is 25 years. Something of a hybrid of the two, La Turque seems to blend the choice aspects of its siblings together into a simply otherworldly wine. Darker and denser than La Mouline, yet less tannic and imposing than La Landonne, the true beauty of La Turque lies in its complexity and inherent ripeness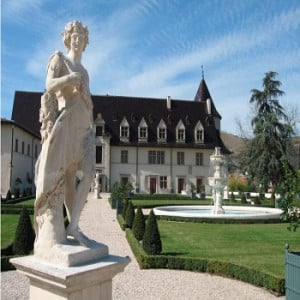 Name
Price Low
Price High
Year (Old)
Year (New)
Prices:
Product Name
Region
Qty
Score
Price

Rhone
1
93 (VN)

Inc. VAT

£872.47

Vinous (93)

(one-third new oak) Pale green-hued gold. Powerful, mineral-tinged orchard fruit, melon and floral aromas are sharpened by notes of ginger and lemon zest. Concentrated pear, Meyer lemon and violet pastille flavors show a suave blend of richness and delicacy thanks to a spine of juicy acidity and a chalky mineral nuance. Closes minerally, taut and quite long, leaving a sexy floral note behind.

More Info

Rhone
1
98 (JD)

Inc. VAT

£966.91

Jeb Dunnuck (98)

The 2019 Condrieu La Doriane is another tremendous effort from this estate that does everything right. Reminding me slightly of the 2015 with its power and richness, it still has plenty of freshness in its apricot, ripe pineapple, honeyed marmalade, flowers, and cream aromas and flavors. Already complex and full-bodied, with good acidity and a fabulous finish, this is a quintessential expression of this cuvée and it's hard to imagine how it would be any better. These always have the capacity to age, yet I find them most enjoyable with 6-12 months of bottle age and then over the following 3-5 years.

More Info

Rhone
2
98 (JD)

Inc. VAT

£602.26

Jeb Dunnuck (98)

The 2019 Condrieu La Doriane is another tremendous effort from this estate that does everything right. Reminding me slightly of the 2015 with its power and richness, it still has plenty of freshness in its apricot, ripe pineapple, honeyed marmalade, flowers, and cream aromas and flavors. Already complex and full-bodied, with good acidity and a fabulous finish, this is a quintessential expression of this cuvée and it's hard to imagine how it would be any better. These always have the capacity to age, yet I find them most enjoyable with 6-12 months of bottle age and then over the following 3-5 years.

More Info

Rhone
1
99 (JD)

Inc. VAT

£489.64

Jeb Dunnuck (99)

Just about pure perfection and one of the finest Condrieu to pass my lips, the 2020 Condrieu La Doriane offers an insane bouquet of grilled pineapple, charcoal, crushed stone, acacia flowers, and white peach. It picks up an incredibly sense of salinity on the palate and is full-bodied, has blockbuster concentration, remarkable purity and focus, and a great finish. I like this beast/beauty today, but it will keep for a decade.

More Info

Rhone
8
96 (JD)

Inc. VAT

£421.24

Jeb Dunnuck (96)

Coming from five separate lieux-dits and brought up all in new oak, the 2021 Condrieu La Doriane brings another level of depth as well as complexity. Medium-bodied (as are just about all 2021s) and wonderfully balanced, with notable freshness, it has lots of white peach and honeyed stone fruits, a kiss of chalky minerality, nicely integrated acidity, and a touch of classy, perfectly balanced oak. It's a more chiseled, elegant expression of this cuvée that will drink brilliantly over the coming 5-7 years or more.

More Info

Rhone
1
94 (VN)

Inc. VAT

£275.52

Vinous (94)

Fairly pale color. Brilliantly fruity aromas of peach, pear and honeysuckle, plus an exotic hint of banana. Silky, rich and suave, and not at all heavy or especially sweet thanks to firm acidity. Extremely long on the finish, and not a bit hot. All in all, a remarkably elegant wine. Guigal sterile filtered this wine rather than adding a big dose of SO2, so I'd recommend drinking it on the early side.

More Info

Rhone
1
94 (VN)

Inc. VAT

£2,332.18

Vinous (94)

(bottled two weeks prior to my visit, following 38 months in oak) Superripe aromas of pepper, chocolate and menthol. Wonderfully deep flavors of cherries and spice. A very fresh, elegant wine with compelling sweetness but also excellent backbone. Really coats the palate on the very long aftertaste, finishing with strong spiciness and great lift. This makes the Guigal 2000 La-La wines seem almost soft by comparison.

More Info

Rhone
2
99 (WA)

Inc. VAT

£2,034.07

Wine Advocate (99)

More closed than when I tasted it earlier this year, the 2010 Cote Rotie Chateau d'Ampuis is an incredible effort that's made from 93% Syrah and 7% Viognier. Coming from the estate's top sites and aged 38 months in new oak, it has no problem standing beside the top three single-vineyard releases. Crème de cassis, vanilla bean, smoked meats and licorice all flow to a full-bodied, beautifully concentrated, structured Cote Rotie that needs another 5-6 years of bottle age, but will keep for 2-3 decades.

More Info

Rhone
3
99 (WA)

Inc. VAT

£493.22

Wine Advocate (99)

More closed than when I tasted it earlier this year, the 2010 Cote Rotie Chateau d'Ampuis is an incredible effort that's made from 93% Syrah and 7% Viognier. Coming from the estate's top sites and aged 38 months in new oak, it has no problem standing beside the top three single-vineyard releases. Crème de cassis, vanilla bean, smoked meats and licorice all flow to a full-bodied, beautifully concentrated, structured Cote Rotie that needs another 5-6 years of bottle age, but will keep for 2-3 decades.

More Info

Rhone
10
94 (WS)

Inc. VAT

£1,260.07

Wine Spectator (94)

Very focused, with a lovely beam of lightly steeped red currant, bitter cherry and plum fruit flavors that glides atop singed cedar, black tea and dried star anise notes. The long finish is very fine-grained. A gorgeous wine. Best from 2016 through 2027.

More Info

Rhone
1
95 (WA)

Inc. VAT

£1,263.67

Wine Advocate (95)

The 2012 Côte Rôtie Château d'Ampuis is a bigger, richer wine that offers full-bodied richness and a broad, expansive style on the palate. Black raspberries, toasted spices, cured meats and licorice all emerge from this incredibly sexy, complex and nuanced Côte Rôtie, and my notes finish with "wish I could drink a glass." Enjoy bottles anytime over the coming 15 or more years.

More Info

Rhone
1
95 (WA)

Inc. VAT

£810.04

Wine Advocate (95)

The 2012 Côte Rôtie Château d'Ampuis is a bigger, richer wine that offers full-bodied richness and a broad, expansive style on the palate. Black raspberries, toasted spices, cured meats and licorice all emerge from this incredibly sexy, complex and nuanced Côte Rôtie, and my notes finish with "wish I could drink a glass." Enjoy bottles anytime over the coming 15 or more years.

More Info

Rhone
4
95 (WS)

Inc. VAT

£1,034.47

Wine Spectator (95)

Solidly built, with a compact core of steeped currant and plum fruit flavors liberally laced with singed alder, leather and tar notes. Keeps a taut edge through the finish, as this is youthfully tight, with good, buried guts. Should unwind beautifully in the cellar. Best from 2020 through 2035.

More Info

Rhone
1
97 (JD)

Inc. VAT

£680.44

Jeb Dunnuck (97)

I loved the 2015 Côte Rôtie Château D'Ampuis from barrel, and this beauty does not disappoint from bottle. Coming from a handful of top sites, it's made in the same fashion as the top La Las, seeing four years in new barrels. Deep purple-hued with a classic bouquet of black raspberries, jammy blackberries, acacia flowers, vanilla bean, and spice, it hits the palate with full-bodied richness, a rounded, expansive mid-palate, sweet tannins, and a great, great finish. Savvy readers will stock up on this beauty. Give it 3-5 years and enjoy over the following two decades or more.

More Info

Rhone
1
97 (JD)

Inc. VAT

£517.24

Jeb Dunnuck (97)

I loved the 2015 Côte Rôtie Château D'Ampuis from barrel, and this beauty does not disappoint from bottle. Coming from a handful of top sites, it's made in the same fashion as the top La Las, seeing four years in new barrels. Deep purple-hued with a classic bouquet of black raspberries, jammy blackberries, acacia flowers, vanilla bean, and spice, it hits the palate with full-bodied richness, a rounded, expansive mid-palate, sweet tannins, and a great, great finish. Savvy readers will stock up on this beauty. Give it 3-5 years and enjoy over the following two decades or more.

More Info

Rhone
3
95 (VN)

Inc. VAT

£1,117.27

Vinous (95)

Extremely dark ruby. Powerful, mineral-accented cherry and dark fruit preserve, exotic spice, licorice and incense aromas show sharp delineation and pick up hints of candied flowers and olive with aeration. Sweet, seamless and broad on the palate, offering intense boysenberry, cherry liqueur, fruitcake and floral pastille flavors that slowly tighten up on the back half. Repeats the blue fruit note on an impressively persistent, spice-tinged finish that features sneaky tannins and an appealingly sweet cola flourish.

More Info

Rhone
4
95 (VN)

Inc. VAT

£1,150.87

Vinous (95)

Extremely dark ruby. Powerful, mineral-accented cherry and dark fruit preserve, exotic spice, licorice and incense aromas show sharp delineation and pick up hints of candied flowers and olive with aeration. Sweet, seamless and broad on the palate, offering intense boysenberry, cherry liqueur, fruitcake and floral pastille flavors that slowly tighten up on the back half. Repeats the blue fruit note on an impressively persistent, spice-tinged finish that features sneaky tannins and an appealingly sweet cola flourish.

More Info

Rhone
1
96-99 (JD)

Inc. VAT

£1,113.67

Jeb Dunnuck (96-99)

I loved the 2017 Côte Rôtie Château D'Ampuis. It's a ripe, expressive barrel sample overflowing with notions of black raspberries, cassis, vanilla bean, and incense. Medium to full-bodied, rounded, and silky, it has lots of ripe tannins as well as stunning balance. It's in the same ballpark as the 2016 yet shows the warmer, sunny nature of the vintage.

More Info

Rhone
2
96-99 (JD)

Inc. VAT

£1,132.87

Jeb Dunnuck (96-99)

I loved the 2017 Côte Rôtie Château D'Ampuis. It's a ripe, expressive barrel sample overflowing with notions of black raspberries, cassis, vanilla bean, and incense. Medium to full-bodied, rounded, and silky, it has lots of ripe tannins as well as stunning balance. It's in the same ballpark as the 2016 yet shows the warmer, sunny nature of the vintage.

More Info

Rhone
1
96-99 (JD)

Inc. VAT

£566.44

Jeb Dunnuck (96-99)

I loved the 2017 Côte Rôtie Château D'Ampuis. It's a ripe, expressive barrel sample overflowing with notions of black raspberries, cassis, vanilla bean, and incense. Medium to full-bodied, rounded, and silky, it has lots of ripe tannins as well as stunning balance. It's in the same ballpark as the 2016 yet shows the warmer, sunny nature of the vintage.

More Info

Rhone
1
97 (JD)

Inc. VAT

£999.67

Jeb Dunnuck (97)

Not scheduled to be on the market until November of 2023, the 2018 Côte Rôtie Chateau D'Ampuis is nevertheless a remarkable Côte Rôtie that readers will love to have in the cellar. Sporting a deep ruby/purple hue as well as awesome Côte Rôtie notes of smoked game, violets, acacia flowers, and both red and black fruits, this beauty is medium to full-bodied, has polished, seamless tannins, and a layered, perfectly balanced mouthfeel. It shows the softer style of the vintage (especially compared to the more structured, tannic 2019) and already offers pleasure, but this will easily evolve for at least two decades.

More Info

Rhone
1
97 (JD)

Inc. VAT

£487.24

Jeb Dunnuck (97)

Not scheduled to be on the market until November of 2023, the 2018 Côte Rôtie Chateau D'Ampuis is nevertheless a remarkable Côte Rôtie that readers will love to have in the cellar. Sporting a deep ruby/purple hue as well as awesome Côte Rôtie notes of smoked game, violets, acacia flowers, and both red and black fruits, this beauty is medium to full-bodied, has polished, seamless tannins, and a layered, perfectly balanced mouthfeel. It shows the softer style of the vintage (especially compared to the more structured, tannic 2019) and already offers pleasure, but this will easily evolve for at least two decades.

More Info

Rhone
4
-

Inc. VAT

£645.89

Rhone
9
-

Inc. VAT

£631.49

Rhone
1
-

Inc. VAT

£763.20

Rhone
5
-

Inc. VAT

£1,242.00

Rhone
3
-

Inc. VAT

£1,082.42

Rhone
3
-

Inc. VAT

£963.62

Rhone
1
-

Inc. VAT

£1,446.62

This case contains

1x75cl: La Landonne 2019 - 98-100 Jeb Dunnuck
1x75cl: La Turque 2019 - 98-100 Jeb Dunnuck
1x75cl: La Mouline 2019 - 97-100 Jeb Dunnuck

More Info

Rhone
1
100 (WA)

Inc. VAT

£5,199.64

Wine Advocate (100)

For drinking today, it doesn't get better than the 1999 Cote Rotie la Landonne (the '99 la Mouline maybe). A monumental Cote Rotie, it offers an incredible perfume of cassis, licorice, smoked game and roasted herbs (among other things), full-bodied richness, a seamless texture and a finish that just won't quit. While a massive wine, with incredible concentration and density, this beauty is lively, elegant and weightless, with sweet, polished tannin. Perfumed and upfront on this occasion, it was served blind at the end of the retrospective and I actually thought it was the 1990.

More Info
Product Name
Region
Qty
Score
Price

Rhone
1
93 (VN)

In Bond

£695.00

Vinous (93)

(one-third new oak) Pale green-hued gold. Powerful, mineral-tinged orchard fruit, melon and floral aromas are sharpened by notes of ginger and lemon zest. Concentrated pear, Meyer lemon and violet pastille flavors show a suave blend of richness and delicacy thanks to a spine of juicy acidity and a chalky mineral nuance. Closes minerally, taut and quite long, leaving a sexy floral note behind.

More Info

Rhone
1
98 (JD)

In Bond

£766.00

Jeb Dunnuck (98)

The 2019 Condrieu La Doriane is another tremendous effort from this estate that does everything right. Reminding me slightly of the 2015 with its power and richness, it still has plenty of freshness in its apricot, ripe pineapple, honeyed marmalade, flowers, and cream aromas and flavors. Already complex and full-bodied, with good acidity and a fabulous finish, this is a quintessential expression of this cuvée and it's hard to imagine how it would be any better. These always have the capacity to age, yet I find them most enjoyable with 6-12 months of bottle age and then over the following 3-5 years.

More Info

Rhone
2
98 (JD)

In Bond

£482.00

Jeb Dunnuck (98)

The 2019 Condrieu La Doriane is another tremendous effort from this estate that does everything right. Reminding me slightly of the 2015 with its power and richness, it still has plenty of freshness in its apricot, ripe pineapple, honeyed marmalade, flowers, and cream aromas and flavors. Already complex and full-bodied, with good acidity and a fabulous finish, this is a quintessential expression of this cuvée and it's hard to imagine how it would be any better. These always have the capacity to age, yet I find them most enjoyable with 6-12 months of bottle age and then over the following 3-5 years.

More Info

Rhone
1
99 (JD)

In Bond

£392.00

Jeb Dunnuck (99)

Just about pure perfection and one of the finest Condrieu to pass my lips, the 2020 Condrieu La Doriane offers an insane bouquet of grilled pineapple, charcoal, crushed stone, acacia flowers, and white peach. It picks up an incredibly sense of salinity on the palate and is full-bodied, has blockbuster concentration, remarkable purity and focus, and a great finish. I like this beast/beauty today, but it will keep for a decade.

More Info

Rhone
8
96 (JD)

In Bond

£335.00

Jeb Dunnuck (96)

Coming from five separate lieux-dits and brought up all in new oak, the 2021 Condrieu La Doriane brings another level of depth as well as complexity. Medium-bodied (as are just about all 2021s) and wonderfully balanced, with notable freshness, it has lots of white peach and honeyed stone fruits, a kiss of chalky minerality, nicely integrated acidity, and a touch of classy, perfectly balanced oak. It's a more chiseled, elegant expression of this cuvée that will drink brilliantly over the coming 5-7 years or more.

More Info

Rhone
1
94 (VN)

In Bond

£228.00

Vinous (94)

Fairly pale color. Brilliantly fruity aromas of peach, pear and honeysuckle, plus an exotic hint of banana. Silky, rich and suave, and not at all heavy or especially sweet thanks to firm acidity. Extremely long on the finish, and not a bit hot. All in all, a remarkably elegant wine. Guigal sterile filtered this wine rather than adding a big dose of SO2, so I'd recommend drinking it on the early side.

More Info

Rhone
1
94 (VN)

In Bond

£1,905.00

Vinous (94)

(bottled two weeks prior to my visit, following 38 months in oak) Superripe aromas of pepper, chocolate and menthol. Wonderfully deep flavors of cherries and spice. A very fresh, elegant wine with compelling sweetness but also excellent backbone. Really coats the palate on the very long aftertaste, finishing with strong spiciness and great lift. This makes the Guigal 2000 La-La wines seem almost soft by comparison.

More Info

Rhone
2
99 (WA)

In Bond

£1,663.00

Wine Advocate (99)

More closed than when I tasted it earlier this year, the 2010 Cote Rotie Chateau d'Ampuis is an incredible effort that's made from 93% Syrah and 7% Viognier. Coming from the estate's top sites and aged 38 months in new oak, it has no problem standing beside the top three single-vineyard releases. Crème de cassis, vanilla bean, smoked meats and licorice all flow to a full-bodied, beautifully concentrated, structured Cote Rotie that needs another 5-6 years of bottle age, but will keep for 2-3 decades.

More Info

Rhone
3
99 (WA)

In Bond

£403.00

Wine Advocate (99)

More closed than when I tasted it earlier this year, the 2010 Cote Rotie Chateau d'Ampuis is an incredible effort that's made from 93% Syrah and 7% Viognier. Coming from the estate's top sites and aged 38 months in new oak, it has no problem standing beside the top three single-vineyard releases. Crème de cassis, vanilla bean, smoked meats and licorice all flow to a full-bodied, beautifully concentrated, structured Cote Rotie that needs another 5-6 years of bottle age, but will keep for 2-3 decades.

More Info

Rhone
10
94 (WS)

In Bond

£1,018.00

Wine Spectator (94)

Very focused, with a lovely beam of lightly steeped red currant, bitter cherry and plum fruit flavors that glides atop singed cedar, black tea and dried star anise notes. The long finish is very fine-grained. A gorgeous wine. Best from 2016 through 2027.

More Info

Rhone
1
95 (WA)

In Bond

£1,021.00

Wine Advocate (95)

The 2012 Côte Rôtie Château d'Ampuis is a bigger, richer wine that offers full-bodied richness and a broad, expansive style on the palate. Black raspberries, toasted spices, cured meats and licorice all emerge from this incredibly sexy, complex and nuanced Côte Rôtie, and my notes finish with "wish I could drink a glass." Enjoy bottles anytime over the coming 15 or more years.

More Info

Rhone
1
95 (WA)

In Bond

£659.00

Wine Advocate (95)

The 2012 Côte Rôtie Château d'Ampuis is a bigger, richer wine that offers full-bodied richness and a broad, expansive style on the palate. Black raspberries, toasted spices, cured meats and licorice all emerge from this incredibly sexy, complex and nuanced Côte Rôtie, and my notes finish with "wish I could drink a glass." Enjoy bottles anytime over the coming 15 or more years.

More Info

Rhone
4
95 (WS)

In Bond

£830.00

Wine Spectator (95)

Solidly built, with a compact core of steeped currant and plum fruit flavors liberally laced with singed alder, leather and tar notes. Keeps a taut edge through the finish, as this is youthfully tight, with good, buried guts. Should unwind beautifully in the cellar. Best from 2020 through 2035.

More Info

Rhone
1
97 (JD)

In Bond

£551.00

Jeb Dunnuck (97)

I loved the 2015 Côte Rôtie Château D'Ampuis from barrel, and this beauty does not disappoint from bottle. Coming from a handful of top sites, it's made in the same fashion as the top La Las, seeing four years in new barrels. Deep purple-hued with a classic bouquet of black raspberries, jammy blackberries, acacia flowers, vanilla bean, and spice, it hits the palate with full-bodied richness, a rounded, expansive mid-palate, sweet tannins, and a great, great finish. Savvy readers will stock up on this beauty. Give it 3-5 years and enjoy over the following two decades or more.

More Info

Rhone
1
97 (JD)

In Bond

£415.00

Jeb Dunnuck (97)

I loved the 2015 Côte Rôtie Château D'Ampuis from barrel, and this beauty does not disappoint from bottle. Coming from a handful of top sites, it's made in the same fashion as the top La Las, seeing four years in new barrels. Deep purple-hued with a classic bouquet of black raspberries, jammy blackberries, acacia flowers, vanilla bean, and spice, it hits the palate with full-bodied richness, a rounded, expansive mid-palate, sweet tannins, and a great, great finish. Savvy readers will stock up on this beauty. Give it 3-5 years and enjoy over the following two decades or more.

More Info

Rhone
3
95 (VN)

In Bond

£899.00

Vinous (95)

Extremely dark ruby. Powerful, mineral-accented cherry and dark fruit preserve, exotic spice, licorice and incense aromas show sharp delineation and pick up hints of candied flowers and olive with aeration. Sweet, seamless and broad on the palate, offering intense boysenberry, cherry liqueur, fruitcake and floral pastille flavors that slowly tighten up on the back half. Repeats the blue fruit note on an impressively persistent, spice-tinged finish that features sneaky tannins and an appealingly sweet cola flourish.

More Info

Rhone
4
95 (VN)

In Bond

£927.00

Vinous (95)

Extremely dark ruby. Powerful, mineral-accented cherry and dark fruit preserve, exotic spice, licorice and incense aromas show sharp delineation and pick up hints of candied flowers and olive with aeration. Sweet, seamless and broad on the palate, offering intense boysenberry, cherry liqueur, fruitcake and floral pastille flavors that slowly tighten up on the back half. Repeats the blue fruit note on an impressively persistent, spice-tinged finish that features sneaky tannins and an appealingly sweet cola flourish.

More Info

Rhone
1
96-99 (JD)

In Bond

£896.00

Jeb Dunnuck (96-99)

I loved the 2017 Côte Rôtie Château D'Ampuis. It's a ripe, expressive barrel sample overflowing with notions of black raspberries, cassis, vanilla bean, and incense. Medium to full-bodied, rounded, and silky, it has lots of ripe tannins as well as stunning balance. It's in the same ballpark as the 2016 yet shows the warmer, sunny nature of the vintage.

More Info

Rhone
2
96-99 (JD)

In Bond

£912.00

Jeb Dunnuck (96-99)

I loved the 2017 Côte Rôtie Château D'Ampuis. It's a ripe, expressive barrel sample overflowing with notions of black raspberries, cassis, vanilla bean, and incense. Medium to full-bodied, rounded, and silky, it has lots of ripe tannins as well as stunning balance. It's in the same ballpark as the 2016 yet shows the warmer, sunny nature of the vintage.

More Info

Rhone
1
96-99 (JD)

In Bond

£456.00

Jeb Dunnuck (96-99)

I loved the 2017 Côte Rôtie Château D'Ampuis. It's a ripe, expressive barrel sample overflowing with notions of black raspberries, cassis, vanilla bean, and incense. Medium to full-bodied, rounded, and silky, it has lots of ripe tannins as well as stunning balance. It's in the same ballpark as the 2016 yet shows the warmer, sunny nature of the vintage.

More Info

Rhone
1
97 (JD)

In Bond

£801.00

Jeb Dunnuck (97)

Not scheduled to be on the market until November of 2023, the 2018 Côte Rôtie Chateau D'Ampuis is nevertheless a remarkable Côte Rôtie that readers will love to have in the cellar. Sporting a deep ruby/purple hue as well as awesome Côte Rôtie notes of smoked game, violets, acacia flowers, and both red and black fruits, this beauty is medium to full-bodied, has polished, seamless tannins, and a layered, perfectly balanced mouthfeel. It shows the softer style of the vintage (especially compared to the more structured, tannic 2019) and already offers pleasure, but this will easily evolve for at least two decades.

More Info

Rhone
1
97 (JD)

In Bond

£390.00

Jeb Dunnuck (97)

Not scheduled to be on the market until November of 2023, the 2018 Côte Rôtie Chateau D'Ampuis is nevertheless a remarkable Côte Rôtie that readers will love to have in the cellar. Sporting a deep ruby/purple hue as well as awesome Côte Rôtie notes of smoked game, violets, acacia flowers, and both red and black fruits, this beauty is medium to full-bodied, has polished, seamless tannins, and a layered, perfectly balanced mouthfeel. It shows the softer style of the vintage (especially compared to the more structured, tannic 2019) and already offers pleasure, but this will easily evolve for at least two decades.

More Info

Rhone
4
-

In Bond

£519.00

Rhone
9
-

In Bond

£507.00

Rhone
1
-

Inc. VAT

£763.20

Rhone
5
-

Inc. VAT

£1,242.00

Rhone
3
-

In Bond

£894.00

Rhone
3
-

In Bond

£795.00

Rhone
1
-

In Bond

£1,197.50

This case contains

1x75cl: La Landonne 2019 - 98-100 Jeb Dunnuck
1x75cl: La Turque 2019 - 98-100 Jeb Dunnuck
1x75cl: La Mouline 2019 - 97-100 Jeb Dunnuck

More Info

Rhone
1
100 (WA)

In Bond

£4,317.00

Wine Advocate (100)

For drinking today, it doesn't get better than the 1999 Cote Rotie la Landonne (the '99 la Mouline maybe). A monumental Cote Rotie, it offers an incredible perfume of cassis, licorice, smoked game and roasted herbs (among other things), full-bodied richness, a seamless texture and a finish that just won't quit. While a massive wine, with incredible concentration and density, this beauty is lively, elegant and weightless, with sweet, polished tannin. Perfumed and upfront on this occasion, it was served blind at the end of the retrospective and I actually thought it was the 1990.

More Info